RAINFORESTS
A Place Out of Tropical: Tropical Rainforests and the Perils They Face - information on tropical forests, deforestation, and biodiversity


By Rhett Butler
RAINFOREST INFORMATION
---
---
BACKGROUND INFORMATION ON RAINFORESTS
---
| | |
| --- | --- |
| | |
Rainforests are forest ecosystems characterized by high levels of rainfall, an enclosed canopy and high species diversity. While tropical rainforests are the best-known type of rainforest and the focus of this section of the web site, rainforests are actually found widely around the world, including temperate regions in Canada, the United States, and the former Soviet Union.

Tropical rainforests typically occur in the equatorial zone between the Tropic of Cancer and Tropic of Capricorn, latitudes that have warm temperatures and relatively constant year-round sunlight. Tropical rainforests merge into other types of forest depending on the altitude, latitude, and various soil, flooding, and climate conditions. These forest types form a mosaic of vegetation types which contribute to the incredible diversity of the tropics.

The bulk of the world's tropical rainforest occurs in the Amazon Basin in South America. The Congo Basin and Southeast Asia, respectively, have the second and third largest areas of tropical rainforest. Rainforests also exist on some the Caribbean islands, in Central America, in India, on scattered islands in the South Pacific, in Madagascar, in West and East Africa outside the Congo Basin, in Central America and Mexico, and in parts of South America outside the Amazon. Brazil has the largest extent of rainforest of any country on Earth.




Global forest cover




Rainforests provide important ecological services, including storing hundreds of billions of tons of carbon, buffering against flood and drought, stabilizing soils, influencing rainfall patterns, and providing a home to wildlife and indigenous people. Rainforests are also the source of many useful products upon which local communities depend.

While rainforests are critically important to humanity, they are rapidly being destroyed by human activities. The biggest cause of deforestation is conversion of forest land for agriculture. In the past subsistence agriculture was the primary driver of rainforest conversion, but today industrial agriculture — especially monoculture and livestock production — is the dominant driver of rainforest loss worldwide. Logging is the biggest cause of forest degradation and usually proceeds deforestation for agriculture.

Organization of this site

The rainforest section of Mongabay is divided into ten "chapters" (the original text for the site was a book, but has since been adapted for the web), with add-on content in the form of special focal sections (e.g. The Amazon, the Congo, REDD, etc), appendices, and other resources.

There is also a version of the site geared toward younger readers at kids.mongabay.com



ABOUT RAINFORESTS (SUMMARY)
---
Chapter 1: Rainforest distribution and characteristics

Each rainforest is unique, but there are certain features common to all tropical rainforests.
Location: rainforests lie in the tropics.
Rainfall: rainforests receive at least 80 inches (200 cm) of rain per year.
Canopy: rainforests have a canopy, which is the layer of branches and leaves formed by closely spaced rainforest trees some 30 meters (100 feet) off the ground. A large proportion of the plants and animals in the rainforest live in the canopy.
Biodiversity: rainforests have extraordinarily highs level of biological diversity or "biodiversity". Scientists estimate that about half of Earth's terrestrial species live in rainforests.
Ecosystem services: rainforests provide a critical ecosystem services at local, regional, and global scales, including producing oxygen (tropical forests are responsible for 25-30 percent of the world's oxygen turnover) and storing carbon (tropical forests store an estimated 229-247 billion tons of carbon) through photosynthesis; influencing precipitation patterns and weather; moderating flood and drought cycles; and facilitating nutrient cycling; among others.
The global distribution of tropical rainforests can be broken up into four biogeographical realms based roughly on four forested continental regions: the Afrotropical, the Australiasian, the Indomalayan/Asian, and the Neotropical. Just over half the world's rainforests lie in the Neotropical realm, roughly a quarter are in Africa, and a fifth in Asia.

Dozens of countries have tropical forests. The countries with the largest areas of tropical forest are (in order):
Brazil
Democratic Republic of Congo
Indonesia
Peru
Colombia
Other countries that have large areas of rainforest include Bolivia, Cameroon, Central African Republic, Ecuador, Gabon, Guyana, India, Laos, Malaysia, Mexico, Myanmar, Papua New Guinea, Republic of Congo, Suriname, and Venezuela.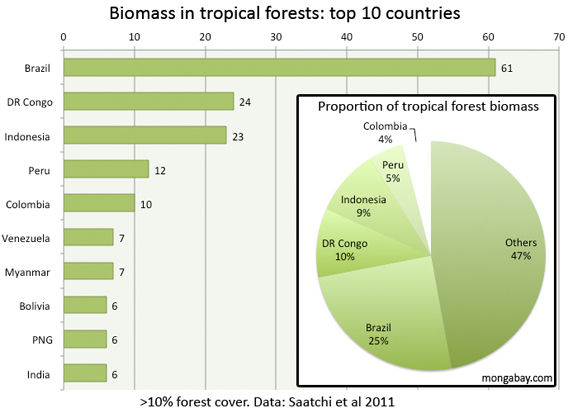 Chapter 2: Rainforest structure

Rainforests are characterized by a unique vegetative structure consisting of several vertical layers including the overstory, canopy, understory, shrub layer, and ground level. The canopy refers to the dense ceiling of leaves and tree branches formed by closely spaced forest trees. The upper canopy is 100-130 feet above the forest floor, penetrated by scattered emergent trees, 130 feet or higher, that make up the level known as the overstory. Below the canopy ceiling are multiple leaf and branch levels known collectively as the understory. The lowest part of the understory, 5-20 feet (1.5-6 meters) above the floor, is known as the shrub layer, made up of shrubby plants and tree saplings.

Chapter 3: Rainforest biodiversity

Tropical rainforests support the greatest diversity of living organisms on Earth. Although they cover less than 2 percent of Earth's surface, rainforests house more than 50 percent of the plants and animals on the planet.

There are several reasons why rainforests are so diverse. Some important factors are:
Climate: because rainforests are located in tropical regions, they receive a lot of sunlight. The sunlight is converted to energy by plants through the process of photosynthesis. Since there is a lot of sunlight, there is a lot of energy in the rainforest. This energy is stored in plant vegetation, which is eaten by animals. The abundance of energy supports an abundance of plant and animal species.
Canopy: the canopy structure of the rainforest provides an abundance of places for plants to grow and animals to live. The canopy offers sources of food, shelter, and hiding places, providing for interaction between different species. For example, there are plants in the canopy called bromeliads that store water in their leaves. Frogs and other animals use these pockets of water for hunting and laying their eggs.
Competition: while there is lots of energy in the rainforest system, life is not easy for most species that inhabit the biome. In fact, the rainforest is an intensively competitive place, with species developing incredible strategies and innovations to survive, encouraging specialization.
While species everywhere are known for utilizing symbiotic relationships with other species to survive, the biological phenomenon is particularly abundant in rainforests.

Chapter 4: The rainforest canopy

In the rainforest most plant and animal life is not found on the forest floor, but in the leafy world known as the canopy. The canopy, which may be over 100 feet (30 m) above the ground, is made up of the overlapping branches and leaves of rainforest trees. Scientists estimate that more than half of life in the rainforest is found in the trees, making this the richest habitat for plant and animal life.

The conditions of the canopy are markedly different from the conditions of the forest floor. During the day, the canopy is drier and hotter than other parts of the forest, and the plants and animals that live there have adapted accordingly. For example, because the amount of leaves in the canopy can make it difficult to see more than a few feet, many canopy animals rely on loud calls or lyrical songs for communication. Gaps between trees mean that some canopy animals fly, glide, or jump to move about in the treetops. Meanwhile plants have evolved water-retention mechanisms like waxy leaves.

Scientists have long been interested in studying the canopy, but the height of trees made research difficult until recently. Today the canopy is commonly accessed using climbing gear, rope bridges, ladders, and towers. Researchers are even using model airplanes outfitted with special sensors — conservation drones — to study the canopy.

Chapter 5: The rainforest floor

The rainforest floor is often dark and humid due to constant shade from the leaves of canopy trees. The canopy not only blocks out sunlight, but dampens wind and rain, and limits shrub growth.

Despite its constant shade, the ground floor of the rainforest is the site for important interactions and complex relationships. The forest floor is one of the principal sites of decomposition, a process paramount for the continuance of the forest as a whole. It provides support for trees responsible for the formation of the canopy and is also home to some of the rainforest's best-known species, including gorillas, tigers, tapirs, and elephants, among others.

Chapter 6: Rainforest waters

Tropical rainforests support some of the largest rivers in the world, like the Amazon, Mekong, Negro, Orinoco, and Congo. These mega-rivers are fed by countless smaller tributaries, streams, and creeks. For example, the Amazon alone has some 1,100 tributaries, 17 of which are over 1,000 miles long. Although large tropical rivers are fairly uniform in appearance and water composition, their tributaries vary greatly.

Rainforest waters are home to a wealth of wildlife that is nearly as diverse as the biota on land. For example, more than 5,600 species of fish have been identified in the Amazon Basin alone.

But like rainforests, tropical ecosystems are also threatened. Dams, deforestation, channelization and dredging, pollution, mining, and overfishing are chief dangers.

Chapter 7: Rainforest people

Tropical rainforests have long been home to tribal peoples who rely on their surroundings for food, shelter, and medicines. Today very few forest people live in traditional ways; most have been displaced by outside settlers, have been forced to give up their lifestyles by governments, or have chosen to adopt outside customs.

Of the remaining forest people, the Amazon supports the largest number of indigenous people living in traditional ways, although these people, too, have been impacted by the modern world. Nonetheless, indigenous peoples' knowledge of medicinal plants remains unmatched and they have a great understanding of the ecology of the Amazon rainforest.

In Africa there are native forest dwellers sometimes known as pygmies. The tallest of these people, also called the Mbuti, rarely exceed 5 feet in height. Their small size enables them to move about the forest more efficiently than taller people.

There are few forest peoples in Asia living in fully traditional ways. The last nomadic people in Borneo are thought to have settled in the late 2000's. New Guinea and the Andaman Islands are generally viewed as the last frontiers for forest people in Asia and the Pacific.

Chapter 8: Deforestation

Every year an area of rainforest the size of New Jersey is cut down and destroyed, mostly the result of human activities. We are cutting down rainforests for many reasons, including:


wood for both timber and making fires;
agriculture for both small and large farms;
land for poor farmers who don't have anywhere else to live;
grazing land for cattle (the single biggest driver of deforestation in the Amazon);
plantations, including wood-pulp for making paper, oil palm for making palm oil, and rubber;
road construction; and
extraction of minerals and energy.

In recent decades there has been an important shift in deforestation trends. Today export-driven industries are driving a bigger share of deforestation than ever before, marking a shift from previous decades, when most tropical deforestation was the product of poor farmers trying to put food on the table for their families. There are important implications from this change. While companies have a greater capacity to chop down forests than small farmers, they are more sensitive to pressure from environmentalists. Thus in recent years, it has become easier—and more ethical—for green groups to go after corporations than after poor farmers.

Rainforests are also threatened by climate change, which is contributing to droughts in parts of the Amazon and Southeast Asia. Drought causes die-offs of trees and dries out leaf litter, increasing the risk of forest fires, which are often set by land developers, ranchers, plantation owners, and loggers.




Chapter 9: Rainforest importance

While rainforests may seem like a distant concern, they are critically important for our well-being. Rainforests are often called the lungs of the planet for their role in absorbing carbon dioxide, a greenhouse gas, and producing oxygen, upon which all animals depend for survival. Rainforests also stabilize climate, house incredible amounts of plants and wildlife, and produce nourishing rainfall all around the planet.

Rainforests:
Help stabilize the world's climate: Rainforests help stabilize the world's climate by absorbing carbon dioxide from the atmosphere. Scientists have shown that excess carbon dioxide in the atmosphere from human activities is contributing to climate change. Therefore, living rainforests have an important role in mitigating climate change, but when rainforests are chopped down and burned, the carbon stored in their wood and leaves is released into the atmosphere, contributing to climate change.
Provide a home to many plants and animals: Rainforests are home to a large number of the world's plant and animals species, including many endangered species. As forests are cut down, many species are doomed to extinction.
Help maintain the water cycle: The role of rainforests in the water cycle is to add water to the atmosphere through the process of transpiration (in which plants release water from their leaves during photosynthesis). This moisture contributes to the formation of rain clouds, which release the water back onto the rainforest. In the Amazon, 50-80 percent of moisture remains in the ecosystem's water cycle. When forests are cut down, less moisture goes into the atmosphere and rainfall declines, sometimes leading to drought. Rainforests also have a role in global weather patterns. For example researchers have shown that forests in South America affect rainfall in the United States, while forests in Southeast Asia influence rain patterns in southeastern Europe and China. Distant rainforests are therefore important to farmers everywhere.
Protect against flood, drought, and erosion: Rainforests have been compared to natural sponges, moderating flood and drought cycles by slowing run-off and contributing moisture to the local atmosphere. Rainforests are also important in reducing soil erosion by anchoring the ground with their roots. When trees are cut down there is no longer anything to protect the ground, and soils are quickly washed away with rain. On steep hillsides, loss of forest can trigger landslides.
Are a source for medicines and foods and support forest-dependent people: People have long used forests as a source of food, wood, medicine, and recreation. When forests are lost, they can no longer provide these resources. Instead people must find other places to get these goods and services. They also must find ways to pay for the things they once got for free from the forest.
Chapter 10: Rainforest conservation

Rainforests are disappearing very quickly. The good news is there are a lot of people who want to save rainforests. The bad news is that saving rainforests will be a challenge as it means humanity will need to shift away from business-as-usual practices by developing new policies and economic measures to creative incentives for preserving forests as healthy and productive ecosystems.

Over the past decade there has been considerable progress on several conservation fronts. Policymakers and companies are increasingly valuing rainforests for the services they afford, setting aside large blocks of forests in protected areas and setting up new financial mechanisms that compensate communities, state and local governments, and countries for conserving forests. Meanwhile, forest-dependent people are gaining more management control over the forests they have long stewarded. Large international companies are finally establishing policies that exclude materials sourced via deforestation. People are abandoning rural areas, leading to forest recovery in some planes.

But the battle is far from over. Growing population and consumption means that rainforests will continue to face intense pressures. At the same time, climate change threatens to dramatically alter temperatures and precipitation patterns, potentially pushing some forests toward critical tipping points.

Thus the future of the world's rainforests in very much in our hands. The actions we take in the next 20 years will determine whether rainforests, as we currently know them, are around to sustain and nourish future generations of people and wildlife.
RAINFOREST NEWS
---

After 10 years vying for protection, Kalimantan community granted legal rights to community forest
(01/30/2015) Perseverance, respect for their ancestors, and a knowledge that the clearing of the forest will result in environmental disaster for them have all helped the community remain solidified in their resistance. Instead of selling out, they created a Tana' Ulen, or community forest.


Sumatran community takes charge to protect its forest, attracts REDD+ attention
(01/29/2015) Television inspired Syafrizal to act. As he watched report after report of land conflicts exploding in Sumatra and Kalimantan, he realized nobody was safe, and his village might be next.


Deforestation may be ramping up in Papua, West Papua
(01/27/2015) Despite being covered in commodity concessions and becoming a focal point for the Indonesian government's palm oil development in the country's eastern half, the provinces of Papua and West Papua have, rather mysteriously, recorded very low deforestation rates compared to the rest of the archipelago. However, emerging data, reports, and photos suggest the region's forest loss may be escalating.


Rogue cop missing from jail
(01/27/2015) An Indonesian police official busted for illegal logging in West Papua has been missing from jail for nearly a year after being granted permission to seek medication treatment, reports the The Jakarta Post.


Financial pledges for REDD+ slow to be disbursed, finds report
(01/27/2015) Only a small fraction of the $7.3 billion pledged under the Reducing Emissions from Deforestation and Degradation (REDD+) program has actually been disbursed, find a new report that tracked REDD+ finance in seven countries. The report, published by Forest Trends, analyzed REDD+ financial flows between 2009 and 2012 in Brazil, Colombia, Ecuador, Ghana, Liberia, Tanzania and Vietnam


Brazil's soy moratorium dramatically reduced Amazon deforestation
(01/23/2015) The moratorium on forest conversion established by Brazilian soy giants in 2006 dramatically reduce deforestation for soy expansion in the Amazon, and have been more effective in cutting forest destruction than the government's land use policy in the region, finds a study published today in the journal Science.


Sumatran community grows crops, aids conservation through 'village forests'
(01/23/2015) The rolling green hills covered in rice paddies and coffee plantations give Semende in the Muara Enim regency of South Sumatra a welcome and hospitable feeling. However, behind the peaceful pastoral veil, is a history of rampant forest encroachment and land conflict in the Barisan mountains.


Half of Borneo's mammals could lose a third of their habitat by 2080
(01/22/2015) Borneo consistently makes the list of the world's "biodiversity hotspots" – areas full of a wide variety of forms of life found nowhere else, but which are also under threat. To better understand the hazards, a study published today in the journal Current Biology examines the effects of climate change and deforestation in the coming decades on mammals living on the island.


Palm oil giant launches online platform to support zero deforestation push
(01/22/2015) Wilmar, the world's largest palm oil company, has unveiled a tool it says will help eliminate deforestation from its global supply chain. The tool is an online dashboard that maps the company's supply chain, including the names of locations of its refineries and supplier mills.


Sumatran village protects environment through agroforestry
(01/21/2015) The forest behind Indudur village clings to the steep hillside. The topography itself is enough to protect it from most common threats of development. However, the area is under attack by a more pernicious force: a lack of interest by the younger generation in earning their living here. The difficulty of life compels many to migrate out, leaving the village dominated by older people.


Video: clouded leopards and elephants grace drowned forest in Thailand
(01/21/2015) Camera trap video from Khlong Saeng Wildlife Sanctuary in southern Thailand has revealed an impressive array of wildlife, including scent-marking clouded leopards and a whole herd of Asian elephant. The camera traps were set by HabitatID, an organization devoted to using remote camera traps to prove to government officials that wildlife still flourishes in forgotten places.


Company chops down rainforest to produce 'sustainable' chocolate
(01/20/2015) A cacao grower with roots in Southeast Asia's palm oil industry has set up shop in the Peruvian Amazon. The CEO of United Cacao has told the international press that he wants to change the industry for the better, but a cadre of scientists and conservation groups charge that United Cacao has quietly cut down more than 2,000 hectares of rainforest.


More rainforest news



---



Recently updated:
mongabay.com news | mongabay.com home







MONGABAY.COM
Mongabay.com is one of the Internet's top resources about tropical rainforests.



CONTENTS


LIKE MONGABAY?
Consider a tax-deductible donation to support our independent reporting:



---

[Slideshow view]



RAINFORESTS
By Rhett A. Butler

An overview of tropical rainforests for kids, based on mongabay.com's popular web site for children (kids.mongabay.com). Rainforests describes tropical rainforests, why they are important, and what is happening to them.
SUPPORT
Help support mongabay.com when you buy from Amazon.com


Some books