RAINFOREST PEOPLE
By Rhett Butler
| Last updated

July 31, 2012



Tropical rainforests have long been home to indigenous peoples who have shaped civilizations and cultures based on the environment in which they live. Great civilizations like the Mayas, Incas, and Aztecs developed complex societies and made great contributions to science. Living from nature and lacking the technology to dominate their environment, native peoples have learned to watch their surroundings and understand the intricacies of the rainforest. Over generations these people have learned the importance of living within their environment and have come to rely on the countless renewable benefits that forests can provide.








Review questions:
Who lives in the rainforest?
Other versions of this page
spanish | french | portuguese | chinese | japanese]

Continued: African Forest People



---
Recent news on rainforest people
[all rainforest people news]


New forest map for Sarawak reveals large-scale deforestation, encroachment on indigenous territories
(02/24/2014) A new online platform released by the Bruno Manser Fund reveals large-scale destruction of Sarawak's rainforests, peatlands, and traditional lands. Drawing from a variety of sources, the Sarawak Geoportal includes data on logging concessions, oil palm plantations, existing and proposed dams, historical forest cover, the extent of indigenous cultivated areas, election results, and area where there are current native customary rights (NCR) disputes.



The lemur end-game: scientists propose ambitious plan to save the world's most imperiled mammal family
(02/20/2014) Due to the wonderful idiosyncrasies of evolution, there is one country on Earth that houses 20 percent of the world's primates. More astounding still, every single one of these primates—an entire distinct family in fact—are found no-where else. The country is, of course, Madagascar and the primates in question are, of course, lemurs. But the far-flung island of Madagascar, once a safe haven for wild evolutionary experiments, has become an ecological nightmare. Overpopulation, deep poverty, political instability, slash-and-burn agriculture, illegal logging for lucrative woods, and a booming bushmeat trade has placed 94 percent of the world's lemurs under threat of extinction, making this the most imperiled mammal group on the planet. But, in order to stem a rapid march toward extinction, conservationists today publicized an emergency three year plan to safeguard 30 important lemur forests in the journal Science.



Local communities key to saving the Critically Endangered Mexican black howler monkey
(02/14/2014) For conservation initiatives around the world, community involvement is often crucial. An additional challenge is how to conserve species once their habitats have become fragmented. A primatologist in Mexico is bringing these together in a celebration of a Critically Endangered primate species: the Mexican black howler monkey. In 2013 Juan Carlos Serio-Silva was part of a team that not only helped to secure the establishment of a protected area for the Mexican black howler monkey, but also engaged local communities in a week of festivities, dubbed the First International Black Howler Monkey Week.



Helping the Amazon's 'Jaguar People' protect their culture and traditional wisdom
(02/11/2014) Tribes in the Amazon are increasingly exposed to the outside world by choice or circumstance. The fallout of outside contact has rarely been anything less than catastrophic, resulting in untold extinction of hundreds of tribes over the centuries. For ones that survived the devastation of introduced disease and conquest, the process of acculturation transformed once proud cultures into fragmented remnants, their self-sufficiency and social cohesion stripped away, left to struggle in a new world marked by poverty and external dependence


Gas company to drill in Manu National Park buffer zone, imperiling indigenous people
(02/04/2014) The Peruvian government has approved plans for gas company Pluspetrol to move deeper into a supposedly protected reserve for indigenous peoples and the buffer zone of the Manu National Park in the Amazon rainforest. The approval follows the government rescinding a highly critical report on the potential impacts of the operations by the Culture Ministry (MINCU), the resignation of the Culture Minister and other Ministry personnel, and repeated criticism from Peruvian and international civil society.



Through careful management, indigenous people have shaped Asian rainforests for 11,000 years
(01/28/2014) Humans have been actively managing vast areas of Southeast Asia's forests for longer than previously believed, according to research by paleoecologists from the United Kingdom presented in the current Journal of Archaeological Science. Strong evidence suggests that humans in Borneo, Sumatra, Java, Thailand and Vietnam have engaged in agricultural practices for the last 11,000 years. These findings may help bolster the claims of local indigenous peoples under threat of eviction from their traditional lands.



Land conflicts complicate effort to spare forests from palm oil in Borneo
(01/17/2014) A widely-heralded effort to spare carbon-dense rainforests and peatlands from palm oil development in Indonesian Borneo is facing new criticism after an investigation by rights groups found evidence of unresolved conflicts over community land. The report, published Friday by the Forest Peoples Program and TUK-Indonesia, looked at a carbon conservation pilot project run by Golden Agri Resources (GAR), a Singapore-based agribusiness giant that is one of Indonesia's largest palm oil producers.


Brazil begins evicting illegal settlers from hugely-imperiled indigenous reserve
(01/06/2014) Months after closing sawmills on the fringes of an indigenous reserve for the hugely-imperiled Awá people, the Brazil government has now moved into the reserve itself to evict illegal settlers in the eastern Amazon. According to the NGO Survival International, Brazil has sent in the military and other government agents to deal with massive illegal settlements on Awá land for logging or cattle.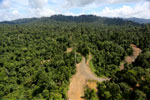 Rainforest news review for 2013
(12/26/2013) 2013 was full of major developments in efforts to understand and protect the world's tropical rainforests. The following is a review of some of the major tropical forest-related news stories for the year. As a review, this post will not cover everything that transpired during 2013 in the world of tropical forests. Please feel free to highlight anything this post missed via the comments section at the bottom. Also please note that this review focuses only on tropical forests.



Top 10 HAPPY environmental stories of 2013
(12/19/2013) China begins to tackle pollution, carbon emissions: As China's environmental crisis worsens, the government has begun to unveil a series of new initiatives to curb record pollution and cut greenhouse emissions. The world's largest consumer of coal, China's growth in emissions is finally slowing and some experts believe the nation's emissions could peak within the decade. If China's emissions begin to fall, so too could the world's.



Scientists make one of the biggest animal discoveries of the century - a new tapir
(12/16/2013) In what will likely be considered one of the biggest (literally) zoological discoveries of the Twenty-First Century, scientists today announced they have discovered a new species of tapir in Brazil and Colombia. The new mammal, hidden from science but known to local indigenous tribes, is actually one of the biggest animals on the continent, although it's still the smallest living tapir. Described in the Journal of Mammology, the scientists have named the new tapir Tapirus kabomani after the name for 'tapir' in the local Paumari language: Arabo kabomani.



Indonesia urged to implement decision recognizing indigenous rights to land
(12/10/2013) Indigenous rights groups are circulating a petition asking the Indonesian government to immediately implement a court ruling that would take management of million of hectares of customary forest out of the hands of the Ministry of Forestry and turn it over to traditional communities. The petition was posted on Change.org by Indigenous Peoples Alliance of the Archipelago (AMAN).


Ecuador's government shuts down indigenous rights organization over oil battle
(12/10/2013) Last Wednesday, the government of Ecuador shutdown the indigenous rights NGO, Fundación Pachamama, in Quito over the group's opposition to oil drilling in indigenous areas. More than a dozen government officials showed up at Pachamama's office with a resolution by the Ministry of Environment that officially dissolved the organization, the first such moved by the government which in June passed an Executive Decree that tightened governmental oversight of the country's NGOs.



Flawed from inception? Ecuador's Yasuní-ITT initiative threatened indigenous groups with simple mapping errors
(11/13/2013) The plan from Ecuador's government was simple: Pay us and we won't destroy the planet's most extraordinary ecosystem. Dubbed the Yasuni-ITT initiative, the plan called upon developed nations to pay for protecting Ecuador's Yasuni National Park from oil companies. Now, a recent study claims the plan was fraught with flaws as basic as drawing lines on a map.


Murum dam blockaders may be suffering human rights violations warns NGOs
(11/12/2013) A coalition of nearly 30 organizations has sent a letter to top authorities in Sarawak and Malaysia warning them of possible human right violations against a group of indigenous Penan who are blocking roads to the construction site for Murum Dam. Over 100 indigenous people have been blocking a road for over a month as they demand more compensation and land after being forced to move from their traditional lands to make way for the 900 megawatt dam.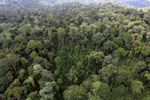 Redeeming REDD: a conversation with Michael Brown
(11/11/2013) In Redeeming REDD: Policies, Incentives and Social Feasibility for Avoided Deforestation, anthropologist Michael Brown relays a constructive critique of the contemporary aims, standards and modalities for mitigating climate change by reducing emissions from deforestation and degradation (REDD). Brown advocates for REDD as a viable mechanism for the long-term pro-poor conservation and restoration of tropical forests as well—but only if local forest dwellers and Indigenous. Peoples can join the negotiating table and act as forest stewards. Local people must first be empowered to make 'socially feasible' decisions that are necessary for their livelihoods and well-being. In other words, there can be no environmentalism without credible local leadership, which requires investment in capacity building at the local level for sustainable institutions.



Could camera trap videos galvanize the world to protect Yasuni from oil drilling?
(11/07/2013) Even ten years ago it would have been impossible to imagine: clear-as-day footage of a jaguar plodding through the impenetrable Amazon, or a bicolored-spined porcupine balancing on a branch, or a troop of spider monkeys feeding at a clay lick, or a band of little coatis racing one-by-one from the dense foliage. These are things that even researchers who have spent a lifetime in the Amazon may never see. Now anyone can: scientists at the Tiputini Biodiversity Station in Ecuador's Yasuní National Park have recently begun using camera trap videos to take movies of animals few will ever view in their lifetimes. The videos—following years of photo camera trapping—provide an intimate view of a world increasingly threatened by the oil industry.



Indigenous groups expel workers, blockade another dam in Sarawak
(11/05/2013) Hundreds of tribal people in Sarawak have started blockading a second big hydroelectric dam project being built by a government, which critics accuse of nepotism and corruption. Late last month around 200 native Kenyah, Kayan and Penan people chased away workers and set up a blockade on a road leading to the site of the proposed 1200 megawatt Baram dam.


Rebranded as the Rainforest Trust, green group launches push to protect 6M acres of Amazon rainforest
(10/30/2013) The Rainforest Trust, which from 1988 until last month was known as the World Land Trust-US, has kicked off an effort to preserve some 2.4 million hectares (5.9 million acres) of rainforest in a remote part of the Peruvian Amazon.


'Sustainable' tropical timber trade a misnomer, says group
(10/24/2013) The production and trade in 'sustainable' timber products in Southeast Asia is mostly 'a mirage' due to questionable forestry practices and loopholes in import regulations, alleges a new report from Friends of the Earth International.



Tapirs, drug-trafficking, and eco-police: practicing conservation amidst chaos in Nicaragua
(10/10/2013) Nicaragua is a nation still suffering from deep poverty, a free-flowing drug trade, and festering war-wounds after decades of internecine fighting. However, like any country that has been largely defined by its conflicts, Nicaragua possesses surprises that overturn conventional wisdom. Not the least of which is that the Central American country is still home to big, stunning species, including jaguars, giant anteaters, pumas, and the nation's heaviest animal, the Baird's tapir (Tapirus bairdii). Still, not surprisingly given the nation's instability, most conservationists have avoided Nicaragua. But tapir-expert Christopher Jordan, who has worked in the country for over four years, says he wouldn't have it any other way.


Borneo tribesmen block road as controversial rainforest dam impoundment begins
(09/27/2013) Indigenous leaders have set up roadblocks in Malaysian Borneo to protest Sarawak's newest dam, report environmental activists who oppose the project.



Japanese firms buying illegal timber from Malaysia's endangered rainforests
(09/10/2013) Japanese companies are failing to keep illegally logged timber from entering their supply chains, international human rights and environmental watchdog Global Witness said in a report released today. The report links several major Japanese firms to logging companies that are destroying tropical rainforests in Malaysian Borneo through illegal and destructive logging practices in Sarawak province.


Amazon rainforest tribe sells REDD+ credits to Brazilian cosmetics giant
(09/10/2013) The Paiter-Suruí, a rainforest tribe that in June became the first indigenous group to generate REDD+ credits under the Verified Carbon Standard (VCS), has now closed their first deal. As reported by Ecosystem Marketplace, Brazilian cosmetics giant Natura Cosméticos has purchased 120,000 tons of carbon offsets from the the Surui Forest Carbon Project in Rondônia, Brazil.



Large-scale opposition among Borneo villagers to deforestation
(09/10/2013) Nearly two-thirds of villagers surveyed across rainforests in Indonesian and Malaysian Borneo are against large-scale deforestation due to the adverse impacts on livelihoods and the environment, finds a comprehensive new study across 185 communities. The research, conducted over a one-year period by an international team of scientists, is published in this week's issue of the journal PLOS ONE. The study found that people who live near forests place the greatest value on the benefits they afford, including medicinal plants, game, clean water, and fiber.





---
Other pages in this section:
Selection of information sources