RAINFOREST PEOPLE
By Rhett Butler
| Last updated

July 31, 2012



Tropical rainforests have long been home to indigenous peoples who have shaped civilizations and cultures based on the environment in which they live. Great civilizations like the Mayas, Incas, and Aztecs developed complex societies and made great contributions to science. Living from nature and lacking the technology to dominate their environment, native peoples have learned to watch their surroundings and understand the intricacies of the rainforest. Over generations these people have learned the importance of living within their environment and have come to rely on the countless renewable benefits that forests can provide.








Review questions:
Who lives in the rainforest?
Other versions of this page
spanish | french | portuguese | chinese | japanese]

Continued: African Forest People



---
Recent news on rainforest people
[all rainforest people news]


Illegal logging makes up 70 percent of Papua New Guinea's timber industry
(04/22/2014) Corruption, weak governance, and powerful timber barons are illegally stripping the forests of Papua New Guinea, according to a new report from the Chatham House. The policy institute finds that 70 percent of logging in Papua New Guinea is currently illegal, despite the fact that 99 percent of land is owned by local indigenous communities.



Small monkeys take over when big primates have been hunted out in the Amazon
(04/21/2014) The barbecued leg of a spider monkey might not be your idea of a sumptuous dinner, but to the Matsés or one of the fifteen tribes in voluntary isolation in Peru, it is the result of a successful hunt and a proud moment for the hunter's family. However, a spider monkey tends to have only a single infant once every 30 months, which necessarily limits the number of adult monkeys available to subsistence hunters.



Okapi-killing warlord shot dead in the Democratic Republic of the Congo
(04/17/2014) The head of an informal militia and poaching group, Paul Sadala a.k.a. 'Morgan,' was killed on Monday after surrendering himself to the army in the Democratic Republic of the Congo (DRC). A well-known elephant poacher and terrorist, Morgan became most famous for leading an attack on the Okapi Wildlife Reserve station in 2012.


Ecuador will have referendum on fate of Yasuni after activists collect over 700,000 signatures
(04/16/2014) In what is a major victory for environmentalists, campaigners with United for Yasuni have collected 727,947 signatures triggering a national referendum on whether or not oil drilling should proceed in three blocs of Yasuni National Park in Ecuador.


Featured video: celebrities speak out for Yasuni
(04/02/2014) A group of celebrities, including recent Academy Award winner Jared Leto, Law and Order's Benjamin Bratt, and Kill Bill's Daryl Hannah, have lent their voices to a new Public Service Announcement to raise signatures to protect Ecuador's Yasuni National Park from oil drilling.



Study warns of possible REDD+ land grab
(03/30/2014) A UN program to reduce global carbon emissions may be putting indigenous communities at risk, jeopardizing local land rights and laying the groundwork for large-scale "carbon grabs" by governments and private investors, argues a new report.



Indigenous communities demand forest rights, blame land grabs for failure to curb deforestation
(03/25/2014) Indigenous and forest-dependent peoples from Asia, Africa and Latin America have called for increased recognition of customary land rights in order to curb deforestation and ensure the survival of their communities. The Palangkaraya Declaration on Deforestation and the Rights of Forest Peoples calls on governments to uphold forest peoples' rights to control and manage their customary lands and to halt rights-violating development projects being carried out without consent from local communities.



Next big idea in forest conservation? Offer health care for forest protection
(03/21/2014) Dr. Kinari Webb has a superpower: the ability to provide high-quality health care in a remote and rural landscape. And she uses her power not only to save lives, but also to protect the remaining Bornean rainforests. Twenty-one years ago, Kinari Webb traveled to Borneo to work with orangutans. She witnessed the faltering health of both the people and the environment and saw that the two issues were inseparable. When families must choose between the health of their children and the health of the forest that supports them, everyone loses. But in the region of Gunung Palung National Park — where an estimated 10 percent of the world's orangutans live — illegal logging and slash and burn farming methods paid the bills and locals saw few alternatives. Kinari vowed to study medicine and return with more to offer.


Oil or rainforest: new website highlights the plight of Yasuni National Park
(03/20/2014) A new multimedia feature story by Brazilian environmental news group, ((o))eco, highlights the ongoing debate over Yasuni National Park in Ecuador, arguably the most biodiverse place on the planet.


Featured video: indigenous tribe faces loggers, ranchers, and murder in bid to save their forests
(03/19/2014) A new short film, entitled La Trocha, highlights the plight of the Wounaan people in Panama, who are fighting for legal rights to their forests even as loggers and ranchers carve it up. The conflict turned violent in 2012 when local chief, Aquilo Puchicama, was shot dead by loggers.



Mother of God: meet the 26 year old Indiana Jones of the Amazon, Paul Rosolie
(03/17/2014) Not yet 30, Paul Rosolie has already lived a life that most would only dare dream of—or have nightmares over, depending on one's constitution. With the Western Amazon as his panorama, Rosolie has faced off jaguars, wrestled anacondas, explored a floating forest, mentored with indigenous people, been stricken by tropical disease, traveled with poachers, and hand-reared a baby anteater. It's no wonder that at the ripe age of 26, Rosolie was already written a memoir: Mother of God.



Controversial Amazon dams may have exacerbated biblical flooding
(03/16/2014) Environmentalists and scientists raised howls of protest when the Santo Antônio and Jirau Dams were proposed for the Western Amazon in Brazil, claiming among other issues that the dams would raise water levels on the Madeira River, potentially leading to catastrophic flooding. It turns out they may have been right: last week a federal Brazilian court ordered a new environmental impact study on the dams given suspicion that they have worsened recent flooding in Brazil and across the border in Bolivia.


New web tool aims to help indigenous groups protect forests and navigate REDD+
(03/12/2014) A new online tool, dubbed ForestDefender, aims to help indigenous people understand and implement their rights in regard to forests. The database, developed by the Center for International Environmental Law (CIEL), brings together vast amounts of legal information—both national and international—on over 50 countries.



Cocaine: the new face of deforestation in Central America
(03/11/2014) In 2006, Mexico intensified its security strategy, forming an inhospitable environment for drug trafficking organizations (also known as DTOs) within the nation. The drug cartels responded by creating new trade routes along the border of Guatemala and Honduras. Soon shipments of cocaine from South America began to flow through the Mesoamerican Biological Corridor (MBC). This multi-national swathe of forest, encompassing several national parks and protected areas, was originally created to protect endangered species, such as Baird's Tapir (Tapirus bairdii) and jaguar (Panthera onca), as well as the world's second largest coral reef. Today, its future hinges on the world's drug producers and consumers.



New forest map for Sarawak reveals large-scale deforestation, encroachment on indigenous territories
(02/24/2014) A new online platform released by the Bruno Manser Fund reveals large-scale destruction of Sarawak's rainforests, peatlands, and traditional lands. Drawing from a variety of sources, the Sarawak Geoportal includes data on logging concessions, oil palm plantations, existing and proposed dams, historical forest cover, the extent of indigenous cultivated areas, election results, and area where there are current native customary rights (NCR) disputes.



The lemur end-game: scientists propose ambitious plan to save the world's most imperiled mammal family
(02/20/2014) Due to the wonderful idiosyncrasies of evolution, there is one country on Earth that houses 20 percent of the world's primates. More astounding still, every single one of these primates—an entire distinct family in fact—are found no-where else. The country is, of course, Madagascar and the primates in question are, of course, lemurs. But the far-flung island of Madagascar, once a safe haven for wild evolutionary experiments, has become an ecological nightmare. Overpopulation, deep poverty, political instability, slash-and-burn agriculture, illegal logging for lucrative woods, and a booming bushmeat trade has placed 94 percent of the world's lemurs under threat of extinction, making this the most imperiled mammal group on the planet. But, in order to stem a rapid march toward extinction, conservationists today publicized an emergency three year plan to safeguard 30 important lemur forests in the journal Science.



Local communities key to saving the Critically Endangered Mexican black howler monkey
(02/14/2014) For conservation initiatives around the world, community involvement is often crucial. An additional challenge is how to conserve species once their habitats have become fragmented. A primatologist in Mexico is bringing these together in a celebration of a Critically Endangered primate species: the Mexican black howler monkey. In 2013 Juan Carlos Serio-Silva was part of a team that not only helped to secure the establishment of a protected area for the Mexican black howler monkey, but also engaged local communities in a week of festivities, dubbed the First International Black Howler Monkey Week.



Helping the Amazon's 'Jaguar People' protect their culture and traditional wisdom
(02/11/2014) Tribes in the Amazon are increasingly exposed to the outside world by choice or circumstance. The fallout of outside contact has rarely been anything less than catastrophic, resulting in untold extinction of hundreds of tribes over the centuries. For ones that survived the devastation of introduced disease and conquest, the process of acculturation transformed once proud cultures into fragmented remnants, their self-sufficiency and social cohesion stripped away, left to struggle in a new world marked by poverty and external dependence


Gas company to drill in Manu National Park buffer zone, imperiling indigenous people
(02/04/2014) The Peruvian government has approved plans for gas company Pluspetrol to move deeper into a supposedly protected reserve for indigenous peoples and the buffer zone of the Manu National Park in the Amazon rainforest. The approval follows the government rescinding a highly critical report on the potential impacts of the operations by the Culture Ministry (MINCU), the resignation of the Culture Minister and other Ministry personnel, and repeated criticism from Peruvian and international civil society.



Through careful management, indigenous people have shaped Asian rainforests for 11,000 years
(01/28/2014) Humans have been actively managing vast areas of Southeast Asia's forests for longer than previously believed, according to research by paleoecologists from the United Kingdom presented in the current Journal of Archaeological Science. Strong evidence suggests that humans in Borneo, Sumatra, Java, Thailand and Vietnam have engaged in agricultural practices for the last 11,000 years. These findings may help bolster the claims of local indigenous peoples under threat of eviction from their traditional lands.



Land conflicts complicate effort to spare forests from palm oil in Borneo
(01/17/2014) A widely-heralded effort to spare carbon-dense rainforests and peatlands from palm oil development in Indonesian Borneo is facing new criticism after an investigation by rights groups found evidence of unresolved conflicts over community land. The report, published Friday by the Forest Peoples Program and TUK-Indonesia, looked at a carbon conservation pilot project run by Golden Agri Resources (GAR), a Singapore-based agribusiness giant that is one of Indonesia's largest palm oil producers.


Brazil begins evicting illegal settlers from hugely-imperiled indigenous reserve
(01/06/2014) Months after closing sawmills on the fringes of an indigenous reserve for the hugely-imperiled Awá people, the Brazil government has now moved into the reserve itself to evict illegal settlers in the eastern Amazon. According to the NGO Survival International, Brazil has sent in the military and other government agents to deal with massive illegal settlements on Awá land for logging or cattle.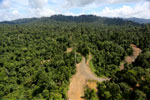 Rainforest news review for 2013
(12/26/2013) 2013 was full of major developments in efforts to understand and protect the world's tropical rainforests. The following is a review of some of the major tropical forest-related news stories for the year. As a review, this post will not cover everything that transpired during 2013 in the world of tropical forests. Please feel free to highlight anything this post missed via the comments section at the bottom. Also please note that this review focuses only on tropical forests.



Top 10 HAPPY environmental stories of 2013
(12/19/2013) China begins to tackle pollution, carbon emissions: As China's environmental crisis worsens, the government has begun to unveil a series of new initiatives to curb record pollution and cut greenhouse emissions. The world's largest consumer of coal, China's growth in emissions is finally slowing and some experts believe the nation's emissions could peak within the decade. If China's emissions begin to fall, so too could the world's.



Scientists make one of the biggest animal discoveries of the century - a new tapir
(12/16/2013) In what will likely be considered one of the biggest (literally) zoological discoveries of the Twenty-First Century, scientists today announced they have discovered a new species of tapir in Brazil and Colombia. The new mammal, hidden from science but known to local indigenous tribes, is actually one of the biggest animals on the continent, although it's still the smallest living tapir. Described in the Journal of Mammology, the scientists have named the new tapir Tapirus kabomani after the name for 'tapir' in the local Paumari language: Arabo kabomani.





---
Other pages in this section:
Selection of information sources