DEFORESTATION
A World Imperiled: Forces Behind Forest Loss
By Rhett Butler
| Last updated

July 27, 2012



As the first seven parts of the rainforest section of the site have described, tropical rainforests are incredibly rich ecosystems that play a fundamental role in the basic functioning of the planet. Rainforests are home to probably 50 percent of the world's terrestrial species, making them an extensive library of biological and genetic resources. In addition, rainforests help maintain the climate by regulating atmospheric gases and stabilizing rainfall, protect against desertification, and provide numerous other ecological functions.

However, these precious systems are among the most threatened on the planet. Although the precise area is debated, each day at least 80,000 acres (32,300 ha) of forest disappear from Earth. At least another 80,000 acres (32,300 ha) of forest are degraded. Along with them, the planet loses untold numbers of species to extinction, the vast majority of which have never been documented by science. As these forests fall, more carbon is added to the atmosphere, climatic conditions are further altered, and more topsoil is lost to erosion.


2012 data from Harris et al.
Estimates based on satellite imagery.


Forest Area 2000
Gross Forest
Cover Loss
Gross loss,
2000-2005
(Million ha)
(ha/yr)
Total
Brazil
458
3,292,000
3.6%
Indonesia
107
701,000
3.3%
Argentina
49
437,000
4.5%
Paraguay
21
242,000
5.8%
Malaysia
22
233,000
5.3%
India
42
206,000
2.5%
DR Congo
167
203,000
0.6%
Mozambique
34
196,000
2.9%
Myanmar
33
186,000
2.8%
Tanzania
23
149,000
3.2%
Mexico
46
140,000
1.5%
Colombia
63
137,000
1.1%
Thailand
17
134,000
3.9%
Zambia
29
134,000
2.3%
Bolivia
61
129,000
1.1%
Despite increased awareness of the importance of these forests, deforestation rates have not slowed. Analysis of figures from the Food and Agriculture Organization of the United Nations (FAO) shows that tropical deforestation rates increased 8.5 percent from 2000-2005 when compared with the 1990s, while loss of primary forests may have expanded by 25 percent over the same period. Nigeria and Vietnam's rate of primary forest loss has doubled since the 1990s, while Peru's rate has tripled.

Overall, FAO estimates that 10.4 million hectares of tropical forest were permanently destroyed each year in the period from 2000 to 2005, an increase since the 1990-2000 period, when around 10.16 million hectares of forest were lost. Among primary forests, annual deforestation rose to 6.26 million hectares from 5.41 million hectares in the same period. On a broader scale, FAO data shows that primary forests are being replaced by less biodiverse plantations and secondary forests. Due to a significant increase in plantation forests, forest cover has generally been expanding in North America, Europe, and China while diminishing in the tropics. Industrial logging, conversion for agriculture (commercial and subsistence), and forest fires—often purposely set by people—are responsible for the bulk of global deforestation today.

But enough about the extent and some of the effects of deforestation. What is responsible for this loss? This is the question this section addresses.


Deforestation figures and charts

Highlighted deforestation pictures >>


Deforestation and Degradation

Before expanding further on forest loss it is critical to first explain what is considered "forest" and what is meant by deforestation and forest degradation.

The Food and Agriculture Organization of the United Nations (FAO), the leading source for information on the status of the world's forests, defines forests as land with a tree canopy cover of more than 10 percent and an area of more than half a hectare. FAO says that "forest" includes natural forests and forest plantations but specifically excludes stands of trees established primarily for agricultural production (i.e. fruit tree and oil palm plantations) and trees planted in agroforestry systems.

Other organizations use different standards for defining forests. For example, the United Nations Environment Programme (UNEP) uses 40 percent cover as the threshold for "closed forests" and 10-40 percent cover for "open forests," while the Tropical Ecosystem Environment Observations by Satellite (TREES) project—funded in the 1990s by the European Commission—classifies areas with more than 70 percent canopy cover as "dense forests" and those with 40-70 percent cover as "fragmented forest."


| | |
| --- | --- |
| | Data according to the FAO. Note the differences from the chart above. FAO's data is based on self reporting from forestry departments, while Harris and colleagues used satellite imagery. |
To reduce confusion, this site will generally follow FAO's convention, even though it has been criticized for its generous definition of what it considers forest.

FAO defines deforestation as "the conversion of forest to another land use or the long-term reduction of the tree canopy cover below the minimum 10 percent threshold." Depletion of forest to tree crown cover greater than 10 percent (say from 90 percent to 12 percent) is considered forest degradation. Logging most often falls under the category of forest degradation and thus is not included in FAO deforestation statistics. For this reason, forest degradation rates are considerably higher than deforestation rates.

Digging a little deeper, FAO says that "deforestation includes areas of forest converted to agriculture, pasture, water reservoirs and urban areas," but the term "specifically excludes areas where the trees have been removed as a result of harvesting or logging and where the forest is expected to regenerate naturally or with the aid of silvicultural measures."



Deforestation vs. Degradation
| | | |
| --- | --- | --- |
| Causes of Deforestation | | Causes of Degradation |
Other versions of this page
spanish | french | portuguese | chinese | japanese]







Review questions:
What is the difference between deforestation and forest degradation?
What are some examples of activities that cause deforestation?
What are some causes of forest degradation?
Continued / Next:
Recent deforestation news articles
Legislation protecting Indonesia's indigenous communities is not good enough, says advocacy group
(09/18/2014) Approaching final legalization, an advocacy group for Indonesia's indigenous communities has asked to postpone passing a bill granting protections to indigenous people, stating some demands still need to be addressed.



The cheap option on climate change: recognize indigenous rights to forests
(09/18/2014) Since 2008, governments have invested $1.64 billion in funds to kick-start REDD+, or Reducing Emissions from Deforestation and Degradation, the global effort to conserve the world's forests in order to better mitigate climate change. However, a new report by the Rights and Resources Initiative (RRI) finds that same amount of money could have secured the legal rights of indigenous and local people to 450 million hectares of forest, an area 40 percent larger than India.


'The green Amazon is red with indigenous blood': authorities pull bodies from river that may have belonged to slain leaders
(09/17/2014) Peruvian authorities have pulled more human remains from a remote river in the Amazon, which may belong to one of the four murdered Ashaninka natives killed on September 1st. It is believed the four Ashaninka men, including renowned leader Edwin Chota Valera, were assassinated for speaking up against illegal logging on their traditional lands.


Activists urge outgoing Indonesian president to protect key forest area before he steps down
(09/17/2014) Activists have launched an urgent appeal calling upon outgoing Indonesian President Susilo Bambang Yudhoyono to step up protection of the only ecosystem that houses Sumatran orangutans, rhinos, elephants and tigers.



From 'production' forests to protected forests, groups work to save Sumatran orangutan habitat. But will it be enough?
(09/16/2014) The orangutan is native exclusively to the islands of Borneo and Sumatra — two regions that have seen the brunt of Indonesia's recent forest destruction due primarily to logging and plantation development. Although there are anywhere from 45,000 to 69,000 Bornean orangutans remaining in the wild, the Sumatran species numbers only about 7,300 according to a 2004 survey, and is dwindling further every year.


Brazil's planned Tapajós dams would increase Amazon deforestation by 1M ha
(09/14/2014) A plan to build a dozen dams in the Tapajós river basin would drive the loss of an additional 950,000 hectares of rainforest by 2032 by spurring land speculation and mass migration to the region, suggests a new study published by Imazon, a Brazilian NGO.



As Bolivia plans dramatic agro-expansion, forests may pay the price (PART II)
(09/12/2014) In an August 14 announcement, Bolivian Vice President, Alvaro Garcia Linera, laid out an ambitious plan to increase the country's cropland by 250 percent, and triple its agricultural output. The proposal is touted as way to increase both food and economic security for the inland South American country, but what will it mean for its forests?


Palm oil company continues to operate illegal plantation despite court ruling
(09/12/2014) A palm oil company in Central Kalimantan continues to operate business as usual, despite a Supreme Court ruling confirming it has no legal permit to do so. Since 2009, PT Hati Prima Agro (HPA), a subsidiary of palm oil giant Bumitama Gunajaya Agro Group (BGA), has cleared over 7,000 ha of land in Central Kalimantan, even though their permits were revoked by the Ministry of Forestry in 2008.


Brazil confirms last year's rise in Amazon deforestation
(09/12/2014) Brazil's National Space Agency INPE has officially confirmed last year's rise in Amazon deforestation.



Illegal tropical deforestation driven globally by "agro-conversion"
(09/11/2014) Nearly 50 percent of tropical deforestation to make room for commercial agriculture between 2000 and 2012 was done so illegally. That's a key finding of a report published by the U.S.-based nonprofit organization Forest Trends looking at the global tide of tropical forest "agro-conversion."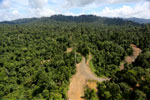 FSC meeting weighs old-growth forest protection, smallholder participation
(09/11/2014) The Forest Stewardship Council (FSC), a body that sets social and environmental certification criteria for forestry products, is weighing measures that could step up protection for old-growth forests and make it easier for indigenous people and traditional forest communities to qualify for certification. The measures are set for a vote this week at the body's General Assembly, which is held every three years to establish and revise criteria that underpin the standard.



Bolivian vice president proposes unprecedented agricultural expansion (PART 1)
(09/10/2014) On August 14, the Bolivian Vice President, Alvaro Garcia Linera, made a startling announcement: by 2025, Bolivia was going to make two striking developments - first, it would expand all cultivated land to 2.5 times its present area, and second, it would triple food production from 15 to 45 million tons.



Elephants pay the price for palm oil in Malaysian Borneo, impact may reach far beyond reported kills
(09/10/2014) More than a dozen elephant kills were reported in Sabah in 2013 alone, but it is unknown exactly how many have lost their lives in recent years as palm plantations encroach further and further into the rainforest. What is clear is that if the loss of their forest habitat continues to drive conflicts with humans at the rate it is now, Borneo elephants' long-term survival may be in jeopardy.


Malaysian palm oil chief misleads on deforestation
(09/10/2014) One of Malaysia's top palm oil officials has once again misled the public on the state of forests in Malaysia.


Companies at risk of sourcing illegal palm oil despite zero deforestation commitments, finds investigation
(09/05/2014) Major palm oil suppliers may be continuing to buy tainted palm oil despite high-profile commitments to eliminate deforestation from their supply chains, reports a new investigation published by Eyes on the Forest.



Canada, Russia, Brazil lead world in old-growth forest loss
(09/05/2014) Every day, the world loses about 50,000 hectares of forest to agricultural clearing, road development, and other human activities, constricting true wilderness into smaller and smaller areas – along with the species that inhabit them. New analysis and maps released this week show these last vestiges are disappearing at a quick pace, with more than 104 million hectares degraded from 2000 to 2013.



REDD+ versus indigenous people? Why a tribe in Panama rejected pay for their carbon-rich forests
(09/04/2014) There isn't a word or phrase in the Kuna language for "carbon trading," and much less for something as complex as REDD+. Standing for Reducing Emissions from Deforestation and Degradation, REDD+ is the worldwide UN-backed climate change mitigation scheme that relies on carbon trading within forest landscapes to fund forest conservation programs. And yet, since 2008, the Kuna people have been hearing lots about it and referring to it often in their private conversations.



The last of her kind: centennial of the death of the world's last passenger pigeon
(09/01/2014) They once numbered in the billions, flying 60 miles per hour in flocks that darkened the sky. But on September 1, 1914, one hundred years ago today, the last member of what may have been the most numerous bird species on the planet died in a cage in the Cincinnati zoo.



'A global tragedy' in the making? Thailand plans highway expansion through World Heritage Site
(08/29/2014) Dong Phayayen Khao Yai Forest Complex (DPKY-FC) is the largest tract of surviving forest in central Thailand, renowned for its biodiversity. Now, the Thai government is planning major expansions to a road that bisects the complex – which scientists say will bar animal movement throughout their natural ranges, result in higher rates of road kill, and give hunters and loggers increased access to the forest.



More trouble with tar sands: oil extraction leading to big forest loss in Alberta
(08/29/2014) Tar sands operations have been the subject of much controversy over the past few years as expected economic gains for Canada the may come at the cost of environmental damage from the proposed Keystone XL pipeline and increased greenhouse gas emissions. Now another negative impact has come to light - deforestation of the boreal forest overlying the oil deposits.



Authorities stop 'greatest destroyers of the Brazilian Amazon rainforest'
(08/28/2014) A criminal organization involved in the illicit deforestation of large portions of Brazil's forests has been stopped, with at least six members of the organization arrested as of Aug. 28 and warrants issued for others. The gang has been accused of committing crimes worth over $220 million.



Meeting an Illegal Logger
(08/27/2014) 'I make six times the amount of money logging as I would working my small plot of land or even working legally in a pulp and paper or palm oil plantation.' An illegal logger explains the economic conditions in South Sumatra. Mongabay Special Reporting Fellow Robert S. Eshelman interviews an illegal logger in Indonesia on the topic of cleaning up commodity supply chains.



Where should the roads go? New map offers a solution to the 'Pandora's Box of environmental problems'
(08/27/2014) Roads make it possible to bring goods to market, to get to the office, to log a forest, to hunt its wildlife. Without roads, human society as we know it could not exist. However, to build roads, trees must be cleared and swamps drained, shrinking valuable wildlife habitat and fragmenting populations in the process. A new study unveils an innovative map that defines which areas of the world would be best used to build roads – and which should be left alone.



The Gran Canal: will Nicaragua's big bet create prosperity or environmental ruin?
(08/27/2014) A hundred years ago, the Panama Canal reshaped global geography. Now a new project, spearheaded by a media-shy Chinese millionaire, wants to build a 278-kilometer canal through Nicaragua. While the government argues the mega-project will change the country's dire economic outlook overnight, critics contend it will cause undue environmental damage, upend numerous communities, and do little to help local people.



How do we save the world's vanishing old-growth forests?
(08/26/2014) There's nothing in the world like a primary forest, which has never been industrially logged or cleared by humans. They are often described as cathedral-like, due to pillar-like trees and carpet-like undergrowth. Yet, the world's primary forests—also known as old-growth forests—are falling every year, and policy-makers are not doing enough to stop it.


The latest deforestation news
---
Other pages in this section:
Selection of information sources