DEFORESTATION
A World Imperiled: Forces Behind Forest Loss
By Rhett Butler
| Last updated

July 27, 2012



As the first seven parts of the rainforest section of the site have described, tropical rainforests are incredibly rich ecosystems that play a fundamental role in the basic functioning of the planet. Rainforests are home to probably 50 percent of the world's terrestrial species, making them an extensive library of biological and genetic resources. In addition, rainforests help maintain the climate by regulating atmospheric gases and stabilizing rainfall, protect against desertification, and provide numerous other ecological functions.

However, these precious systems are among the most threatened on the planet. Although the precise area is debated, each day at least 80,000 acres (32,300 ha) of forest disappear from Earth. At least another 80,000 acres (32,300 ha) of forest are degraded. Along with them, the planet loses untold numbers of species to extinction, the vast majority of which have never been documented by science. As these forests fall, more carbon is added to the atmosphere, climatic conditions are further altered, and more topsoil is lost to erosion.


2012 data from Harris et al.
Estimates based on satellite imagery.


Forest Area 2000
Gross Forest
Cover Loss
Gross loss,
2000-2005
(Million ha)
(ha/yr)
Total
Brazil
458
3,292,000
3.6%
Indonesia
107
701,000
3.3%
Argentina
49
437,000
4.5%
Paraguay
21
242,000
5.8%
Malaysia
22
233,000
5.3%
India
42
206,000
2.5%
DR Congo
167
203,000
0.6%
Mozambique
34
196,000
2.9%
Myanmar
33
186,000
2.8%
Tanzania
23
149,000
3.2%
Mexico
46
140,000
1.5%
Colombia
63
137,000
1.1%
Thailand
17
134,000
3.9%
Zambia
29
134,000
2.3%
Bolivia
61
129,000
1.1%
Despite increased awareness of the importance of these forests, deforestation rates have not slowed. Analysis of figures from the Food and Agriculture Organization of the United Nations (FAO) shows that tropical deforestation rates increased 8.5 percent from 2000-2005 when compared with the 1990s, while loss of primary forests may have expanded by 25 percent over the same period. Nigeria and Vietnam's rate of primary forest loss has doubled since the 1990s, while Peru's rate has tripled.

Overall, FAO estimates that 10.4 million hectares of tropical forest were permanently destroyed each year in the period from 2000 to 2005, an increase since the 1990-2000 period, when around 10.16 million hectares of forest were lost. Among primary forests, annual deforestation rose to 6.26 million hectares from 5.41 million hectares in the same period. On a broader scale, FAO data shows that primary forests are being replaced by less biodiverse plantations and secondary forests. Due to a significant increase in plantation forests, forest cover has generally been expanding in North America, Europe, and China while diminishing in the tropics. Industrial logging, conversion for agriculture (commercial and subsistence), and forest fires—often purposely set by people—are responsible for the bulk of global deforestation today.

But enough about the extent and some of the effects of deforestation. What is responsible for this loss? This is the question this section addresses.


Deforestation figures and charts

Highlighted deforestation pictures >>


Deforestation and Degradation

Before expanding further on forest loss it is critical to first explain what is considered "forest" and what is meant by deforestation and forest degradation.

The Food and Agriculture Organization of the United Nations (FAO), the leading source for information on the status of the world's forests, defines forests as land with a tree canopy cover of more than 10 percent and an area of more than half a hectare. FAO says that "forest" includes natural forests and forest plantations but specifically excludes stands of trees established primarily for agricultural production (i.e. fruit tree and oil palm plantations) and trees planted in agroforestry systems.

Other organizations use different standards for defining forests. For example, the United Nations Environment Programme (UNEP) uses 40 percent cover as the threshold for "closed forests" and 10-40 percent cover for "open forests," while the Tropical Ecosystem Environment Observations by Satellite (TREES) project—funded in the 1990s by the European Commission—classifies areas with more than 70 percent canopy cover as "dense forests" and those with 40-70 percent cover as "fragmented forest."


| | |
| --- | --- |
| | Data according to the FAO. Note the differences from the chart above. FAO's data is based on self reporting from forestry departments, while Harris and colleagues used satellite imagery. |
To reduce confusion, this site will generally follow FAO's convention, even though it has been criticized for its generous definition of what it considers forest.

FAO defines deforestation as "the conversion of forest to another land use or the long-term reduction of the tree canopy cover below the minimum 10 percent threshold." Depletion of forest to tree crown cover greater than 10 percent (say from 90 percent to 12 percent) is considered forest degradation. Logging most often falls under the category of forest degradation and thus is not included in FAO deforestation statistics. For this reason, forest degradation rates are considerably higher than deforestation rates.

Digging a little deeper, FAO says that "deforestation includes areas of forest converted to agriculture, pasture, water reservoirs and urban areas," but the term "specifically excludes areas where the trees have been removed as a result of harvesting or logging and where the forest is expected to regenerate naturally or with the aid of silvicultural measures."



Deforestation vs. Degradation
| | | |
| --- | --- | --- |
| Causes of Deforestation | | Causes of Degradation |
Other versions of this page
spanish | french | portuguese | chinese | japanese]







Review questions:
What is the difference between deforestation and forest degradation?
What are some examples of activities that cause deforestation?
What are some causes of forest degradation?
Continued / Next:
Recent deforestation news articles
Indonesia's biodiversity-protected areas no match for encroachers, finds study
(03/26/2015) Indonesia's biodiversity-focused protected areas are failing to slow deforestation, while other categories have achieved mixed results, finds a new study. The coupling of poor law enforcement with the presence of high-value timber seems to be the main culprit.



Destruction of elephant, tiger, and orangutan habitat doubles
(03/25/2015) The rate of forest loss in Indonesia's Leuser Ecosystem — the only place on Earth where rhinos, orangutans, tigers, and elephants live in the same habitat — has more than doubled due to logging, encroachment, and conversion to industrial plantations, warn conservationists. In a statement issued Tuesday, the Sumatran Orangutan Society reported that 80,316 hectares of forest were lost between 2008 and 2013, a sharp increase from the 30,830 hectares cleared between 2002 and 2008.



Illegal cocoa plantations threaten Côte d'Ivoire's parks and primates
(03/25/2015) Côte d'Ivoire, the world's largest producer of cocoa, also boasts an ecosystem of great biological richness and species diversity, with over 2,250 endemic plants and 270 vertebrate species. Unfortunately, it also has the highest deforestation rate in all of sub-Saharan Africa, largely due to its rise as a significant player in the global agricultural economy after years of civil unrest.



Photos: expedition to Amazon's white sands may have found new primate
(03/24/2015) Most people think of the Amazon rainforest as one massive, homogenous ecosystem—a giant castle of green. However, within the Amazon rainforest lie a myriad of distinct ecosystems, sporting unique characteristics and harboring endemic species. One of the rarer ecosystems in the Amazon is the white sands forest.



Seeing the trees but not the forest (commentary)
(03/20/2015) Understanding forest dynamics is necessary for the sound management of forests, for both production and conservation. This includes an understanding of the extent of forest area, information about what the forest contains and how the forest resource is managed. Forest monitoring provides this information.



Who's funding palm oil?
(03/19/2015) Palm oil may be the single most important crop that you never heard of. A vegetable fat that resembles reddish butter at room temperature, palm oil is derived from the fruit of the oil palm tree. Both nutritious and highly versatile, palm oil is now an important component of products ranging from biofuels and food to soaps and cosmetics. Estimates indicate that as much as 50 percent of the products used by the average Western consumer every day contain palm oil or its derivatives.



Indonesia's small islands being rapidly damaged by industrial activities
(03/18/2015) Intense exploitation of Indonesia's natural resources is taking a special toll on the country's small islands, with many subject to an outpouring of mining concessions that cover huge swaths of their tiny areas, often to the chagrin of local populations.



Can voluntary sustainability standards survive in emerging markets?
(03/17/2015) Last month, Price Waterhouse Coopers (PwC) published a new edition of its The World in 2050 report. Confirming the findings of previous studies, the report describes a shift in economic power from the global north to the south. PwC projects that the US' and EU's share of world GDP will face a steady decline from around 33 percent in 2014 to about 25 percent by 2050. At the same time, emerging markets like China, India, Brazil, Russia, Indonesia, Mexico, and Turkey (the so-called E7 countries) are gaining in importance as both producers and consumers in the global economy.



Brazil confirms rising deforestation in the Amazon
(03/14/2015) The Brazilian government has officially confirmed that deforestation in the Amazon is pacing sharply higher than a year ago. Figures released last week by the National Institute for Space Research (INPE) shows that forest clearing detected by DETER — a short term deforestation monitoring system based on coarse satellite imagery — is 63 percent higher for the twelve months ended January 31, 2015 relative to the year earlier period.


Proposed law could decimate Indonesia's remaining forests
(03/14/2015) A seemingly well-intended law that aims to turn forests over to traditional users could instead lead to large-scale destruction of Indonesia's native ecosystems, warns a prominent conservation biologist.


East Kalimantan reaffirms moratorium on new mining, logging concessions
(03/06/2015) The governor of East Kalimantan, Indonesia, has reaffirmed his commitment to a 2013 moratorium on mining, logging, and plantation permits. The policy, which was originally outlined in a letter to the province's regents and mayors will be elevated to a higher status, he said.



Humans cause erosion one hundred times faster than normal
(03/05/2015) Experts have long linked deforestation and intensive farming to worsening erosion rates around the world. Although studied extensively, determining erosion rates due to human-induced activities has rarely been quantified by scientists. However, new research conducted by geologists finds that erosion rates in the southeastern United States increased one hundred times after the arrival of European colonists in the 1700s due to tree clearing and unsustainable agriculture practices.



Researchers, locals work together to save Ethiopia's 'church forests'
(03/03/2015) Presenting a workshop on ecosystem services to a roomful of priests in Ethiopia may seem like an unlikely scenario for a conservation biologist to end up in, but for Meg Lowman, it's an essential part of spreading her passion for bottom-up conservation. "Canopy Meg," as she's fondly referred to by her colleagues, believes in the power of local communities to be part of the solution, often in ways that are more effective than researchers can make alone.



Jokowi's environmental commitments in Indonesia
(02/26/2015) Last fall Indonesia elected its first president with no ties to the established political order or the military. Joko Widodo's election was widely heralded by reformers who hoped the politician's capable management in his stints as mayor of the town of Solo and metropolis of Jakarta could transform Indonesia's chronically underperforming bureaucracy, potentially ushering in a new era of improved human rights, better environmental stewardship, reduced corruption, and healthier economic growth.


Brazil arrests 'Amazon's biggest destroyer'
(02/25/2015) Authorities in Brazil have arrested a man they claim to be the single biggest deforester in the Amazon, according to a statement issued by IBAMA, Brazil's environmental protection agency.



Rainforest loss increased in the 2000s, concludes new analysis
(02/25/2015) Loss of tropical forests accelerated roughly 60 percent during the 2000s, argues a paper published in the journal Geophysical Research Letters. The findings contradict previous research suggesting that deforestation slowed since the 1990s. The study is based on a map of 1990 forest cover developed last year by Do-Hyung Kim and colleagues from the University of Maryland. The map, which includes 34 countries that contain 80 percent of the world's tropical forests, enabled the researchers to establish a consistent baseline for tracking forest cover change across regions and countries over time.


Santander Bank cuts off APRIL due to deforestation
(02/24/2015) Banking giant Santander says it will not extend further financing to Asia Pacific Resources International Limited (APRIL) due to evidence that the Singapore-based pulp and paper company is continuing to destroy rainforests in Indonesia. The move comes after Greenpeace launched a global campaign against the bank.



New Guinea rainforest being leveled for palm oil, revealing gaps in zero deforestation pacts
(02/23/2015) An Indonesian palm oil firm is destroying rainforests in New Guinea despite high profile zero deforestation pledges from its customers, finds research by Greenomics-Indonesia. Landsat imagery acquired and analyzed by Greenomics shows that Austindo Nusantara Jaya Agri (ANJ) is clearing high carbon stock forests in the southern part of West Papua's Bird's Head Peninsula in Indonesian New Guinea.


Chinese banks funding rainforest destruction in Indonesia
(02/18/2015) While Santander Bank has made headlines in recent days for financing an Indonesian forestry giant's ongoing clearance of carbon-dense forests in Sumatra, Chinese banks among the largest funders of the company, reveals analysis conducted by BankTrack.org.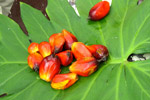 Indonesia to squander fuel savings on biofuel subsidies that may drive deforestation, say groups
(02/17/2015) Instead of wisely investing the windfall generated by cutting petrol subsidies, Indonesia is poised to squander funds by increasing subsidies for biofuel production that could exacerbate social conflict and drive deforestation, warn environmental groups.



'Sustainable' cacao company allegedly defies government's call to halt plantation development
(02/13/2015) A company aiming to be the world's largest producer of sustainable cacao, the bean used to make chocolate, appears to have ignored orders from the Peruvian government to cease operations for failing to provide justification for having razed what scientists say was more than 2,000 hectares of old-growth Amazonian rainforest.


Banco Santander targeted over deforestation link
(02/11/2015) Greenpeace has opened a new front in its campaign against a controversial Indonesian logging company by targeting one of its major financiers: Banco Santander.



Ranking the best and worst companies in terms of deforestation
(02/11/2015) While a number of high profile companies have adopted policies designed to exclude deforestation from their commodity supply chains, such commitments remain outside the norm, indicating that most companies still lack forest-friendly safeguards, finds a comprehensive survey conducted by the Global Canopy Programme. The assessment ranks 250 companies, 50 jurisdictions, 150 banks and investors, and 50 'powerbrokers' by the extent and scope of their souring policies for six 'forest risk commodities': soy palm oil, beef, leather, timber, pulp and paper.


Norway sovereign fund drops coal, tar sands, gold-mining companies
(02/09/2015) In its first-ever report on responsible investing, Norway's pension fund announced last week that it has divested from 114 companies in the past three years due to concerns over global warming, deforestation, and sustainability as well as long-term financial viability. Worth a staggering $861 billion, Norway's Government Pension Fund Global (GPFG) is the world's largest sovereign wealth fund.


Scientists warn investors on cacao company's forest destruction in Peru
(02/06/2015) A prominent group of scientists have sounded the alarm over forest clearing by a cacao company in the Peruvian Amazon.


The latest deforestation news
---
Other pages in this section:
Selection of information sources