DEFORESTATION
A World Imperiled: Forces Behind Forest Loss
By Rhett Butler
| Last updated

July 27, 2012



As the first seven parts of the rainforest section of the site have described, tropical rainforests are incredibly rich ecosystems that play a fundamental role in the basic functioning of the planet. Rainforests are home to probably 50 percent of the world's terrestrial species, making them an extensive library of biological and genetic resources. In addition, rainforests help maintain the climate by regulating atmospheric gases and stabilizing rainfall, protect against desertification, and provide numerous other ecological functions.

However, these precious systems are among the most threatened on the planet. Although the precise area is debated, each day at least 80,000 acres (32,300 ha) of forest disappear from Earth. At least another 80,000 acres (32,300 ha) of forest are degraded. Along with them, the planet loses untold numbers of species to extinction, the vast majority of which have never been documented by science. As these forests fall, more carbon is added to the atmosphere, climatic conditions are further altered, and more topsoil is lost to erosion.


2012 data from Harris et al.
Estimates based on satellite imagery.


Forest Area 2000
Gross Forest
Cover Loss
Gross loss,
2000-2005
(Million ha)
(ha/yr)
Total
Brazil
458
3,292,000
3.6%
Indonesia
107
701,000
3.3%
Argentina
49
437,000
4.5%
Paraguay
21
242,000
5.8%
Malaysia
22
233,000
5.3%
India
42
206,000
2.5%
DR Congo
167
203,000
0.6%
Mozambique
34
196,000
2.9%
Myanmar
33
186,000
2.8%
Tanzania
23
149,000
3.2%
Mexico
46
140,000
1.5%
Colombia
63
137,000
1.1%
Thailand
17
134,000
3.9%
Zambia
29
134,000
2.3%
Bolivia
61
129,000
1.1%
Despite increased awareness of the importance of these forests, deforestation rates have not slowed. Analysis of figures from the Food and Agriculture Organization of the United Nations (FAO) shows that tropical deforestation rates increased 8.5 percent from 2000-2005 when compared with the 1990s, while loss of primary forests may have expanded by 25 percent over the same period. Nigeria and Vietnam's rate of primary forest loss has doubled since the 1990s, while Peru's rate has tripled.

Overall, FAO estimates that 10.4 million hectares of tropical forest were permanently destroyed each year in the period from 2000 to 2005, an increase since the 1990-2000 period, when around 10.16 million hectares of forest were lost. Among primary forests, annual deforestation rose to 6.26 million hectares from 5.41 million hectares in the same period. On a broader scale, FAO data shows that primary forests are being replaced by less biodiverse plantations and secondary forests. Due to a significant increase in plantation forests, forest cover has generally been expanding in North America, Europe, and China while diminishing in the tropics. Industrial logging, conversion for agriculture (commercial and subsistence), and forest fires—often purposely set by people—are responsible for the bulk of global deforestation today.

But enough about the extent and some of the effects of deforestation. What is responsible for this loss? This is the question this section addresses.


Deforestation figures and charts

Highlighted deforestation pictures >>


Deforestation and Degradation

Before expanding further on forest loss it is critical to first explain what is considered "forest" and what is meant by deforestation and forest degradation.

The Food and Agriculture Organization of the United Nations (FAO), the leading source for information on the status of the world's forests, defines forests as land with a tree canopy cover of more than 10 percent and an area of more than half a hectare. FAO says that "forest" includes natural forests and forest plantations but specifically excludes stands of trees established primarily for agricultural production (i.e. fruit tree and oil palm plantations) and trees planted in agroforestry systems.

Other organizations use different standards for defining forests. For example, the United Nations Environment Programme (UNEP) uses 40 percent cover as the threshold for "closed forests" and 10-40 percent cover for "open forests," while the Tropical Ecosystem Environment Observations by Satellite (TREES) project—funded in the 1990s by the European Commission—classifies areas with more than 70 percent canopy cover as "dense forests" and those with 40-70 percent cover as "fragmented forest."


| | |
| --- | --- |
| | Data according to the FAO. Note the differences from the chart above. FAO's data is based on self reporting from forestry departments, while Harris and colleagues used satellite imagery. |
To reduce confusion, this site will generally follow FAO's convention, even though it has been criticized for its generous definition of what it considers forest.

FAO defines deforestation as "the conversion of forest to another land use or the long-term reduction of the tree canopy cover below the minimum 10 percent threshold." Depletion of forest to tree crown cover greater than 10 percent (say from 90 percent to 12 percent) is considered forest degradation. Logging most often falls under the category of forest degradation and thus is not included in FAO deforestation statistics. For this reason, forest degradation rates are considerably higher than deforestation rates.

Digging a little deeper, FAO says that "deforestation includes areas of forest converted to agriculture, pasture, water reservoirs and urban areas," but the term "specifically excludes areas where the trees have been removed as a result of harvesting or logging and where the forest is expected to regenerate naturally or with the aid of silvicultural measures."



Deforestation vs. Degradation
| | | |
| --- | --- | --- |
| Causes of Deforestation | | Causes of Degradation |
Other versions of this page
spanish | french | portuguese | chinese | japanese]







Review questions:
What is the difference between deforestation and forest degradation?
What are some examples of activities that cause deforestation?
What are some causes of forest degradation?
Continued / Next:
Recent deforestation news articles
Palm oil activist murdered in Jakarta
(05/23/2015) An Indonesian activist who opposed unbridled oil palm expansion was stabbed to death by a group of men before dawn this morning outside a nightclub in South Jakarta. Whether the attack was related to his activism or the spontaneous result of a barroom brawl is not yet clear. But Indonesian media are reporting that one of the assailants shouted that he was a soldier as he brandished the knife that killed Jopi Peranginangin, the 39-year-old head of campaigns for Sawit Watch, which strives for social and ecological justice in the palm oil industry.


Timber 'mass graves' uncovered as Malaysian authorities pursue illegal loggers
(05/21/2015) A crackdown on illegal logging in Peninsular Malaysia's largest continuous forest complex has uncovered three timber 'mass graves' – burial sites where valuable logs have been stashed beneath tons of earth to hide evidence. The loggers apparently made haste in fleeing the hilly terrain where they left the timber. A joint operation by Malaysia's antigraft agency and Forestry Department found parts of logs sticking out of the ground and the red earth still unsettled, indications their quarry had hurriedly concealed the felled trees.



VICE's 'Indonesia's Palm Bomb' presents a tragic view of palm oil driven deforestation from the frontlines
(05/20/2015) For the sixth episode of its third season, HBO's Emmy-winning news series, VICE, focused its lens on Indonesia's palm oil industry. The episode, entitled, 'Indonesia's Palm Bomb', follows VICE correspondent, Ben Anderson, as he investigates the environmental and social impact of widespread (and, at times, illegal) deforestation on wildlife and indigenous communities in Sumatra.



Golden Agri takes another hit as sustainability guru suspends its membership
(05/20/2015) The charity that Indonesia's Golden Agri-Resources has enlisted to devise and implement its zero-deforestation and community-engagement commitments suspended its cooperation with the palm oil giant yesterday, following breaches of the policies they had designed together. A few hours later, Golden Agri announced the resignation of its chief sustainability officer.


Tennis star responds to rainforest advocates
(05/20/2015) Roger Federer has responded to two Indonesian activists who asked the tennis star to use his influence to encourage Credit Suisse to end its relationship with a controversial logging company, reports the Bruno Manser Fund.



62M ha of Latin American forests cleared for agriculture since 2001
(05/19/2015) Over 62 million hectares (240,000 square miles) of forest across Latin America — an area roughly the size of Texas or the United Kingdom — were cleared for new croplands and pastureland between 2001 and 2013, find a study published in Environmental Research Letters.



Luxury hotel chain linked to destruction of rainforests
(05/19/2015) The Mandarin Oriental hotel chain has landed in environmentalists' crosshairs for the practices of its sister company Astra Agro Lestari, a rapidly expanding palm oil producer with fully developed plantations on an area larger than Singapore. The new She's Not a Fan campaign – a play off Mandarin's celebrity-fan endorsement drive – launched yesterday with a petition calling on Astra to stop destroying forests and elephant habitat. Multinational conglomerate Jardine Matheson owns both firms.



Malaysian palm oil body encourages fiction over fact
(05/17/2015) In this commentary, David Dellatore, Program Manager at the Sumatran Orangutan Society, questions the value of the Malaysian Palm Oil Council's essay-writing contest which will pay contributors to conclude that palm oil is not a driver of deforestation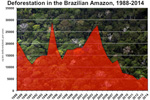 What's the current deforestation rate in the Amazon rainforest?
(05/15/2015) Nearly two-thirds of the Amazon rainforest is located in Brazil, making it the biggest component in the region's deforestation rate. Helpfully, Brazil also has the best systems for tracking deforestation, with the government and Imazon, a national civil society organization, releasing updates on a quarterly and monthly basis using MODIS satellite data, respectively. Both the Brazilian government and Imazon release more accurate data on an annual basis using higher resolution Landsat satellite imagery.



New genetic analysis aims to guide restoration of overharvested Myanmar teak forests
(05/15/2015) Teak is one of the most valued tropical hardwoods for its beauty, durability, and versatility. Teak trees naturally occur in the Indo-Pacific region, where a long history of exploitation, along with deforestation, has led to declines in the species. A recent study published in mongabay.com's open-access journal, Tropical Conservation Science, analyzes the genetic makeup of teak in Myanmar, its largest stronghold, and uses the results to offer advice about how Myanmar teak should be conserved.



Satellite images show deforestation on fringes of UNESCO World Heritage Site in Cameroon
(05/14/2015) In the push to become a middle-income country in the next two decades, Cameroon has courted investments in its vast natural resource wealth in the form of mining, logging and large-scale agriculture. But deforestation revealed by a recent Greenpeace Africa investigation highlights a lack of coordination in determining how to use the country's land.



Scientists reconstruct what was in the Harapan Rainforest of Sumatra
(05/12/2015) A new study published in mongabay.com's open-access journal Tropical Conservation Science describes how the Harapan Rainforest was prior to extensive logging and compares it to its current condition. The authors call for the Harapan's conservation because it is still very rich in species and holds rare habitats and many endemic plants.



Indonesian forestry giant calls for stronger forest moratorium
(05/11/2015) Asia Pulp & Paper (APP), an Indonesian forestry giant once targeted by environmentalists for its logging practices, has joined a growing chorus of voices calling for a stronger moratorium on deforestation and policies that enable companies to support conservation efforts. In a letter released Monday, Aida Greenbury, APP's Managing Director of Sustainability, asked Indonesian President Joko Widodo to extend the country's moratorium on new logging and plantation concessions.



West Papua 'oil palm atlas' portrays industry's explosion in region
(05/06/2015) There's a saying in the Indonesian palm oil industry: Sumatra is yesterday, Kalimantan is today, and Papua is tomorrow. Tomorrow might well have arrived. A new report sheds light on the industry's rapid expansion in Indonesia's Papua and West Papua provinces – and on the companies behind the plantation drive. The result is a portrayal of a frontier region's early encounters with a crop that has come to dominate the Sumatran and Bornean landscapes – a portrait made that much starker by the central government's foreign media blackout in the territory.



Using freely available tools to monitor forest cover in critical chimpanzee habitat
(05/06/2015) Think of it as trying to help the long-lost cousins who never left your home town. Researchers and friends at the Jane Goodall Institute (JGI) are doing just that for chimpanzees. Our closest living relatives still live in their hometown African forests but these forests are under increasing threat.



Brazilian Amazon nears deforestation threshold past which wildlife may crash, says study
(05/01/2015) A study on the impact of forest loss on biodiversity, recently published in the journal Conservation Biology, shows that one-third of the Brazilian Amazon is headed toward or has just passed a threshold of forest cover beyond which species loss accelerates and is more damaging.


Sarawak increases fines for illegal logging
(05/01/2015) After decades of intense logging that has left its rainforests degraded, fragmented, and stripped of valuable timber in many areas, the Malaysian state of Sarawak has passed a new forestry bill that could boost penalties for illegal logging.



Palm giants ask Indonesian gov't to clear path toward sustainability
(05/01/2015) Executives from palm oil giants Wilmar, Cargill and Golden Agri Resources appeared at a green investment summit in Jakarta this week, providing a window into the nature of a high-profile, joint sustainability pact the companies have entered into together with Asian Agri, Musim Mas and the Indonesian Chamber of Commerce and Industry. The agreement, known as the Indonesia Palm Oil Pledge, has been lauded in some quarters for its potential to transform the sector and dismissed in others as mere lip service to protecting the environment.



Gov't officials permitted deforestation in Dominican Republic national park
(04/29/2015) In late 2014, an irregularity in the issuance of permits for agriculture-related deforestation was brought to light by an environmental conservation association working to curb deforestation within the park. On July 30, the Pedernales office of the Ministry of the Environment and Natural Resources granted permission to local landowners to deforest an area within the National Park, close to an area that was being assessed for hutia and solenodon presence by a team of researchers.



Kenya's Karura Forest, symbol of GreenBelt Movement, suffering death by 1,000 cuts
(04/29/2015) The founder of Kenya's GreenBelt Movement, Wangari Maathai, won the Nobel Peace Prize in 2004 because she talked environmental truth to power. She also walked the walk. Especially on a January morning in 1999 when she strode into the Karura Forest, Nairobi's flagship preserve, to plant trees to protest government approved plans to build a private golf course on protected land there.


EU votes to scale back on biofuels linked to deforestation
(04/28/2015) The European Parliament voted overwhelmingly today on a new cap on biofuels derived from edible crops, which critics say not only compete with feeding a growing global population but also contribute to deforestation and release unacceptably high levels of greenhouse gas emissions. The new legislation sets the cap on edible food crop biofuels—such as palm oil, corn, rapeseed, and soy—at seven percent.


Predicting deforestation before it happens
(04/28/2015) The world's leading forest monitoring platform may soon help predict deforestation before it occurs, potentially enabling authorities to prevent it altogether.



'Deforestation fronts' revealed
(04/27/2015) Environmental group WWF has released a new report projecting where the organization believes the bulk of global deforestation is likely to occur over the next 15 years. The analysis, published today, highlights eleven regions where 'the bulk of global deforestation is projected to take place' by 2030.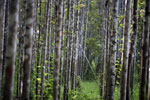 'Zero Deforestation' not necessarily the answer, environmentalists warn
(04/27/2015) Last week, the London-based think tank Innovation Forum convened a two-day conference on the subject of sustainable forestry in Washington, D.C. Titled 'How Business Can Tackle Deforestation,' the conference brought together leaders from both public and private spheres, including forest commodities companies, NGOs and think tanks. Though the topics of discussion were diverse, ranging from the role of 'green' certification to the viability of GMO crops, there was widespread agreement that significant changes need to be made to current supply chain policies if we are to avoid further damaging the world's forests.


NASA reveals rise in deforestation in remote Peruvian parks
(04/27/2015) New NASA data shows a jump in forest loss in two remote parks in the Peruvian Amazon during the first three months of 2015.


The latest deforestation news
---
Other pages in this section:
Selection of information sources