DEFORESTATION
A World Imperiled: Forces Behind Forest Loss
By Rhett Butler
| Last updated

July 27, 2012



As the first seven parts of the rainforest section of the site have described, tropical rainforests are incredibly rich ecosystems that play a fundamental role in the basic functioning of the planet. Rainforests are home to probably 50 percent of the world's terrestrial species, making them an extensive library of biological and genetic resources. In addition, rainforests help maintain the climate by regulating atmospheric gases and stabilizing rainfall, protect against desertification, and provide numerous other ecological functions.

However, these precious systems are among the most threatened on the planet. Although the precise area is debated, each day at least 80,000 acres (32,300 ha) of forest disappear from Earth. At least another 80,000 acres (32,300 ha) of forest are degraded. Along with them, the planet loses untold numbers of species to extinction, the vast majority of which have never been documented by science. As these forests fall, more carbon is added to the atmosphere, climatic conditions are further altered, and more topsoil is lost to erosion.


2012 data from Harris et al.
Estimates based on satellite imagery.


Forest Area 2000
Gross Forest
Cover Loss
Gross loss,
2000-2005
(Million ha)
(ha/yr)
Total
Brazil
458
3,292,000
3.6%
Indonesia
107
701,000
3.3%
Argentina
49
437,000
4.5%
Paraguay
21
242,000
5.8%
Malaysia
22
233,000
5.3%
India
42
206,000
2.5%
DR Congo
167
203,000
0.6%
Mozambique
34
196,000
2.9%
Myanmar
33
186,000
2.8%
Tanzania
23
149,000
3.2%
Mexico
46
140,000
1.5%
Colombia
63
137,000
1.1%
Thailand
17
134,000
3.9%
Zambia
29
134,000
2.3%
Bolivia
61
129,000
1.1%
Despite increased awareness of the importance of these forests, deforestation rates have not slowed. Analysis of figures from the Food and Agriculture Organization of the United Nations (FAO) shows that tropical deforestation rates increased 8.5 percent from 2000-2005 when compared with the 1990s, while loss of primary forests may have expanded by 25 percent over the same period. Nigeria and Vietnam's rate of primary forest loss has doubled since the 1990s, while Peru's rate has tripled.

Overall, FAO estimates that 10.4 million hectares of tropical forest were permanently destroyed each year in the period from 2000 to 2005, an increase since the 1990-2000 period, when around 10.16 million hectares of forest were lost. Among primary forests, annual deforestation rose to 6.26 million hectares from 5.41 million hectares in the same period. On a broader scale, FAO data shows that primary forests are being replaced by less biodiverse plantations and secondary forests. Due to a significant increase in plantation forests, forest cover has generally been expanding in North America, Europe, and China while diminishing in the tropics. Industrial logging, conversion for agriculture (commercial and subsistence), and forest fires—often purposely set by people—are responsible for the bulk of global deforestation today.

But enough about the extent and some of the effects of deforestation. What is responsible for this loss? This is the question this section addresses.


Deforestation figures and charts

Highlighted deforestation pictures >>


Deforestation and Degradation

Before expanding further on forest loss it is critical to first explain what is considered "forest" and what is meant by deforestation and forest degradation.

The Food and Agriculture Organization of the United Nations (FAO), the leading source for information on the status of the world's forests, defines forests as land with a tree canopy cover of more than 10 percent and an area of more than half a hectare. FAO says that "forest" includes natural forests and forest plantations but specifically excludes stands of trees established primarily for agricultural production (i.e. fruit tree and oil palm plantations) and trees planted in agroforestry systems.

Other organizations use different standards for defining forests. For example, the United Nations Environment Programme (UNEP) uses 40 percent cover as the threshold for "closed forests" and 10-40 percent cover for "open forests," while the Tropical Ecosystem Environment Observations by Satellite (TREES) project—funded in the 1990s by the European Commission—classifies areas with more than 70 percent canopy cover as "dense forests" and those with 40-70 percent cover as "fragmented forest."


| | |
| --- | --- |
| | Data according to the FAO. Note the differences from the chart above. FAO's data is based on self reporting from forestry departments, while Harris and colleagues used satellite imagery. |
To reduce confusion, this site will generally follow FAO's convention, even though it has been criticized for its generous definition of what it considers forest.

FAO defines deforestation as "the conversion of forest to another land use or the long-term reduction of the tree canopy cover below the minimum 10 percent threshold." Depletion of forest to tree crown cover greater than 10 percent (say from 90 percent to 12 percent) is considered forest degradation. Logging most often falls under the category of forest degradation and thus is not included in FAO deforestation statistics. For this reason, forest degradation rates are considerably higher than deforestation rates.

Digging a little deeper, FAO says that "deforestation includes areas of forest converted to agriculture, pasture, water reservoirs and urban areas," but the term "specifically excludes areas where the trees have been removed as a result of harvesting or logging and where the forest is expected to regenerate naturally or with the aid of silvicultural measures."



Deforestation vs. Degradation
| | | |
| --- | --- | --- |
| Causes of Deforestation | | Causes of Degradation |
Other versions of this page
spanish | french | portuguese | chinese | japanese]







Review questions:
What is the difference between deforestation and forest degradation?
What are some examples of activities that cause deforestation?
What are some causes of forest degradation?
Continued / Next:
Recent deforestation news articles
Success of 'land sparing' will depend on global economics, regulations
(12/16/2014) Agriculture is the primary driver of tropical deforestation. Indeed, most global food production occurs in the tropics, including important commodity crops such as sugarcane, soybeans, palm oil, and beef. Recent estimates indicate that forest clearing for agriculture contributes significantly to greenhouse gas emissions. This fuels concern over how to balance food production for a growing population with climate change mitigation through conserving tropical forests.



Palm oil facilitates large-scale illegal logging in Indonesia
(12/16/2014) Development of oil palm plantations is providing cover for large-scale illegal logging in Indonesian Borneo, driving destruction of some of the island's most biodiverse forests and undermining efforts to reform the country's forestry sector, alleges a new report published by the Environmental Investigation Agency (EIA).



Boosting the conservation value of 4M sq km of rainforest logging concessions
(12/12/2014) Short of buying back logging concessions, switching from conventional logging approaches to reduced impact logging techniques across existing forestry concessions may be the best way boost biodiversity in areas earmarked for timber extraction, argues paper.



10 years following tsunami, Aceh aims to create its own, new, and totally preventable disaster
(12/11/2014) In the run-up to the tenth anniversary of the devastating 2004 tsunami, that claimed the lives of around 200,000 of Aceh's people, there is much concern that Aceh seems now to be deliberately steering itself towards yet another, entirely avoidable disaster. One that will harm yet more people and cause even more long-term economic damage to the province.



Striking new gecko discovered in Thailand
(12/09/2014) A research team based in western Thailand has discovered a new gecko species in the Kanchanaburi Province, a region renowned for its number of species found nowhere else in the world. A recent publication describes the Sai Yok bent-toed gecko (Cyrtodactylus saiyok), the sixth reptile species endemic to the region known to science.



Relief for Kenya's rare coastal forest
(12/09/2014) In October this year, CAMAC Energy, an oil and gas exploration and production company, announced that they would conduct seismic surveys for oil and gas within Arabuko-Sokoke Forest, one of the last remaining fragments of coastal forests in East Africa. But following immense pressure from the environmental front, CAMAC Energy cancelled their plans to conduct surveys inside the forest.


Indonesia sets reference level for cutting deforestation
(12/05/2014) The Indonesian government has established reference levels for measuring reductions in emissions from deforestation and forest and peatland degradation, reports Antara.



How an indigenous community in Ecuador stood up to big oil - and won
(12/05/2014) The Sarayaku, a Kichwa indigenous people numbering 1,200 from the Ecuadorian Amazon, won a historic court case in 2012. The Inter-American Court of Human Rights ruled that the government of Ecuador must publicly apologize, consult with, and recompense the Sarayaku for allowing oil exploration by Argentine Compañia General de Combustibles on their territory without prior consultation



Biodiversity protection is key to REDD+ success, study shows
(12/05/2014) Protecting biodiversity may be crucial for successfully storing carbon in forests, scientists say. A recent publication on Oryx - The International Journal of Conservation suggests that biodiversity loss –especially through hunting – will hinder the success of Reducing Emissions from Deforestation and Forest Degradation (REDD) projects.



Tradeoff: Sabah banks on palm oil to boost forest protection
(12/05/2014) Last month Sabah set aside an additional 203,000 hectares of protected forest reserves, boosting the Malaysian state's extent of protected areas to 21 percent of its land mass. But instead of accolades, Sabah forestry leaders were criticized for how they went about securing those reserves: allowing thousands of hectares of deforested land within an officially designated forestry area to be converted for oil palm plantations



Giant stone face unveiled in the Amazon rainforest (video)
(12/04/2014) A new short film documents the journey of an indigenous tribe hiking deep into their territory in the Peruvian Amazon to encounter a mysterious stone countenance that was allegedly carved by ancient peoples. According to Handcrafted Films, which produced the documentary entitled The Reunion, this was the first time the Rostro Harakbut has been filmed.



New endangered bird species discovered in Brazil
(12/04/2014) The Bahian mouse-colored tapaculo (Scytalopus gonzagai) has only just been discovered by scientists in the heavily logged Atlantic Forest of southeast Brazil -- and it's already believed to be endangered.



Is the Gran Canal really a 'big Christmas present' for Nicaraguans?
(12/04/2014) "A big Christmas present"—that is how Paul Oquist, an advisor to Nicaraguan president, Daniel Ortega, described the country's plan to build a mega-canal across the nation. Preliminary construction on the canal is set to begin December 24th, despite major concerns over environmental destruction, forced removal of thousands of people, and a lack of transparency.


Deforestation jumps in Peru
(12/03/2014) Deforestation in the Peruvian Amazon increased significantly last year, says a top official.



One-two punch: farming, global warming destroying unique East African forests
(12/03/2014) Lush mountains speckle East Africa's grasslands and desert, from Mozambique to Ethiopia. These isolated habitats are home to a plethora of species, and are considered by scientists to be some of the most biodiverse regions in the world. However, their forests are being cut down for farmland and are threatened by global warming, putting at risk multitudes of species that have nowhere else to go.



New survey finds surprisingly large population of endangered owl
(12/03/2014) The Anjouan scops owl—an elusive owl found only on its tiny eponymous island—was once considered among the world's most endangered owls, and even the most threatened birds. However, the first in-depth survey of the owls on the island finds that, in fact, the population is far larger than initially estimated.



Threatened indigenous forests store more than half the Amazon's carbon
(12/02/2014) A new study released today finds the total carbon load locked up in parts of the Amazon rainforest held by indigenous groups to be much higher than previously estimated – an amount that, if released, would be capable of destabilizing the earth's atmosphere. But because of flimsy land rights, these areas stand at risk of deforestation.


Pulp and paper giant violating its sustainability policy
(12/01/2014) Asia Pacific Resources International Limited (APRRIL) is violating its own sustainability policy by continuing to source fiber produced via the destruction peatlands on the island of Pulau Padang in Riau, Sumatra, argues a new report published by a coalition of Indonesian environmental groups.



Indonesia to audit licenses of palm oil companies that clear peatlands
(11/30/2014) New Indonesian president Joko Widodo has ordered the Ministry of Environment and Forestry to review licenses for companies that have converted peatlands for oil palm plantations, reports Antara. Jokowi, as the president is popularly known, announced the move after a visit last week to Sungai Tohor, a community in Riau that has been particularly affected by peatlands degradation and haze caused by fires set for land clearing.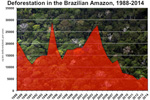 Amazon deforestation in Brazil drops 18% in 2013/2014
(11/26/2014) Figures published Wednesday by Brazil's National Space Research Institute (INPE) show that 4,848 square kilometers (1,871 square miles) of forest — an area about the size of the state of Rhode Island or the country of Brunei — were cleared between August 2013 and July 2014.



Chinese logging company takes over Guyana's forests
(11/26/2014) Foreign companies investing in Guyana's substantial forests are supposed to adhere to national laws and international agreements. But civil society leaders and activists inside and outside the South American country are crying foul, saying foreign corporations and government officials are paying lip service to the accords while quietly building a timber-harvesting empire in the country with few benefits for the average Guyanese.



APP boosting timber productivity to support zero deforestation policy
(11/26/2014) Asia Pulp & Paper (APP) appears to have enough plantation fiber to operate existing mills as well as supply a new mill under construction in South Sumatra without having to pulp natural forests, argues a new report that also finds the forestry giant is successfully improving yields to support its zero deforestation commitment.



Chameleon crisis: extinction threatens 36% of world's chameleons
(11/24/2014) Chameleons are an unmistakable family of wonderfully bizarre reptiles. They sport long, shooting tongues; oddly-shaped horns or crests; and a prehensile tail like a monkey's. But, chameleons are most known for their astonishing ability to change the color of their skin. Now, a update of the IUCN Red List finds that this unique group is facing a crisis that could send dozens of chameleons, if not more, to extinction.


Sarawak chief calls state's logging industry 'corrupt'
(11/24/2014) In a surprising statement, Sarawak's new chief minister called the state's logging sector 'corrupt'.


Rising deforestation, fossil fuels use drive Brazil's emissions 8% higher
(11/24/2014) Brazil's carbon emissions jumped 7.8 percent in 2013 due to rising deforestation and fossil fuels use, according to data released by Observatório do Clima (Climate Observatory), an alliance of mostly Brazilian non-profits.


The latest deforestation news
---
Other pages in this section:
Selection of information sources