AFROTROPICAL REALM

The vast majority of Africa's tropical moist and tropical rainforests exist in West and Central Africa. However, these forests are rapidly vanishing; according to the FAO, Africa lost the highest percentage of rainforests during the 1980s, 1990s, and early 2000s of any biogeographical realm.

Around the turn of the century, West Africa had some 193,000 sq. miles (500,000 sq. km) of coastal rainforest but today the tropical forests of West Africa—mostly lowland formations easily accessible from the coast—have been largely depleted by commercial exploitation, namely logging, and conversion for agriculture. Now, according to the figures from the Food and Agriculture Organization (FAO) of the United Nations, only 22.8 percent of West Africa's moist forests remain, much of this degraded. In more populous states, notably Nigeria, human population pressures have put a tremendous strain on forests, while other countries like Côte d'Ivoire have suffered extensive forest loss as a result of commercial logging and agriculture. The effects from forest loss are yet to be fully understood, though erosion has greatly increased as has the incidence of drought in the interior countries of Mali and Niger. These coastal forests appear to play a substantial role in maintaining rainfall in these interior countries.

The rainforests of Central Africa still cover a substantial area, although this expanse is declining. More than 70 percent of Africa's remaining rainforests are located in Central Africa, covering about 720,000 square miles (1.875 million square km). The bulk of this region's forests are found in the Congo Basin in the Democratic Republic of Congo (formerly Zaire), Congo, and Gabon. Over the past decade, these forests have been threatened by masses of refugees fleeing rebel forces in the Democratic Republic of Congo and the movement of local militias. Now that some form of peace has returned in most areas, logging and other development activities are expected to increase.

Threats

Sub-Saharan Africa has long been considered one of the poorest regions on earth despite its rich biological diversity and mineral wealth. The poor turn to the forests for subsistence agriculture, the collection of fuelwood, and the poaching of forest animals for food. The rapid population growth of the region—among the highest in the world—combined with high rates of urbanization have promoted these unsustainable activities by creating demand for bushmeat, fuelwood, and other forest products. Fuelwood makes up more than 8o percent of the total roundwood produced in the region.

On a commercial level, logging has greatly accelerated in Central Africa, much of it carried out by West African firms (Côte d'Ivoire especially) in the early 1990s which had largely cut through their own forests. However the situation changed rapidly in the mid-1990s after the January 1994 devaluation of the African (CFA) franc by 50 percent under the Structural Adjustment Program. Before devaluation, the difficulties of access, transport, and dealing with unstable governments, as well as the overvalued currency had made Central Africa a relatively expensive place to operate and slowed investment in timber industries. After devaluation, production costs fell and logging in the Central African rainforests became more competitive. Additionally, in order to improve their own economic situation (devaluation is especially hard on the poor since goods become relatively more expensive in their currency), many poor farmers cleared new fields from forests to plant higher-yielding crops that require the nutrients released by freshly slashed-and-burned forest. In the past few years, logging has skyrocketed as European and Asian timber firms (facing restrictions in their homelands from years of overharvesting) have moved into the region. Between 1990 and 1997, the volume of timber exported annually from countries of the Congo basin increased ten-fold to two million cubic meters. Though Asians only entered the African timber market in 1995, already the greatest demand for African wood comes from the Far East. For example, 85 percent of timber production in Gabon now goes to Asia. During 1996 alone, Asian timber firms gained control of 10-12.5 million acres (4-5 million ha) of rainforest in Central Africa. The Asian financial crisis of 1997-98 had a major impact on timber production and log prices in Central Africa. Today, European and Asian firms are particularly active in Central Africa.

Logging roads are opening vast areas of forest to colonists and poachers. Numerous infrastructure projects have been initiated by foreign companies. One major French aid agency that works in the region boldly states that its development projects only finance infrastructure necessary to French timber interests. The new government of the Democratic Republic of Congo (Zaire) is working on several large infrastructure contracts with South Africa to open up the forests for mineral and timber development. China has invested in infrastructure projects in several African nations.

The inflow of foreign firms does not necessarily bring benefits to most poor farmers and colonists. Though in many areas these industries provide the only form of work for these people, pay is menial and jobs are temporary. After the firm has exhausted the forest of its resources, it moves on, leaving a community that had become dependent on the firm for employment. Settlers then may burn surrounding forest lands, now degraded, for short-term, subsistence agriculture. In addition, most timber leaves the country as raw logs since export laws, like environmental regulations, are poorly enforced. Thus, the country does not maximize its potential benefits that could be derived from timber processing and the export of value-added goods like furniture. Finally, it is only a privileged few who generally share in the spoils of logging, oil, and mining. Virtually no benefits are returned to the people who are most impacted by development projects. Corruption is a major problem in many of these countries: Nigeria and Cameroon were recently rated among the most corrupt in the world. Post-colonial kleptocratic governments "produced by strong-man rule have proved uniformly inept, with a partial exception for pillage . . . [Most] foreign aid ends up in numbered accounts abroad" (Landes, 1998).

Outlook

The outlook for Central and West Africa's rainforests is not promising. Many countries have agreed in principle to conventions on biodiversity and forest preservation, but in practice these concepts of sustainable forestry are not enforced. Most governments lack the funds and technical know-how to make these projects a reality, and "paper parks" are common. Funding for most conservation projects comes from foreign sectors and 70-75 percent of forestry in the region is funded by external resources. Additionally, high population growth rates combined with rural poverty make it difficult for the government to control local subsistence clearing and hunting. Equally challenging are the tremendous debt obligations facing the governments of these countries. Already terribly poor (16 of the world's 20 poorest countries are in Africa), by 2002 African countries with tropical rainforest had accumulated a foreign debt of more than US$200 billion, an almost insurmountable sum considering the low annual GDPs of most member countries. The easiest, most expedient way for such governments to service these debt payments is to sell their forest products and resources.

Nevertheless, there is hope for Africa's remaining rainforests. The Asian economic slow-down has provided precious time for African nations to reexamine their forestry policies. Various government agencies, NGOs, conservation organizations, and private industries have developed innovative schemes to incorporate locals into the sustainable management of rainforests. These community management programs show potential, but thus far represent only a minuscule fraction of forest land. Recently several organizations including the U.N. have put pressure on African governments to abandon tax incentives for practices that encourage deforestation, but provide virtually no return to most African people. In addition, the region, with its biodiversity and varied landscapes, has excellent potential for eco-tourism, though it is stymied by poor infrastructure and concerns over political stability, health, and safety. Finally, the region's biological wealth offers tremendous potential for bioprospecting for potentially useful drugs, food products, and other non-wood forest products.

Suggested reading - Books


Recent articles | Africa environmental news updates | XML

Compromise on Serengeti road?: build an elevated highway
(05/22/2013) Famed anthropologist and conservationist Richard Leakey has proposed a possible solution to the hugely controversial Serengeti road: build an elevated highway. Leakey made the remarks during a conference at Rutgers University on May 14th, as reported by Live Science. The Tanzanian government's plans to build a road through the remote, northern Serengeti has come under both environmental and international criticism, as scientific studies and leaked government reports have found the proposed road would hugely hamper the world famous migration across the plans.


Forest certification body revokes Swiss logging company's certificate over alleged Congo abuses
(05/21/2013) The Forest Stewardship Council (FSC), a body that certifies forest management practices, has revoked all certificates granted to the Danzer Group, a multinational logging company, over alleged human rights abuses by one of its former subsidiaries in the Democratic Republic of Congo (DRC), reports Bloomberg.


Gabon steps in to help protect elephants from ivory poaching at Central African Republic site
(05/18/2013) Gabon has agreed to help battle poaching in protected areas in the Central African Republic following an elephant massacre at a renowned World Heritage site, reports the Wildlife Conservation Society (WCS).


Gabon convicts environmentalist of defamation in palm oil case
(05/15/2013) An environmental activist in Gabon is facing jail time and a $10,000 fine over his campaign against a Singaporean agroindustrial giant's plan to develop tens of thousands of hectares in oil palm, timber, and rubber plantations in the Central African nation.


Five percent of ploughshare tortoise population perishes after botched smuggling attempt
(05/14/2013) In March, two people were caught attempting to smuggle 54 ploughshare tortoises (Astrochelys yniphora) into Thailand. Listed as Critically Endangered, the tortoises' wild population is down to approximately 400-500 animals in its native Madagascar, meaning the smugglers were attempting to move over 10 percent of the total population. Now, the Scientific American blog Extinction Countdown reports that nearly half of the smuggled tortoises have died of unknown causes.


Nearly a million people face food crisis in Niger
(05/13/2013) Around 800,000 people in Niger face food insecurity in coming months, according to the UN's Office for the Co-ordination of Humanitarian Affairs (OCHA). Rising food prices and refugees from Mali, which is plagued by conflict, have made access to food difficult in the west African country.



Why responsible tourism is the key to saving the mountain gorilla
(05/13/2013) The sunlight poured through the canopy, casting dappled shade over Makara, a large silverback mountain gorilla, as he cast his eyes around the forest clearing, checking on the members of his harem. A female gorilla reclined on a bank of dense vegetation of the most brilliant green, clutching her three day old infant close to her chest, and elsewhere, two juvenile gorillas played around a small tree, running rings around it until one crashed into the other and they rolled themselves into a roly-poly ball of jet black fluff that came to a halt a few meters in front of our delighted group.



17 poachers allegedly enter elephant stronghold in Congo, conservationists fear massacre
(05/07/2013) Local researchers and wildlife guards say 17 armed elephant poachers have gained access to Dzanga Bai, a large waterhole and clearing where up to 200 forest elephants visit daily in the Central African Republic (CAR)'s Dzanga-Ndoki National Park. WWF, which works in the region but has recently evacuated due to rising violence, is calling on the CAR government to rapidly mobilize its military to stop another elephant bloodbath in central Africa. Elephants are being killed across their range for their ivory, which is mostly smuggled to East Asia.


Featured video: camera trapping in Bwindi Impenetrable National Park
(05/07/2013) A new video highlights the work of Badru Mugerwa as he sets and monitors 60 remote camera traps in one of the most rugged tropical forests on Earth: Bwindi Impenetrable National Park in Uganda. Mugerwa is working with the TEAM Network, run by Conservation International, which monitors mammal and bird populations in 16 protected tropical forests around the world. Every researcher uses the same methodology allowing findings to be compared not just from year-to-year but across oceans.



A Tale of Two Elephants: celebrating the lives and mourning the deaths of Cirrocumulus and Ngampit
(05/07/2013) On March 21st, the organization Save the Elephants posted on their Facebook page that two African elephants had been poached inside a nearby reserve: "Sad news from the north of Kenya. Usually the national reserves are safe havens for elephants, and they know it. But in the last two weeks two of our study animals have been shot inside the Buffalo Springs reserve. First an 18 year-old bull called Ngampit and then, yesterday, 23 year-old female called Cirrocumulus (from the Clouds family)."



'Suffering...without witnesses': over a quarter of a million people perished in Somali famine
(05/06/2013) A new report estimates that 258,000 people died in 2011 during a famine in Somalia, the worst of such events in 25 years and a number at least double the highest estimations during the crisis. Over half of the victims, around 133,000, were children five and under. The report, by the UN Food and Agricultural Organization (FAO), argues that the international community reacted too late and too little to stem the mass starvation brought on by government instability, conflict, high food prices, and failed rains, the last of which has been linked to climate change by some scientists.


Lemur has unexpectedly wide range, diversity of color variations
(05/05/2013) An endangered lemur has a larger range than originally believed but is still at risk due to forest fragmentation and land clearing, reports a study published in the journal Primate Conservation.



Hibernating primates: scientists discover three lemur species sleep like bears
(05/02/2013) Bears do it, bats do it, and now we know lemurs do it too: hibernate, that is. Since 2005, scientists have known that the western fat-tailed dwarf lemur hibernates, but a new study in Scientific Reports finds that hibernation is more widespread among lemurs than expected. At least two additional lemur species—Crossley's dwarf lemur and Sibree's dwarf lemur—have been discovered hibernating. So far lemurs, which are only found on the island of Madagascar, are the only primates known to undergo hibernation, raising curious questions about the relationship between lemur hibernation and more well-known deep sleepers.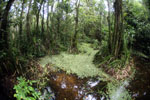 Endangered primates and cats may be hiding out in swamps and mangrove forests
(05/02/2013) What happens to animals when their forest is cut down? If they can, they migrate to different forests. But in an age when forests are falling far and fast, many species may have to shift to entirely different environments. A new paper in Folia Primatologica theorizes that some 60 primate species and 20 wild cat species in Asia and Africa may be relying more on less-impacted environments such as swamp forests, mangroves, and peat forests.



Drill baby drill! The fate of African biodiversity and the monkey you've never heard of
(05/02/2013) Equatorial Guinea is not a country that stands very large in the American consciousness. In fact most Americans think you mean Papua New Guinea when you mention it or are simply baffled. When I left for Bioko Island in Equatorial Guinea, I also knew almost nothing about the island, the nation, or the Bioko drills (Mandrillus leucophaeus poensis). The subspecies of drill is unique to Bioko Island and encountering them was an equally unique experience. I initially went to Bioko as a turtle research assistant but ended up falling in love with the entire ecosystem, especially the Bioko drills as I tagged along with drill researchers.



World's rarest duck on the rebound in Madagascar
(05/01/2013) After a final sighting in 1991, the Madagascar pochard was thought to have vanished for good. But this diving duck was rediscovered in 2006 when a flock of 22 individuals was found on Lake Matsaborimena in northern Madagascar by conservationists during an expedition. Soon after Madagascar pochard eggs were taken and incubated in a joint captive breeding program by Durrell, the Wildfowl & Wetlands Trust (WWT), the Peregrine Fund, Asity Madagascar, and Madagascar government, which recently announced that the population—both captive and wild—has nearly quadrupled.



Scientists discover new giant mole rat in Africa (photos)
(04/30/2013) Although the term "giant mole rat" may not immediately inspire love, the mole rats of Africa are a fascinating bunch. They spend practically their entire lives underground building elaborate tunnel systems and feeding on plant stems. This underground lifestyle has led them to evolve small ears, tiny eyes, forward-pointing teeth for digging, and nostrils they can shut at will while digging. Some species are quite social, such as the most famous, the naked mole rat (Heterocephalus glaber), while others live largely solitary lives. If that's not enough, the family of mole rats, dubbed Blesmols, may even help us find a cure for cancer.


Rhinos now extinct in Mozambique's Limpopo National Park
(04/25/2013) Poachers have likely killed off the last rhinos in Mozambique's Limpopo National Park, according to a park official.


Top security official in Nigeria blames climate change for worsening insecurity
(04/25/2013) Climate change is in part to blame for rising conflict and crime in Nigeria, according to the president's National Security Advisor, Colonel Sambo Dasuki. Speaking to the House Committee on Climate Change, Dasuki said that the rise of Boko Haram insurgents, a jihadist group in northern Nigeria, and worsening crime was linked to climate change reports All Africa.



Emergency: large number of elephants being poached in the Central African Republic (warning: graphic image)
(04/25/2013) WWF and the Wildlife Conversation Society (WCS) are issuing an immediate call for action as they report that poachers are killing sizable numbers of forest elephants near the Dzanga-Sangha protected areas in the Central African Republic (CAR). The two large conservation groups have evacuated their staff from the area after a government coup, but local rangers are still trying to determine the scale of the killing while defending remaining elephants. In total the conservation groups believe the parks are home to over 3,000 elephants.



Working to save the mystery antelope that's little bigger than a pet cat (photos)
(04/25/2013) Little is known about the silver dik-dik (Madoqua piacentinii) population that roams the dense coastal bushlands of eastern Africa, but experts are working to learn more about the mysterious species. Weighing little more than a domestic cat, the small antelopes are found in a long, narrow coastal strip spreading across 250 kilometers (155 miles) from Somalia's capital of Mogadishu north to the port town of Hobyo. This coastal strip is known as the Hobyo Grassland and Shrubland eco-region, according to the WWF.


China 'looting' Africa of its fish
(04/24/2013) Just 9% of the millions of tonnes of fish caught by China's giant fishing fleet in African and other international waters is officially reported to the UN, say researchers using a new way to estimate the size and value of catches. Fisheries experts have long considered that the catches reported by China to the UN's Food and Agriculture Organization (UNFAO) are low but the scale of the possible deception shocked the authors.


Rhino horn madness: over two rhinos killed a day in South Africa
(04/22/2013) Rhino poachers have killed 232 rhinos during 2013 so far in South Africa, reports Annamiticus, which averages out to 2.1 a day. The country has become a flashpoint for rhino poaching as it holds more rhinos than any other country on Earth. Rhinos are being slaughter for their horns, which are believed to be a curative in Chinese traditional medicine, although there is no evidence this is so.



Up for grabs: how foreign investments are redistributing land and water across the globe
(04/18/2013) In 2007, the increased human population, increased prices in fuel and transportation costs, and an increased demand for a diversity of food products prompted a Global Food Crisis. Agricultural producers and government leaders world-wide struggled to procure stable food sources for their countries. But the crisis had impacts beyond 2007: it was also the impetus for what we now know as the global land-grabbing phenomenon.



Lions for sale: big game hunting combines with lion bone trade to threaten endangered cats
(04/18/2013) Koos Hermanus would rather not give names to the lions he breeds. So here, behind a 2.4-meter high electric fence, is 1R, a three-and-a-half-year-old male, who consumes 5kg of meat a day and weighs almost 200kg. It will only leave its enclosure once it has been "booked"' by a hunter, most of whom are from the United States. At that point the big cat will be set loose in the wild for the first time in its life, 96 hours before the hunt begins. It usually takes about four days to track down the prey, with the trophy hunter following its trail on foot, accompanied by big-game professionals including Hermanus. He currently has 14 lions at his property near Groot Marico, about two and a half hours by road west of Johannesburg.





Unless otherwise specified, this article was written by Rhett A. Butler [Bibliographic citation for this page]

Other resources

Contact me if you have suggestions on other rainforest-related environmental sites and resources for this country.




Last updated: 4 Feb 2006