ASIAN/INDOMALAYAN REALM

The Asian region makes up about one-quarter of Earth's land area, but holds almost 60 percent of the world's population. Tremendous population pressures throughout the region have contributed to the region's substantial forest loss. Additionally, many Asian countries have entered a period of sustained spectacular economic growth in the past few years, resulting in the increased consumption of forest resources.



Forest change in south and southeast Asia, 1980-2005

Years
Forest cover, end of period
hectares
Average annual loss
hectares
Average annual loss
percent
1980-1990
323,156,000
-4,390,000
-1.20%
1990-2000
297,380,000
-2,577,600
-0.80%
2000-2005
283,127,000
-2,850,600
-0.96%

Source: FAO. Data for 1980-1990 is extrapolated from disparate FAO sources.



Since the close of the 1990s, the rate of deforestation in tropical Asia has climbed by more than 20 percent, from 0.8 percent per year to almost 1 percent per year. This jump is largely due to the economic slowdown that affected the region in the late 1990s and depressed logging and development (see explanation below).

Threats

In this region, clearing for agriculture fueled by the food demand of the large population, has played a large part in forest clearing in the region. The poverty of some countries means there is a large class of rural poor dependent on forests for food and wood supplies.

Of commercial activities, logging takes a dominant role in forest loss, followed distantly by mining and hydroelectric projects. Commercial logging in this region has been more widespread and intensive than in other regions, and poor harvesting techniques have led to severe ecological degradation. Before World War I and during the early postwar years, most tropical timber entering the world market came from countries bordering the Atlantic. Foreign demand for Asian rainforest timbers was limited to certain specialty species and timber consumption was mostly domestic in nature. Since the 1950s, Indonesia, Malaysia, the Philippines, and Papua New Guinea have exported large amounts of timber to Japan for its postwar reconstruction and economic boom. Initially most logging occurred in Peninsular Malaysia and the Philippines, but in the 1970s Indonesia became the timber king when it began granting concessions to multinational corporations. The market share of nonconiferous tropical timber exports of Indonesia, Malaysia, and Brunei increased from 17 percent in 1965 to 30 percent in 1973 to over 70 percent in the 1980s. In the late 1980s and early 1990s, with falling timber stocks and log prices, many traditional log exporters placed moratoria on log exports and began to restrict timber harvesting. Today timber from new markets (Laos, Cambodia, New Guinea) is taking over for the Philippines and Malaysia.

Several countries in Asia have extensive mineral endowments on their rainforest lands, the exploitation of which is generally detrimental to the environment.

A few governments, most notably Indonesia, have promoted the settlement of outer area to relieve some of the population pressures of major cities and islands. The colonists arrive on outer islands and proceed to cut forests for agricultural sites, fuelwood, and grazing lands. These myopic resettlement policies have already had serious ecological consequences and threaten the future economic vitality of the region.

Today much of Asia's remaining forest is degraded, making it more susceptible to drying out during dry spells. The El Niño conditions of 1997-98 facilitated the spread of land-clearing fires set by plantations owners and subsistence farmers. These fires rapidly spread into massive conflagrations that burned expansive tracts of bush and rainforest in Kalimantan, Sumatra, Sulawesi, New Guinea, Malaysia, Vietnam, Thailand, and the Philippines. Health advocates warn that the regional health effects may last for years.

Outlook

There is hope for the rainforests of the Asian realm. Many governments and middle-class citizens are increasingly environmentally conscious and recognizing the importance of conserving their forests, and many are showing interest in reforming their environmental policies. Governments and local conservation organizations are looking towards new ways to promote sustainable use of rainforests in a way that benefits impoverished peasants, conserves biodiversity and forest resources, and helps to sustain the region's current economic growth. Community-based forest management is on the increase as is eco-tourism, which in many areas is over-developed and devastating to the local environment.

The Asian realm has the most plantations of any tropical region, with around 80 percent of tropical plantations. Though many of these have been planted on forest lands specifically cleared for the purpose, more plantations are being planted on previously degraded lands. Plantations are effective in that they both provide the product they are designated for, but also are used as a source of wood for peasant farmers after harvesting.

One of the biggest concerns facing the Asian region in the new few years is what will become of countries that still have abundant forest reserves. These tend to be poorer countries, yet to reach the economic development of the others in the region, conservationists fear they will use their forest resources as a stepping stone towards development.

The Asian economic slowdown produced some good news, from a conservation standpoint: the higher prices of imports like the equipment necessary for logging and mining meant that many firms had to suspend operations. Higher production costs, coupled with lower demand from a drop in construction, meant that less timber was taken from Southeast Asian forests than anticipated. In addition, in order to reduce spending, the governments of Indonesia and Malaysia had to reduce subsidies for and shelve some development projects that would have resulted in more deforestation.



Total land area

Total forest cover
2005

Primary forest cover
2005

Total
deforestation
1990-2005
Loss of
primary forest
1990-2005
Country
(1000 ha)
(1000 ha)
% of total
land area
(1000 ha)
% of total
land area
%
of 1990
forest cover
% of 1990
primary
forest cover
Bangladesh
14,400
871
6.7
-
n/a
-1.2
n/a
Bhutan
4,700
3,195
68
413
8.8
5.3
0.0
Brunei Darussalam
577
278
52.8
278
48.2
-11.2
-11.2
Cambodia
18,104
10,447
59.2
322
1.8
-19.3
-58.0
India
328,726
67,701
22.8
-
n/a
5.9
n/a
Indonesia
190,457
88,495
48.8
48,702
25.6
-24.1
-30.8
Lao People's Dem. Rep.
23,680
16,142
69.9
1,490
6.3
-6.8
0.0
Malaysia
32,975
20,890
63.6
3,820
11.6
-6.6
0.0
Maldives
30
1
3
-
n/a
0.0
n/a
Myanmar
67,658
32,222
49
-
n/a
-17.8
n/a
Nepal
14,718
3,636
25.4
349
2.4
-24.5
-10.7
Pakistan
79,610
1,902
2.5
-
n/a
-24.7
n/a
Philippines
30,000
7,162
24
829
2.8
-32.3
0.0
Singapore
68
2
3.4
2
2.9
0.0
0.0
Sri Lanka
6,561
1,933
29.9
167
2.5
-17.7
-35.0
Thailand
51,312
14,520
28.4
6,451
12.6
-9.1
0.0
Timor-Leste
1,487
798
53.7
-
n/a
-17.4
n/a
Viet Nam
33,169
12,931
39.7
85
0.3
38.1
-77.9
Total South and
South-east Asia
898,232
283,127
33.4
0.0
-12.4
n/a




Recent articles | Asia environmental news updates | XML


In landmark ruling, Indonesia's indigenous people win right to millions of hectares of forest
(05/17/2013) In a landmark ruling, Indonesia's Constitutional Court has invalidated the Indonesian government's claim to millions of hectares of forest land, potentially giving indigenous and local communities the right to manage their customary forests, reports Mongabay-Indonesia. In a review of a 1999 forestry law, the court ruled that customary forests should not be classified as "State Forest Areas". The move is significant because Indonesia's central government has control over the country's vast forest estate, effectively enabling agencies like the Ministry of Forestry to grant large concessions to companies for logging and plantations even if the area has been managed for generations by local people.


Analysis: Indonesia renews moratorium on logging, palm plantations
(05/16/2013) Indonesia's President Susilo Bambang Yudhoyono made a bold and courageous decision this week to extend the country's forest moratorium. With this decision, which aims to prevent new clearing of primary forests and peat lands for another two years, the government could help protect valuable forests and drive sustainable development.


Four dead and dozens trapped after collapse at Freeport mine in Papua
(05/15/2013) Four workers were found dead and 10 rescued after the collapse of a tunnel at Freeport-McMoran's Grasberg mine in the highlands of Indonesia's Papua province on Tuesday.


Indonesia officially extends forestry moratorium
(05/15/2013) The Indonesian government has officially extended its moratorium on new logging and plantation concessions in 65 million hectares of forests and peatlands for another two years. The move, which had been expected, was announced Wednesday by Indonesian President Susilo Bambang Yudhoyono.



Indonesian palm oil giant cutting deforestation from supply chain
(05/13/2013) Indonesian palm oil giant Golden Agri-Resources (GAR) is continuing to reduce deforestation under its 2011 forest conservation policy despite ongoing forest destruction by other palm oil producers in the sector, finds a new assessment by Greenomics, an Indonesian activist group. However the report finds GAR's operations are not completely deforestation-free.


Indonesia welcomes Greenpeace ship 3 years after eviction
(05/09/2013) Indonesia has welcomed Greenpeace's ship, the Rainbow Warrior, back into its waters for the first time since deporting the vessel in October 2010. The Rainbow Warrior arrived today in Jayapura, a major port in Indonesian New Guinea, as the first leg of a tour to raise environmental awareness across the archipelago, according to the activist group.


Common moth can hear higher frequencies than any other animal on Earth
(05/09/2013) A common little moth turns out to have the best ears in the animal kingdom. According to a new study in Biology Letters, the greater wax moth (Galleria mellonella) is capable of hearing frequencies up to 300,000 hertz (300kHz), which is 15 times the frequency humans can hear at their prime, around 20 kHz.



New UN report gives Indonesia low marks in forest governance
(05/09/2013) A new UN report exposes serious flaws in Indonesia's forest governance, serving as a wake up call to policy makers aiming to conserve forests in the country, which boasts the third largest area of tropical forest coverage in the world. On Monday, the United Nations Development Programme (UNDP) together with the Government of Indonesia launched a comprehensive forest governance index, which evaluates forest governance at the central, provincial and district levels and offers policy recommendations designed to better equip the country to conserve forests and peatlands.


Featured video: How climate change is messing with the jetstream
(05/08/2013) Weather patterns around the globe are getting weirder and weirder: heat waves and record snow storms in Spring, blasts of Arctic air followed by sudden summer, record deluges and then drought.



Court rules for palm oil company in controversial deforestation case
(05/05/2013) Court orders Aceh governor to reverse decision to cancel palm oil concession in protected peatlands. An Indonesian court has ruled in favor of plantation company PT Kallista Alam in a lawsuit brought against the governor of Indonesia's Aceh province for revoking the company's license to develop palm oil plantations in a protected peat swamp forest.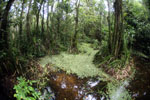 Endangered primates and cats may be hiding out in swamps and mangrove forests
(05/02/2013) What happens to animals when their forest is cut down? If they can, they migrate to different forests. But in an age when forests are falling far and fast, many species may have to shift to entirely different environments. A new paper in Folia Primatologica theorizes that some 60 primate species and 20 wild cat species in Asia and Africa may be relying more on less-impacted environments such as swamp forests, mangroves, and peat forests.


13 year search for Taiwan's top predator comes up empty-handed
(05/01/2013) After 13 years of searching for the Formosan clouded leopard (Neofelis nebulosa brachyura), once hopeful scientists say they believe the cat is likely extinct. For more than a decade scientists set up over 1,500 camera traps and scent traps in the mountains of Taiwan where they believed the cat may still be hiding out, only to find nothing.



What if companies actually had to compensate society for environmental destruction?
(04/29/2013) The environment is a public good. We all share and depend on clean water, a stable atmosphere, and abundant biodiversity for survival, not to mention health and societal well-being. But under our current global economy, industries can often destroy and pollute the environment—degrading public health and communities—without paying adequate compensation to the public good. Economists call this process "externalizing costs," i.e. the cost of environmental degradation in many cases is borne by society, instead of the companies that cause it. A new report from TEEB (The Economics of Ecosystems and Biodiversity), conducted by Trucost, highlights the scale of the problem: unpriced natural capital (i.e. that which is not taken into account by the global market) was worth $7.3 trillion in 2009, equal to 13 percent of that year's global economic output.


Featured documentary: Damocracy, highlighting the battles over the Belo Monte and Ilisu dams
(04/29/2013) A new short documentary highlights the battles over monster dam projects imperiling local people and wild rivers. Examining the Belo Monte dam in Brazil and the Ilisu dam in Turkey, the documentary argues that such hydroelectric projects cannot be deemed "green" energy as they overturn lives, livelihoods, and ecosystems.



Samsung admits to using tin linked to child labor, deforestation; Apple mum on sourcing
(04/25/2013) Mobile device giant Samsung has admitted to using tin sourced from a controversial mining operation on the Indonesian island of Bangka, where unregulated mining kills 150 miners a year and causes substantial environmental damage, reports The Guardian and Mongabay-Indonesia.


Indonesian palm oil giant clearing peat forest despite its RSPO membership, alleges Greenpeace
(04/25/2013) A major Indonesian palm oil producer continues to clear rainforests in Sumatra despite being a prominent member of the Roundtable on Sustainable Palm Oil (RSPO), casting doubts on the body's effectiveness in limiting deforestation, alleges a new report from Greenpeace.


China to phase out super greenhouse gas
(04/24/2013) Some eight billion tonnes of greenhouse gases could be kept out of the atmosphere if China sticks to a deal with the United Nation's Montreal Protocol to eliminate the production of hydro-fluorocarbons (HCFCs). In return for phasing out HCFC production by 2030, the Multilateral Fund of the Montreal Protocol on Substances has promised China of funding up to $385 million.



The river of plenty: uncovering the secrets of the amazing Mekong
(04/23/2013) Home to giant catfish and stingrays, feeding over 60 million people, and with the largest abundance of freshwater fish in the world, the Mekong River, and its numerous tributaries, brings food, culture, and life to much of Southeast Asia. Despite this, little is known about the biodiversity and ecosystems of the Mekong, which is second only to the Amazon in terms of freshwater biodiversity. Meanwhile, the river is facing an existential crisis in the form of 77 proposed dams, while population growth, pollution, and development further imperil this understudied, but vast, ecosystem.



Malaysia may be home to more Asian tapirs than previously thought (photos)
(04/23/2013) You can't mistake an Asian tapir for anything else: for one thing, it's the only tapir on the continent; for another, it's distinct black-and-white blocky markings distinguishes it from any other tapir (or large mammal) on Earth. But still little is known about the Asian tapir (Tapirus indicus), including the number surviving. However, researchers in Malaysia are working to change that: a new study for the first time estimates population density for the neglected megafauna, while another predicts where populations may still be hiding in peninsular Malaysia, including selectively-logged areas.


Rhino horn madness: over two rhinos killed a day in South Africa
(04/22/2013) Rhino poachers have killed 232 rhinos during 2013 so far in South Africa, reports Annamiticus, which averages out to 2.1 a day. The country has become a flashpoint for rhino poaching as it holds more rhinos than any other country on Earth. Rhinos are being slaughter for their horns, which are believed to be a curative in Chinese traditional medicine, although there is no evidence this is so.



Two new frog genera discovered in India's Western Ghats, but restricted to threatened swamp-ecosystems
(04/22/2013) The misty mountains of the Western Ghats seem to unravel new secrets the more you explore it. Researchers have discovered two new frog genera, possibly restricted to rare and threatened freshwater swamps in the southern Western Ghats of India. The discoveries, described in the open-access journal Zootaxa, prove once again the importance of the mountain range as a biodiversity hotspot.


Last 30 years were the warmest in the last 1,400 years
(04/21/2013) From 1971 to 2000, the world's land areas were the warmest they have been in at least 1,400 years, according to a new study in Nature Geoscience. The massive new study, involving 80 researchers from around the world with the Past Global Changes (PAGES) group, is the first to look at continental temperature changes over two thousand years, providing insights into regional climatic changes from the Roman Empire to the modern day. According to the data, Earth's land masses were generally cooling until anthropogenic climate change reversed the long-term pattern in the late-19th Century.



Indonesian palm oil industry would support land swaps to protect forest, while expanding production
(04/19/2013) Indonesian palm oil companies would support land swaps as a means to reduce carbon emissions from deforestation while simultaneously expanding production, representatives from the country's largest association of palm oil producers told mongabay.com in an interview last month.



To win concessions in Aceh, mining company hires official being investigated for graft
(04/18/2013) A Toronto Stock Exchange-listed mining company has hired an official being investigated for corruption under its effort to convince the Aceh provincial government to re-zone protected forest areas for a gold mine on Indonesia's Sumatra island, according to an alliance of Indonesian environmentalists. The official, former Golkar Deputy Chairman Fadel Muhammad, has been retained by East Asia Minerals to help it win a carve-out for its Miwah project, a 30,000-hectare concession atop a forested mountain in Aceh.


Bison return to Germany after 300 year absence
(04/18/2013) Earlier this month, officials took down a fence allowing the first herd of European bison (Bison bonasus) to enter the forests freely in Germany in over 300 years, reports Wildlife Extra. The small herd, consisting of just eight animals (one male, five females and two calves) will now be allowed to roam unhindered in the Rothaar Mountains as their ancestors did long ago.


Suggested reading - Books


Unless otherwise specified, this article was written by Rhett A. Butler [Bibliographic citation for this page]

Other resources

Contact me if you have suggestions on other rainforest-related environmental sites and resources for this country.




Last updated: 5 Feb 2006