AUSTRALIA/OCEANIA

AUSTRALIA (0.1% rainforest cover)

Australia has two small areas of rainforest on the Cape York Peninsula in the extreme northeast of Australia and along the coastal plains and mountain ranges north of Townsville. This small (about 4000 square miles-10,300 sq. km) unprotected rainforest is very diverse: over 95 plant families, 1000 plant species, and 70 families of trees are contained in the 50,000 acre (20,000 hectare) forest. The forest provides a habitat for 30% of the marsupials of Australia, 30% of the frogs, 23% of the reptiles, 62% of the butterflies, and 18% of the birds. However this area is highly threatened by a subdivision development, a proposed electrical power grid which would lead the way to massive development, pastures for livestock, and exploitation for mining. The Cow Bay subdivision consists of 750 blocks which make up 60% of the lowland area and about 33% of the remaining forest. The development of the Daintree, as this region is known, has erupted into a controversy between political groups, residents, and outsiders. Pro-environment factions, along with the Queensland government are planning to spend almost $30 million to purchase 775,000 hectares of the eastern coast of the peninsula. The federal government contributed $11.5 million to buy back some 300 blocks of subdivision, although has only succeeded in obtaining 5% of its goal. Anti-environment groups include landowners of the subdivision who do not want to sell their land. Others want to develop the Daintree region for tourism. The anti-environmentalists have taken to killing wildlife and destroying forest on their property to show their feelings on the issue. At this writing, it is unclear which side will prevail.

. . . . .
For current information I highly recommend trying the CIA and FAO links below.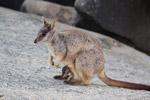 Scientists blast Australian government's moves to dismantle environmental protections
(07/22/2014) On Tuesday a prominent group of conservation scientists condemned the Australian government's recent moves to eliminate protections for native ecosystems, cut research funding, backtrack on commitments to reduce greenhouse gas emissions, and step up persecution of individuals and organizations that speak out for the environment.


Two years after coming into effect, Australia kills carbon tax
(07/17/2014) In a significant victory for Prime Minister Tony Abbott, the Australian Senate has voted to repeal the country's two-year-old carbon tax. Abbott made dismantling the tax one of the cornerstones of his campaign last September even as Australia remains one of the highest carbon emitters per capita in the industrialized world.


World Heritage Committee takes ten minutes to reject Australia's bid to strip forests of protection
(06/23/2014) The UNESCO World Heritage Committee today unanimously rejected a controversial proposal by the Australian government to strip 74,000 hectares of temperate rainforest from a World Heritage Site in Tasmania. In an embarrassing setback for the Australia government, it took the committee less than ten minutes to unanimously reject the proposal.


Australia sees rise in greenwashing front groups
(06/13/2014) Australia is seeing a rise in groups that purport to champion environmental causes but are actually actively undermining them as front organizations for industrial interests, argues an op-ed published in The Ecologist.



Tree-huggers: koalas cuddle up to keep cool
(06/06/2014) For animals that live in places that are both hot and dry, using valuable water stores to cool off via evaporation may put them at risk of dehydration. Now, as described in a new study published in Biology Letters, it seems that koalas have figured out a way to stay both cool and dry: by hugging trees.