CAMBODIA
Cambodia Forest Figures

Forest Cover

---

Total forest area: 10,447,000 ha
% of land area: 59.2%

Primary forest cover: 322,000 ha
% of land area: 1.8%
% total forest area: 3.1%

Deforestation Rates, 2000-2005

---

Annual change in forest cover: -218,800 ha
Annual deforestation rate: -2.0%
Change in defor. rate since '90s: 74.7%
Total forest loss since 1990: -2,499,000 ha
Total forest loss since 1990:-19.3%

Primary or "Old-growth" forests
Annual loss of primary forests: -26800 ha
Annual deforestation rate: -5.9%
Change in deforestation rate since '90s: 45.2%
Primary forest loss since 1990: -334,000 ha
Primary forest loss since 1990:-84.1%

Forest Classification

---

Public: 100%
Private: 0%
Other: 0%
Use
Production: 32.3%
Protection: 3.9%
Conservation: 21.3%
Social services: 0.9%
Multiple purpose: 3.9%
None or unknown: 37.8

Forest Area Breakdown

---

Total area: 10,447,000 ha
Primary: 122,000 ha
Modified natural: 10,266,000 ha
Semi-natural: n/a
Production plantation: 59,000 ha
Production plantation: n/a

Plantations

---

Plantations, 2005: 59,000 ha
% of total forest cover: 0.6%
Annual change rate (00-05): -2,600,000 ha

Carbon storage

---

Above-ground biomass: 1,904 M t
Below-ground biomass: 628 M t

Area annually affected by

---

Fire: n/a
Insects: n/a
Diseases: n/a

Number of tree species in IUCN red list

---

Number of native tree species: 862
Critically endangered: 10
Endangered: 13
Vulnerable: 9

Wood removal 2005

---

Industrial roundwood: n/a
Wood fuel: n/a

Value of forest products, 2005

---

Industrial roundwood: n/a
Wood fuel: n/a
Non-wood forest products (NWFPs): $21,586,000
Total Value: $21,586,000


More forest statistics for Cambodia


Cambodia has one of the worst deforestation rates in the world. Since 1970, Cambodia's primary rainforest cover went from over 70 percent in 1970 to 3.1 percent today. Worse, deforestation rates in Cambodia continue to accelerate. The overall rate of total forest loss has jumped nearly 75 percent since the close of the 1990s. In total, Cambodia lost 2.5 million hectares of forest between 1990 and 2005—334,000 hectares of which were primary forest. Today less than 322,000 hectares of primary forest remain.

Illegal logging, combined with rapid development and population growth, is blamed for much of Cambodia's forest loss.

The civil war —which ran from the 1970s to the mid 1990s—is responsible for setting the stage for illegal logging. During the conflict, each warring faction financed fighting through timber sales. According to the Trade and Environment Database (TED), the Cambodian government exported mostly to Japan and Vietnam, while the three guerrilla groups (including the Khmer Rouge) sent logs to Thailand. Thai timber companies—often with the involvement of military officials— were found to be actively engaged in logging of forests along the Cambodian border.

During the 1990s, illegal logging was so widespread in Cambodia that the IMF canceled a $120 million loan and the World Bank suspended direct aid to the government until the corruption in the forestry sector was resolved. In response, the government moved to crack down on logging operations while issuing bans on unprocessed log exports and imports of logging equipment. The actions appear to have had little effect: between 2000 and 2005, Cambodia lost nearly 30 percent of its primary forest cover, and deforestation rates continued to climb. Illegal logging continues today despite further bans and restrictions—the government appears to have little control over the corrupt forestry sector.

Deforestation in Cambodia also results from subsistence activities, notably the collection of fuelwood and clearing for agriculture. The hunting of wildlife as bushmeat is widespread in the country, while mining for gold, bauxite, and iron is increasingly a threat to Cambodia's forests as well. The government has recently introduced stricter legislation to govern small miners, including environmental provisions.

While the Cambodian government has struggled to enforce environmental regulations in the face of corruption and illegal activities, it has shown interest in reducing deforestation and setting up protected areas. On paper, more than 20 percent of Cambodia is under some form of protection, including the spectacular ruins of Ankor, which cover over some 400 square kilometers and are one of the most important archaeological sites in Southeast Asia. However, even this World Heritage site is threatened by unrestrained tourism, which has seen massive construction of hotels within a few short years.

Cambodia is home to some 521 species of birds, 127 mammals, and 116 reptiles, although recent census counts indicate that some species are locally extinct in the country.

Global Witness on Illegal Timber in Cambodia

Pictures of Cambodia

Recent articles | Cambodia news updates | XML

Mekong region has lost a third of its forests in 30 years, may lose another third by 2030
(05/03/2013) The Greater Mekong region of Cambodia, Laos, Myanmar (Burma), Thailand and Vietnam will lose a third of its remaining forest cover by 2030 unless regional governments improve management of natural resources and transition toward a greener growth model, warns a new report issued by WWF.



The river of plenty: uncovering the secrets of the amazing Mekong
(04/23/2013) Home to giant catfish and stingrays, feeding over 60 million people, and with the largest abundance of freshwater fish in the world, the Mekong River, and its numerous tributaries, brings food, culture, and life to much of Southeast Asia. Despite this, little is known about the biodiversity and ecosystems of the Mekong, which is second only to the Amazon in terms of freshwater biodiversity. Meanwhile, the river is facing an existential crisis in the form of 77 proposed dams, while population growth, pollution, and development further imperil this understudied, but vast, ecosystem.


Poachers enlisting impoverished wildlife rangers as accomplices in elephant, rhino killing
(04/01/2013) Corruption among wildlife rangers is becoming a serious impediment in the fight against poaching, fuelled by soaring levels of cash offered by criminal poacher syndicates, senior conservation chiefs have admitted. Rangers in countries as diverse as Tanzania and Cambodia are being bribed by increasingly organised poaching gangs keen to supply ivory, rhino horn and tiger parts to meet huge consumer demand in Asia.


Cambodia loses half its seasonal wetlands in 10 years
(03/18/2013) Cambodia lost more than half of its seasonally flooded grasslands in ten years due to industrial agricultural conversion, abandonment of traditional farming, and illegal drainage, putting several endangered bird species at risk and undermining traditional livelihoods in the region, reports a new study published in the journal Conservation Biology.



Into the unknown mountains of Cambodia: rare birds, rice wine, and talk of tigers
(03/14/2013) Ringed with forested mountains forming the borders with Laos and Vietnam, the northeast corner of Cambodia has been an intriguing blank spot among my extensive travels through the country. Nestled up against this frontier is Virachey National Park, created in 1993. I began searching for a way to explore this area a couple of years ago, hoping to connect with conservation NGOs to get me into the park; no one seemed to know much about it. I learned that the area had been written off by these groups due to massive land concessions given to logging and rubber concerns. The World Bank abandoned its 8-year effort to create a management scheme for Virachey after the concessions were granted in 2007. A moratorium on the concessions is temporarily in place, but illegal logging incursions into the park continue.


Captive frogs may be spreading diseases to wild cousins across Southeast Asia
(03/07/2013) Scientists have documented a series of links between exotic frogs for trade and diseases in wild frogs in Southeast Asia, including the first documented case of the chytrid fungus—a virulent and lethal disease—in Singapore. According to researchers writing in a new study in EcoHealth, frogs imported into Southeast Asia as pets, food, or traditional medicine are very likely spreading diseases to wild populations.



Investors beware: global land grabbing ends in 'financial damage' and human rights violations
(02/07/2013) Investing in companies that flout local community rights in developing countries often leads to severe economic losses, according to a new report from the Rights and Resources Initiative (RRI). A rising trend in "land grabbing" from Africa to South America by corporations and even foreign governments results in social instability, which can lead to large-scale protests, violence, and even murder, delaying and sometimes derailing projects. Such instability poses massive risk to any investor, not to mention supporting corporate entities that are accused of ignoring human rights.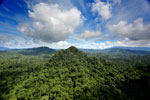 The year in rainforests
(12/31/2012) 2012 was another year of mixed news for the world's tropical forests. This is a look at some of the most significant tropical rainforest-related news stories for 2012. There were many other important stories in 2012 and some were undoubtedly overlooked in this review. If you feel there's something we missed, please feel free to highlight it in the comments section. Also please note that this post focuses only on tropical forests.


Pictures: 126 new species discovered in Greater Mekong region last year
(12/18/2012) Some 126 new species were described in Asia'a Mekong region last year, notes a new report published by the World Wildlife Fund (WWF).


Controversial dam gets approval in Laos
(11/07/2012) Laos has given approval to the hugely-controversial $3.5 billion Xayaburi Dam on the Mekong River, reports the BBC. The massive dam, which would provide 95 percent of its energy production to Thailand, has been criticized for anticipated impacts on the river's fish populations, on which many locals depend.


Cambodia drops case of murdered forest activist, Chut Wutty
(10/08/2012) An investigation into the mysterious death of Cambodian forest activist, Chut Wutty, has been dismissed by the courts, which critics allege is apart of an ongoing cover up. The court decided that since the suspect in Wutty's death, In Rattana, was also dead there was no need to proceed. Chut Witty was shot to death while escorting two journalists to a logging site run by Timbergreen. Wutty, whose death made international news, was a prominent activist against illegal logging in Cambodia.


Another journalist attacked in Cambodia for covering illegal logging
(09/27/2012) Two weeks after an environmental journalist was found murdered in the trunk of his car, another journalist has been brutally attacked in Cambodia. Ek Sokunthy with the local paper Ta Prum says he was beaten in his home by three assailants by a pistol and a stick. The attack follows swiftly after the high-profile murder of 44-year-old forest journalist Hang Serei Oudom.


Environmental journalist investigating illegal logging murdered in Cambodia
(09/13/2012) Less than five months after high-profile forest activist, Chut Wutty, was killed in Cambodia, an environmental journalist, Hang Serei Oudom, has been found slain in the trunk of his car, possibly murdered with an ax, reports the AFP. Oudum, who worked at the local paper Vorakchun Khmer Daily, was known for writing stories on epidemic of illegal logging in Cambodia, often linking the crime to business people and politicians. The car and body were found in a cashew nut plantation in Ratanakiri province, an area rife with logging.



Mekong dam spree could create regional food crisis
(08/27/2012) Fish are a hugely important protein source for many people around the world. This is no more evident than along the lower Mekong River delta where an estimated 48 million people depend directly on the river for food and livelihoods. But now a new study in Global Environmental Change cautions that 11 planned hydroelectric dams in the region could cut vital fish populations by 16 percent while putting more strain on water and land resources.


Cambodia's largest lowland rainforest spared from new land concessions
(08/06/2012) Four economic land concessions have been cancelled in Cambodia's Prey Lang forest, known as the largest intact lowland forest in Southeast Asia, reports the Phnom Penh Post. The economic land concessions, totaling over 40,000 hectares, would have been used for rubber plantations.


'Beautiful' new snake discovered in Cambodia (photo)
(07/16/2012) Scientists have discovered a new snake species in the biodiverse rainforests of the Cardamom Mountains, reports Fauna & Flora International (FFI). The new reddish-hued serpent has been named after its country of origin by native herpetologist Neang Thy: the Cambodian kukri (Oligodon kampucheaensis).


The Cardamom Conundrum: Reconciling Development and Conservation in the Kingdom of Cambodia – Book Review
(07/04/2012) Tim Killeen's new engaging book, The Cardamom Conundrum: Reconciling Development and Conservation in the Kingdom of Cambodia, describes decision-making options that the Government of Cambodia could engage in to develop their nation along a path of sustainability through resolving the sustainable economic development paradox, or "conundrum". Dr. Killeen's analysis demonstrated that this conundrum could be resolved based on a green economy with four pillars.


Flouting moratorium, Cambodia approves four land concessions in protected areas
(06/27/2012) A month-and-a-half after Cambodian Prime Minister, Hun Sen, declared a moratorium on on new economic land concessions, the government has announced four new concessions, each located in protected areas. Economic land concessions have come under the microscope in Cambodia after large-scale protests by local people and the recent murder of forest activist Chut Wutty. Critics say the concessions, which last year totaled two million hectares (4.9 million acres) sold off to foreign corporations, have resulted in local land conflict and environmental degradation.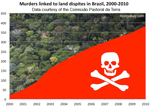 Over 700 people killed defending forest and land rights in past ten years
(06/19/2012) On May 24th, 2011, forest activist José Cláudio Ribeiro da Silva and his wife, Maria do Espírito Santo da Silva, were gunned down in an ambush in the Brazilian state of Pará. A longtime activist, José Cláudio Ribeiro da Silva had made a name for himself for openly criticizing illegal logging in the state which is rife with deforestation. The killers even cut off the ears of the da Silvas, a common practice of assassins in Brazil to prove to their employers that they had committed the deed. Less than a year before he was murdered, da Silva warned in a TEDx Talk, "I could get a bullet in my head at any moment...because I denounce the loggers and charcoal producers."


App designed to fight wildlife crime in Cambodia
(05/08/2012) Conservation NGO Wildlife Alliance has launched a new iPhone app that not only teaches users about Cambodian wildlife but also gives them information on how to help the group fight pervasive wildlife crime in the country. The app includes photos and information regarding species imperiled by the wildlife trade as well as informational videos with Jeff Corwin from the Animal Planet.


Cambodia suspends economic land concessions
(05/07/2012) Cambodian Prime Minister Hun Sen announced today that Cambodia would be temporarily suspending new economic land concessions and would revoke any concessions from companies involved in illegal logging, the evictions of locals or land-grabbing. The announcement comes two week after the high-profile death of local forest activist, Chut Wutty, who was shot and killed by military police while investigating illegal logging with two journalists.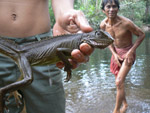 Exploring Asia's lost world
(05/03/2012) Abandoned by NGOs and the World Bank, carved out for rubber plantations and mining by the Cambodian government, spiraling into a chaos of poaching and illegal logging, and full of endangered species and never-explored places, Virachey National Park may be the world's greatest park that has been written off by the international community. But a new book by explorer and PhD student, Greg McCann, hopes to change that. Entitled Called Away by a Mountain Spirit: Journey to the Green Corridor, the book highlights expeditions by McCann into parts of Virachey that have rarely been seen by outsiders and have never been explored scientifically, including rare grasslands that once housed herds of Asian elephants, guar, and Sambar deer, before poachers drove them into hiding, and faraway mountains with rumors of tigers and mainland Javan rhinos.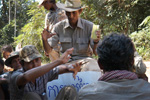 Assassinated forest activist Chut Wutty: 'I want to see people live with freedom'
(05/02/2012) Chut Wutty, a dedicated Cambodian activist, was shot dead at an illegal logging site by military police, last Thursday. At the time Wutty was driving with two journalists, who wrote a shocking eye-witness account of his death, revealing that he was physically and verbally abused, then shot whilst trying to drive away, and left to die. His death reveals the brutal power of logging syndicates and companies, which are looting the country's natural wealth, and employing the military to silence their opponents.


Forest activist shot dead in Cambodia allegedly over photos of illegal logging
(04/26/2012) Chut Wutty, a prominent activist against illegal logging and deforestation, has been killed in the Koh Kong province of Cambodia. Wutty was shot dead at a military police checkpoint while traveling with two journalists with The Cambodia Daily. The journalists are currently being held for questioning by the military police.


Blood rosewood: Thailand and Cambodia team up to tackle illegal logging crisis and save lives
(04/11/2012) Cambodian and Thai officials have agreed to work together to combat illegal logging of rosewood and resulting violence between Cambodian loggers and Thai rangers, reports MCOT online news. Officials with both nations met on Tuesday and spent three hours discussing the issue.




Suggested reading - Books


Unless otherwise specified, this article was written by Rhett A. Butler [Bibliographic citation for this page]

Other resources

Contact me if you have suggestions on other rainforest-related environmental sites and resources for this country.



Image copyright Google Earth, MDA EarthSet, DigitalGlobe 2005

CIA-World Factbook Profile
FAO-Forestry Profile
World Resources Institute


Last updated: 4 Feb 2006