CAMEROON
Cameroon Forest Figures

Forest Cover

---

Total forest area: 21,245,000 ha
% of land area: 45.6%

Primary forest cover: n/a
% of land area: n/a
% total forest area: n/a

Deforestation Rates, 2000-2005

---

Annual change in forest cover: -220,000 ha
Annual deforestation rate: -1.0%
Change in defor. rate since '90s: 9.8%
Total forest loss since 1990: -3,300,000 ha
Total forest loss since 1990:-13.4%

Primary or "Old-growth" forests
Annual loss of primary forests: n/a
Annual deforestation rate: n/a
Change in deforestation rate since '90s: n/a
Primary forest loss since 1990: n/a
Primary forest loss since 1990:n/a

Forest Classification

---

Public: 100%
Private: 0%
Other: 0%
Use
Production: 29.3%
Protection: 2.7%
Conservation: 48.6%
Social services: 1%
Multiple purpose: 18.4%
None or unknown: n/a

Forest Area Breakdown

---

Total area: 21,245,000 ha
Primary: n/a
Modified natural: n/a
Semi-natural: n/a
Production plantation: n/a
Production plantation: n/a

Plantations

---

Plantations, 2005: n/a
% of total forest cover: n/a
Annual change rate (00-05): n/a

Carbon storage

---

Above-ground biomass: 2,679 M t
Below-ground biomass: 1,125 M t

Area annually affected by

---

Fire: n/a
Insects: n/a
Diseases: n/a

Number of tree species in IUCN red list

---

Number of native tree species: 600
Critically endangered: 50
Endangered: 27
Vulnerable: 106

Wood removal 2005

---

Industrial roundwood: 3,211,000 m3 o.b.
Wood fuel: 16,561,000 m3 o.b.

Value of forest products, 2005

---

Industrial roundwood: n/a
Wood fuel: n/a
Non-wood forest products (NWFPs): n/a
Total Value: n/a


More forest statistics for Cameroon


Cameroon once had one of the strongest economies of sub-Sahara Africa, but in the late 1990s the declining price of commodities including oil, coffee, and cocoa, hit the country very hard. The CFA Franc—the currency—was devalued, pushing rural populations to clear additional forest for subsistence crop production while encouraging the government to grant more logging concessions.

In the recovery following the economic crisis caused by the devaluation of the CFA Franc, building and public works projects increased domestic demand for timber products. In 1999 Cameroon banned the export of some endangered hardwoods, though not sapelli and ayous, the country's largest hardwood exports. The move came after several years of heavy logging and the country's failure to successfully implement a policy aimed at reducing raw-log exports and encouraging processed wood exports.

Lacking an effective forest conservation program and suffering from endemic and pervasive corruption—it annually ranks near the top of the list for the world's most corrupt countries—Cameroon has found logging highly damaging to the rainforest environment. According to published reports, foreign loggers—the vast majority of logging companies operating in Cameroon are foreign-owned—have aggressively and unsustainably logged their concessions without much concern over prosecution by corrupt forestry officials.

The trafficking of bushmeat thrives in Cameroon in conjunction with the timber industry. Logging workers supplement their incomes by hunting wildlife and sending meat to urban centers.

Besides logging, deforestation results from fuelwood collection and subsistence farming. Overall, Cameroon lost 13.4 percent of its forest cover or 3.3 million hectares between 1990 and 2005 and deforestation rates have increased by 10 percent since the close of the 1990s. The United Nations doesn't classify any of Cameroon's forest cover as untouched primary forest.

Deforestation is beginning to have a significant environmental impact in parts of the country. In the north, deforestation has been blamed for increasing soil erosion, desertification, and reduced quality of pastureland. Overhunting and overfishing is a problem elsewhere in Cameroon.

Cameroon's moderately repressive government has made life difficult for the country's indigenous forest dwellers, the pygmies. The government refuses to recognize their land rights and prohibits them from living in national parks.

Petroleum is a key export for Cameroon. To date, oil production has had a limited impact on the country's environment. In 2003 a $3.7-billion pipeline running through Cameroon from oil fields in Chad was completed. Its construction resulted in forest clearing and raised environmental concerns. The project was sponsored and owned by Exxon/Mobil (40 percent), Petronas Malaysia (35 percent), and Chevron (25 percent).

Cameroon has the second-largest hydroelectric power potential in Africa after the Congo. There is increasing concern among environmental groups that the country will start to build dams to meet growing energy needs—the country is not energy self-sufficient as of 2006. One currently planned project is the Lom river hydroelectric dam. To pay for the project, the government will borrow $120 million from the World Bank.

Cameroon currently lacks an effective protected-areas system. Eight percent of the country is under some form of protection on paper, but enforcement is weak and timber is illegally harvested from reserves and wildlife is poached. Conserving Cameroon's forests should be a top priority given their high level of biodiversity. The country has some 936 species of birds, 211 mammals, 322 reptiles, 192 amphibians, and 8,260 species of plants. Some of the better known protected areas in Cameroon are Campo Ma'an National Park, Dja Reserve, Lobeké National Park, Waza National Park, and Korup National Park. All have suffered from illegal incursions in recent years.

Recent articles | Cameroon news updates | XML


A thousand soldiers sent after marauding elephant poachers [warning: graphic photos]
(03/26/2013) Eight Central African nations have announced they will send a thousand soldiers after poachers responsible for slaughtering 89 elephants, including over 30 pregnant mothers, in Chad earlier this month. The mobilization of soldiers and law enforcement officers could be a sign that Central African countries are beginning to take elephant poaching, which has decimated populations across Africa, more seriously.



What happened to the elephants of Bouba Ndjida? [warning: graphic photos]
(03/07/2013) A new report released by the Wildlife Conservation Society says that poachers have killed a staggering 62 percent of Africa's forest elephants in the last decade. The insatiable demand for elephant ivory hails mainly from China and Thailand, which is ironically hosting this year's CITES (CoP16) meeting. The meeting will continue until March 13 2013. The study is based on a survey of five elephant range states including Cameroon. Cameroon is the home of Bouba Ndjida National Park, where the dizzying massacre of 650 elephants occurred last year.



62% of all Africa's forest elephants killed in 10 years (warning: graphic images)
(03/04/2013) More than 60 percent of Africa's forest elephants have been killed in the past decade due to the ivory trade, reports a new study published in the online journal PLOS ONE. The study warns that the diminutive elephant species — genetically distinct from the better-known savanna elephant — is rapidly heading toward extinction.



Controversial palm oil project concession in Cameroon is 89 percent 'dense natural forest'
(02/21/2013) Satellite mapping and aerial surveys have revealed that a controversial palm oil concession in Cameroon is almost entirely covered by "dense natural forest," according to a new report by Greenpeace. The activist group alleges that the concession, owned by Herakles Farms, is under 89 percent forest cover. The U.S.-based corporation intends to build a 70,000 hectare palm oil plantation in a region surrounded by four protected areas, including Korup National Park, but has faced stiff criticism from numerous environmental groups as well as conflict with locals.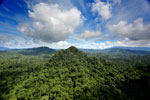 The year in rainforests
(12/31/2012) 2012 was another year of mixed news for the world's tropical forests. This is a look at some of the most significant tropical rainforest-related news stories for 2012. There were many other important stories in 2012 and some were undoubtedly overlooked in this review. If you feel there's something we missed, please feel free to highlight it in the comments section. Also please note that this post focuses only on tropical forests.



Photos reveal destruction of Cameroon rainforest for palm oil
(11/26/2012) Newly released photos by Greenpeace show the dramatic destruction of tropical forest in Cameroon for an oil palm plantation operated by SG Sustainable Oils Cameroon (SGSOC), a subsidiary of the U.S. company Herakles Farm. The agriculture company is planning to convert 73,000 hectares to palm oil plantations on the edge of several protected areas, but has faced considerable opposition from environmentalists and some local communities. In addition to the aerial photos, Greenpeace alleges that ongoing forest clearing by Herakles is illegal since the companies 99-year lease has yet to be fully approved by the Cameroonian government.


Activists protesting controversial Cameroon palm plantation arrested
(11/17/2012) Activists protesting conversion of rainforest to an oil palm plantation have been arrested in Cameroon, reports Greenpeace.


Rarest gorillas lose half their habitat in 20 years
(10/01/2012) Cross River gorillas and eastern gorillas lost more than half their habitat since the early 1990s due to deforestation, logging, and other human activities, finds a comprehensive new assessment across great apes' range in West and Central Africa.


Palm oil company in Cameroon drops bid for eco-certification of controversial plantation
(09/05/2012) Herakles Farm, a U.S.-based agricultural developer, will no longer seek eco-certification of its 70,000-hectare oil palm plantation in Cameroon, reports the Roundtable on Sustainable Palm Oil (RSPO). The move comes amid criticism from environmental groups that Herakles is converting high conservation value rainforest for the plantation.


10 African countries to develop satellite-based deforestation tracking systems with help of Brazil
(07/30/2012) Ten tropical African countries will receive training and support to develop national forest monitoring systems, reports the United Nations. Brazil, which has an advanced deforestation tracking system, will guide the initiative in partnership with the Central Africa Forests Commission (COMIFAC) and the UN Food and Agriculture Organization (FAO).


Tracking elephants in Cameroon to mitigate conflict with locals
(07/09/2012) Elephant conservation is imperiled by poor spatial planning, according to a new study in mongabay.com's open access journal Tropical Conservation Science. Tracking two elephant matriarchs in and around Bénoué National Park in Cameroon, scientists found that the herds spent over half their time outside of the park, highlighting the potential for human-wildlife conflict as elephants are known to raid fields.


10,000 sq mi of Congo rainforest declared World Heritage site
(07/02/2012) Central Africa has the newest World Heritage site.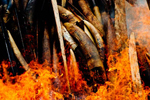 Gabon torches their ivory stock as poachers attack okapi reserve
(07/02/2012) Last week, the west African nation of Gabon committed over 1,200 ivory tusks and carvings to the fire. The act, which was meant to send a strong signal to illegal wildlife poachers across Africa, came only a few days after militia poachers stormed the Okapi Wildlife Reserve in the Democratic Republic of the Congo (DRC). The assailants killed 13 okapis and six people, including two wildlife rangers, in retaliation for a crackdown against poaching and mining in the protected area. Poaching has reached epidemic levels in Africa due to increasing bushmeat consumption and a rise in East Asian demand for black-market ivory and rhino horns.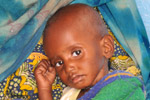 Alarm rising over food crisis in Sahel region
(06/13/2012) Warnings over a possible famine in Africa's Sahel region are becoming louder and more intense. Abnormal drought, locally high food prices, and regional conflict have ramped up concerns that 18 million people could suffer from malnutrition and starvation as the lean season sets in. UNICEF says it needs $238 million to save over a million children from severe malnourishment in the region, but has to date only raised $93 million.


First camera trap video of world's rarest gorilla includes shocking charge
(05/08/2012) Ever wonder what it would be like to be charged by a male gorilla? A new video (below) released by the Wildlife Conservation Society (WCS), gives one a first hand look. Shot in Cameroon's Kagwene Gorilla Sanctuary, the video is the first camera trap footage of the incredibly rare Cross River gorilla subspecies (Gorilla gorilla diehli); listed as Critically Endangered, the subspecies is believed to be down to only 250 individuals.


15 million facing food shortages in Africa's Sahel region
(03/29/2012) The UN announced yesterday that food security in the Sahel region is deteriorating, putting over 15 million people at risk. Ongoing drought combined with conflict, has pushed the region into a crisis. The situation appears eerily similar to last year when Somalia was hit by a devastating famine due to drought and political instability; the famine left an estimated 30,000 children dead.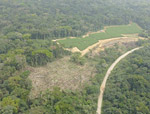 Scientists say massive palm oil plantation will "cut the heart out" of Cameroon's rainforest
(03/15/2012) Eleven top scientists have slammed a proposed palm oil plantation in a Cameroonian rainforest surrounded by five protected areas. In an open letter, the researchers allege that Herakles Farm, which proposes the 70,000 hectare plantation in southwest Cameroon, has misled the government about the state of the forest to be cleared and has violated rules set by the Roundtable on Sustainable Palm Oil (RSPO), of which it's a member. The scientists, many of whom are considered leaders in their field, argue that the plantation will destroy rich forests, imperil endangered species, and sow conflict with local people.


New reports from inside Cameroon confirm grisly mass killing of elephants (warning: graphic photos)
(03/14/2012) The International Fund for Animal Welfare (IFAW) has recently returned from Bouba Ndjida National Park in northern Cameroon, where at least 400 elephants have been slaughtered since mid-January. IFAW is the only international organization that has assessed the situation within the park.


Military called in to stop Cameroon elephant slaughter - but may be too late
(03/05/2012) Cameroon's military has been called in to Bouba Ndjida National Park to take on foreign poachers that have slaughtered hundreds of elephants for their ivory, according to the World Wide Fund for Nature (WWF). Reports vary, but between 200-480 elephants have been killed in recent weeks in the park by what is widely assumed to be poachers from Sudan.


Elephant death-toll rises to almost 500 in one park in Cameroon (warning: graphic photo)
(02/29/2012) Wildlife officials have found 458 dead elephants in Cameroon's embattled Bouba Ndjida National Park, reports the AFP. However officials fear the actual number is even higher around 480. Over the last six weeks a well-organized group of poachers has run free in the park, slaughtering elephants for their ivory tusks which will make their way to markets in Asia.


Elephant massacre in Cameroon (warning: graphic photo)
(02/17/2012) More than 200 elephants have been slaughtered for their tusks in less than a month in Cameroon, reports the International Fund for Animal Welfare (IFAW). The group blames Sudanese poachers for cross-border raids from Chad into Bouba Ndjida National Park in northern Cameroon.


Girl Scouts activists win forest heroes award for challenging organization on sustainability
(02/10/2012) The United Nations on Thursday honored five 'Forest Heroes' for their contributions toward protecting forests.


REDD project gets initial go-ahead in Cameroon
(12/05/2011) The government of Cameroon approved a feasibility assessment for the first REDD+ project in the Central African nation, reports the Global Green Carbon Corporation, which is developing the project.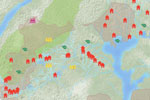 Community mapping of African rainforests could show way forward for preservation, REDD
(12/01/2011) A new initiative to place community mapping of central African rainforests online could prove key to local rights in the region, says the UK-based NGO Rainforest Foundation. Working with forest communities in five African countries, Rainforest Foundation has helped create digital maps of local forests, including use areas, parks, and threats such as logging and mining. The website, MappingForRights.org, includes interactive maps, photos, and video.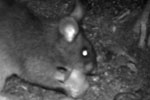 Giant rat plays big ecological role in dispersing seeds
(11/16/2011) Rats are rarely thought of as heroes. In fact, in many parts of the world they are despised, while in others they serve largely as food. But, scientists are now discovering that many tropical forest rodents, including rats, serve as heroic seed dispersers, i.e. eating fruits and nuts, and carrying seeds far from the parent tree, giving a chance to a new sapling. While this has been documented with tropical rodents in South America like agoutis and acouchis, a new study in Biotropica documents the first successful seed dispersal by an African rodent: the Kivu giant pouched rat (Cricetomys kivuensis), one of four species of giant African rats.




Suggested reading/Books on Cameroon


Unless otherwise specified, this article was written by Rhett A. Butler [Bibliographic citation for this page]

Other resources

Contact me if you have suggestions on other rainforest-related environmental sites and resources for this country.



Image copyright Google Earth, MDA EarthSet, DigitalGlobe 2005

CIA-World Factbook Profile
FAO-Forestry Profile
World Resources Institute


Last updated: 4 Feb 2006