CENTRAL AFRICAN REPUBLIC
Central African Republic Forest Figures

Forest Cover

---

Total forest area: 22,755,000 ha
% of land area: 36.5%

Primary forest cover: n/a
% of land area: n/a
% total forest area: n/a

Deforestation Rates, 2000-2005

---

Annual change in forest cover: -29,600 ha
Annual deforestation rate: -0.1%
Change in defor. rate since '90s: n/a
Total forest loss since 1990: -448,000 ha
Total forest loss since 1990:-1.9%

Primary or "Old-growth" forests
Annual loss of primary forests: n/a
Annual deforestation rate: n/a
Change in deforestation rate since '90s: n/a
Primary forest loss since 1990: n/a
Primary forest loss since 1990:n/a

Forest Classification

---

Public: n/a
Private: n/a
Other: n/a
Use
Production: 21.2%
Protection: n/a
Conservation: 78.8%
Social services: n/a
Multiple purpose: n/a
None or unknown: n/a

Forest Area Breakdown

---

Total area: 22,755,000 ha
Primary: n/a
Modified natural: 22,750,000 ha
Semi-natural: n/a
Production plantation: 5,000 ha
Production plantation: n/a

Plantations

---

Plantations, 2005: 5,000 ha
% of total forest cover: n.s.%
Annual change rate (00-05): 200,000 ha

Carbon storage

---

Above-ground biomass: 4,519 M t
Below-ground biomass: 1,085 M t

Area annually affected by

---

Fire: n/a
Insects: n/a
Diseases: n/a

Number of tree species in IUCN red list

---

Number of native tree species: n/a
Critically endangered: 0
Endangered: 1
Vulnerable: 8

Wood removal 2005

---

Industrial roundwood: 1,108,000 m3 o.b.
Wood fuel: 2,458,000 m3 o.b.

Value of forest products, 2005

---

Industrial roundwood: n/a
Wood fuel: n/a
Non-wood forest products (NWFPs): n/a
Total Value: n/a


More forest statistics for Central African Republic


The former French colony of Ubangi-Shari, now known as the Central African Republic, once had the third largest area of rainforest cover in Africa. Today, while tropical forest covers 36 percent of the country, most of this has been degraded by logging. Very little of Central African Republic forest cover can be considered primary forest.

Subsistence agriculture, diamond mining, and forestry form the bulk of the economy of the Central African Republic. Burdened with poor infrastructure and high transportation costs, a largely unskilled work force, and poor economic policies, the Central African Republic is not a particularly attractive source for timber among African producers. Nevertheless, most of the country's forests have been logged for valuable tree species including sapelli, ayous and sipo. Most wood from the Central African Republic is exported to Europe.

Logging roads have opened up much of the Central African Republic to subsistence agriculture and poachers. Bushmeat hunting—some of the most severe in Africa—has taken a heavy toll on the country's once abundant and diverse wildlife. The black rhino is no longer present in the country due to poaching. Fuelwood collection has also put pressure on the Central African Republic's forests.

Deforestation and poor agricultural practices are resulting in desertification in the northern parts of the country.

The Central African Republic had one of the lowest total deforestation rates among tropical countries between 1990 and 2005 when just 1.9 percent of its forests were lost. However, the country's forest degradation rate was considerably higher due to logging.

Today about 16.6 percent of the Central African Republic is under some form of protection, though institutional support for protected areas has historically been weak, and hunters and loggers have continued to operate in national parks. The Central African Republic is home to about 3,600 species of plants, 663 birds, 131 mammals, 187 reptiles, and 29 amphibians.

Recent articles | Central African Republic news updates | XML

Gabon steps in to help protect elephants from ivory poaching at Central African Republic site
(05/18/2013) Gabon has agreed to help battle poaching in protected areas in the Central African Republic following an elephant massacre at a renowned World Heritage site, reports the Wildlife Conservation Society (WCS).


Elephants massacred for ivory in Central African Republic
(05/10/2013) Dozens of elephants have been slaughtered in the Dzanga Bai World Heritage Site in the Central African Republic just days after conservationists warned about an impending threat from the movement of 17 heavily armed poachers. The massacre occurred at a site renowned as 'village of elephants', where tourists and scientists have for decades observed wild elephants congregating at a large clearing to feed on minerals.



17 poachers allegedly enter elephant stronghold in Congo, conservationists fear massacre
(05/07/2013) Local researchers and wildlife guards say 17 armed elephant poachers have gained access to Dzanga Bai, a large waterhole and clearing where up to 200 forest elephants visit daily in the Central African Republic (CAR)'s Dzanga-Ndoki National Park. WWF, which works in the region but has recently evacuated due to rising violence, is calling on the CAR government to rapidly mobilize its military to stop another elephant bloodbath in central Africa. Elephants are being killed across their range for their ivory, which is mostly smuggled to East Asia.



Emergency: large number of elephants being poached in the Central African Republic (warning: graphic image)
(04/25/2013) WWF and the Wildlife Conversation Society (WCS) are issuing an immediate call for action as they report that poachers are killing sizable numbers of forest elephants near the Dzanga-Sangha protected areas in the Central African Republic (CAR). The two large conservation groups have evacuated their staff from the area after a government coup, but local rangers are still trying to determine the scale of the killing while defending remaining elephants. In total the conservation groups believe the parks are home to over 3,000 elephants.



A thousand soldiers sent after marauding elephant poachers [warning: graphic photos]
(03/26/2013) Eight Central African nations have announced they will send a thousand soldiers after poachers responsible for slaughtering 89 elephants, including over 30 pregnant mothers, in Chad earlier this month. The mobilization of soldiers and law enforcement officers could be a sign that Central African countries are beginning to take elephant poaching, which has decimated populations across Africa, more seriously.



62% of all Africa's forest elephants killed in 10 years (warning: graphic images)
(03/04/2013) More than 60 percent of Africa's forest elephants have been killed in the past decade due to the ivory trade, reports a new study published in the online journal PLOS ONE. The study warns that the diminutive elephant species — genetically distinct from the better-known savanna elephant — is rapidly heading toward extinction.


10 African countries to develop satellite-based deforestation tracking systems with help of Brazil
(07/30/2012) Ten tropical African countries will receive training and support to develop national forest monitoring systems, reports the United Nations. Brazil, which has an advanced deforestation tracking system, will guide the initiative in partnership with the Central Africa Forests Commission (COMIFAC) and the UN Food and Agriculture Organization (FAO).


10,000 sq mi of Congo rainforest declared World Heritage site
(07/02/2012) Central Africa has the newest World Heritage site.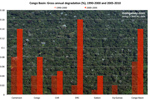 Deforestation increases in the Congo rainforest
(03/20/2012) Deforestation in the Congo Basin has increased sharply since the 1990s, reports an extensive new assessment of forests in the six-nation region. Released by the Central African Forests Commission (COMIFAC) and members of the Congo Basin Forest Partnership, The State of the Forest finds that the region's annual gross deforestation rate doubled from 0.13 percent to 0.26 percent between the 1990s and the 2000-2005 period. Gross degradation caused by logging, fire, and other impacts increased from 0.07 percent to 0.14 percent on an annual basis. Despite the jump, rates in the Congo Basin remain well below those in Latin America and Southeast Asia, but the region is seen as a prime target for future agroindustrial expansion.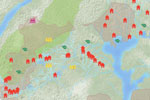 Community mapping of African rainforests could show way forward for preservation, REDD
(12/01/2011) A new initiative to place community mapping of central African rainforests online could prove key to local rights in the region, says the UK-based NGO Rainforest Foundation. Working with forest communities in five African countries, Rainforest Foundation has helped create digital maps of local forests, including use areas, parks, and threats such as logging and mining. The website, MappingForRights.org, includes interactive maps, photos, and video.


Bushmeat hunting alters forest structure in Africa
(11/04/2010) According to the first study of its kind in Africa, bushmeat hunting impacts African rainforests by wiping-out large mammals and birds—such as forest elephants, primates, and hornbills—that are critical for dispersing certain tree species. The study, published in Biotropica, found that heavy bushmeat hunting in the Central African Republic changes the structure of forest species by favoring small-seeded trees over large-seeded, leading to lower tree diversity of trees that have big seeds.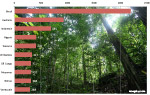 Loss of old growth forest continues
(10/06/2010) A new global assessment of forest stocks by the U.N. Food and Agriculture Organization (FAO) shows continuing loss of primary forests since 2005 despite gains in the extent of protected areas. FAO's Global Forest Resources Assessment 2010 reveals some 13 million hectares of forest were cleared between 2000 and 2010, down from around 16 million hectares per year during the 1990s. Loss of primary forest—mostly a consequence of logging—averaged 4.2 million hectares per year, down from 4.7 million hectares per year in the 1990s.


Financial crisis pummels wildlife and people in the Congo rainforest
(09/27/2010) Spreading over three central African nations—Cameroon, Central African Republic, and Republic of Congo—the Sangha tri-national landscape is home to a variety of actors: over 150,000 Bantu people and nearly 20,000 pygmies; endangered species including forest elephants and gorillas; and, not least, the Congo rainforest ecosystem itself, which here remains largely intact. Given its interplay of species-richness, primary rainforest, and people—many of whom are among the poorest in the world—the landscape became internationally important in 2002 when under the Congo Basin Forest Partnership (CBFP) conservation groups and development agencies agreed to work together to preserve the ecosystems while providing development in the region.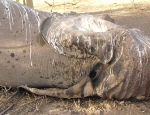 A nation of tragedies: the unseen elephant wars of Chad
(05/12/2010) Stephanie Vergniault, head of SOS Elephants in Chad, says she has seen more beheaded corpses of elephants in her life than living animals. In the central African nation, against the backdrop of a vast human tragedy—poverty, hunger, violence, and hundreds of thousands of refugees—elephants are quietly vanishing at an astounding rate. One-by-one they fall to well-organized, well-funded, and heavily-armed poaching militias. Soon Stephanie Vergniault believes there may be no elephants left. A lawyer, screenwriter, and conservationist, Vergniault is a true Renaissance-woman. She first came to Chad to work with the government on electoral assistance, but in 2009 after seeing the dire situation of the nation's elephants she created SOS Elephants, an organization determined to save these animals from local extinction.


Congo basin rainforest countries
(01/15/2010) Payments for ecosystem services may be a key component in maintaining Central Africa's rainforests as healthy and productive ecosystems, finds a comprehensive assessment of the region's forests.


Britain, Norway commit $210 million towards Congo rainforest conservation
(06/24/2008) The governments of Britain and Norway last week announced a $211 million (108 million) initiative to conserve rainforests in the Congo Basin. The plan calls for the use of an advanced satellite camera to monitor deforestation in the region and funding for community-based conservation projects.


Biochar fund to fight hunger, energy poverty, deforestation, and global warming
(03/10/2008) Biopact, a leading bioenergy web site, has announced the creation of a "Biochar Fund" to help poor farmers improve their quality of life without hurting the environment.


NASA images show expansion of logging in Congo rainforest
(07/15/2007) New high resolution images of logging roads in the Congo region of Africa are helping researchers understand the expansion of industrial logging in Central Africa.


Logging roads rapidly expanding in Congo rainforest
(06/07/2007) Logging roads are rapidly expanding in the Congo rainforest, report researchers who have constructed the first satellite-based maps of road construction in Central Africa. The authors say the work will help conservation agencies, governments, and scientists better understand how the expansion of logging is impacting the forest, its inhabitants, and global climate.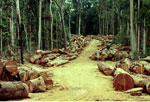 Congo forest elephants declining from logging roads, illegal ivory
(04/02/2007) Fast-expanding logging roads in the Congo basin are becoming 'highways of death' for the fierce but elusive forest elephant, according to a new study published in the journal Public Library of Science. Logging roads both provide access to remote forest areas for ivory poachers and serve as conduits of advancing human settlement.


Important Congo basin parks get funding
(03/28/2007) A network of national parks and protected areas spanning three nations in Central Africa's Congo Basin, has received long-term funding through the establishment of a trust fund, thus ensuring further protection of the region's wildlife, according to the Wildlife conservation Society.


Central African Republic could make millions under carbon-trading deal
(11/06/2006) The Central African Republic could earn tens of millions of dollars under a carbon-trading initiative proposed by a coalition of developing countries. The proposal will likely be discussed this week at U.N. climate negotiations in Nairobi, Kenya.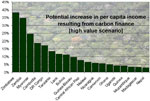 Avoided deforestation could send $38 billion to third world under global warming pact
(11/01/2006) Avoided deforestation will be a hot point of discussion at next week's climate meeting in Nairobi, Kenya. Already a coalition of 15 rainforest nations have proposed a plan whereby industrialized nations would pay them to protect their forests to offset greenhouse gas emissions. Meanwhile, last month Brazil -- which has the world's largest extent of tropical rainforests and the world's highest rate of forest loss -- said it promote a similar initiative at the talks. At stake: potentially billions of dollars for developing countries. When trees are cut greenhouse gases are released into the atmosphere -- roughly 20 percent of annual emissions of such heat-trapping gases result from deforestation and forest degradation. Avoided deforestation is the concept where countries are paid to prevent deforestation that would otherwise occur. Policymakers and environmentalists alike find the idea attractive because it could help fight climate change at a low cost while improving living standards for some of the world's poorest people and preserving biodiversity and other ecosystem services. A number of prominent conservation biologists and development agencies including the World Bank and the U.N. have already endorsed the idea.


Rainforests worth $1.1 trillion for carbon alone in Coalition nations
(11/29/2005) If a coalition of developing countries has its way, there could soon be new forests sprouting up in tropical regions. The group of ten countries, led by Papua New Guinea, has proposed that wealthy countries pay them to preserve their rainforests. The Coalition for Rainforest Nations argues that all countries should pay for the benefits -- from carbon sequestration to watershed protection -- that tropical rainforests provide.


The Congo rain forest, an overview of a threatened ecosystem
(06/05/2005) Known as the heart of darkness by Joseph Conrad, the Congo region has long conjured up thoughts of pygmies, mythical beasts, dreadful plagues, and cannibals. It is a land made famous by the adventures of Stanley and Livingstone and known as a place of brutality and violence for its past -- the days of the Arab slave and ivory trade, its long history of tribal warfare -- and its present -- the ethnic violence and massacres of today.


Suggested reading - Books


Unless otherwise specified, this article was written by Rhett A. Butler [Bibliographic citation for this page]

Other resources

Contact me if you have suggestions on other rainforest-related environmental sites and resources for this country.



Image copyright Google Earth, MDA EarthSet, DigitalGlobe 2005

CIA-World Factbook Profile
FAO-Forestry Profile
World Resources Institute


Last updated: 4 Feb 2006