Caribbean Islands

At one time the islands of the Caribbean were covered with tropical rainforest, but these have been diminished since the arrival of Columbus in 1492. Originally, hardwood was used to construct ships, homes, and furniture for the early colonists, and the rest of the forest was reaped of fuelwood and then burned for plantations. Today, very few of these islands have any forest cover, let alone primary forest. With forest loss, species have disappeared, including 35 mammals species. Some of the island nations recognize the importance of forest cover and have moved to protect the remaining forests or have begun reforestation programs.

In the Bahamas, the Bahamas National Trust has reseeded original hardwoods in Exuma National Park. In addition, the trust is restoring species that were near extinction or have gone extinct in the wild. Islanders have noticed that rain levels are returning to levels measured before original deforestation. The government of the Bahamas is working to promote eco-tourism that will bring in foreign currency and investment, yet protect the environment at the same time.

A small section (28,000 acres) of rainforest exists in Puerto Rico's El Yunque National Park which contains more than 200 species of plants and the endangered Puerto Rican parrot. The park was established in 1876 (the oldest reserve in the Western Hemisphere) by Spain, who controlled the island at the time. In the 1930s, with the island now a territory of the United States, the Civilian Conservation Corps built a road that divided the forest in half.

Cuba's natural forests are very rare. The island was more than 90 percent forested in 1492, but by 1900 forest cover had fallen to 5 percent. Since 1960, when the forest cover stood at 13.5 percent, forest area has been increasing due to reforestation. The dry conditions of 1998 resulted in forest fires. Rare species are threatened by collection for export.

In the late 1920s forest still covered three-quarters of the Dominican Republic, though by 1981 this had been reduced to roughly 14 percent from clearing for sugar cane, residential development, and logging for timber. The Dominican Republic is one of ten forested nations that proposed compensation from wealthy countries for rainforest conservation at the 2005 climate conference in Montreal.



Country / Area
Total Forest Area
(ha)
Percent Forest Cover
Primary Forest Cover
(ha)
Total Change 1990-2005
(ha)
Total Change 1990-2005
(%)
Anguilla
6,000
58.8%
0
-
0.00%
Antigua and Barbuda
9,000
20.5%
0
-
0.00%
Aruba
0
0.0%
0
-
-
Bahamas
515,000
51.5%
0
-
0.00%
Barbados
2,000
4.7%
0
-
0.00%
Bermuda
1,000
20.0%
0
-
0.00%
British Virgin Islands
4,000
26.7%
0
-
0.00%
Cayman Islands
12,000
45.8%
0
-
0.00%
Cuba
2,713,000
24.7%
0
655,000
31.83%
Dominica
46,000
61.3%
27,000
-4,000
-8.00%
Dominican Republic
1,376,000
28.4%
0
-
0.00%
Grenada
4,000
11.8%
1,000
-
0.00%
Guadeloupe
80,000
47.3%
19,000
-4,000
-4.76%
Haiti
105,000
3.8%
0
-11,000
-9.48%
Jamaica
339,000
31.3%
0
-6,000
-1.74%
Martinique
46,000
43.4%
0
-
0.00%
Montserrat
4,000
40.0%
0
-
0.00%
Netherlands Antilles
1,000
1.3%
0
-
0.00%
Puerto Rico
408,000
46.0%
11,000
4,000
0.99%
Saint Kitts and Nevis
5,000
13.9%
0
-
0.00%
Saint Lucia
17,000
27.9%
0
-
0.00%
Saint Vincent and the Grenadines
11,000
28.2%
0
2,000
22.22%
Trinidad and Tobago
226,000
44.1%
14,000
-9,000
-3.83%
Turks and Caicos Islands
34,000
79.1%
0
-
0.00%
United States Virgin Islands
10,000
29.4%
0
-2,000
-16.67%
Total Caribbean
5,974,000
26.1%
624,000
11.66%


Recent articles | Caribbean news updates | XML


Beyond the resorts: traveling the real and wild Dominican Republic (photos)
(01/29/2013) For its stunning variety of ecosystems, the Dominican Republic is like a continent squished into half an island. Lowland rainforests, cloud forests, pine forests, dry forests, mangroves, savannah, coastal lagoons, salt lakes, a rift valley, karst land formations, four mountain ranges—including the highest mountain in the Caribbean—and not to mention some of the best beaches, snorkeling, and scuba diving in the hemisphere can all be reached within just a few hours drive of the capital, Santo Domingo. Yet, bizarrely, most tourists who visit the Dominican Republic never venture out of their all-inclusive resort, missing out on some of the most stunning landscapes—and accessible wildlife viewing—in the Caribbean.


Measuring nutrient pollution in pristine waters: Puerto Rico's Vieques Island
(12/10/2012) Life in the ocean require nutrient, but too much of a good thing can be hugely detrimental. Nutrient pollution from agricultural and industrial runoff causes serious ecological harm in the world's marine waters, at times producing massive "dead zones" where much of the dissolved oxygen has been stripped making it difficult for most marine animals to live there. A new study by scientists with the U.S. National Oceanic and Atmospheric Administration (NOAA) attempts to establish a baseline of nutrient levels in the largely pristine waters around the island of Vieques off of Puerto Rico.


Hurricane Sandy pushes Haiti toward full-blown food crisis
(11/12/2012) Although Haiti avoided a direct hit by Hurricane Sandy, the tropical storm caused severe flooding across the southern part of the country decimating agricultural fields. The UN Office for the Coordination of Humanitarian Affairs now warns that 1.5 million Haitians are at risk of severe food insecurity, while 450,000 people face severe acute malnutrition, which can kill.


Remarkable comeback: blue iguana downgraded to Endangered after determined conservation efforts
(10/23/2012) The wild blue iguana population has increased by at least 15 times in the last ten years, prompting the IUCN Red List to move the species from Critically Endangered to just Endangered. A targeted, ambitious conservation program, headed by the Blue Iguana Recovery Team, is behind this rare success for a species that in 2002 only numbered between 10 and 25 individuals.



Parrots of the Caribbean: extinction looms in the Bahamas
(10/08/2012) I think about extinction a lot. It's only natural for someone in my line of work. On my way to work I drive past the Colorado National Monument. Even from a distance it's impressive: piles of dark schist 1,500 million years old; Wingate sandstone from the age of dinosaurs, all of it formed into cliffs, carved into spires. I can see Independence monument from the highway; a tall tower of tan sandstone that John Otto climbed near the beginning of the 20th century without rope. The monument is a display of the massive changes in the world. I often think about the rainforests and the oceans that once covered the land. Ecosystems have come and gone, the planet destroyed and rebuilt over and over.


Coral reefs in Caribbean on life support
(09/11/2012) Only 8 percent of the Caribbean's reefs today retain coral, according to a new report by the International Union for Conservation of Nature (IUCN). With input and data from 36 scientists, the report paints a bleak picture of coral decline across the region, threatening fisheries, tourism, and marine life in general.


Bird uses hurricane winds to accelerate flight speed to 100 MPH
(08/24/2012) Migrating Whimbrels — a type of shorebird — may struggle for hours against winds when trying to cross the Caribbean during hurricane season but get a huge boost as they fly out of storms, report researchers from the Center for Conservation Biology in Williamsburg, Virginia.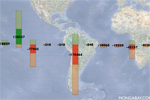 Chart: Forest loss in Latin America
(08/20/2012) Latin America lost nearly 260,000 square kilometers (100,000 square miles) of forest — an area larger than the state of Oregon — between 2001 and 2010, finds a new study that is the first to assess both net forest loss and regrowth across the Caribbean, Central and South America. The study, published in the journal Biotropica by researchers from the University of Puerto Rico and other institutions, analyzes change in vegetation cover across several biomes, including forests, grasslands, and wetlands. It finds that the bulk of vegetation change occurred in forest areas, mostly tropical rainforests and lesser-known dry forests. The largest gains in biome area occurred in desert vegetation and shrublands.


Animal picture of the day: flamingos take flight in the Bahamas
(07/17/2012) Scientists have banded nearly 200 American flamingos (Phoenicopterus ruber) in the Inagua National Park in the Bahamas in order to monitor the long-term population.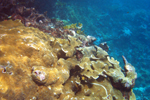 Strangest island in the Caribbean may be a sanctuary for critically endangered coral
(07/16/2012) Don't feel bad if you've never heard of Navassa Island, even though it's actually part of the U.S. according to the Guano Islands Act of 1856. This uninhabited speck between Haiti and Jamaica, barely bigger than New York City's Central Park, has a bizarre and bloody history—and may be a crucial refuge for endangered coral in the Caribbean.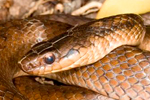 Meet the world's rarest snake: only 18 left
(07/10/2012) It's slithery, brown, and doesn't mind being picked up: meet the Saint Lucia racer (Liophis ornatus), which holds the dubious honor of being the world's most endangered snake. A five month extensive survey found just 18 animals on a small islet off of the Caribbean Island of Saint Lucia. The snake had once been abundant on Saint Lucia, as well, but was decimated by invasive mongooses. For nearly 40 years the snake was thought to be extinct until in 1973 a single snake was found on the Maria Major Island, a 12-hectare (30 acre) protected islet, a mile off the coast of Saint Lucia (see map below).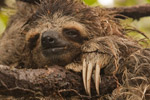 Less than 100 pygmy sloths survive
(05/24/2012) The pygmy three-toed sloth (Bradypus pygmaeus) is one of the world's most endangered mammals, according to a detailed survey of the population, which found less than 100 sloths hanging on in their island home. Only described by researchers in 2001, the pygmy sloth lives on a single uninhabited island off the coast of Panama. But human impacts, such as deforestation of the island's mangroves, may be pushing the species to extinction.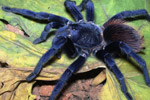 Blue tarantula, walking cactus, and a worm from Hell: the top 10 new species of 2011
(05/23/2012) A sneezing monkey, a blue tarantula, and an extinct walking cactus are just three of the remarkable new species listed in the annual Top Ten New Species put together by the International Institute for Species Exploration at Arizona State University. This year's list includes a wide-variety of life forms from fungi to flower and invertebrate to primate.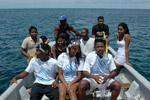 Educating the next generation of conservation leaders in Colombia
(05/14/2012) Colombia's northern departments of Cordoba and Bolivar are home to an abundance of coral reefs, estuaries, mangroves forests, and forests. Rich in both marine and terrestrial wildlife, local communities depend on the sea and land for survival, yet these ecosystems are imperiled by booming populations, overexploitation, and unsustainable management. Since 2007, an innovative education program in the region, the Guardians of Nature, has worked to teach local children about the ecology of the region, hoping to instill a conservation ethic that will aid both the present and the future.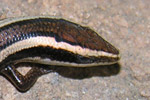 Skink biodiversity jumps 650 percent in the Caribbean
(04/30/2012) In a single paper in Zootaxa scientists have rewritten the current understanding of lizard biodiversity in the Caribbean. By going over museum specimens of skinks, scientists have discovered 24 new species and re-established nine species previously described species, long-thought invalid. The single paper has increased the number of skinks in the Caribbean by 650 percent, from six recognized species to 39. Unfortunately, half of these new species may already be extinct and all of them are likely imperiled.


Bycatch-reducing fish trap wins $20,000
(01/11/2012) An innovative fish trap that allows small non-target fish to escape won a new content by RARE Conservation and National Geographic to fund solutions to overfishing. Developed through studies in Curaçao and Kenya with the Wildlife Conservation Society, the trap has gaps for juvenile fish to swim out of reportedly reducing bycatch by 80 percent. The entry won a $20,000 grant.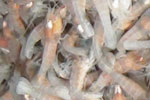 Photos: scientists find new species at world's deepest undersea vent
(01/10/2012) It sounds like a medieval vision of hell: in pitch darkness, amid blazing heat, rise spewing volcanic vents. But there are no demons and devils down here, instead the deep sea vent, located in the very non-hellish Caribbean sea, is home to a new species of pale shrimp. At 3.1 miles below (5 kilometers) the sea's surface, the Beebe Vent Field south of the Cayman islands, is the deepest yet discovered.


Colombian president: no oil drilling in award-winning Seaflower marine reserve
(10/03/2011) Colombian president, Juan Manuel Santos, announced over the weekend that there will be no oil exploration in the award-winning Seaflower Biosphere Reserve and Marine Protected Area (MPA). Spreading over 65,000 square kilometers (6,500,000 hectares), Seaflower MPA is home to over a hundred coral species, over 400 fish, some 150 birds, four marine turtles species, and the magnificent mollusk, the queen conch (Strombus gigas).


Featured video: the Caribbean's last mammals
(09/11/2011) Although they are little-known, the hutia and solenodon are some of the last surviving mammals of the Caribbean. A hefty rodent, the hutia spends its time grazing in trees like a giant arboreal hamster. While, the solenodon may be one of the world's oddest creatures: a 'living fossil', the solenodon's evolutionary origins goes back all the way to the time of dinosaurs.


Reducing Disaster Risks: Progress and Challenges in the Caribbean Region
(08/23/2011) Disaster management is a global policy problem with a critical land-use change component related to settlement patterns, deforestation, and agriculture development. This is further exacerbated by climate change.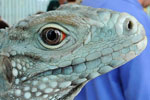 Blue iguana back from the dead
(07/18/2011) The blue iguana (Cyclura lewisi) was once king of the Caribbean Island, Grand Cayman. Weighting in at 25 pounds, measuring over 5 feet, and living for over sixty years, nothing could touch this regal lizard. But then the unthinkable happened: cars, cats, and dogs, along with habitat destruction, dethroned Grand Cayman's reptilian overlord. The lizard went from an abundant population that roamed the island freely to practically assured extinction. In 2002, researchers estimated that two dozen—at best—survived in the wild. Despite the bleak number, conservationists started a last ditch effort to save the species. With help from local and international NGOs, the effort, dubbed the Blue Iguana Recovery Program, has achieved a rarity in conservation. Within nine years it has raised the population of blue iguanas by twenty times: today 500 wild blue iguanas roam Salina Reserve.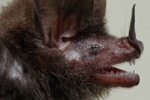 Photos: new bat uncovered in the Caribbean
(05/26/2011) Researchers have declared a new species of bat from the Caribbean island of St. Vincent. While the new bat had been documented before, it was long believed to be a member of a similar species that is found throughout South America and a few Caribbean Islands, that is until PhD student Peter Larsen noticed it was far larger than its relative down south.


Richard Branson's pet lemur project is a terrible idea
(04/19/2011) Richard Branson's plan to introduce lemurs on one of his private islands in the Caribbean is a terrible idea if he really aims to protect the primates from extinction. Beyond the much-discussed ecological impact of bringing in non-native primates, Branson's scheme risks undermining conservation efforts where lemurs actually exist in the wild: Madagascar.


Haiti's deforestation has dire economic impacts
(02/09/2011) December Climate talks in Cancun highlighted the importance of maintaining healthy forests to protect the planet's most vulnerable people from the consequences of future climate change. Haitians have been glimpsing that future for more than a year after a lack of healthy forests left them vulnerable to other disasters. Here's a look at the take-home lessons from Haiti's year of environmental ruin.


Pictures: 6 'lost' frog species discovered in Haiti
(01/12/2011) On the eve of the anniversary of last year's destructive earthquake, scientists have announced a bit of positive news out of Haiti: the rediscovery of six species of frogs.


Suggested reading - Books


Unless otherwise specified, this article was written by Rhett A. Butler [Bibliographic citation for this page]

Other resources

Contact me if you have suggestions on other rainforest-related environmental sites and resources for this country.



Image copyright Google Earth, MDA EarthSet, DigitalGlobe 2005




Last updated: 7 Feb 2006