COTE D' IVOIRE (IVORY COAST)
C魌e d'Ivoire Forest Figures

Forest Cover

---

Total forest area: 10,405,000 ha
% of land area: 32.7%

Primary forest cover: 625,000 ha
% of land area: 2.0%
% total forest area: 6.0%

Deforestation Rates, 2000-2005

---

Annual change in forest cover: 15,400 ha
Annual deforestation rate: 0.1%
Change in defor. rate since '90s: 43.8%
Total forest loss since 1990: 183,000 ha
Total forest loss since 1990:1.8%

Primary or "Old-growth" forests
Annual loss of primary forests: n/a
Annual deforestation rate: n/a
Change in deforestation rate since '90s: n/a
Primary forest loss since 1990: n/a
Primary forest loss since 1990:0.0%

Forest Classification

---

Public: 100%
Private: n/a
Other: n/a
Use
Production: 88.7%
Protection: 3.3%
Conservation: 7.8%
Social services: 0.2%
Multiple purpose: n/a
None or unknown: n/a

Forest Area Breakdown

---

Total area: 10,405,000 ha
Primary: 625,000 ha
Modified natural: 9,443,000 ha
Semi-natural: n/a
Production plantation: 337,000 ha
Production plantation: n/a

Plantations

---

Plantations, 2005: 337,000 ha
% of total forest cover: 3.2%
Annual change rate (00-05): 15,200,000 ha

Carbon storage

---

Above-ground biomass: 3,649 M t
Below-ground biomass: 365 M t

Area annually affected by

---

Fire: 21,000 ha
Insects: n/a
Diseases: n/a

Number of tree species in IUCN red list

---

Number of native tree species: n/a
Critically endangered: 1
Endangered: 4
Vulnerable: 49

Wood removal 2005

---

Industrial roundwood: 2,175,000 m3 o.b.
Wood fuel: 10,370,000 m3 o.b.

Value of forest products, 2005

---

Industrial roundwood: $298,577,000
Wood fuel: n/a
Non-wood forest products (NWFPs): n/a
Total Value: $298,577,000


More forest statistics for C魌e d'Ivoire



C么te d'Ivoire has the highest level of biodiversity in West Africa, with over 1,200 animal species (232 mammals, 702 birds, 125 reptiles, 38 amphibians, 111 fish) and 4,700 plant species. Most of this diversity occurs in the rugged interior region and not in the coastal regions as is the case in other parts of West Africa.

However, much like the rest of West Africa, C么te d'Ivoire has suffered severe deforestation. As of 2005, less than 2 percent of the country's land area was covered with primary forest, while less than a third of C么te d'Ivoire was forested at all. Agriculture, uncontrolled fires, and logging for tropical woods —once Ivory Coast's largest export by volume—were the primary causes of forest loss. Since winning independence from France in 1960, Cote d'Ivoire's forested area has fallen from around 16 million hectares to 10 million hectares.

Once the darling of West Africa with its economic miracle of the 1980s, the country by the 1990s had collapsed because of resource depletion and declining agricultural productivity. The situation has only worsened since then and civil war has plagued the country since the end of 1999.

Prior to the outbreak of war, the Ivorian government worked to make conservation a priority, setting 17 percent of the country aside in protected areas and taking measures against illegal logging, poaching, and settler encroachment in parks. The government banned raw-log exports and encouraged the development of forest plantations, while deforestation rates plunged. Between 1990 and 2005, C么te d'Ivoire lost only 1.8 percent of its forest cover.

Today the status of conservation efforts in C么te d'Ivoire is unclear. If neighboring Liberia is any indication, it is likely that C么te d'Ivoire's ecosystems will further decline.

Recent articles | Cote d'Ivoire news updates | XML


Bloodsucking flies help scientists identify rare, hard-to-find mammals
(01/16/2013) Last year scientists released a study that is likely to revolutionize how conservationists track elusive species. Researchers extracted the recently sucked blood of terrestrial leeches in Vietnam's remote Annamite Mountains and looked at the DNA of what they'd been feeding on: remarkably researchers were able to identify a number of endangered and rarely-seen mammals. In fact two of the species gleaned from these blood-meals had been discovered by scientists as late as the 1990s. In the past, trying to find rare and shy jungle animals required many man hours and a lot of funding. While the increasing use of remote camera traps has allowed scientists to expand their search, DNA sampling from leeches could be the next big step in simplifying (and cheapening) the quest for tracking the world's mammals.


Mysterious pygmy hippo filmed in Liberia
(12/19/2011) Conservationists have captured the first ever footage (see video below) of the elusive pygmy hippo (Choeropsis liberiensis) in Liberia. The forest-dwelling, nocturnal species—weighing only a quarter of the size of the well-known common hippo (Hippopotamus amphibius)—has proven incredibly difficult to study. But the use of camera traps in Liberia's Sapo National Park has allowed researchers a glimpse into its cryptic life.


Locals key to saving primate-rich wetlands in Cote D'Ivoire
(12/12/2011) Saved from being converted into a vast palm oil plantation by PALM-CI in 2009, the Ehy Tano茅 wetlands and forest in the Cote D'Ivoire (Ivory Coast) is home to three gravely endangered primates and as well as many other species. Since 2006, a pilot community management program has been working to protect the 12,000 hectare area, and a new study in mongabay.com's open access journal Tropical Conservation Science finds that long-term conservation of the Ehy Tano茅 wetlands and forest is, in fact, vital for locals who depend on the area for hunting, fishing, firewood, building materials, and medicinal plants. In addition, the study finds that the ecosystem has special cultural and spiritual importance to locals.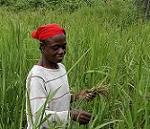 How free trade has devastated Africa's farmers and poor
(02/15/2010) A push in the mid-1980s for Africa to embrace free trade to aid its economies backfired in many of the continent's poorest countries, argues a new study in the Proceedings of the National Academy of Sciences (PNAS). Africa was pushed to rollback government involvement in development and instead to rely on the private sector: government services shrunk, cash crops were pushed over staples, while tariffs and subsides were abolished. The insistence on free trade was meant to spur economic growth, but instead undercut traditional agricultural systems that had worked for centuries, eventually leading to a food crisis, which left millions hungry, caused multiple food riots, and destabilized governments.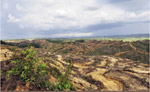 Dangers for journalists who expose environmental issues
(09/19/2009) Guinean journalist Lai Bald茅 has been threatened. Egyptian blogger Tamer Mabrouk has been sued. Russian journalist Grigory Pasko has just spent four years in prison. His Uzbek colleague, Solidzhon Abdurakhmanov, has just been given a 10-year jail sentence. Mikhail Beketov, another Russian journalist, has lost a leg and several fingers as a result of an assault. Bulgarian reporter Maria Nikolaeva was threatened with having acid thrown in her face. Filipino journalist Joey Estriber has been missing since 2006... What do these journalists and many others have in common? They are or were covering environmental issues in countries where it is dangerous to do so.


Chimpanzee population plummets 90 percent in supposedly strong region
(05/06/2009) Chimp populations continue to decline in Africa. A new survey of our closest relatives in the Cote D鈥橧voire found that the population fell from an estimated 8,000 to 12,000 individuals to a paltry 800 to 1,200, a decline that took place in less than twenty years.


Environmental campaign blocks palm oil project in Cote d' Ivoire wetland
(04/25/2009) Environmentalists have thwarted plans to establish an oil palm plantation in the Tanoe forest wetlands of southern Cote d' Ivoire (Ivory Coast), reports AFP.



Male chimps use meat to seduce
(04/07/2009) Male chimpanzees who share meat with females over a long period of time have a better chance of mating, according to a new study published in PLoS ONE. Studying chimps in Tai National Park, C么te d'Ivoire, researchers from the Mac Planck Institute for Evolutionary Anthropology observed that female chimps have sex more frequently with males who have shared meat with them at least once as opposed to males who never share.


Côte d'Ivoire's endangered chimp population falls 99% since 1960
(10/14/2008) The population of West African chimpanzees living in Côte d'Ivoire has collapsed due to hunting and forest destruction, report scientists writing in the October 14th issue of Current Biology.


Goodbye to West Africa's Rainforests
(01/22/2006) West Africa's once verdant and extensive rainforests are now a historical footnote. Gone to build ships and furniture, feed hungry mouths, and supply minerals and gems to the West, the band of tropical forests that once extended from Guinea to Cameroon are virtually gone. The loss of West Africa's rainforests have triggered a number of environmental problems that have contributed to social unrest and exacerbated poverty across the region.


Suggested reading - Books


Unless otherwise specified, this article was written by Rhett A. Butler [Bibliographic citation for this page]

Other resources

Contact me if you have suggestions on other rainforest-related environmental sites and resources for this country.



Image copyright Google Earth, MDA EarthSet, DigitalGlobe 2005

CIA-World Factbook Profile
FAO-Forestry Profile
World Resources Institute Profile (PDF)


Last updated: 4 Feb 2006