ECUADOR
Ecuador Forest Figures

Forest Cover

---

Total forest area: 10,853,000 ha
% of land area: 39.2%

Primary forest cover: 4,794,000 ha
% of land area: 17.3%
% total forest area: 44.2%

Deforestation Rates, 2000-2005

---

Annual change in forest cover: -197,600 ha
Annual deforestation rate: -1.7%
Change in defor. rate since '90s: 16.7%
Total forest loss since 1990: -2,964,000 ha
Total forest loss since 1990:-21.5%

Primary or "Old-growth" forests
Annual loss of primary forests: n/a
Annual deforestation rate: n/a
Change in deforestation rate since '90s: n/a
Primary forest loss since 1990: n/a
Primary forest loss since 1990:0.0%

Forest Classification

---

Public: 77.1%
Private: n/a
Other: 22.9%
Use
Production: 1.5%
Protection: 21.5%
Conservation: 44.2%
Social services: n/a
Multiple purpose: 18.9%
None or unknown: 13.8

Forest Area Breakdown

---

Total area: 10,853,000 ha
Primary: 4,794,000 ha
Modified natural: 5,895,000 ha
Semi-natural: n/a
Production plantation: 164,000 ha
Production plantation: n/a

Plantations

---

Plantations, 2005: 164,000 ha
% of total forest cover: 1.5%
Annual change rate (00-05): 560,000 ha

Carbon storage

---

Above-ground biomass: n/a M t
Below-ground biomass: n/a M t

Area annually affected by

---

Fire: n/a
Insects: n/a
Diseases: n/a

Number of tree species in IUCN red list

---

Number of native tree species: 1,000
Critically endangered: 240
Endangered: 669
Vulnerable: 923

Wood removal 2005

---

Industrial roundwood: 1,360,000 m3 o.b.
Wood fuel: 6,979,000 m3 o.b.

Value of forest products, 2005

---

Industrial roundwood: $93,193,000
Wood fuel: $45,785,000
Non-wood forest products (NWFPs): n/a
Total Value: $138,978,000


More forest statistics for Ecuador


Despite its small area, Ecuador is the eighth most biodiverse country on Earth. Ecuador has almost 20,000 species of plants, over 1,500 species of birds, more than 840 species of reptiles and amphibians, and 341 species of mammals.

Ecuador also has the distinction of having the highest deforestation rate and worst environmental record in South America. Oil exploration, logging, and road building have had a disastrous impact on Ecuador's primary rainforests, which now cover less than 15 percent of the country's land mass.

Logging in Western Ecuador (coastal and low Andean) areas is responsible for the loss of 99 percent of the country's rainforest in this region. Historically, after an area has been selectively logged and abandoned, settlers follow logging roads and set up homesteads, slashing and burning the surrounding forest for agriculture and cattle pasture.

The impact of oil exploitation in Eastern Ecuador is now notorious as a result of a long-running $6 billion lawsuit involving 30,000 Amazon forest dwellers and Texaco, once one of the world's largest energy companies but now part of Chevron. In the 25 years that Texaco operated in the Oriente region of the Western Amazon, the oil company spilled 17 million gallons of crude oil into the local river systems (by comparison, the Exxon Valdez only spilled 11 million gallons in Alaska in 1989), dumped more than 20 billion gallons of toxic drilling by-products, and cleared forest for access roads, exploration, and production activities. As of the mid-1990s, lands once used for farming lay bare and hundreds of waste pits remained. In August 1992, a pipeline rupture caused a 275,000-gallon (1.04 million L) spill which caused the Rio Napo to run black for days and forced downstream Peru and Brazil to declare national states of emergency for the affected regions.

Originally it appeared that Texaco might pull out of the Oriente without reparations to the people whose environment was so seriously degraded, but widespread protests by indigenous peoples, environmentalists, and human-rights organizations forced Texaco into negotiations. Texaco projected its clean-up costs at a moderate US$5-10 million.

In response to the insufficient clean-up gesture, along with widespread environmental degradation and serious health problems among local peoples, a class-action lawsuit was filed against Texaco in the United States on behalf of 30,000 people affected by the oil company's operations. Previous suits against Texaco filed in Ecuador failed due to Texaco's political influence with the Ecuadorian judiciary.

By the close of 2005 the case against parent company Chevron was still being fought in U.S. courts and was beginning to become an issue for shareholders in the oil company. Facing a six- billion dollar liability, the company has also seen shareholders file three new resolutions asking Chevron's management to take various steps to protect human rights, the environment, and shareholder interests. The United Nations has also gotten involved in the case, calling on the Ecuadorian government to guarantee the safety of lawyers and leaders involved in the lawsuit after a series of threats.

According to an update by Amazon Watch, an organization tracking the suit, the case is not going particularly well for Chevron:
The escalating shareholder concern comes as Chevron's defense faces significant hurdles in the lawsuit in Ecuador. Water and soil samples submitted to the court by both the plaintiffs and Chevron from all 18 well sites inspected by the court overwhelmingly have shown illegal levels of toxic contamination, often by orders of magnitude.

The legal case is the first time a transnational oil company has been subjected to legal jurisdiction in the courts of a developing nation for massive environmental damage. A New York court has already confirmed the Ecuadorian ruling will be enforceable in the United States, where Chevron's operations are based. . .

. . . Citing a June 2004 Supreme Court ruling upholding the 1789 Alien Torts Act, the resolution also warns Chevron executives that, in "a post-Enron environment," they could be found personally liable in a U.S. court for human rights abuses committed abroad, such as those in the Ecuadorian rainforest.

Excerpt from a December Amazon Watch news release
Despite the complicit role of the Ecuadorian government in the environmental degradation from oil operations, the government has taken some steps to conserve what remains of Ecuador's wildlands. According to the ITTO, the government subsidizes the establishment of plantations of native species in danger of extinction and establishment of protection forests. This incentive could prove promising since more than 50 percent of Ecuador's land is degraded and suitable for reforestation. As of 2004, 15.6 percent of Ecuador was officially protected, though timber harvesting and other forest exploitation in protected areas is not uncommon.

In total, between 1990 and 2005, Ecuador lost about 21.5 percent of its forest cover. The deforestation rate has increased by 17 percent since the close of the 1990s.

Recent articles | Ecuador news updates | XML


Is it possible to reduce the impact of oil drilling in the Amazon rainforest?
(05/02/2013) Oil extraction in the Amazon rainforest has been linked to severe environmental degradation — including deforestation and pollution — which in some areas has spurred violent social conflict. Yet a vast extent of the Colombian, Peruvian, Ecuadorian, Bolivian, and Brazilian Amazon is currently under concession for oil and gas exploration and production. It seems clear that much of this hydrocarbon development is going to proceed whether environmentalists and human rights groups like it or not.


The Role of Science for Conservation - book review
(03/18/2013) The Role of Science for Conservation, edited by Matthias Wolff and Mark Gardner, celebrates Charles Darwin's Bicentennial and 50 years of research by the Charles Darwin Foundation in The Galápagos, Ecuador.


First strike: nearly 200 illegal loggers arrested in massive sting across 12 countries
(02/20/2013) One-hundred-and-ninety-seven illegal loggers across a dozen Central and South American countries have been arrested during INTERPOL's first strike against widespread forestry crime. INTERPOL, or The International Criminal Police Organization, worked with local police forces to take a first crack at illegal logging. In all the effort, known as Operation Lead, resulted in the seizure of 50,000 cubic meters of wood worth around $8 million.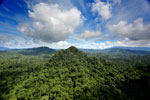 The year in rainforests
(12/31/2012) 2012 was another year of mixed news for the world's tropical forests. This is a look at some of the most significant tropical rainforest-related news stories for 2012. There were many other important stories in 2012 and some were undoubtedly overlooked in this review. If you feel there's something we missed, please feel free to highlight it in the comments section. Also please note that this post focuses only on tropical forests.


2 small companies recognized for tropical forest-friendly approaches
(12/18/2012) Two Latin American companies have won the WWF Switzerland Tropical Forest Challenge, a competition that aims to highlight and support for-profit entities that have a positive impact on conserving tropical forests.


108 million ha of Amazon rainforest up for oil and gas exploration, development
(12/08/2012) Concessions for oil and gas exploration and extraction are proliferating across Amazon countries, reports a comprehensive new atlas of the region.



Deforestation rate falls across Amazon rainforest countries
(12/06/2012) The average annual rate of deforestation across Amazon rainforest countries dropped sharply in the second half of the 2000s, reports a comprehensive new assessment of the region's forest cover and drivers of deforestation. While the drop in deforestation in the Brazilian Amazon has been widely reported, several other Amazon countries saw their rates of forest loss drop as well, according to the report, which was published by a coalition of 11 Latin American civil society groups and research institutions that form the Amazonian Network of Georeferenced Socio-Environmental Information (RAISG).


Long and thin with a big head: new snake adds diversity to a bizarre group (photo)
(11/28/2012) There's no question that blunt-headed vine snakes are an odd lot: a thin body tapers into an even thinner neck which expands suddenly into a broad head with massive eyes. Until now only six species were recognized from this genus, known as Imantodes, but a new study in Zookeys describes a seventh species: Imantodes chocoensis from the Chocó Forests in northeastern Ecuador.



Unique program to leave oil beneath Amazonian paradise raises $300 million
(11/26/2012) The Yasuni-ITT Initiative has been called many things: controversial, ecological blackmail, revolutionary, pioneering, and the best chance to keep oil companies out of Ecuador's Yasuni National Park. But now, after a number of ups and downs, the program is beginning to make good: the Yasuni-ITT Initiative has raised $300 million, according to the Guardian, or 8 percent of the total amount needed to fully fund the idea.



New species of bioluminescent cockroach possibly already extinct by volcanic eruption
(11/14/2012) While new species are discovered every day, Peter Vršanský and company's discovery of a light-producing cockroach, Lucihormetica luckae, in Ecuador is remarkable for many reasons, not the least that it may already be extinct. The new species represents the only known case of mimicry by bioluminescence in a land animal. Like a venomless king snake beating its tail to copy the unmistakable warning of a rattlesnake, Lucihormetica luckae's bioluminescent patterns are nearly identical to the poisonous click beetle, with which it shares (or shared) its habitat.



Threatened Galapagos coral may predict the future of reefs worldwide
(11/07/2012) The Galapagos Islands have been famous for a century and a half, but even Charles Darwin thought the archipelago's list of living wonders didn't include coral reefs. It took until the 1970s before scientists realized the islands did in fact have coral, but in 1983, the year the first major report on Galapagos reef formation was published, they were almost obliterated by El Niño. This summer, a major coral survey found that some of the islands' coral communities are showing promising signs of recovery. Their struggle to survive may tell us what is in store for the rest of the world, where almost three-quarters of corals are predicted to suffer long-term damage by 2030.



New forest map shows 6% of Amazon deforested between 2000 and 2010
(09/21/2012) An update to one of the most comprehensive maps of the Amazon basin shows that forest cover across the world's largest rainforest declined by about six percent between 2000 and 2010. But the map also reveals hopeful signs that recognition of protected areas and native lands across the eight countries and one department that make up the Amazon is improving, with conservation and indigenous territories now covering nearly half of its land mass.


Wax palm can be sustainably harvested
(09/17/2012) The wax palm can be harvested sustainably with just a few management restrictions, according to a new study in mongabay.com's open access journal Tropical Conservation Science (TCS). Found only in the Peruvian and Ecuadorian Andes, the leaves of the wax palm (Ceroxylon echinulatum) are used to make Easter handicrafts. But the practice has caused fears that the species, which is currently categorized as Vulnerable by the IUCN Red List, is being overexploited.



Private reserve safeguards newly discovered frogs in Ecuadorian cloud forest
(08/28/2012) Although it covers only 430 hectares (1,063 acres) of the little-known Chocó forest in Ecuador, the private reserve las Gralarias in Ecuador is home to an incredible explosion of life. Long known as a birder's paradise, the Reserva las Gralarias is now making a name for itself as a hotspot for new and endangered amphibians, as well as hundreds of stunning species of butterfly and moth. This is because the reserve is set in the perfect place for evolution to run wild: cloud forest spanning vast elevational shifts. "The pacific slope cloud forests [...] are among the most endangered habitats in the world," explains Reserva las Gralarias' founder, Jane Lyons, in a recent interview with mongabay.com.


Dry forests disappearing faster than rainforests in Latin America
(08/21/2012) Countries across Latin America lost 78,000 square kilometers of subtropical and tropical dry broadleaf forests between 2001 and 2010, according to a new satellite-based assessment published in the journal Biotropica.


Human rights court favors indigenous tribe over Ecuadorian government in oil battle
(07/31/2012) The Inter-American Court of Human Rights has found in favor of a Kichwa community's right to consultation prior to industrial projects on their land in a ruling that could have implications for many indigenous peoples across the Americas. The court found that the government of Ecuador violated the indigenous people's rights by allowing the Argentine oil company, Compania General de Combustibles (CGC), on their land without proper consultation.


Critically Endangered capuchins discovered in four new locations
(07/09/2012) The Ecuadorian capuchin, a Critically Endangered subspecies of the white-fronted capuchin (Cebus albifrons), has been discovered in four new locations according to a new study in mongabay.com's open access journal Tropical Conservation Science. Found only in Ecuador and northern Peru, the scientists say the monkey may be unique enough to warrant consideration as a distinct species.


New colorful rainforest frog named after Prince Charles (PICTURES)
(07/04/2012) Researchers have discovered a previously unknown species of frog and named it in honor of Price Charles, according to a paper published in the journal Zootaxa.


With the death of the world's rarest creature, ranger loses his best friend, Lonesome George
(06/29/2012) With the death of Lonesome George, the world lost the last member of a subspecies and Ecuador its greatest symbol of the Galapagos Islands, but Fausto Llerena lost his best friend.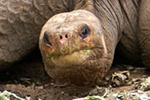 Lonesome George passes, taking unique subspecies with him
(06/25/2012) Lonesome George, the sole surviving member of the Pinta Island tortoise (Chelonoidis nigra abingdoni), was found dead on Sunday by staff at the Galapagos National Park. With George's passing, the Pinta Island tortoise subspecies officially falls into extinction. First found in 1972, Lonesome George became famous for representing the last of his kind. He was believed to be around 100—middle-aged for a Galapagos tortoise which can live to 200 years old. Staff plan to do an autopsy to determine the cause of death.



Want to stop climate change: buy fossil fuel deposits
(06/07/2012) Governments, NGOs, and others fighting climate change should consider buying coal and oil deposits—not to exploit them, but to keep them from being exploited, according to a bold new policy paper in the Journal of Political Economy. Economist Bard Harstad with the Kellogg School of Management argues that climate coalitions could quickly slash carbon emissions by purchasing and conserving marginal fossil fuel deposits, a strategy that would solve the current problem of carbon leakage, i.e. when cutting emissions in one place pushes others to burn more elsewhere. Given that carbon emissions rose to a new record last year—31.6 gigatons—and carbon has hit 400 parts per million (ppm) in the atmosphere for the first time in at least 800,000 years, Harstad's analysis comes at a time when scientists are warning that urgent and bold action is needed to mitigate global climate change before it becomes irreversible.



Pictures of Yasuni, Ecuador's rainforest gem
(04/27/2012) In late 2010, mongabay.com reporter Jeremy Hance traveled to Yasuni National Park, arguably the most biodiverse place on the planet and home to a unique initiative to save a rainforest by asking the international community to pay to keep oil in the ground. Researchers have found more tree species in a single hectare in Yasuni National Park than in all of the U.S. and Canada combined. Yasuni also contains the highest biodiversity of reptiles and amphibians in the world with 271 species. But insects trump them all: entomologist Terry Erwin has estimated that a single hectare of rainforest in Yasuni may contain as many as 100,000 unique insect species.


Fungus from the Amazon devours plastic
(02/02/2012) Students from Yale University have made the amazing discovery of a species of fungus that devours one of the world's most durable, and therefore environmentally troublesome, plastics: polyurethane. The new species of fungus, Pestalotiopsis microspora, is even able to consume polyurethane in zero-oxygen (anaerobic) conditions, which would be important in eating plastics in the deep dark layers of landfills where little sunlight, water, or oxygen is found.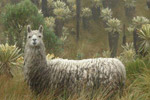 Conserving Ecuador's Paramos, the alpine tundra ecosystem of the Andes
(01/17/2012) Grupo de Trabajo en Páramos del Ecuador (GTP) is a remarkable self-organized group of páramo experts that have met over the past 13 years in Quito, Ecuador. Páramo is an alpine tundra ecosystem which is located in the northern Andes of South America and adjacent southern Central America. Recently, the Grupo de Trabajo en Páramos del Ecuador published an excellent summary of their analysis from the past 13 years. Robert Hofstede, one of the editors of Páramo: Paisaje estudiado, habitado, manejado e institucionalizado, recently sat down with Mongabay.com and discussed the situation of páramo conservation in Ecuador.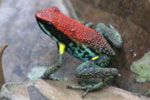 Ecuador makes $116 million to not drill for oil in Amazon
(01/02/2012) A possibly ground-breaking idea has been kept on life support after Ecuador revealed its Yasuni-ITT Initiative had raked in $116 million before the end of the year, breaking the $100 million mark that Ecuador said it needed to keep the program alive. Ecuador is proposing to not drill for an estimated 850 million barrels of oil in the Ishpingo-Tambococha-Tiputinin (ITT) blocs of Yasuni National Park if the international community pledges $3.6 billion to a United Nations Development Fund (UNDF), or about half of what the oil is currently worth. The Yasuni-ITT Initiative would preserve arguably the most biodiverse region on Earth from oil exploitation, safeguard indigenous populations, and keep an estimated 410 million tons of CO2 out of the atmosphere. However, the initiative is not without its detractors, some arguing the program is little more than blackmail; meanwhile proponents say it could prove an effective way to combat climate change, deforestation, and mass extinction.


Suggested reading - Books


Unless otherwise specified, this article was written by Rhett A. Butler [Bibliographic citation for this page]

Other resources

Contact me if you have suggestions on other rainforest-related environmental sites and resources for this country.



Image copyright Google Earth, MDA EarthSet, DigitalGlobe 2005

CIA-World Factbook Profile
FAO-Forestry Profile



Last updated: 7 Feb 2006