GABON
Gabon Forest Figures

Forest Cover

---

Total forest area: 21,775,000 ha
% of land area: 84.5%

Primary forest cover: n/a
% of land area: n/a
% total forest area: n/a

Deforestation Rates, 2000-2005

---

Annual change in forest cover: -10,200 ha
Annual deforestation rate: n/a
Change in defor. rate since '90s: 1.5%
Total forest loss since 1990: -152,000 ha
Total forest loss since 1990:-0.7%

Primary or "Old-growth" forests
Annual loss of primary forests: n/a
Annual deforestation rate: n/a
Change in deforestation rate since '90s: n/a
Primary forest loss since 1990: n/a
Primary forest loss since 1990:n/a

Forest Classification

---

Public: n/a
Private: n/a
Other: n/a
Use
Production: n/a
Protection: n/a
Conservation: n/a
Social services: n/a
Multiple purpose: n/a
None or unknown: n/a

Forest Area Breakdown

---

Total area: 21,775,000 ha
Primary: n/a
Modified natural: n/a
Semi-natural: n/a
Production plantation: 36,000 ha
Production plantation: n/a

Plantations

---

Plantations, 2005: 36,000 ha
% of total forest cover: 0.2%
Annual change rate (00-05): n/a

Carbon storage

---

Above-ground biomass: 5,971 M t
Below-ground biomass: 1,314 M t

Area annually affected by

---

Fire: n/a
Insects: n/a
Diseases: n/a

Number of tree species in IUCN red list

---

Number of native tree species: n/a
Critically endangered: 3
Endangered: 6
Vulnerable: 59

Wood removal 2005

---

Industrial roundwood: 3,600,000 m3 o.b.
Wood fuel: 627,000 m3 o.b.

Value of forest products, 2005

---

Industrial roundwood: n/a
Wood fuel: n/a
Non-wood forest products (NWFPs): n/a
Total Value: n/a


More forest statistics for Gabon


Gabon is home to some of Africa's most biodiverse rainforests. With around 80 percent of the country forested, Gabon has an estimated 8,000-10,000 species of plants (20 percent of which are endemic), over 670 species of birds, and nearly 200 mammals including lowland gorillas, chimpanzees, 10 species of monkeys, forest elephants, and even hippos that surf ocean waves. The Central African country was the ending point of biologist Michael Fay's 455-day Megatransect across the Congo rainforest. Gabon is one of few places on Earth where primary tropical rainforest extends all the way to the beach. Offshore the country has a wealth of marine life including a large population of humpback whales.

Primary forest makes up a little less than 40 percent of Gabon's forests. Unlike rainforests of Southeast Asia and the Amazon, Gabon's rainforests are drier and somewhat seasonal. Some deciduous trees are present.

In September 2002, at the World Summit in Johannesburg, Gabon announced the establishment of its first national park system consisting of a network of 13 parks that would cover 10 percent of the country's lands mass—10,000 square miles (25,900 sq. kilometers). Previously, Gabon lacked a park system and "protected areas" were sometimes open to logging. Less than 1 percent of Gabon was truly protected under the old system.

In 2002 the government also moved to cancel some logging concessions that had been granted in pristine forest areas.

Despite these positive developments, Gabon's forests still face an uncertain future.

Gabon is Africa's third richest country in terms of income per person, thanks to its relatively small and urbanized population, and its abundant natural resources—especially oil. About one-third of government revenue comes from offshore oil deposits. This heavy reliance on petroleum means that Gabon is highly sensitive to fluctuations in oil prices. In an effort to diversify its economy and reduce its dependence on energy exports, Gabon is looking towards agriculture, forestry, and tourism as additional sources of income. In the late 1990s, when oil prices dropped steeply and Asian demand for timber products fell sharply, the cash-strapped Gabonese government granted large logging concessions—this was because it had to continue making payments on its unusually high national debt but couldn't qualify for debt relief since its per capita income is relatively high compared to the rest of sub-Saharan Africa. By November 1997, more than 100 logging companies, most of them European, were operating in the country and exporting raw logs—the least valuable forest product from a tax-revenue standpoint.

Of even greater concern to conservationists is the construction of logging roads, which open interior forest areas to exploitation by colonists, poachers, oil companies, and gold miners. Cheap weapons, abundant wildlife, and soaring cross-border demand for wildlife products mean that poaching is increasingly a problem in Gabon despite new legislation enacted to control the trade. Gabon is now a major source of bush meat for urban centers in Central Africa. "Pygmies"—short-statured forest people who have a wealth of knowledge about local wildlife—are sometimes hired as hunting guides.

The Gabonese government knows it will have to stem these activities that are at odds with what it believes holds the most promise for future: eco-tourism. With its unmatched wildlife, long coastline with ample sport-fishing potential, and stable political environment, Gabon could become the "Costa Rica" of tropical Africa within a generation. The newly established park system is simply the first step in such a development. With its oil supplies dwindling, now is the time for Gabon to recognize the value of its ecosystems.

Pictures of Gabon

Recent articles | Gabon news updates | XML

Gabon steps in to help protect elephants from ivory poaching at Central African Republic site
(05/18/2013) Gabon has agreed to help battle poaching in protected areas in the Central African Republic following an elephant massacre at a renowned World Heritage site, reports the Wildlife Conservation Society (WCS).


Gabon convicts environmentalist of defamation in palm oil case
(05/15/2013) An environmental activist in Gabon is facing jail time and a $10,000 fine over his campaign against a Singaporean agroindustrial giant's plan to develop tens of thousands of hectares in oil palm, timber, and rubber plantations in the Central African nation.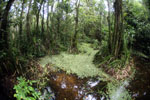 Endangered primates and cats may be hiding out in swamps and mangrove forests
(05/02/2013) What happens to animals when their forest is cut down? If they can, they migrate to different forests. But in an age when forests are falling far and fast, many species may have to shift to entirely different environments. A new paper in Folia Primatologica theorizes that some 60 primate species and 20 wild cat species in Asia and Africa may be relying more on less-impacted environments such as swamp forests, mangroves, and peat forests.



62% of all Africa's forest elephants killed in 10 years (warning: graphic images)
(03/04/2013) More than 60 percent of Africa's forest elephants have been killed in the past decade due to the ivory trade, reports a new study published in the online journal PLOS ONE. The study warns that the diminutive elephant species — genetically distinct from the better-known savanna elephant — is rapidly heading toward extinction.



Over 11,000 elephants killed by poachers in a single park [warning: graphic photo]
(02/06/2013) Surveys in Gabon's Minkebe National Park have revealed rare and hard data on the scale of the illegal ivory trade over the last eight years: 11,100 forest elephants have been slaughtered for their tusks in this remote protected area since 2004. In all, poachers have cut down the park's elephant population by two-thirds, decimating what was once believed to be the largest forest elephant population in the world.


Rarest gorillas lose half their habitat in 20 years
(10/01/2012) Cross River gorillas and eastern gorillas lost more than half their habitat since the early 1990s due to deforestation, logging, and other human activities, finds a comprehensive new assessment across great apes' range in West and Central Africa.


10 African countries to develop satellite-based deforestation tracking systems with help of Brazil
(07/30/2012) Ten tropical African countries will receive training and support to develop national forest monitoring systems, reports the United Nations. Brazil, which has an advanced deforestation tracking system, will guide the initiative in partnership with the Central Africa Forests Commission (COMIFAC) and the UN Food and Agriculture Organization (FAO).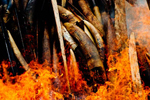 Gabon torches their ivory stock as poachers attack okapi reserve
(07/02/2012) Last week, the west African nation of Gabon committed over 1,200 ivory tusks and carvings to the fire. The act, which was meant to send a strong signal to illegal wildlife poachers across Africa, came only a few days after militia poachers stormed the Okapi Wildlife Reserve in the Democratic Republic of the Congo (DRC). The assailants killed 13 okapis and six people, including two wildlife rangers, in retaliation for a crackdown against poaching and mining in the protected area. Poaching has reached epidemic levels in Africa due to increasing bushmeat consumption and a rise in East Asian demand for black-market ivory and rhino horns.


Ten African nations pledge to transform their economies to take nature into account
(06/11/2012) Last month ten African nations, led by Botswana, pledged to incorporate "natural capital" into their economies. Natural capital, which seeks to measure the economic worth of the services provided by ecosystems and biodiversity—for example pollination, clean water, and carbon—is a nascent, but growing, method to curtail environmental damage and ensure more sustainable development. Dubbed the Gaborone Declaration, the pledge was signed by Botswana, Liberia, Namibia, Mozambique, Rwanda, Gabon, Ghana, Kenya, South Africa, and Tanzania following a two day summit.


Gabon to burn ivory stockpiles
(04/09/2012) The government of Gabon has announced it will burn its stockpiles of ivory later this year in a bid to undercut illegal elephant poaching, which is decimating populations in central Africa.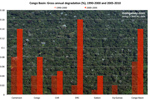 Deforestation increases in the Congo rainforest
(03/20/2012) Deforestation in the Congo Basin has increased sharply since the 1990s, reports an extensive new assessment of forests in the six-nation region. Released by the Central African Forests Commission (COMIFAC) and members of the Congo Basin Forest Partnership, The State of the Forest finds that the region's annual gross deforestation rate doubled from 0.13 percent to 0.26 percent between the 1990s and the 2000-2005 period. Gross degradation caused by logging, fire, and other impacts increased from 0.07 percent to 0.14 percent on an annual basis. Despite the jump, rates in the Congo Basin remain well below those in Latin America and Southeast Asia, but the region is seen as a prime target for future agroindustrial expansion.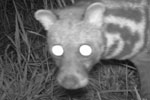 The camera trap revolution: how a simple device is shaping research and conservation worldwide
(02/14/2012) I must confess to a recent addiction: camera trap photos. When the Smithsonian released 202,000 camera trap photos to the public online, I couldn't help but spend hours transfixed by the private world of animals. There was the golden snub-monkey (Rhinopithecus roxellana), with its unmistakably blue face staring straight at you, captured on a trail in the mountains of China. Or a southern tamandua (Tamandua tetradactyla), a tree anteater that resembles a living Muppet, poking its nose in the leaf litter as sunlight plays on its head in the Peruvian Amazon. Or the dim body of a spotted hyena (Crocuta crocuta) led by jewel-like eyes in the Tanzanian night. Or the less exotic red fox (Vulpes vulpes) which admittedly appears much more exotic when shot in China in the midst of a snowstorm. Even the giant panda (Ailuropoda melanoleuca), an animal I too often connect with cartoons and stuffed animals, looks wholly real and wild when captured by camera trap: no longer a symbol or even a pudgy bear at the zoo, but a true animal with its own inner, mysterious life.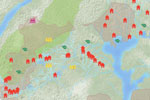 Community mapping of African rainforests could show way forward for preservation, REDD
(12/01/2011) A new initiative to place community mapping of central African rainforests online could prove key to local rights in the region, says the UK-based NGO Rainforest Foundation. Working with forest communities in five African countries, Rainforest Foundation has helped create digital maps of local forests, including use areas, parks, and threats such as logging and mining. The website, MappingForRights.org, includes interactive maps, photos, and video.


Photo surprise: Antarctic seal shows up on rainforest beach in Gabon, Central Africa
(10/23/2011) A male sub-antarctic fur seal on the beach between Louri and Tassi in Loango National Park, Gabon on September 1, 2011.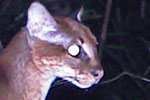 Illuminating Africa's most obscure cat
(10/18/2011) Africa is known as the continent of big cats: cheetahs, leopards, and of course, the king of them all, lions. Even servals and caracals are relatively well-known by the public. Still, few people realize that Africa is home to a number of smaller wild cat species, such as the black-footed cat and the African wild cat. But the least known feline on the continent is actually a cryptic predator that inhabits the rainforest of the Congo and West Africa. "The African golden cat has dominated my thoughts and energy for over a year and a half now. When carrying out a study like this one, you find yourself trying to think like your study animal," Laila Bahaa-el-din, University of Kwazulu Natal graduate student, told mongabay.com in a recent interview.


Loango National Park lodge to re-open
(09/21/2011) A renowned ecotourism lodge will re-open in Gabon's Loango National Park more than a year after it suspended operations due to a dispute with authorities over flight access to the region.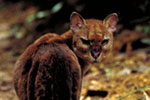 One of world's rarest cats caught on video for the first time
(08/30/2011) Africa is known as a continent of felines: leopards, cheetahs, servals, caracals, and of course the one who wears the crown, the lion. But, few people travel to Africa to see, or have probably ever heard of, the African golden cat. Native to the rainforests of central Africa (from Kenya to Cameroon) with a separate population in West Africa, the African golden cat (Caracal aurata) is considered the continent's least-studied feline. However, a team of researchers is hoping to change this: using camera traps scientists have taken the first ever public video of the African golden cat.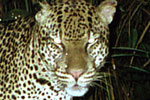 Leopards losing out to bushmeat hunters in competition for prey
(08/25/2011) According to a surprising new study in the Journal of Zoology, bushmeat hunting is imperiling jungle-dwelling leopards (Panthera pardus) in Africa, even though hunters aren't targeting the elusive big cats themselves. Instead, by hunting many of the leopard's preferred prey—such as red river hogs and forest antelopes—bushmeat hunters are out-competing leopards.


Animal picture of the day: baby Nile crocodile
(07/26/2011) One day this baby Nile crocodile could reach 20 feet (6 meters) long. Nile crocodiles (Crocodylus niloticus) range throughout sub-Saharan Africa and even make their home on the island of Madagascar.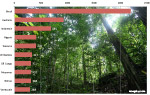 Loss of old growth forest continues
(10/06/2010) A new global assessment of forest stocks by the U.N. Food and Agriculture Organization (FAO) shows continuing loss of primary forests since 2005 despite gains in the extent of protected areas. FAO's Global Forest Resources Assessment 2010 reveals some 13 million hectares of forest were cleared between 2000 and 2010, down from around 16 million hectares per year during the 1990s. Loss of primary forest—mostly a consequence of logging—averaged 4.2 million hectares per year, down from 4.7 million hectares per year in the 1990s.


Gabon bans log exports
(06/07/2010) On May 15th the West African nation of Gabon implemented a total ban on log exports. According to the International Timber Trade Organization (ITTO) the ban has been efficiently enforced to date and log exports from Gabon have "completely halted".


Congo basin rainforest countries
(01/15/2010) Payments for ecosystem services may be a key component in maintaining Central Africa's rainforests as healthy and productive ecosystems, finds a comprehensive assessment of the region's forests.



Gorillas orphaned by bushmeat trade set free on island
(08/10/2009) The Fernan-Vaz Gorilla Project has set free six young gorillas on an island outside of Loango National Park in Gabon. The release marks a new stage in the rehabilitation of the gorillas. The six western lowland gorillas, ranging from two to seven years of age, were orphaned when their respective parents were killed for bushmeat. The island provides a refuge from poachers and other predators where the gorillas are able to acclimate to the wild in safety.



Scientists find world's largest leatherback sea turtle population in Gabon
(05/17/2009) Scientists have found the world's largest population of nesting leatherback sea turtles. On the beaches of Gabon in West Africa land and air surveys estimated the small country's leatherback population to be between 15,730 and 41,373 individual females. The findings are published in Biological Conservation. Leatherback sea turtles are currently considered critically endangered by the IUCN, however these new numbers may cause marine biologists to reconsider that ranking.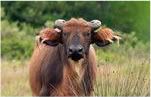 Gabonese environmental activist receives prize for standing up to government, Chinese company
(04/20/2009) Marc Ona Essangui is a beloved environmental leader in his native Gabon, however by winning the prestigious Goldman Environmental Prize he is now being introduced to a larger audience: the world. Essangui received the prize for exposing unsavory truths about a deal between the Gabon government and a Chinese company, CMEC, to mine for iron ore in the Congo rainforest, the world's second largest tropical forest. The Belinga mine is a $3.5 billion project that also includes a hydroelectric dam, which will flood traditional lands and destroy what is considered the most beautiful waterfall in the forests of equatorial Africa. The Kongou Falls is located in the Ivindo National Park.


Suggested reading - Books


Unless otherwise specified, this article was written by Rhett A. Butler [Bibliographic citation for this page]

Other resources

Contact me if you have suggestions on other rainforest-related environmental sites and resources for this country.



Image copyright Google Earth, MDA EarthSet, DigitalGlobe 2005

CIA-World Factbook Profile
FAO-Forestry Profile


Last updated: 4 Feb 2006