GUATEMALA
Guatemala Forest Figures

Forest Cover

---

Total forest area: 3,938,000 ha
% of land area: 36.3%

Primary forest cover: 1,957,000 ha
% of land area: 18.0%
% total forest area: 49.7%

Deforestation Rates, 2000-2005

---

Annual change in forest cover: -54,000 ha
Annual deforestation rate: -1.3%
Change in defor. rate since '90s: 12.8%
Total forest loss since 1990: -810,000 ha
Total forest loss since 1990:-17.1%

Primary or "Old-growth" forests
Annual loss of primary forests: -26800 ha
Annual deforestation rate: -1.3%
Change in deforestation rate since '90s: 12.8%
Primary forest loss since 1990: -134,000 ha
Primary forest loss since 1990:-17.0%

Forest Classification

---

Public: 42.2%
Private: 52.5%
Other: 5.3%
Use
Production: 26.8%
Protection: n/a
Conservation: 62.3%
Social services: n/a
Multiple purpose: n/a
None or unknown: 10.9

Forest Area Breakdown

---

Total area: 3,938,000 ha
Primary: 1,957,000 ha
Modified natural: 1,859,000 ha
Semi-natural: n/a
Production plantation: 122,000 ha
Production plantation: n/a

Plantations

---

Plantations, 2005: 122,000 ha
% of total forest cover: 3.1%
Annual change rate (00-05): 6,800,000 ha

Carbon storage

---

Above-ground biomass: 755 M t
Below-ground biomass: 241 M t

Area annually affected by

---

Fire: 68,000 ha
Insects: 1,000 ha
Diseases: n/a

Number of tree species in IUCN red list

---

Number of native tree species: 700
Critically endangered: 2
Endangered: 30
Vulnerable: 51

Wood removal 2005

---

Industrial roundwood: 623,000 m3 o.b.
Wood fuel: 18,622,000 m3 o.b.

Value of forest products, 2005

---

Industrial roundwood: $37,709,000
Wood fuel: $159,110,000
Non-wood forest products (NWFPs): n/a
Total Value: $196,819,000


More forest statistics for Guatemala


Guatemala has one of the most extensive and diverse forest systems in Central America. The country is home to 1,246 known species of amphibians, birds, mammals, and reptiles, and 8,681 species of plants, of which 13.5 percent are endemic. Today forest covers between a quarter and a third of the country, but this is fast disappearing. Between 1990 and 2005, Guatemala lost 17 percent of its total forest cover and deforestation rates have increased by nearly 13 percent since the close of the 1990s.

Guatemala's rural population is among the poorest in Central America. As such, people's day-to-day survival is dependent upon natural resource use. Most rural Guatemalans have few employment options; they must live off the land that surrounds them making use of whatever resources they can find. Their poverty and relative lack of opportunity mean the country's forests are falling at one of the highest rates in Latin America. Official figures show that around 80,000 hectares are deforested annually, though some organizations say the figure may be closer to 95,000 hectares—or 3 percent of the country's forests—per year. Not even national parks are safe. Recent surveys have found extensive illegal logging in the Mayan Biosphere Reserve and the Laguna del Tigre national park. While such logging tends to be destructive, environmental groups are working to develop community-based conservation projects that use sustainable harvesting techniques to reduce the impact on the forest ecosystem.

Most forest loss in Guatemala results from colonization, which leads to agriculture and fuelwood collection. Population pressures around protected areas result in illegal timber harvesting and land clearing for agriculture in national parks. Fires set for land clearing in nearby fields often spread into protected forest areas. For example, in 1998 fires burned more than 160,000 acres (65,000 hectares) of the Maya Biosphere Reserve. While 27 percent of Guatemala's land is protected, most of these areas generally amount to little more than paper parks.

Gold mining, road construction, and land clearing for cattle pasture are also considered important factors in the ongoing disappearance of Guatemala's forests.

The continuing loss of Guatemala's forests could prove costly for the country. New research suggests that the great Mayan civilization of the past was done in by a familiar problem: deforestation. Already deforestation has had a significant environmental impact in Guatemala. In parts of the country soil erosion reduces agricultural yields while deforested hillsides are more susceptible to landslides during tropical storms that batter the country. In 2005, mudslides attributed to tropical storm Stan killed more than 1,500 people in the country.

Recent articles | Guatemala news updates | XML

First strike: nearly 200 illegal loggers arrested in massive sting across 12 countries
(02/20/2013) One-hundred-and-ninety-seven illegal loggers across a dozen Central and South American countries have been arrested during INTERPOL's first strike against widespread forestry crime. INTERPOL, or The International Criminal Police Organization, worked with local police forces to take a first crack at illegal logging. In all the effort, known as Operation Lead, resulted in the seizure of 50,000 cubic meters of wood worth around $8 million.



Photos: Chinese leopard wins camera trap contest
(11/27/2012) The third annual BBC Wildlife Magazine Camera Trap Photo of the Year contest has produced some stunning and surprising images, including a snow leopard sticking its tongue out, a rare giant pangolin, and wrestling monitor lizards. But the winner this year was the perfect shot of a young leopard in China.


Dry forests disappearing faster than rainforests in Latin America
(08/21/2012) Countries across Latin America lost 78,000 square kilometers of subtropical and tropical dry broadleaf forests between 2001 and 2010, according to a new satellite-based assessment published in the journal Biotropica.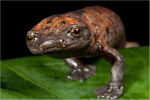 Herp paradise preserved in Guatemala
(05/29/2012) Fifteen conservation groups have banded together to save around 2,400 hectares (6,000 acres) of primary rainforest in Guatemala, home to a dozen imperiled amphibians as well as the recently discovered Merendon palm pit viper (Bothriechis thalassinus). The new park, dubbed the Sierra Caral Amphibian Reserve, lies in the Guatemalan mountains on the border with Honduras in a region that has been called the most important conservation area in Guatemala.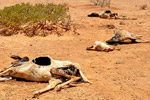 Earth systems disruption: Does 2011 indicate the "new normal" of climate chaos and conflict?
(12/21/2011) The year 2011 has presented the world with a shocking increase in irregular weather and disasters linked to climate change. Just as the 2007 "big melt" of summer arctic sea ice sent scientists and environmentalists scrambling to re-evaluate the severity of climate change, so have recent events forced major revisions and updates in climate science.


Top forest policies recognized
(03/23/2011) 19 forest policies have been nominated for an award by the World Future Council, a global think tank.


Women are key to global conservation
(03/03/2011) In 1991, my nine-year-old daughter Rachel traveled with me to Guatemala where we were struck by the heartbreaking rural poverty and mudslides worsened by widespread deforestation. We vividly remember holding a three-year-old child who was so listless and malnourished he could scarcely lift his arms. The worry and fatigue on his mother's face and the child's condition affected us both profoundly, despite Rachel's relative youth.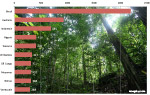 Loss of old growth forest continues
(10/06/2010) A new global assessment of forest stocks by the U.N. Food and Agriculture Organization (FAO) shows continuing loss of primary forests since 2005 despite gains in the extent of protected areas. FAO's Global Forest Resources Assessment 2010 reveals some 13 million hectares of forest were cleared between 2000 and 2010, down from around 16 million hectares per year during the 1990s. Loss of primary forest—mostly a consequence of logging—averaged 4.2 million hectares per year, down from 4.7 million hectares per year in the 1990s.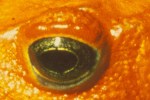 Photos: world's top ten 'lost frogs'
(08/09/2010) The International Union for the Conservation of Nature (IUCN) and Conservation International (CI) have sent teams of researchers to 14 countries on five continents to search for the world's lost frogs. These are amphibian species that have not been seen for years—in some cases even up to a century—but may still survive in the wild. Amphibians worldwide are currently undergoing an extinction crisis. While amphibians struggle to survive against habitat loss, climate change, pollution, and overexploitation, they are also being wiped out by a fungal disease known as chytridiomycosis.


Guatemala latest country to declare food crisis: nearly half a million families face food shortages
(09/10/2009) The President of Guatemala, Alvaro Colom, has announced a "state of public calamity" to tackle food shortages throughout the Central American nation. The failure of bean and corn crops from drought, which cut the yields of these staple crops in half, has brought the crisis to a head. In addition, prime agricultural land in Guatemala is often used to grow export crops like coffee and sugar rather than staples.


Territorial disputes and conservation
(03/23/2009) Political drivers such as those related to territorial disputes between tropical countries can result in direct and indirect ramifications negatively impacting conservation of native ecosystems report Arlenie Perez, Chuang Chin-Ta and Farok Afero in the March issue of the open access journal Tropical Conservation Science.


Salamander populations collapse in Central America
(02/09/2009) Salamanders in Central America — like frogs, toads, and other amphibians at sites around the world — are rapidly and mysteriously declining, report researchers writing in the journal Proceedings of the National Academy of Sciences. Disturbingly, salamanders are disappearing from protected areas and otherwise pristine habitats.


Wild parrots tracked by satellite for the first time
(08/06/2007) Researchers are now tracking wild parrots from space.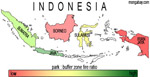 Poverty and corruption reduce effectiveness of rainforest parks
(07/09/2007) Poverty and corruption are linked to higher incidence of fire in tropical forest reserves, reports a new study published in the journal Ecological Applications. Poor, corrupt countries -- like Cambodia, Guatemala, Paraguay, and Sierra Leone -- have the least effective parks when measured in terms of the incidence of fire relative to surrounding "buffer" areas. The findings have significant implications for rainforest conservation efforts.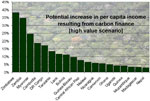 Avoided deforestation could send $38 billion to third world under global warming pact
(11/01/2006) Avoided deforestation will be a hot point of discussion at next week's climate meeting in Nairobi, Kenya. Already a coalition of 15 rainforest nations have proposed a plan whereby industrialized nations would pay them to protect their forests to offset greenhouse gas emissions. Meanwhile, last month Brazil -- which has the world's largest extent of tropical rainforests and the world's highest rate of forest loss -- said it promote a similar initiative at the talks. At stake: potentially billions of dollars for developing countries. When trees are cut greenhouse gases are released into the atmosphere -- roughly 20 percent of annual emissions of such heat-trapping gases result from deforestation and forest degradation. Avoided deforestation is the concept where countries are paid to prevent deforestation that would otherwise occur. Policymakers and environmentalists alike find the idea attractive because it could help fight climate change at a low cost while improving living standards for some of the world's poorest people and preserving biodiversity and other ecosystem services. A number of prominent conservation biologists and development agencies including the World Bank and the U.N. have already endorsed the idea.


$24 million debt-for-nature swap in Guatemala
(10/05/2006) Tropical forest conservation efforts in Guatemala will receive $24 million under a debt-for-nature swap arranged by conservation International (CI), The Nature Conservancy, and the governments of the United States and Guatemala.


Forest fires burn in Central America
(04/10/2006) Hundreds of fires are burning across Central America according to NASA satellite images and reports from the ground. Fires have been detected in Mexico, Guatemala, El Salvador, Honduras, and Nicaragua.


Archaeologists make ancient Maya discovery in Guatemala
(12/05/2005) Researchers working in Guatemala have unearthed a monument with the earliest-known depiction of a woman of authority in ancient Mayan culture, according to an archaeologist at the University of Calgary. Kathryn Reese-Taylor said the 2-meter high limestone monument has a portrait of a female who could be either a ruler or a mythical goddess and dates 4th Century A.D. The statue, called a stela, was found at Naachtun, a Mayan city 90 km (55 miles) north of Tikal.


Rainforests worth $1.1 trillion for carbon alone in Coalition nations
(11/29/2005) If a coalition of developing countries has its way, there could soon be new forests sprouting up in tropical regions. The group of ten countries, led by Papua New Guinea, has proposed that wealthy countries pay them to preserve their rainforests. The Coalition for Rainforest Nations argues that all countries should pay for the benefits -- from carbon sequestration to watershed protection -- that tropical rainforests provide.


Logging threatens Mayan ruin, forest in Guatemala
(11/13/2005) In the tropical forests of Guatemala, poor rural farmers and loggers are battling environmentalists, archaeologists, and Mel Gibson over the establishment of a 525,000-acre Mayan national park.


Poor aid response to storm damage in Central America
(10/05/2005) Tropical storm Stan has killed more than 120 people across Central America, including more than 60 in El Salvador and 50 in Guatemala, but international aid has been slow to arrive in the aftermath of hurricane Katrina.


Suggested reading - Books


Unless otherwise specified, this article was written by Rhett A. Butler [Bibliographic citation for this page]

Other resources

Contact me if you have suggestions on other rainforest-related environmental sites and resources for this country.



Image copyright Google Earth, MDA EarthSet, DigitalGlobe 2005

CIA-World Factbook Profile
FAO-Forestry Profile



Last updated: 5 Feb 2006