GUYANA
Guyana Forest Figures

Forest Cover

---

Total forest area: 15,104,000 ha
% of land area: 76.7%

Primary forest cover: 9,314,000 ha
% of land area: 47.3%
% total forest area: 61.7%

Deforestation Rates, 2000-2005

---

Annual change in forest cover: n/a
Annual deforestation rate: n/a
Change in defor. rate since '90s: n/a
Total forest loss since 1990: n/a
Total forest loss since 1990:0.0%

Primary or "Old-growth" forests
Annual loss of primary forests: n/a
Annual deforestation rate: n/a
Change in deforestation rate since '90s: n/a
Primary forest loss since 1990: n/a
Primary forest loss since 1990:n/a

Forest Classification

---

Public: 66.3%
Private: n/a
Other: 33.7%
Use
Production: 34.9%
Protection: n/a
Conservation: 1%
Social services: 2.4%
Multiple purpose: n/a
None or unknown: 61.7

Forest Area Breakdown

---

Total area: 15,104,000 ha
Primary: 9,314,000 ha
Modified natural: 5,789,000 ha
Semi-natural: n/a
Production plantation: n/a
Production plantation: n/a

Plantations

---

Plantations, 2005: n/a
% of total forest cover: n/a
Annual change rate (00-05): n/a

Carbon storage

---

Above-ground biomass: 2,824 M t
Below-ground biomass: 619 M t

Area annually affected by

---

Fire: n/a
Insects: n/a
Diseases: n/a

Number of tree species in IUCN red list

---

Number of native tree species: 1,182
Critically endangered: 1
Endangered: 3
Vulnerable: 18

Wood removal 2005

---

Industrial roundwood: n/a
Wood fuel: n/a

Value of forest products, 2005

---

Industrial roundwood: n/a
Wood fuel: n/a
Non-wood forest products (NWFPs): n/a
Total Value: n/a


More forest statistics for Guyana


Guyana is a small, lightly populated country on the north coast of South America. About three-quarters of Guyana is forested, roughly 60 percent of which is classified as primary forest. Guyana's forests are highly diverse: the country has some 1,263 known species of amphibians, birds, mammals, and reptiles, and 6,409 species of plants. According to an assessment by the ITTO, forests in Guyana can be broken down as follows: rainforest (36 percent), montane forest (35 percent). swamp and marsh (15 percent), dry evergreen (7 percent), seasonal forest (6 percent), and mangrove forest (1 percent).

Despite its forest cover, Guyana's ancient soils are highly infertile and most of the country's population of 765,000 is confined to coastal areas. Guyana is one of South America's poorest countries and carries an external debt that is 40 percent of its GDP.

Logging

Historically, Guyana's extensive forests have been lightly exploited, largely due to obsolete equipment and lack of capital, but in the early 1990s the government began to make overtures toward foreign logging firms to harvest the country's "slow growing" and "heavy" hardwoods (ITTO) like greenheart (Chlorocardium rodiaei). Encouraged by the International Monetary Fund (IMF) and the World Bank to maximize development of its resources to attract foreign investment, in 1991 the ruling strongman granted a 50-year, 4.2-million-acre (1.69-million-hectare) concession to Barama Company Limited, a Malaysian-Korean logging firm. Under the terms of the deal, Barama enjoyed a 10-year tax holiday, paid almost no royalties to the Guyana government, and was granted the right to log lands that had been inhabited by indigenous groups. With such favorable agreements, logging firms soon flooded to Guyana, which had some of the lowest logging fees and royalties in the world—only 10 percent of what most African and Asian countries charged at the time. At the same time illegal chainsaw logging expanded rapidly, and Guyana lost control over its forestry sector.

In reaction to the sudden invasion of foreign logging firms and in order to receive a loan, in May of 1995, the government issued a three-year moratorium on new logging concessions. Shortly thereafter, the government enacted environmental legislation and took steps to regain some semblance of control over the timber industry. With aid from international groups, the Guyanese government increased funding for its forestry commission to better monitor logging activities. According to the ITTO, the current forestry law includes a provision for a "conservation concession in which an opportunity value of fee revenue is paid in lieu of harvesting revenues." Thus timber companies can be compensated for leaving an area of forest untouched by logging.

For its part, Barama claims to be carrying out sustainable forestry and maintains that it only extracts two trees per acre, while minimizing damage to the surrounding forest. Its operations are monitored by an independent research center that carries out studies to assess growth rates and logging impacts. With such a plan, the forest could, in theory, regenerate in 25 years. Barama says that it plans to stay in Guyana for its full 50-year concession.

Today the level of harvesting in Guyana is very low. According to estimates from the FAO and the ITTO, harvesting is probably 350,000-400,000 cubic meters per year from an area of 6 million hectares. Commercial logging is presently limited by lack of infrastructure and high harvesting costs, political uncertainties, and the dispersal of valuable tree stocks over a wide area.

This is ITTO's assessment of the timber sector in Guyana:
Unlike most other advice given, the mission does not believe that pursuit of high volume and creation of competitive, integrated enterprises are the correct way forward. Guyana has a diverse forest resource with small quantities of unusual species. It cannot dry and process timber to a moisture content suitable for indoor use in centrally heated buildings in temperate countries. Although there are decorative woods and greenheart, much of the resource is hard, heavy, and dark.

Capital is expensive and extremely limited and therefore has to be used optimally, which means operating at the cheapest scale. Capacity for different processes may not be sufficiently compatible for a single enterprise to operate them all optimally. This suggests that specialization would be a better strategy than vertical integration for most enterprises.

Returns to Guyana from its forests will have to come through maximizing both added value and employment opportunities. The current tendency to export logs, especially at an average price of just over US$60/cubic meter, helps neither of these goals.
In its 2003 survey, the ITTO concluded that "there were relatively few negative impacts associated with forest harvesting in Guyana. This is not to say there are no problems but there are certainly no major ones. Negative impacts are almost certainly arising from increased chainsaw logging, especially on wildlife, but there is no objective measurement of these."

Mining

Mining is one of Guyana's most important economic activities—sugar, bauxite, rice, and gold account for 70-75 percent of export earnings, according to the WTO.

Gold mining in Guyana made international headlines in August of 1995 when a mine run by Golden Star Resources (Denver, U.S.) and Cambior (Montreal, Canada) spilled four billion liters of cyanide-laced waste water into a tributary of the Essequibo, Guyana's largest river. Initially, mine operators tried to cover up the spill by burying fish carcasses, but eventually they reported the spill to the Guyanese government six days after the fact.

The ITTO reports that mining (mainly gold but also gems including diamonds), particularly small-scale operations, is having significant environmental impacts in Guyana. Mining has resulted in widespread deforestation in the upper Essequibo region while mine tailings—including mercury and cyanide—end up in local waterways. The ITTO notes that "in Mahdia, where the population probably has one of the highest per capita supplies in the world of fresh water from the rainfall, the community has no access to a supply of potable water."

With gold prices currently hovering on the high side of their historical range it seems likely that gold exploitation will continue to expand in Guyana.

Overall deforestation

Deforestation rates are presently unavailable for Guyana, but they are likely low. In the first half of the 1990s, FAO figures show that Guyana lost about 0.3 percent of its forest cover annually, one of the lowest rates in South America.

Conservation and the Environment

To date only 2.3 percent of Guyana is protected, though Conservation International has secured some 300,000 hectares of forest in two "conservation concessions." With its virgin forests and the magnificent 425-foot King George VI falls, the country has excellent potential for eco-tourism.

Recent articles | Guyana news updates | XML

15 percent of Guyana's reptiles and amphibians found nowhere else
(02/21/2013) Fifteen percent of Guyana's 324 known species of reptiles and amphibians are found nowhere else in the world, reports a comprehensive new assessment published in the journal Proceedings of the Biological Society of Washington.


Miners win ruling over indigenous groups in Guyana
(01/29/2013) A judge in Guyana's high court has ruled that indigenous groups do not have the right to expel legal miners from their land. The judge, Diana Insanally, found that if the miners in question held a government-approved license than the local community had no right to dispute the mining. The ruling has sparked protests by indigenous groups and is expected to be appealed.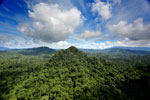 The year in rainforests
(12/31/2012) 2012 was another year of mixed news for the world's tropical forests. This is a look at some of the most significant tropical rainforest-related news stories for 2012. There were many other important stories in 2012 and some were undoubtedly overlooked in this review. If you feel there's something we missed, please feel free to highlight it in the comments section. Also please note that this post focuses only on tropical forests.


Norway to send Guyana $45m for maintaining low deforestation rate
(12/24/2012) Norway will pay Guyana $45 million for maintaining its low deforestation rate under a climate partnership between the two countries.



New forest map shows 6% of Amazon deforested between 2000 and 2010
(09/21/2012) An update to one of the most comprehensive maps of the Amazon basin shows that forest cover across the world's largest rainforest declined by about six percent between 2000 and 2010. But the map also reveals hopeful signs that recognition of protected areas and native lands across the eight countries and one department that make up the Amazon is improving, with conservation and indigenous territories now covering nearly half of its land mass.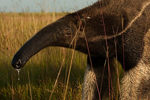 Guyana rainforests secure trust fund
(07/30/2012) The nation of Guyana sports some of South America's most intact and least-imperiled rainforests, and a new $8.5 million trust fund hopes to keep it that way. The Guyanese government has teamed up with Germany and Conservation International (CI) to create a long-term trust fund to manage the country's protected areas system (PAS).



Guyanese tribe maps Connecticut-sized rainforest for land rights
(02/07/2012) In a bid to gain legal recognition of their land, the indigenous Wapichan people have digitally mapped their customary rainforest land in Guyana over the past ten years. Covering 1.4 million hectares, about the size of Connecticut, the rainforest would be split between sustainable-use regions, sacred areas, and wildlife conservation according to a plan by the Wapichan tribe that will be released today. The plan says the tribe would preserve the forest from extractive industries.


8 Amazon countries pledge more coordination in rainforest conservation
(11/27/2011) Eight Amazon countries pledged greater cooperation in efforts to protect the world's largest rainforest from deforestation and illegal mining and logging, reports AFP.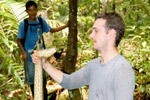 Indigenous technicians scour Amazonia to help researchers track wildlife populations
(11/09/2011) Scientists only have so many hands and eyes. That's why ecologists enlisted hundreds of Makushi and Wapishana villagers to record the sights and signs of animals across 48,000 square kilometers of the Amazon basin near the Brazil-Guyana border. In the ongoing project, scientists seek to describe the interactions between indigenous peoples, their environment and the native fauna.


Animal picture of the day: the jaws of the piranha
(08/10/2011) Few fish have a more fearsome reputation than the piranha. Yet recent research has shown that attacks on humans are rare and often accidental, though they do eat their prey alive and are capable of stripping a cattle carcass bare (though it doesn't happen instantaneously).


World Atlas of Mangroves: A Book Review
(04/14/2011) Because recent research has shown that it is often the case that mangroves store more carbon than tropical forests--from 90 tons to 588 tons carbon from above-ground and below-ground biomass combined with net primary productivity of 7 to 25 tons carbon annually--while providing an estimated ecosystem services value of up to US$ 9270 per hectare per year, the timely publication of the World Atlas of Mangroves is an excellent reference for those of us working to protect mangroves globally. With information sourced from 1400 literature references, the atlas gives the reader the information they need so as to further understand mangrove ecosystems, and the opportunities to develop mangrove ecosystem conservation and carbon projects.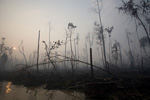 Greenpeace says McKinsey's REDD+ work could encourage deforestation
(04/07/2011) One of the world's top consultancies, McKinsey & Co., is providing advice to governments developing 'Reducing Emissions from Deforestation and Degradation' (REDD+) programs that could increase risks to tropical forests, claims a new report published by Greenpeace. The report, Bad Influence – how McKinsey-inspired plans lead to rainforest destruction, says that McKinsey's REDD+ cost curve and baseline scenarios are being used to justify expansion of industrial capacity in Indonesia, Papua New Guinea, Democratic Republic of Congo, and Guyana.


Prominent indigenous leader gets death threats in Guyana
(12/17/2010) Environmental groups have written to Guyana president Bharrat Jagdeo over recent threats against Tony James, the President of the Amerindian Peoples Association in Guyana.


Guyana: where's the money pledged for saving rainforests?
(12/09/2010) Funds ostensibly set aside to reward tropical countries for protecting their rainforests are being held up, threatening to exhaust the political capital needed to advance the proposed reducing emissions from deforestation and degradation (REDD) mechanism before it even gets off the ground, warned the president of Guyana during a lively panel organized by Avoided Deforestation Partners on the sidelines of UN climate talks in Cancun, Mexico.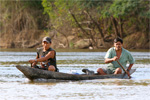 Rainforests, wildlife preserved by indigenous spiritual beliefs
(11/15/2010) New research within the native Wapishana and Makushi communities of Guyana suggests that indigenous cultural beliefs such as shamanism help preserve tropical forests and wildlife. The analysis, published in the September 2010 Journal of Latin American Geography, draws from a massive data set that tracks wildlife populations, hunting kill sites, and spiritually significant features of the landscape within a 48,000-square-kilometer area in southern Guyana. The authors recruited the hunters themselves to record much of the data.


Deforestation jumps, but Guyana nonetheless qualifies for REDD payment
(11/07/2010) Guyana's deforestation rate over the past 12 months was roughly three times the average annual rate over the prior 20 year period, but was still well below the baseline under the recent $250 million forest conservation partnership with Norway, according to a new report released by Guyana Forestry Commission's REDD+ Monitoring Reporting and Verification System (MRVS).




Guyana bans gold mining in the 'Land of the Giants'
(03/01/2010) Guyana has banned gold dredging in the Rewa Head region of the South American country after pressure from Amerindian communities in the area. A recent expedition to Rewa Head turned up unspoiled wilderness and mind-boggling biodiversity. The researchers, in just six weeks, stumbled on the world's largest snake (anaconda), spider (the aptly named goliath bird-eating spider), armadillo (the giant armadillo), anteater (the giant anteater), and otter (the giant otter), leading them to dub the area 'the Land of the Giants'. "During our brief survey we had encounters with wildlife that tropical biologists can spend years in the field waiting for. On a single day we had two tapirs paddle alongside our boat, we were swooped on by a crested eagle and then later charged by a group of giant otters."


Guyana to increase oversight of gold mining under deal to save forests with Norway
(12/21/2009) As apart of a deal with Norway to preserve its rainforests, Guyana will step up oversight of its gold mining industry, which has been accused of causing significant environmental damage including deforestation and mercury and cyanide pollution.


New tree species discovered in Guyana is rich source of oil
(12/09/2009) Botanists working have described a new species of tree with commercial significance in Guyana. The discovery is published in Brittonia, a journal put out by the New York Botanical Garden.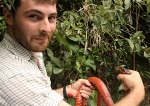 Guyana expedition finds biodiversity trove in area slated for oil and gas development, an interview with Robert Pickles
(11/29/2009) An expedition deep into Guyana's rainforest interior to find the endangered giant river otter—and collect their scat for genetic analysis—uncovered much more than even this endangered charismatic species. "Visiting the Rewa Head felt like we were walking in the footsteps of Wallace and Bates, seeing South America with its natural density of wild animals as it would have appeared 150 years ago," expedition member Robert Pickles said to Mongabay.com.


No-shows among South American leaders at Amazon summit
(11/27/2009) A summit between South American leaders to devise a plan to save the Amazon, failed to come up with a "common stance" on deforestation, as five of the eight invited leaders failed to show up to the meeting, reports Al Jazeera.


Norway to give Guyana up to $250M for rainforest conservation
(11/09/2009) Norway will provide up to $250 million to Guyana as part of the South American country's effort to avoid emissions from deforestation.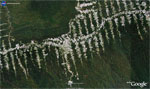 Roads are enablers of rainforest destruction
(09/24/2009) Chainsaws, bulldozers, and fires are tools of rainforest destruction, but roads are enablers. Roads link resources to markets, enabling loggers, farmers, ranchers, miners, and land speculators to convert remote forests into economic opportunities. But the ecological cost is high: 95 percent of deforestation in the Brazilian Amazon occurs within 50-kilometers of a road; in Africa, where logging roads are rapidly expanding across the Congo basin, the bulk of bushmeat hunting occurs near roads. In Laos and Sumatra, roads are opening last remnants of intact forests to logging, poaching, and plantation development. But roads also cause subtler impacts, fragmenting habitats, altering microclimates, creating highways for invasive species, blocking movement of wildlife, and claiming animals as roadkill. A new paper, published in Trends in Evolution and Ecology, reviews these and other impacts of roads on rainforests. Its conclusions don't bode well for the future of forests.


REDD readiness plans for Panama, Guyana approved but rejected for Indonesia
(07/02/2009) The World Bank's Forest Carbon Partnership Facility (FCPF) has approved REDD readiness plans (R-Plans) for Panama and Guyana, and rejected a plan for Indonesia, reports the U.N. and the Bank Information Center, an advocacy group.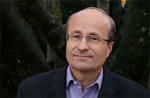 Norway emerges as champion of rainforest conservation
(03/19/2009) While citizens in western countries have long paid lip service to saving rainforests, Norway has quietly emerged as the largest and most important international force in tropical forest conservation. The small Scandinavian country has committed 3 billion krone ($440 million) a year to the effort, a figure vastly greater than the $100M pledged — but never fully contributed — by the United States under the Tropical Forest Conservation Act (TFCA). Norway now hopes it can help push to include forest conservation in the successor to the Kyoto Protocol by providing funding and fostering cooperation among international actors like the UN and World Bank, as well as developing countries, to fund the creation of an international architecture which makes it possible to incorporate deforestation and degradation into a post-2012 climate regime.


Suggested reading - Books


Unless otherwise specified, this article was written by Rhett A. Butler [Bibliographic citation for this page]

Other resources

Contact me if you have suggestions on other rainforest-related environmental sites and resources for this country.



Image copyright Google Earth, MDA EarthSet, DigitalGlobe 2005

CIA-World Factbook Profile
FAO-Forestry Profile
ITTO: sustainable forest management in Guyana (.doc)



Last updated: 7 Feb 2006