INDIA
India Forest Figures

Forest Cover

---

Total forest area: 67,701,000 ha
% of land area: 22.8%

Primary forest cover: n/a
% of land area: n/a
% total forest area: n/a

Deforestation Rates, 2000-2005

---

Annual change in forest cover: 29,400 ha
Annual deforestation rate: n/a
Change in defor. rate since '90s: -92.3%
Total forest loss since 1990: 3,762,000 ha
Total forest loss since 1990:5.9%

Primary or "Old-growth" forests
Annual loss of primary forests: n/a
Annual deforestation rate: n/a
Change in deforestation rate since '90s: n/a
Primary forest loss since 1990: n/a
Primary forest loss since 1990:n/a

Forest Classification

---

Public: 98.4%
Private: 1.6%
Other: 0%
Use
Production: 21.2%
Protection: 14.8%
Conservation: 21.7%
Social services: n/a
Multiple purpose: 42.4%
None or unknown: n/a

Forest Area Breakdown

---

Total area: 67,701,000 ha
Primary: n/a
Modified natural: 32,943,000 ha
Semi-natural: 31,532,000 ha
Production plantation: 1,053,000 ha
Production plantation: 2,173,000 ha

Plantations

---

Plantations, 2005: 3,226,000 ha
% of total forest cover: 4.8%
Annual change rate (00-05): 84,200,000 ha

Carbon storage

---

Above-ground biomass: 4,093 M t
Below-ground biomass: 1,085 M t

Area annually affected by

---

Fire: 3,700,000 ha
Insects: 1,000,000 ha
Diseases: 8,400,000 ha

Number of tree species in IUCN red list

---

Number of native tree species: n/a
Critically endangered: 50
Endangered: 98
Vulnerable: 98

Wood removal 2005

---

Industrial roundwood: 1,252,000 m3 o.b.
Wood fuel: 3,472,000 m3 o.b.

Value of forest products, 2005

---

Industrial roundwood: $208,644,000
Wood fuel: $8,023,000
Non-wood forest products (NWFPs): $179,132,000
Total Value: $395,799,000


More forest statistics for India


Tropical forest cover in India has been reduced to two major areas: the coastal hills of the Western Ghats (about 55,000 square miles or 135,000 sq. km) and 14,000 square miles (34,500 sq. km) in Northeastern India. Very little of India's forest cover is considered pristine.

In recent years, the government has become more vigilant at protecting forest resources. The fundamental shift occurred in 1988 when India switched the focus of its forest policy from a production mentality to an environmental one and began taking steps to reduce illegal logging and encourage wood imports in an effort to conserve local supplies. Reforestation is encouraged and plantation coverage has expanded by 65 percent since 1990. As a result of these efforts, total forest cover is actually increasing in India, although degradation of natural forest is still occurring, primarily as a result of subsistence agriculture, fuelwood collection, and cutting for construction materials.

Deforestation is perceived to be the culprit behind a number of environmental problems from floods, to soil erosion, to desertification, and today India has a particularly active environmental movement, especially at the grassroots level. Currently about 5 percent of the country has protected status under IUCN categories I-V.

From a biodiversity standpoint, India has some 2,356 known species of amphibians, birds, mammals, and reptiles, of which 18.4 percent are endemic. Of these, 10.8 percent are threatened. The country is home to at least 18,664 species of vascular plants, of which 26.8 percent are endemic.

Recent articles | India news updates | XML


Health effects of toxic waste sites in developing countries could rival malaria, air pollution, new study shows
(05/07/2013) Exposure to dangerous chemicals from toxic waste sites may be creating a public health crisis in developing countries comparable to that caused by malaria or even air pollution, a new study suggests, highlighting the urgent need to clean up toxic waste. In a study published on Saturday in Environmental Health Perspectives, researchers calculated the number of 'healthy years of life lost' due to ill-health, disability or early death in individuals at risk of exposure to chemicals at 373 toxic waste sites in India, the Philippines and Indonesia.



The shady business of online wildlife trade
(04/30/2013) The internet is certainly the cornerstone of modern technology and a boon for so much innovation. However, along with all its advantages, there are some serious drawbacks and one of the latest is online smuggling of wildlife. The Indian Express recently reported that India's wildlife police have discovered illegal websites selling live endangered animals, parts and rare plants.



Rivers or grave yards? The woes of the Indian gharial and Gangetic dolphin in the Yamuna River
(04/30/2013) Rivers in India, especially the Ganga, Yamuna and Brahmaputra all carry a potent spiritual significance. Not only are these water way responsible for sustenance, they are also believed to be living goddesses blessing the land with their bounties. Immersing one's ashes in the Ganga is said to free you from the karmic cycle of rebirth.



Two new frog genera discovered in India's Western Ghats, but restricted to threatened swamp-ecosystems
(04/22/2013) The misty mountains of the Western Ghats seem to unravel new secrets the more you explore it. Researchers have discovered two new frog genera, possibly restricted to rare and threatened freshwater swamps in the southern Western Ghats of India. The discoveries, described in the open-access journal Zootaxa, prove once again the importance of the mountain range as a biodiversity hotspot.



Breaking the mold: Divya Karnad takes on fisheries and science journalism in India
(04/15/2013) Fishing is not a woman's domain in most countries across the globe. In parts of India there are fishing communities who believe that having a woman onboard a fishing boat brings bad luck. Despite this, Divya Karnad, a scientist who studies marine life in India, has spent several years studying fisheries and their impact on species like sharks and sea turtles. Her work forms a part of global efforts to track declining marine species and encourage more sustainable fishing.


Air pollution killed 7 million people in 2010
(04/09/2013) Seven million people died from air pollution in 2010, according to new data from the Global Burden of Disease Study 2010, published in the medical journal Lancet. The research found that indoor air pollution killed 3.5 million people in 2010, outdoor air pollution 3.3 million, and ground level ozone pollution 200,000 people.



Using drones to monitor wildlife in India
(04/09/2013) Drones have been getting a bad rap lately and for good reason. However in the state of Assam, these commonly used weapons of warfare are being used to monitor the rhinoceros population. The Kaziranga National Park in Assam has deployed aerial drones to monitor poaching activity within the park's boundaries to protect the endangered one-horned rhino population.



Looking beyond the hundred legs: finding new centipedes in India requires many tools
(04/08/2013) A small, boneless creature, that lives underground, with a "hundred" legs, and a rather powerful sting; some of these creatures are drab, but some are so beautiful and brightly colored that they can startle. Centipedes. There is more to a centipede than its many legs, and its habit of darting out of dark places. One of the first lifeforms to turn up on land, some centipede fossils date back to about 450 million years ago. They have been evolving steadily since, with some estimates showing about 8,000 species today. Not even half of these species have been taxonomically described.



Where the flamingos fly: Mumbai, apparently!
(04/03/2013) When you think of flamingos you think of the great flamingo migration, a sea of pink in Tanzania, or maybe even a funny cartoon with these dancing, lanky creatures but the last thing you would think of is Mumbai. Strangely, this modern chaotic city provides a temporary home to these lovely coral-colored birds. They visit the mudflats of Mumbai every year in the winter (January – May) and provide a treat to casual bird-watchers, ornithologists and regular citizens alike. The Bombay Natural History Society (BNHS) also organizes a flamingo watching festival during this period to encourage people to observe these birds.



Human-wildlife conflict on the rise in India
(04/03/2013) Recently, the news has been rife with reports of human-wildlife conflict over various parts of India. Most of these reports originate from forest areas surrounding the Western Ghats in the south and also the state of Maharashtra as well as the north-western areas of the country. While there are many reasons for human-wildife conflict, here it is mostly because of new developments encroaching on forest lands and animal territories. Alongside humans, elephants and leopards are the most common animals victims to this conflict in India.



Where do the birds fly? – Migrant Watch, a 'citizen science' data collection organization tells you
(04/02/2013) India is a hot spot for migratory birds and there are many species that visit the country in various times of the year. Amateur bird-watchers have taken it upon themselves to track migratory birds and they act as informal census keepers. According to the Tehelka blog, vagaries in the pattern of bird migration were brought to attention by amateur bird-watchers.



Harnessing religious teachings about stewardship to protect the planet - an interview with Sikh activist Bandana Kaur
(03/28/2013) Many religious groups have taken on the role of environmental custodians, citing scriptures that urge living in harmony with plants and animals. Representatives of nine world religions pledged in 2009 to develop environmental programs. The Sikh religion's contribution to that effort is called EcoSikh. With a global community 30 million strong, Sikhism is the world's fifth largest religion. Sikhs trace their roots to Punjab. In the 1960s and 1970s, the Green Revolution — research and technology breakthroughs that dramatically increased agricultural yields worldwide — turned Punjab into "the breadbasket of India." In the past 20 years, though, the intensive farming has eroded Punjab's soil and water.


Scientists successfully reintroduce gaur in Indian park
(03/18/2013) Gaur (Bos gaurus gaurus) is one of the large wild ungulates of Asian jungles. It is the tallest living ox, and one of the four heaviest land mammals (elephant, rhino and wild buffalo are the other three), weighing up to 940 kilograms (2,070 pounds) and standing between 1.6 and 1.9 meters (5.2 to 6.2 feet) at the shoulder. Gaur were once distributed throughout the forested tracts of India and South Nepal, east to Vietnam and south to Malaya. Today, however, they are confined to just over a hundred existing, and 27 proposed, Protected Areas in India.



Burning coal may be killing over 100,000 people in India every year
(03/13/2013) India's dependence on coal-fired power plants for energy may be leading directly to the deaths of 80,000 to 115,000 of its citizens every year, according to the first ever report on the health impacts of coal in the country. The report, commissioned by the Conservation Action Trust and Greenpeace-India, deals only with the direct health impact of coal and not climate change. But even ignoring the rising pain of global warming, the bleak report outlines that coal consumption in India is causing over 20 million asthma attacks, nearly a million emergency room visits, and killing some 10,000 children under five annually.



Photographers threatening the already-abused slender loris
(03/12/2013) Caught in a beam of torchlight, the eyes of the slender loris reflect back a striking glow. In an effort to better understand these shy, nocturnal primates, a team of researchers set out to the Western Ghats of India. The resulting paper: Moolah, Misfortune or Spinsterhood? The Plight of the Slender Loris (Loris lydekkerianus) in Southern India was published in the Journal of Threatened Taxa in January of 2013. Forest walks and interviews with the Kani people, who live in close proximity to the lorises, supported evidence of a surprising new threat to the lorises: photographers.


Selective logging changes character of tropical forest
(02/28/2013) Selective logging is usually considered less harmful than other forestry practices, such as clear cutting, but a new study in mongabay.com's open access journal Tropical Conservation Science has found that even selective logging has a major impact on tropical forests lasting decades. Comparing trees in two previously logged sites and two unlogged sites in northeast India, researchers found less tree diversity in selectively logged forests with trees dispersed by birds proved especially hard-hit.



Chasing down 'quest species': new book travels the world in search of rarity in nature
(02/13/2013) In his new book, The Kingdom of Rarities, Eric Dinerstein chases after rare animals around the world, from the maned wolf (Chrysocyon brachyurus) in Brazil to the golden langur (Trachypithecus geei) in Bhutan to Kirtland's warbler (Setophaga kirtlandii) in the forests of Michigan. Throughout his journeys, he tackles the concept of rarity in nature head-on. Contrary to popular belief, rarity is actually the norm in the wildlife world.


Tigers gobble up 49 percent of India's wildlife conservation funds, more imperiled species get nothing
(02/12/2013) Nearly half of India's wildlife budget goes to one species: the tiger, reports a recent article in Live Mint. India has devoted around $63 million to wildlife conservation for 2013-2013, of which Project Tiger receives $31 million. The Bengal tiger (Panthera tigris tigris) is currently listed as Endangered by the IUCN Red List; however India is also home to 132 species currently considered Critically Endangered, the highest rating before extinction.



Investors beware: global land grabbing ends in 'financial damage' and human rights violations
(02/07/2013) Investing in companies that flout local community rights in developing countries often leads to severe economic losses, according to a new report from the Rights and Resources Initiative (RRI). A rising trend in "land grabbing" from Africa to South America by corporations and even foreign governments results in social instability, which can lead to large-scale protests, violence, and even murder, delaying and sometimes derailing projects. Such instability poses massive risk to any investor, not to mention supporting corporate entities that are accused of ignoring human rights.



Claim of human and tiger 'coexistence' lacks perspective
(01/29/2013) Nepal's Chitwan National Park was the site of a study, published in September 2012 by Carter and others, which concluded that, tigers coexist with humans at fine spatial scales. This paper has ignited a scientific debate regarding its implications for large carnivore conservation worldwide, with scientists at institutions worldwide questioning the validity of claims of coexistence. At the foundation of this debate, perhaps, is the unresolved question, "what is coexistence?"



Living beside a tiger reserve: scientists study compensation for human-wildlife conflict in India
(01/21/2013) During an average year, 87% of households surrounding Kanha Tiger Reserve in Central India report experiencing some kind of conflict with wild animals, according to a new paper in the open-access journal PLOS One. Co-existence with protected, free-roaming wildlife can be a challenge when living at the edge of a tiger reserve. "Local residents most often directly bear the costs of living alongside wildlife and may have limited ability to cope with losses" wrote the authors of the new paper.


An avalanche of decline: snow leopard populations are plummeting
(01/03/2013) The trading of big cat pelts is nothing new, but recent demand for snow leopard pelts and taxidermy mounts has added a new commodity to the illegal trade in wildlife products, according to the Environmental Investigation Agency (EIA). Traditionally, the market for large cat products has centered around tiger bones and parts for traditional Chinese medicine. Snow leopards (Uncia uncia), however, are a novel trend in the illegal wildlife trade arena and skins and taxidermy mounts are the most recent fad in luxury home décor.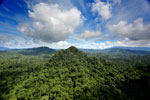 The year in rainforests
(12/31/2012) 2012 was another year of mixed news for the world's tropical forests. This is a look at some of the most significant tropical rainforest-related news stories for 2012. There were many other important stories in 2012 and some were undoubtedly overlooked in this review. If you feel there's something we missed, please feel free to highlight it in the comments section. Also please note that this post focuses only on tropical forests.



From catastrophic to the sustainable: the flight of the Amur Falcon
(12/17/2012) It is said that the price of 'freedom and justice' is constant vigilance. It seems the same can be said of conservation and sustainability in our ever changing world. In a story and allegory appropriate for many of the challenges that face our global environment, two Indian conservation champions, Shashank Dalvi and Ramki Sreenivasan (both protégés and associates of famed conservation leader, Dr Ullas Karanth of the WCS India), have stepped to work with a host of international and local interests to help save one species of beleaguered bird, the Amur Falcon of Eurasia.


A new method to monitor stray dog abundance
(12/10/2012) Free-roaming dogs (Canis familiaris) can fill a variety of ecological roles including competitor, predator, prey, and transmitter of disease to both wildlife and people with particular concern for rabies. A range of methods has been used to control dog populations, but monitoring dogs is a critical part of assessing the effectiveness of these methods.


Suggested reading - Books


Unless otherwise specified, this article was written by Rhett A. Butler [Bibliographic citation for this page]

Other resources

Contact me if you have suggestions on other rainforest-related environmental sites and resources for this country.



CIA World Factbook

CIA-World Factbook Profile
FAO-Forestry Profile



Last updated: 4 Feb 2006