KENYA
Kenya Forest Figures

Forest Cover

---

Total forest area: 3,522,000 ha
% of land area: 6.2%

Primary forest cover: 704,000 ha
% of land area: 1.2%
% total forest area: 20.0%

Deforestation Rates, 2000-2005

---

Annual change in forest cover: -12,000 ha
Annual deforestation rate: -0.3%
Change in defor. rate since '90s: -1.4%
Total forest loss since 1990: -186,000 ha
Total forest loss since 1990:-5.0%

Primary or "Old-growth" forests
Annual loss of primary forests: -2400 ha
Annual deforestation rate: -0.3%
Change in deforestation rate since '90s: -4.3%
Primary forest loss since 1990: -12,000 ha
Primary forest loss since 1990:-5.1%

Forest Classification

---

Public: 97.8%
Private: 2.2%
Other: 0%
Use
Production: n.s.%
Protection: 100%
Conservation: n/a
Social services: n/a
Multiple purpose: n/a
None or unknown: n/a

Forest Area Breakdown

---

Total area: 3,522,000 ha
Primary: 704,000 ha
Modified natural: 2,616,000 ha
Semi-natural: n/a
Production plantation: 202,000 ha
Production plantation: n/a

Plantations

---

Plantations, 2005: 202,000 ha
% of total forest cover: 5.7%
Annual change rate (00-05): -2,000,000 ha

Carbon storage

---

Above-ground biomass: 536 M t
Below-ground biomass: 133 M t

Area annually affected by

---

Fire: 3,000 ha
Insects: n/a
Diseases: n/a

Number of tree species in IUCN red list

---

Number of native tree species: n/a
Critically endangered: 3
Endangered: 14
Vulnerable: 50

Wood removal 2005

---

Industrial roundwood: 2,402,000 m3 o.b.
Wood fuel: 24,256,000 m3 o.b.

Value of forest products, 2005

---

Industrial roundwood: n/a
Wood fuel: n/a
Non-wood forest products (NWFPs): n/a
Total Value: n/a


More forest statistics for Kenya


Kenya has very little rainforest (mostly montane forest) cover, and these scattered patches are being further degraded for fuelwood and building material. Overall forest loss in Kenya has been moderate over the past generation—5 percent of the country's forest cover was lost between 1990 and 2005. Primary forest cover also fell by 5 percent over the same period and now cover around 700,000 hectares. Deforestation rates have decreased slightly since the end of the 1990s.

Kenya is world famous for its safari wildlife, and 12.3 percent of its land area is currently under some form of protection. The country has 1,103 species of birds, 261 mammals, 407 reptiles, 76 amphibians, and 6,500 species of plants.

The most immediate threats to Kenya's forests are subsistence activities and agricultural expansion. In recent years conflicts between forest squatters and police have escalated as the government tries to crack down on deforestation. In 2005, the government evicted 10,000-50,000 families from the edge of the Mau Forest in the Rift Valley as part of its campaign to protect the country's natural resources.

Recent articles | Kenya news updates | XML

Microsoft puts price on carbon, buys credits from forest conservation project
(05/09/2013) Microsoft is 'offsetting' some of its greenhouse gas emissions by buying credits generated by a forest conservation project in Kenya.



A Tale of Two Elephants: celebrating the lives and mourning the deaths of Cirrocumulus and Ngampit
(05/07/2013) On March 21st, the organization Save the Elephants posted on their Facebook page that two African elephants had been poached inside a nearby reserve: "Sad news from the north of Kenya. Usually the national reserves are safe havens for elephants, and they know it. But in the last two weeks two of our study animals have been shot inside the Buffalo Springs reserve. First an 18 year-old bull called Ngampit and then, yesterday, 23 year-old female called Cirrocumulus (from the Clouds family)."



Elephant woes: conservationists mixed on elephant actions at CITES
(03/14/2013) Conservationists couldn't agree if the glass was half-full or half-empty on action to protect elephants at the Convention on International Trade in Endangered Species (CITES) in Bangkok, Thailand. Elephants, especially in Africa, have faced a massive rise in poaching over the last decade with tens-of-thousands shot dead every year. Forests elephants in central Africa have been especially targeted: new research estimates that an astounding 60 percent of the world's forest elephants have been slaughtered for their tusks in the last ten years alone. While conservationists had hopes that CITES would move aggressively against elephant poaching, the results were a decidedly mixed-bag.


Violence in Kenya's Tana River Delta stems from natural resource conflict
(03/02/2013) Since August 2012, Kenya's Tana River Delta has been besieged by civil conflict continuing into the New Year. The New York Times reported in January at least 200 people are dead and 36,000 displaced in increasingly violent skirmishes between the herders and farmers who share the delta of Kenya's largest river. Although the conflict began as an isolated dispute over water, both groups engaged in retaliatory attacks that have earned comparisons by major global media to the violence preceding Kenya's notoriously violent presidential election.



Forests in Kenya worth much more intact says government report
(01/24/2013) Kenya's forests provide greater services and wealth to the nation when they are left standing. A landmark report by The Kenyan Government and the United Nations Environment Programme (UNEP) addresses the importance of forests to the well-being of the nation, putting Kenya among a pioneering group of countries that aim to center development plans around nature-based assets.


Birds of the Masai Mara - book review
(01/23/2013) Birds of the Masai Mara by Adam Scott Kennedy, is the first dedicated bird book to the Masai Mara region. This handy guidebook, covering over 200 species of birds, on purpose avoids any unnecessary ornithological techno-jargon while presenting the region's birds using high-quality photographs followed by short text. Building upon the recently published Animals of the Masai Mara, the format of this guidebook is user-friendly and filled with entertaining stories.


How a text message could save an elephant or a rhino from a poacher
(01/15/2013) Soon a text message may save an elephant's or rhino's life. The Kenya Wildlife Service (KWS) is implementing a new alarm system in some protected areas that will alert rangers of intruders via a text message, reports the Guardian. Elephants and rhinos have been killed in record numbers across Africa as demand for illegal rhino horns and ivory in Asia has skyrocketed.


Kenya suffers it worst elephant poaching incident yet
(01/08/2013) Over the weekend Kenya suffered its single worst elephant poaching incident when poachers killed an entire family of elephants. In all, eleven elephants were gunned down and had their tusks removed. Among the dead was a two-month-old calf. The elephants were killed in Tsavo East National Park.


Animals of the Masai Mara - book review
(01/06/2013) Animals of the Masai Mara is the first illustrated guidebook to the Masai Mara region along the Kenya and Tanzania border. This is the world famous region of wildebeest migrations, large felines, towering African elephants, fascinating cultures, and great flora and fauna diversity. This is the guidebook for every child, and child inside of us, between the ages of 5 and 105 that has ever dreamt of learning about the fascinating animals seen on a safari in Africa.



Why it's time to ban the ivory trade for good [Graphic images: viewer discretion advised]
(12/12/2012) This week the Kenya Wildlife Service (KWS) announced a 14% decline in elephants in the Samburu/Laikipia ecosystem over the last 4 years. The decline has occurred in a population whose natural growth rate was measured at 5.3% between 2002 and 2008 according to the previous survey, suggesting that over 300 elephants are dying annually in the Samburu and Laikipia's landscape, denting the poster child image of one of Kenya's most important wildlife landscapes. Poaching and drought are the main causes of mortality in this population. The impact of poaching on tourism cannot be ignored, heavily armed bandits threaten more than elephants, if we can't protect elephants how can we protect international tourists? But it's the long term consequence that are of greater concern.



Cell phones help decipher malaria transmission in Kenya
(11/19/2012) Malaria parasites can stow away silently in a person's bloodstream. Without any symptoms to betray them, their human host can unwittingly transport the parasites hundreds or thousands of miles. Tracking them has been nearly impossible, especially in poor countries. Now, researchers have harnessed a new tool: the burgeoning number of cell phone users in Africa, which help trace how malaria spreads.


Cute animal picture of the day: baby giraffe
(11/12/2012) Reticulated giraffes (Giraffa camelopardalis reticulata), one of nine subspecies, are found in Somalia, Kenya, and Ethiopia. The world's tallest land animal, giraffes can stand as high as 5–6 meters (16–20 feet).


Authorities confiscate 600 dead elephants' worth of ivory in Hong Kong
(10/22/2012) Hong Kong authorities have confiscated two massive shipments of elephant tusks, totaling 1,209 tusks, stemming from Kenya and Tanzania. Representing over 600 poached elephants, the shipments are estimated to be worth $3.4 million on the black market. African elephants are being decimated for their tusks in recent years with heavily-armed and well-connected poachers—backed by criminal syndicates—killing off whole herds in some cases.



In midst of rhino poaching epidemic, Lewa Wildlife Conservancy has happy problem: too many black rhinos
(10/02/2012) So far this year, South Africa has lost 430 rhinos to poachers, more than one animal a day. The epidemic of rhino poaching, fueled by demand for black-market powdered rhino horn in Vietnam and China, is decimating rhino species worldwide. In fact, last year saw the official extinction of two rhino subspecies: the Vietnamese rhino (Rhinoceros sondaicus annamiticus), a subspecies of the Javan, and the western black rhino (Diceros bicornis longipes), a subspecies of the black. However there is one place where rhinos still thrive. The Lewa Wildlife Conservancy in Kenya has found itself with a unique, but happy, problem: they have so many black rhinos, which are considered Critically Endangered by the IUNC Red List, that they need to move some to stop rhino-fights. In other words, their rhino population has hit its limit for the 25,000 hectare (62,000 acre) nonprofit protected area.


World Bank agrees to fund project related to controversial Gibe III dam
(09/27/2012) Originally refusing to provide funding to Ethiopia's controversial Gibe III hydroelectric dam, the World Bank has now announced plans to fund the power lines that will carry generated electricity away from it. In their official statement they report that the lines will "connect Ethiopia's electrical grid with Kenya's, create power-sharing between the two countries, reduce energy costs, promote sustainable and renewable power generation [and] better protect the region's environment...eventually benefiting 212 million people in five countries."


Picture of the day: baby Grevy's zebra
(09/10/2012) Not only is the Grevy's zebra (Equus grevyi) the biggest of the three zebra species, it is also the world's largest wild horse species. Once roaming throughout the horn of Africa, today the species is confined to a few populations in Kenya and Ethiopia.


Picture of the day: Yao Ming with baby elephant orphaned by ivory trade
(08/27/2012) Former NBA Basketball player and Olympian, Yao Ming is taking his first trip through Africa in order to see the on-the-ground impacts of the black-market ivory and rhino trades in East Asia. Ming, who stands 7-and-a-half feet (2.3 meters), has become not only well-known for his athletic prowess, but also his devotion to endangered wildlife.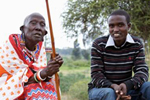 Elephant ancestors and Africa's Bigfoot: new initiative works to preserve a continent's wildest tales
(08/20/2012) Paula Kahumbu, the Executive Director of WildlifeDirect and a 2011 National Geographic Emerging Explorer, is on a mission to reconnect young Africans with the natural world through storytelling. In a new initiative dubbed Africa's Wildest Stories, Kahumbu and others are recording the wit and wisdom of African elders in Kenya as they share their love of nature and the way in which Africans, for millennia, have co-existed with their environment and its astounding wildlife.



Forest cover falls 9% in East Africa in 9 years
(07/31/2012) Forest cover in East Africa has dropped by 9.3 percent from 2001-2009, according to a new paper published in the open-access journal PLoS ONE. Looking at 12 countries in the region, the scientists found that, worryingly, forests were particularly hard hit near protected areas. Usually thought of as a region of vast savannas, such as the Serengeti, East Africa is also home to incredibly biodiverse tropical forests, including coastal forests, rich montane forests, and the eastern portion of the Congo Rainforest.


Ten African nations pledge to transform their economies to take nature into account
(06/11/2012) Last month ten African nations, led by Botswana, pledged to incorporate "natural capital" into their economies. Natural capital, which seeks to measure the economic worth of the services provided by ecosystems and biodiversity—for example pollination, clean water, and carbon—is a nascent, but growing, method to curtail environmental damage and ensure more sustainable development. Dubbed the Gaborone Declaration, the pledge was signed by Botswana, Liberia, Namibia, Mozambique, Rwanda, Gabon, Ghana, Kenya, South Africa, and Tanzania following a two day summit.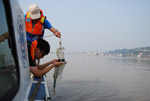 Charting a new environmental course in China
(05/21/2012) Founded in 1951, The Nature Conservancy (TNC) works in more than 30 countries and has projects in all 50 of the United States. The Conservancy has over one million members, and has protected more than 119 million acres of wild-lands and 5,000 miles of rivers worldwide. TNC has taken an active interest in China, the world's most populated nation, and in many important ways, a critical center of global development. The following is an interview with multiple directors of The Nature Conservancy's China Program.


Animal picture of the day: the spotless cheetah
(04/23/2012) A strange cheetah (Acinonyx jubatus) has been photographed in Kenya by wildlife artist Guy Combes. The "golden" cheetah's telltale spots are bizarrely diluted.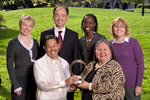 David vs. Goliath: Goldman Environmental Prize winners highlight development projects gone awry
(04/16/2012) A controversial dam, a massive mine, poisonous pesticides, a devastating road, and criminal polluters: many of this year's Goldman Environmental Prize winners point to the dangers of poorly-planned, and ultimately destructive, development initiatives. The annual prize, which has been dubbed the Green Nobel Prize is awarded to six grassroots environmental heroes from around the world and includes a financial award of $150,000 for each winner.


Featured video: Honoring Wangari Maathai, who would have been 72 yesterday
(04/02/2012) The indomitable Wangari Maathai would have turned 72 yesterday, April 1st, 2012. Maathai, who was the first African woman and the first environmentalist to win a Nobel Peace Prize (in 2004), passed away last September.


Cute animal picture of the day: endangered baby giraffe
(03/29/2012) A baby Rothschild's giraffe (Giraffa camelopardalis rothschildi) was recently born at the Wildlife Conservation Society's (WCS) Bronx Zoo. The subspecies was classified as Endangered in 2010 with a wild population of less than 700 individuals in Kenya and Uganda.


Suggested reading - Books


Unless otherwise specified, this article was written by Rhett A. Butler [Bibliographic citation for this page]

Other resources

Contact me if you have suggestions on other rainforest-related environmental sites and resources for this country.



Image copyright Google Earth, MDA EarthSet, DigitalGlobe 2005

CIA-World Factbook Profile
FAO-Forestry Profile
World Resources Institute


Last updated: 4 Feb 2006