LAOS
Laos Forest Figures

Forest Cover

---

Total forest area: 16,142,000 ha
% of land area: 69.9%

Primary forest cover: 1,490,000 ha
% of land area: 6.5%
% total forest area: 9.2%

Deforestation Rates, 2000-2005

---

Annual change in forest cover: -78,000 ha
Annual deforestation rate: -0.5%
Change in defor. rate since '90s: 4.5%
Total forest loss since 1990: -1,172,000 ha
Total forest loss since 1990:-6.8%

Primary or "Old-growth" forests
Annual loss of primary forests: n/a
Annual deforestation rate: n/a
Change in deforestation rate since '90s: n/a
Primary forest loss since 1990: n/a
Primary forest loss since 1990:0.0%

Forest Classification

---

Public: 100%
Private: 0%
Other: 0%
Use
Production: 21.6%
Protection: 54.7%
Conservation: 23.5%
Social services: 0.2%
Multiple purpose: n/a
None or unknown: n/a

Forest Area Breakdown

---

Total area: 16,142,000 ha
Primary: 1,490,000 ha
Modified natural: 14,428,000 ha
Semi-natural: n/a
Production plantation: 223,000 ha
Production plantation: 1,000 ha

Plantations

---

Plantations, 2005: 224,000 ha
% of total forest cover: 1.4%
Annual change rate (00-05): 25,000,000 ha

Carbon storage

---

Above-ground biomass: 2,342 M t
Below-ground biomass: 632 M t

Area annually affected by

---

Fire: 100,000 ha
Insects: n/a
Diseases: n/a

Number of tree species in IUCN red list

---

Number of native tree species: 1,457
Critically endangered: 5
Endangered: 7
Vulnerable: 8

Wood removal 2005

---

Industrial roundwood: 682,000 m3 o.b.
Wood fuel: 6,742,000 m3 o.b.

Value of forest products, 2005

---

Industrial roundwood: $40,931,000
Wood fuel: $20,226,000
Non-wood forest products (NWFPs): n/a
Total Value: $61,157,000


More forest statistics for Laos


Despite a small population, undeveloped mineral deposits, and forest covering nearly 70 percent of the country, Lao's forests are threatened. Slash-and-burn agriculture, uncontrolled fires, commercial and illegal logging, and fuelwood collection resulted in the loss of 6.8 percent of the country's forests between 1990 and 2005. The deforestation rate has increased moderately since the close of the 1990s, but there is concern that the shift from a command economy toward a market-oriented economy will put increasing pressure on the forest resources of Laos.

The natural resources of Laos—including oil, natural gas, coal, hydroelectric potential, and mineral deposits—are attracting development interest in the country. According to the Wall Street Journal (September 16, 2004; "Laos Is Looking Like a Gold Mine To Foreigners" by Patrick Barta), foreign investors are looking to capitalize on Laos' underdeveloped mineral resources. With gold prices steady over $400 and few new deposits turning up in the usual places, mining companies are flocking to this poor, land-locked country bordered by China, Myanmar (Burma), Thailand, Cambodia, and Vietnam. Laos, which holds the dubious record of being the most bombed country in the world despite never officially being involved in the Vietnam war, may become an important source of revenue for mining companies willing to take on the extra risk associated with operating in a country with large amounts of unexploded ordnance and poor infrastructure.

With the prospect of expanded mining operations in Laos, there is considerable concern over the environmental impact. Clear-cutting and the use of chemicals, especially mercury and cyanide, can cause severe ecological damage. Mining also exposes previously buried metal sulfides to atmospheric oxygen, causing their conversion to sulfuric acid and metal oxides, which run off into local waterways. Oxides tend to be more soluble in water and contaminate local rivers with heavy metals, affecting human populations and wildlife.

In the short term, the financial opportunities presented by mining overwhelm the potential ecological effects. For example, at peak production, a $330-million operation run by Australia-owned Oxiana should yield as much as $15 million in royalties and taxes for Laos—a significant sum for a country where the per capita GDP is around $1,700 per year.

Conservation in Laos faces considerable obstacles not only from increased interest in mining but also from the activities mentioned above, The strongly centralized approach to conservation—Laos is a Communist country—may spawn animosity toward conservation efforts at a local level if initiatives fail to account for local needs.

Despite these hurdles, there is hope for conservation in Laos. In an effort to protect the country's species richness, Laos recently established 18 National Biodiversity Conservation Areas including one known as Nakai Nam Theum National Biodiversity Area in the mountainous border area near Vietnam. During the 1990s researchers in this protected area discovered a new genus of cattle-like mammal along with two deer-like species.

Recent articles | Laos news updates | XML

Mekong region has lost a third of its forests in 30 years, may lose another third by 2030
(05/03/2013) The Greater Mekong region of Cambodia, Laos, Myanmar (Burma), Thailand and Vietnam will lose a third of its remaining forest cover by 2030 unless regional governments improve management of natural resources and transition toward a greener growth model, warns a new report issued by WWF.



The river of plenty: uncovering the secrets of the amazing Mekong
(04/23/2013) Home to giant catfish and stingrays, feeding over 60 million people, and with the largest abundance of freshwater fish in the world, the Mekong River, and its numerous tributaries, brings food, culture, and life to much of Southeast Asia. Despite this, little is known about the biodiversity and ecosystems of the Mekong, which is second only to the Amazon in terms of freshwater biodiversity. Meanwhile, the river is facing an existential crisis in the form of 77 proposed dams, while population growth, pollution, and development further imperil this understudied, but vast, ecosystem.


Captive frogs may be spreading diseases to wild cousins across Southeast Asia
(03/07/2013) Scientists have documented a series of links between exotic frogs for trade and diseases in wild frogs in Southeast Asia, including the first documented case of the chytrid fungus—a virulent and lethal disease—in Singapore. According to researchers writing in a new study in EcoHealth, frogs imported into Southeast Asia as pets, food, or traditional medicine are very likely spreading diseases to wild populations.


Cute animal picture of the day: white-cheeked gibbon baby
(01/16/2013) A northern white-cheeked gibbon pair (Nomascus leucogenys) at the Wildlife Conservation Society's (WCS) Bronx Zoo have given birth to a brand new infant. This is the mother gibbon's 11th infant.


Mystery surrounds disappearance of prominent environmental activist in Laos
(12/23/2012) Questions surrounding the disappearance of 60-year-old Sombath Somphone deepened after the government of Laos denied kidnapping and holding the prominent social activist, reports the Associated Press.


Pictures: 126 new species discovered in Greater Mekong region last year
(12/18/2012) Some 126 new species were described in Asia'a Mekong region last year, notes a new report published by the World Wildlife Fund (WWF).


Controversial dam gets approval in Laos
(11/07/2012) Laos has given approval to the hugely-controversial $3.5 billion Xayaburi Dam on the Mekong River, reports the BBC. The massive dam, which would provide 95 percent of its energy production to Thailand, has been criticized for anticipated impacts on the river's fish populations, on which many locals depend.


Corruption still plundering forests in Laos for furniture
(09/26/2012) The forests of Lao are still suffering from widespread destruction with the government turning a blind eye to a thriving black market logging trade on the border of Laos and Vietnam, according to an update report by the Environmental Investigation Agency (EIA). Last year, the EIA found that powerful players, including the Vietnamese military, were plundering Laos of its forests for raw logs. Smuggled from Laos into Vietnam, the raw logs are crafted into furniture, which are eventually exported to Europe and the U.S. Now, over a year later a new report finds little has changed.



Mekong dam spree could create regional food crisis
(08/27/2012) Fish are a hugely important protein source for many people around the world. This is no more evident than along the lower Mekong River delta where an estimated 48 million people depend directly on the river for food and livelihoods. But now a new study in Global Environmental Change cautions that 11 planned hydroelectric dams in the region could cut vital fish populations by 16 percent while putting more strain on water and land resources.


Controversial Xayaburi dam in Laos officially suspended
(07/15/2012) Work on the controversial Xayaburi dam in the People's Democratic Republic of Lao has been suspended, reports Reuters.


Guilty pleas in NYC ivory bust
(07/13/2012) Two ivory dealers pled guilty to trafficking some $2 million worth of elephant ivory.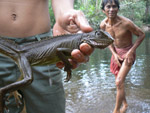 Exploring Asia's lost world
(05/03/2012) Abandoned by NGOs and the World Bank, carved out for rubber plantations and mining by the Cambodian government, spiraling into a chaos of poaching and illegal logging, and full of endangered species and never-explored places, Virachey National Park may be the world's greatest park that has been written off by the international community. But a new book by explorer and PhD student, Greg McCann, hopes to change that. Entitled Called Away by a Mountain Spirit: Journey to the Green Corridor, the book highlights expeditions by McCann into parts of Virachey that have rarely been seen by outsiders and have never been explored scientifically, including rare grasslands that once housed herds of Asian elephants, guar, and Sambar deer, before poachers drove them into hiding, and faraway mountains with rumors of tigers and mainland Javan rhinos.


UN: wild teak forests declining
(03/28/2012) Wild teak forests continue to decline, threatening genetic diversity, while commercial planted teak forests are on the rise, according to a new assessment by the Food and Agriculture Organization (FAO). Overall, teak forests have declined by 1.3 percent, or 385,000 hectares, worldwide from 1992 to 2010. Teak (Tectona grandis) is used for a variety of commercial purposes, including outdoor furniture and flooring.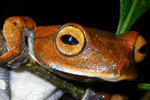 Vampire and bird frogs: discovering new amphibians in Southeast Asia's threatened forests
(02/06/2012) In 2009 researchers discovered 19,232 species new to science, most of these were plants and insects, but 148 were amphibians. Even as amphibians face unprecedented challenges—habitat loss, pollution, overharvesting, climate change, and a lethal disease called chytridiomycosis that has pushed a number of species to extinction—new amphibians are still being uncovered at surprising rates. One of the major hotspots for finding new amphibians is the dwindling tropical forests of Southeast Asia.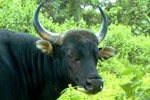 Forgotten species: the wild jungle cattle called banteng
(01/31/2012) The word "cattle," for most of us, is the antithesis of exotic; it's familiar like a family member one's happy enough to ignore, but doesn't really mind having around. Think for a moment of the names: cattle, cow, bovine...likely they make many of us think more of the animals' byproducts than the creatures themselves—i.e. milk, butter, ice cream or steak—as if they were an automated food factory and not living beings. But if we expand our minds a bit further, "cattle" may bring up thoughts of cowboys, Texas, herds pounding the dust, or merely grazing dully in the pasture. But none of these titles, no matter how far we pursue them, conjure up images of steamy tropical rainforest or gravely imperiled species. A cow may be beautiful in its own domesticated sort-of-way, but there is nothing wild in it, nothing enchanting. However like most generalizations, this idea of cattle falls to pieces when one encounters, whether in literature or life, the banteng.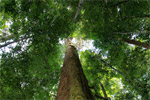 Logging of primary rainforests not ecologically sustainable, argue scientists
(01/25/2012) Tropical countries may face a risk of 'peak timber' as continued logging of rainforests exceeds the capacity of forests to regenerate timber stocks and substantially increases the risk of outright clearing for agricultural and industrial plantations, argues a trio of scientists writing in the journal Biological Conservation. The implications for climate, biodiversity, and local economies are substantial.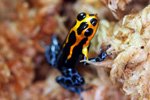 The dark side of new species discovery
(12/21/2011) Scientists and the public usually rejoice when a new species is discovered. But biologist Bryan Stuart has learned the hard way that the discovery of new species, especially when that species is commercially valuable, has a dark side-one that could potentially wipe out the new species before protections can be put in place. Stuart has discovered 27 species unknown previously to scientists - so far. That includes 22 species of frogs, three types of snakes, and two salamanders. His experience with one of these, a warty salamander from Laos with striking markings (Laotriton laoensis), opened his eyes to a dark side of scientific discovery: commercial overexploitation before protections are in place. Shortly after Stuart described the previously unknown species Paramesotriton laoensis in a scientific paper published in 2002, commercial dealers began collecting this Lao newt for sale into the pet trade. In essence, the dealers used Stuart's geographic description in the paper as a "roadmap" to find the rare newt.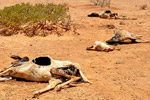 Earth systems disruption: Does 2011 indicate the "new normal" of climate chaos and conflict?
(12/21/2011) The year 2011 has presented the world with a shocking increase in irregular weather and disasters linked to climate change. Just as the 2007 "big melt" of summer arctic sea ice sent scientists and environmentalists scrambling to re-evaluate the severity of climate change, so have recent events forced major revisions and updates in climate science.


Featured video: documentary on logging mafia
(12/19/2011) A new documentary, The Real Chainsaw Massacre, follows the corrupt and violent black market of illegal timber trading in Vietnam. The documentary highlights the efforts of undercover investigators with the Environmental Investigation Agency (EIA) working to expose the lucrative trade of illegal logging from Laos to Vietnam. A trade that is not only decimating forests in Southeast Asia, but is imperiling biodiversity, harming locals, and often coupled with other illegal activities.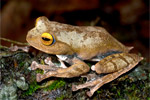 Herpetology curator: behind-the-scenes of 'new species' discoveries
(12/18/2011) Bryan Stuart's mission as a curator of amphibians and reptiles at the North Carolina Museum of Natural Sciences is to understand the diversity of life on earth. For that, he documents what species occur where and why. He's particularly attracted to areas where there's a dearth of knowledge, like Laos, Cambodia, Vietnam and Gabon, and so far has discovered 27 species unknown previously to scientists: three species of snakes, two types of salamanders, and 22 kinds of frogs.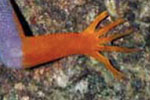 Photos: 208 species discovered in endangered Mekong region in 2010
(12/14/2011) Last year researchers scoured forests, rivers, wetlands, and islands in the vanishing ecosystems of the Mekong Delta to uncover an astounding 208 new species over a twelve month period. A new report by the World Wide Fund for Nature (WWF) highlights a number of the new species—from a new snub-nosed monkey to five new meat-eating pitcher plants to a an all-female, cloning lizard—while warning that many of them may soon be gone as the Mekong Delta suffers widespread deforestation, over-hunting and poaching, massive development projects, the destruction of mangroves, pollution, climate change, and a growing population.


Hydroelectric dam still a greenhouse gas source after 10 years
(11/01/2011) Hydroelectric power is often promoted as green energy, yet dams, especially in the tropics, can be significant sources of greenhouse gas emissions. When built, reservoirs trap vegetation, which, as it rots, emits both methane and carbon into the atmosphere. A new study in Science of the Total Environment found that a dam in Lao PDR remained a significant source of greenhouse gas emission even a decade after construction.


Baby animal picture of the day: rare Rare Siamese crocodiles hatch in Laos
(08/30/2011) Conservationists are celebrating the hatch of 20 critically endangered Siamese crocodiles at the Laos Zoo, according to the Wildlife Conservation Society.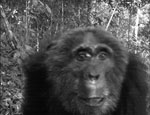 Cameratraps take global snapshot of declining tropical mammals
(08/17/2011) A groundbreaking cameratrap study has mapped the abundance, or lack thereof, of tropical mammal populations across seven countries in some of the world's most important rainforests. Undertaken by The Tropical Ecology Assessment and Monitoring Network (TEAM), the study found that habitat loss was having a critical impact on mammals. The study, which documented 105 mammals (nearly 2 percent of the world's known mammals) on three continents, also confirmed that mammals fared far better—both in diversity and abundance—in areas with continuous forest versus areas that had been degraded.


Vietnamese military illegally plundering Laos' forests
(07/28/2011) Dwindling forests in the Asian nation of Laos are being illegally destroyed and traded by Vietnamese companies with the Vietnamese army as one of the biggest players in this multi-million dollar smuggling operation, according to an investigation by the Environmental Investigation Agency (EIA). EIA agents went undercover as timber purchasers to discover a long trail of corruption and poor enforcement from the destruction of Laos forests to furniture factories in Vietnam to stores in the USA and Europe. Even a ban on exporting raw timber out of Laos has done little to stop the plunder of the nation's forests for outside gain.


Suggested reading - Books


Unless otherwise specified, this article was written by Rhett A. Butler [Bibliographic citation for this page]

Other resources

Contact me if you have suggestions on other rainforest-related environmental sites and resources for this country.



Image copyright Google Earth, MDA EarthSet, DigitalGlobe 2005

CIA-World Factbook Profile
FAO-Forestry Profile



Last updated: 4 Feb 2006