MAURITIUS
Mauritius Forest Figures

Forest Cover

---

Total forest area: 37,000 ha
% of land area: 18.2%

Primary forest cover: n/a
% of land area: 0.0%
% total forest area: n/a

Deforestation Rates, 2000-2005

---

Annual change in forest cover: -200 ha
Annual deforestation rate: -0.5%
Change in defor. rate since '90s: 105.3%
Total forest loss since 1990: -2,000 ha
Total forest loss since 1990:-5.1%

Primary or "Old-growth" forests
Annual loss of primary forests: n/a
Annual deforestation rate: n/a
Change in deforestation rate since '90s: n/a
Primary forest loss since 1990: n/a
Primary forest loss since 1990:n/a

Forest Classification

---

Public: 52.6%
Private: 47.4%
Other: 0%
Use
Production: 29.7%
Protection: 43.2%
Conservation: 21.6%
Social services: 8.1%
Multiple purpose: n/a
None or unknown: n/a

Forest Area Breakdown

---

Total area: 37,000 ha
Primary: n/a
Modified natural: 22,000 ha
Semi-natural: n/a
Production plantation: 11,000 ha
Production plantation: 4,000 ha

Plantations

---

Plantations, 2005: 15,000 ha
% of total forest cover: 40.5%
Annual change rate (00-05): n/a

Carbon storage

---

Above-ground biomass: 6 M t
Below-ground biomass: 2 M t

Area annually affected by

---

Fire: n/a
Insects: n/a
Diseases: n/a

Number of tree species in IUCN red list

---

Number of native tree species: 194
Critically endangered: 41
Endangered: 14
Vulnerable: 9

Wood removal 2005

---

Industrial roundwood: 8,000 m3 o.b.
Wood fuel: 6,000 m3 o.b.

Value of forest products, 2005

---

Industrial roundwood: $137,000
Wood fuel: $7,000
Non-wood forest products (NWFPs): $26,149,000
Total Value: $26,293,000


More forest statistics for Mauritius


Forest loss on this island country occurred over a relatively brief span of time. Early Dutch sailors wiped out wildlife, including the famous dodo bird, but inflicted little actual damage on the forest. During the late 1700s and early 1800s, French colonists cleared large tracts of forest for sugar cane plantations, as a source of fuelwood to power mills, and as a source for timber. After the French, very little forest remained, mostly restricted to mountain areas. From 1948 to 1973 the entire landscape was doused with DDT which severely affected bird populations.

Today 18.2%—or about 37,000 hectares—of Mauritius is forested. Of this, none is classified as primary forest. Mauritius lost 5.1% of its forest cover, or around 2,000 hectares between 1990 and 2005, and nearly 10% of its natural vegetative cover. Mauritius has some 188 known species of amphibians, birds, mammals and reptiles according to figures from the World Conservation Monitoring Centre. Of these, 29.3% are endemic and 11.2% are threatened. Mauritius is home to at least 750 species of vascular plants, of which 43.3% are endemic. 29.8% of Mauritius is protected under IUCN categories I-V.

Invasive plants hurt locals in Mauritius
(03/18/2013) Native species on the island of Mauritius have long had to deal with invasive species. In fact, invasives likely played a major role in the extinction of the Mauritius' most famous resident, the dodo. While scientists have long cataloged the impact of invasive animals on island wildlife, there has been less clarity when it comes to invasive plants. However, a new paper in mongabay.com's open access journal Tropical Conservation has found that invasive plants do indeed negatively impact local species.


Animal pictures of the day: booming captive breeding for Mauritius skinks
(08/14/2012) Three female orange-tailed skinks skinks have produced 16 skink babies in just four months, according to the Durrell Wildlife Conservation Trust (DWCT), which is captive breeding the Critically Endangered species. The breeding efforts are all the more remarkable since the females only produce two eggs at a time.


Invasive ant interferes with gecko's role in pollinating endangered plant
(11/28/2008) Invasive ants are destroying the symbiotic relationship between a colorful gecko and a critically endangered flower on the island of Mauritius, reports New Scientist citing research published by Dennis Hansen and Christine Müller in the journal Biotopica.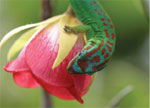 Neon green gecko key to preventing Mauritian plant extinction
(04/17/2007) A vibrantly colored gecko plays a key role in a highly threatened ecological community in Mauritius reports new research published in American Naturalist. Studying plant-animal interactions in Mauritius, an Indian Ocean island famous for its extinct dodo bird, researchers found that a rare plant, Trochetia blackburniana, benefits from its proximity to Pandanus plants because they house high densities of geckos responsible for pollination. The findings, which unusually identify a lizard as a key pollinator, are significant because they provide "valuable management insights for ongoing conservation efforts to save the highly endangered flora of Mauritius.


Suggested reading - Books http://www.amazon.com/gp/product//sr=1-5/qid=1138776254/ref=pd_bbs_5/104-0935863-8180751?%5Fencoding=UTF8


Unless otherwise specified, this article was written by Rhett A. Butler [Bibliographic citation for this page]

Other resources

Contact me if you have suggestions on other rainforest-related environmental sites and resources for this country.



Image copyright Google Earth, MDA EarthSet, DigitalGlobe 2005

CIA-World Factbook Profile
FAO-Forestry Profile



Last updated: 4 Feb 2006