MEXICO
Mexico Forest Figures

Forest Cover

---

Total forest area: 64,238,000 ha
% of land area: 33.7%

Primary forest cover: 32,850,000 ha
% of land area: 17.2%
% total forest area: 51.1%

Deforestation Rates, 2000-2005

---

Annual change in forest cover: -260,400 ha
Annual deforestation rate: -0.4%
Change in defor. rate since '90s: -21.1%
Total forest loss since 1990: -4,778,000 ha
Total forest loss since 1990:-6.9%

Primary or "Old-growth" forests
Annual loss of primary forests: -395000 ha
Annual deforestation rate: -1.1%
Change in deforestation rate since '90s: 11.3%
Primary forest loss since 1990: -1,975,000 ha
Primary forest loss since 1990:-15.3%

Forest Classification

---

Public: 58.8%
Private: n/a
Other: 41.2%
Use
Production: 0.1%
Protection: 1.5%
Conservation: 6.8%
Social services: n/a
Multiple purpose: 91.5%
None or unknown: n/a

Forest Area Breakdown

---

Total area: 64,238,000 ha
Primary: 32,850,000 ha
Modified natural: 30,330,000 ha
Semi-natural: n/a
Production plantation: 72,000 ha
Production plantation: 986,000 ha

Plantations

---

Plantations, 2005: 1,058,000 ha
% of total forest cover: 1.6%
Annual change rate (00-05): n/a

Carbon storage

---

Above-ground biomass: n/a M t
Below-ground biomass: n/a M t

Area annually affected by

---

Fire: 194,000 ha
Insects: 8,000 ha
Diseases: 2,000 ha

Number of tree species in IUCN red list

---

Number of native tree species: 1,130
Critically endangered: 0
Endangered: 7
Vulnerable: 23

Wood removal 2005

---

Industrial roundwood: 7,667,000 m3 o.b.
Wood fuel: 684,000 m3 o.b.

Value of forest products, 2005

---

Industrial roundwood: $545,479,000
Wood fuel: $19,216,000
Non-wood forest products (NWFPs): $32,134,000
Total Value: $596,829,000


More forest statistics for Mexico


Rapid industrialization of Mexico and uncontrolled population growth over the last few decades have had a substantial impact on the country's environment and left less than 10 percent of its original tropical rainforests standing. Today Mexico's rainforests are limited to southeastern Mexico along the Gulf of Mexico and the state of Chiapas. These forests are most threatened by subsistence activities—especially fuelwood collection and land clearing for agriculture, using fire. In dry years these agricultural fires can spread into virgin forests. In 1998—a strong el Nińo year—widespread fires destroyed over 1.5 million acres (600,000 ha) of forest and scrub land and sent choking smoke as far north as Canada. Several southern U.S. states issued health warnings and the U.S. sent firefighters and helicopters to battle the blazes.

Conflict in Chiapas has contributed to forest loss by displacing poor subsistence farmers, while military exercises by the army and rebel forces have degraded forest areas. Oil deposits in the Lacandon forest of Chiapas may soon be targeted in an era of high energy prices.

Illegal logging and poaching are widespread in Mexico. Criminal syndicates dominate the illicit timber trade, and parks are common targets for wood extraction.

Despite these threats, Mexico's forests have a great deal of potential for eco-tourism. While tourism, already one of Mexico's most important sources of income, has traditionally had negative impacts on the country's environment through land-clearing and pollution, ecologically sensitive tourism could provide economic justification for preserving wildlands. Mexico is one of world's five most biodiverse countries, home to at least 26,071 species of vascular plants, of which 48 percent are endemic, and to 2,765 known species of amphibians, birds, mammals, and reptiles, 34 percent of which are endemic. Further, Mexico has a number of cultural and archeological attractions for visitors.

Environmentalism in Mexico is increasing, and the government has lately taken a number of steps to reduce pollution and illegal use of forest lands, including encouraging the expansion of plantations to supplant natural forest use. Although 5,925,000 hectares of primary forest disappeared between 1990 and 2005, deforestation rates of primary forest have decreased 15.3 percent since the close of the 1990s. Mexico announced its first-ever national environmental plan in 1996.

Recent articles | Mexico news updates | XML

Featured video: saving sea turtles in Mexico's Magdalena Bay
(05/09/2013) A new short film, Viva la tortuga documents the struggle to save loggerhead and green sea turtles in Magdalena Bay, Mexico. Once a region for a massive sea turtle meat market, the turtles now face a new threat: bycatch. Loggerhead sea turtles are drowning in bottom-set gillnets, unable to escape from the nets once entangled. The issue has even raises threats of trade embargoes from the U.S.



Debate heats up over California's plan to reduce emissions via rainforest protection
(05/07/2013) As the public comment period for California's cap-and-trade program draws to a close, an alliance of environmental activists have stepped up a heated campaign to keep carbon credits generated by forest conservation initiatives in tropical countries out of the scheme. These groups say that offsets generated under the so-called Reducing Emissions from Deforestation and Degradation (REDD+) mechanism, will undermine efforts to cut emissions as home, while potentially leading to abuses abroad. However supporters of forest conservation-based credits say the program may offer the best hope for saving the world's beleaguered rainforests, which continue to fall at a rate of more than 8 million hectares per year.


Deer populations hurt by poaching in Mexican dry forest
(03/18/2013) White-tailed deer are usually thought of as inhabiting temperate forests in the U.S. and Canada, but this widespread species can also be found across tropical forests, from Mexico to Peru. A new study in mongabay.com's open access journal Tropical Conservation Science investigates the population of white-tailed deer (Odocoileus virginianus) in Mexico's Tehuacan-Cuicatlan Biosphere Reserve (TCBR), and finds that poaching may be having a large impact.


Greenpeace targets forest carbon offsets in California's cap-and-trade
(09/25/2012) California's inclusion of forest conservation-based carbon offsets in its climate change legislation may not lead to net reductions in greenhouse gas emissions and could exacerbate social conflict in places like southern Mexico, argues a report released Monday by Greenpeace. But the activist group faced sharp criticism from backers of California's initiative.


Extremely rare plant region left unprotected in the Yucatan Peninsula
(09/17/2012) For the first time, scientists have identified the areas of the Yucatan Peninsula that hold the highest concentrations of endangered woody plants, which includes trees, shrubs, and lianas. In doing so they uncovered four key regions, but also noted that the region with the highest concentration of extremely rare plants was left unprotected, according to a new paper in mongabay.com's open access journal Tropical Conservation Science.


Dry forests disappearing faster than rainforests in Latin America
(08/21/2012) Countries across Latin America lost 78,000 square kilometers of subtropical and tropical dry broadleaf forests between 2001 and 2010, according to a new satellite-based assessment published in the journal Biotropica.


North American freshwater fish going extinct at rate over 800 times the fossil record
(08/14/2012) Since 1898 North America has lost at least 39 species of freshwater fish, according to a new study in Bioscience, and an additional 18 subspecies. Moreover, the loss of freshwater fish on the continent seems to be increasing, as the rate jumped by 25 percent since 1989, though even this data may be low.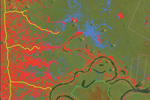 Indonesia, Brazil, Mexico, Peru get big boost in deforestation tracking, biomass measurement
(07/11/2012) Efforts to rapidly and accurately track deforestation and forest degradation in Indonesia, Brazil, Mexico, and Peru got a boost this week with a special technical training session organized by the Governors Climate and Forest Task Force. The meeting, convened at Stanford University and Google's Silicon Valley campus, paired staffers from government agencies and NGOs in the four tropical countries with technical experts from the Amazon Environmental Research Institute (IPAM), the Carnegie Institution for Science, the Forum on Readiness for REDD, Woods Hole Research Center, and Google Earth Outreach. The participants received training to augment existing deforestation, forest degradation and biomass monitoring capabilities, which are highly variable both between countries and within sub-national agencies and jurisdictions.


Making reforestation work in abandoned pasturelands
(07/09/2012) Tropical reforestation is not easy, especially in abandoned pasturelands. But a new study in mongabay.com's open access journal Tropical Conservation Science finds that removing grasses prior to and after planting native tree seeds significantly improves the chances of forests to take root. The study site, located in Mexico's Lacandon rainforest, was covered in an invasive African grass (Cynodon plectostachyus).


WWF: biggest villain at Rio+20 is Canada
(06/18/2012) Having sent a delegation to the United Nation's Rio+20 Summit on Sustainable Development, the World Wide Fund for Nature (WWF), the world's biggest conservation group, has recently declared their Heroes and Villains of Rio+20—so far. The NGO has strong words for the negotiating position of the U.S. and the major oil exporting countries (OPEC), but saves its harshest criticisms for Canada.


Manta rays tracked by satellite
(05/11/2012) Satellite tracking technology has revealed new insights into the behavior of manta rays, reports the Wildlife Conservation Society (WCS). The findings are published in this week's issue of the journal PLoS.



Mexico passes aggressive climate bill
(04/23/2012) Last week, Mexico's Senate passed an aggressive and comprehensive climate change bill, making it the first developing nation and only the second country to do so, after the UK. The bill, which far outshines anything achieved by its far wealthier northern neighbors, sets ambitious targets for cutting emissions while creating new incentive programs for clean energy. Largely dependent on fossil fuels, Mexico is approximately the 11th highest greenhouse gas emitter in the world.


Cloud forests may be particularly vulnerable to climate change
(03/26/2012) Mexico could lose nearly 70 percent of its cloud forests due to climate change by 2080, according to new research published in Nature Climate Change, that has implications for cloud forests worldwide.


Six nations, including U.S., set up climate initiative to target short-term greenhouse gases
(02/20/2012) With global negotiations to tackle carbon emissions progressing interminably, nations are seeking roundabout ways to combat global climate change. U.S. Secretary of State, Hillary Clinton, announced in India last week a new six nation initiative to target non-carbon greenhouse gases, including soot (also known as "black carbon"), methane, and hydro-fluorocarbons (HFCs). Reductions of these emissions would not only impact short-term climate change, but also improve health and agriculture worldwide according to a recent study in Science.


Peruvian smugglers traffic illegal rainforest timber from Brazil to America
(01/11/2012) An investigation by Brazil's Federal Police has detailed a significant trade of illegally logged rainforest wood by Peruvian nationals making its way from northern Brazil to the U.S. and Mexico, reports O Globo.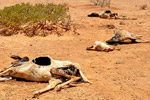 Earth systems disruption: Does 2011 indicate the "new normal" of climate chaos and conflict?
(12/21/2011) The year 2011 has presented the world with a shocking increase in irregular weather and disasters linked to climate change. Just as the 2007 "big melt" of summer arctic sea ice sent scientists and environmentalists scrambling to re-evaluate the severity of climate change, so have recent events forced major revisions and updates in climate science.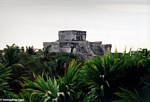 Evidence mounts that Maya did themselves in through deforestation
(12/08/2011) Researchers have garnered further evidence for a smoking gun behind the fall of the great Maya civilization: deforestation. At the American Geophysical Union (AGU) conference, climatologist Ben Cook presented recent research showing how the destruction of rainforests by the Mayan ultimately led to declines in precipitation and possibly civilization-rocking droughts. While the idea that the Maya may have committed ecological-suicide through deforestation has been widely discussed, including in Jared Diamond's popular book Collapse, Cook's findings add greater weight to the theory.


Featured video: world's only video of extinct 2-foot-long imperial woodpecker
(11/16/2011) Newly-discovered video has brought the extinct imperial woodpecker (Campephilus imperialis) back to life—at least for a few seconds.


Animal picture of the day: moth as work of art
(08/24/2011) This hypnotic moth was photographed on a beach in Cancun.


Photo: six new mini-moths discovered
(07/19/2011) Researchers have discovered six new species of moth from Central America, according to a new paper in Zoo Keys. The moths belong to the primitive Yponomeutidae family, which are commonly known as ermine moths, since some of the species' markings resemble the coat of the ermine.


Best way to count white-tailed deer populations in tropical forests
(06/27/2011) Getting accurate estimates on wildlife populations is difficult in any habitat, but especially tricky in tropical forests where even large mammals are capable of melting into the foliage like ghosts. If you've ever spent time in a tropical rainforest, you know you could walk within a couple meters of a jaguar and never even know. Therefore, scientists have to come up with creative ways—from camera traps to pawprints to studying feces—to estimate population size. In the new issues of mongabay.com's open access journal Tropical Conservation Science, researchers look at the most accurate way to count white-tailed deer (Odocoileus virginianus) in central Mexican forests.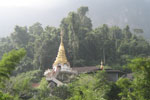 Environment versus economy: local communities find economic benefits from living next to conservation areas
(06/12/2011) While few would question that conserving a certain percentage of land or water is good for society overall, it has long been believed that protected areas economically impoverish, rather than enrich, communities living adjacent to them. Many communities worldwide have protested against the establishment of conservation areas near them, fearing that less access and increased regulations would imperil their livelihoods. However, a surprising study overturns the common wisdom: showing that, at least in Thailand and Costa Rica, protected areas actually boost local economies and decrease poverty.


Mexican environmental activist shot dead
(04/25/2011) Javier Torres Cruz, 30, who fought illegal deforestation by drug traffickers in the Mexican state of Guerroro, was murdered a week ago. A member of the local NGO, Environmental Organization of the Coyuca and Petatlán Mountains, Torres Cruz was known as an outspoken activist against illegal logging in the mountainous dry forest region. Logging in the region is primarily linked to fields of poppies for the illegal drug trade.


The hair-snare: non-invasive animal research technique makes good in Mexico
(12/19/2010) It's not easy or cheap to catch an elusive wild cat, and trapping such an animal can prove harmful to the individual. With such factors in mind, researchers are consistently turning to non-invasive methods of gathering data about species, including collecting feces and the increasingly popular camera trap. But one method rarely gets mentioned: the humble hair-snare. A new study in mongabay.com's open access journal Tropical Conservation Science has demonstrated the success of hair-snare in gathering data about mammals in Mexico, including the first successful hair catch of two rarely seen cat species, the jaguarundi (Puma yagouaroundi) and the margay (Leopardus wiedii).



Can RED Hot California Heat Up A Sedated Cancun?
(12/07/2010) In his concession speech after the 2010 mid-term elections, President Obama said that prospects for meaningful U.S. climate change legislation are doubtful and will be for years. With the US and the international community unable to take even modest steps to combat global warming, the State of California has stepped up in a big, big way. Despite record unemployment rates, deficits and unemployment, California voters trounced a measure that would have suspended AB 32, California's landmark climate change law. California's AB 32 cap and trade program will soon be the biggest market for compliance emission reductions outside of Europe. In the wreckage of the Copenhagen talks and the new political landscape in America, California is the most dynamic jurisdiction for climate change implementation.


Suggested reading - Books


Unless otherwise specified, this article was written by Rhett A. Butler [Bibliographic citation for this page]

Other resources

Contact me if you have suggestions on other rainforest-related environmental sites and resources for this country.



Image copyright Google Earth, MDA EarthSet, DigitalGlobe 2005

CIA-World Factbook Profile
FAO-Forestry Profile



Last updated: 5 Feb 2006