PANAMA
Panama Forest Figures

Forest Cover

---

Total forest area: 4,294,000 ha
% of land area: 57.7%

Primary forest cover: 3,023,000 ha
% of land area: 40.6%
% total forest area: 70.4%

Deforestation Rates, 2000-2005

---

Annual change in forest cover: -2,600 ha
Annual deforestation rate: -0.1%
Change in defor. rate since '90s: -61.7%
Total forest loss since 1990: -82,000 ha
Total forest loss since 1990:-1.9%

Primary or "Old-growth" forests
Annual loss of primary forests: -43200 ha
Annual deforestation rate: -1.3%
Change in deforestation rate since '90s: 5.8%
Primary forest loss since 1990: -216,000 ha
Primary forest loss since 1990:-18.4%

Forest Classification

---

Public: 9.6%
Private: 90.4%
Other: 0%
Use
Production: 7.2%
Protection: 21.9%
Conservation: 34%
Social services: 0%
Multiple purpose: 36.8%
None or unknown: n/a

Forest Area Breakdown

---

Total area: 4,294,000 ha
Primary: 3,023,000 ha
Modified natural: 1,210,000 ha
Semi-natural: n/a
Production plantation: 60,000 ha
Production plantation: 1,000 ha

Plantations

---

Plantations, 2005: 61,000 ha
% of total forest cover: 1.4%
Annual change rate (00-05): 3,800,000 ha

Carbon storage

---

Above-ground biomass: 980 M t
Below-ground biomass: 258 M t

Area annually affected by

---

Fire: n/a
Insects: n/a
Diseases: n/a

Number of tree species in IUCN red list

---

Number of native tree species: 1,200
Critically endangered: 19
Endangered: 71
Vulnerable: 106

Wood removal 2005

---

Industrial roundwood: 53,000 m3 o.b.
Wood fuel: 410,000 m3 o.b.

Value of forest products, 2005

---

Industrial roundwood: $3,862,000
Wood fuel: $2,729,000
Non-wood forest products (NWFPs): n/a
Total Value: $6,591,000


More forest statistics for Panama


Panama loses more than 1 percent of its primary forest cover every year. Deforestation directly threatens one of the country's most important sources of income, the Panama Canal. The tropical cloud forest of the canal watershed ensures the flow of billions of gallons of clean water necessary to operate the canal locks (roughly two billion gallons per day). Population growth in these forests has resulted in a decline of forest cover from 80 percent (1952) to less than 15 percent (1994) of the watershed, a development that increases soil erosion into the canal, which can clog locks and create shoals that ground ships. In 1998, below-average rainfall from el Niño forced the canal to limit the amount of cargo large ships could carry. In an effort to safeguard the canal, the Panamanian government has protected remaining watershed forests while launching reforestation initiatives.

Most deforestation and forest degradation in Panama results from road construction, logging, industrial gold mining, and colonization, which leads to clearing for agriculture, pasture land, and fuelwood collection. Of these activities, colonization is responsible for the bulk of forest loss.

Road construction and other infrastructure projects in Panama's Darien Gap is of ongoing concern to environmentalists who fear that such endeavors will open the largely inaccessible region to settlement by colonists and development by loggers.

Logging—especially illegal logging—has increased in Panama since the early 1990s. In 2002, the country officially produced some 111,000 cubic meters of wood products, but more wood was illicitly extracted. Still, the collection of fuelwood results in a far higher amount of wood loss from the country's forests.

Panama has tremendous potential for eco-tourism given its rich marine habitats and forest biodiversity. The country has several excellent protected areas including Coiba, an island in the Pacific; Barro Colorado Island—home to one of the world's leading tropical research centers, the Smithsonian Tropical Research Institution—and Bocas del Toro on the Caribbean side of Panama. On the Pacific side, Panama has several excellent, but largely deserted, surf spots.

Panama pictures

Recent articles | Panama news updates | XML

Frankenfish or scientific marvel?: giant GM salmon await U.S. approval
(05/07/2013) It is hard to think of a more unlikely setting for genetic experimentation or for raising salmon: a rundown shed at a secretive location in the Panamanian rainforest miles inland and 1,500m above sea level. But the facility, which is owned by an American company AquaBounty Technologies, stands on the verge of delivering the first genetically modified food animal—a fast-growing salmon—to supermarkets and dinner tables.



Indigenous protester killed by masked assailants in Panama over UN-condemned dam
(03/25/2013) A Ngäbe indigenous Panamanian, Onesimo Rodriguez, opposing the Barro Blanco hydroelectric dam project was killed last Friday evening by four masked men. His body was then thrown into a nearby stream where it was discovered the following day. Onesimo Rodriguez was attacked with a companion in Las Nubes, after they had attended a demonstration in Cerro Punta, Bugaba, against the dam. His companion, whose identity is being withheld for security reasons, received serious injuries but managed to escape and is having his injuries tended to by the local indigenous community.


Panama's indigenous people drop REDD+
(03/19/2013) The National Coordinator of Indigenous Peoples in Panama (COONAPIP) has announced it is withdrawing from the United Nation's REDD+ program following a series of disagreements. The exit of COONAPIP from the negotiating table with UN officials and the Panamanian government will likely be a blow to the legitimacy of REDD+ in the central American country. REDD, or Reducing Emissions from Deforestation and Degradation, is a program to reduce emissions by safeguarding forests.


2 small companies recognized for tropical forest-friendly approaches
(12/18/2012) Two Latin American companies have won the WWF Switzerland Tropical Forest Challenge, a competition that aims to highlight and support for-profit entities that have a positive impact on conserving tropical forests.


Rainforests teem with insects, most of which are unknown, finds study
(12/13/2012) Researchers in Panama have published the results of the most comprehensive survey of arthropods in a small area of tropical rainforest. At a high level, the findings surprise no one: the Panamanian rainforest is full of insects, spiders, and crustaceans. Yet the results also show how little is known about this large group of organisms — 60-70 percent of the species are thought to be new to science.



Scientists name new snake species to criticize mine plans in Panama (photos)
(09/18/2012) While scientists increasingly name new species after celebrities in order to gain much-needed attention for the world's vanishing biodiversity, researchers describing a new snake species from Panama have taken a different route. Dubbing the new serpent, Sibon noalamina ('no to the mine!' in Spanish), the scientists are hoping the multicolored snake's unusual name will draw attention to mining and deforestation issues in Panama's remote Tabasará mountains.



Indigenous groups in Panama wait for UN REDD to meet promises
(08/30/2012) A dispute over the implementation of REDD+ (Reducing Emissions from Deforestation and Degradation) in Panama has pitted the United Nations (UN) against the nation's diverse and large indigenous groups. Represented by the National Coordinator of Indigenous Peoples in Panama (COONAPIP), indigenous groups charge that the UN has failed to meet several pledges related to kick-starting REDD+ with their support, including delaying a $1.79 million payment to the group to begin REDD+-related activities. The on-going dispute highlights the perils and complexities of implementing REDD+, especially concerns that the program might disenfranchise indigenous groups who have long been the stewards of their forest territories.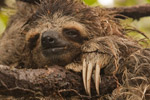 Less than 100 pygmy sloths survive
(05/24/2012) The pygmy three-toed sloth (Bradypus pygmaeus) is one of the world's most endangered mammals, according to a detailed survey of the population, which found less than 100 sloths hanging on in their island home. Only described by researchers in 2001, the pygmy sloth lives on a single uninhabited island off the coast of Panama. But human impacts, such as deforestation of the island's mangroves, may be pushing the species to extinction.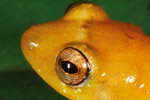 New frog species leaves scientists' fingers yellow
(05/22/2012) A beautiful, yellow frog species has been discovered in western Panama, according to a new paper in ZooKeys. Scientists were surprised when handling the new species to find their fingers stained bright yellow by its skin, but even after laboratory research the purpose of this dye remains a mystery. The new species, named Diasporus citrinobapheus, is a member of the large rain frog family, whose members skip the tadpole stage and instead are born directly from eggs as tiny froglets.


Picture of the day: cookies and cream moth?
(11/01/2011) This moth species from Panama has not yet been identified by mongabay.com. Moths makes up the bulk of the insect-family Lepidoptera, which also includes butterflies.



Panama canal drives forest conservation, offers insight on value of ecosystems
(09/26/2011) As demonstrated by growing enthusiasm for conserving forests and the rise of the Reducing Emissions from Deforestation and Degradation (REDD+) program, the public is increasingly aware of the role forests play in delivering ecosystems services — like clean air and water — that benefit mankind. Yet, science still lags conventional wisdom — researchers have yet to fully quantify much of what healthy forests provide. Bridging this gap is key to unlocking the full value of protecting and restoring tropical forests. The ambitious Agua Salud Project in Panama is attempting to do just that.


Animal picture of the day: the Jesus Christ lizard
(08/01/2011) The basilisk lizard walks on water. To escape danger the lizard will race across a stream, sprinting, literally, off the water's surface. But despite its nickname of 'Jesus Christ lizard' this is not a miracle, but adaptation.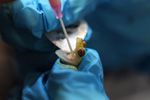 Scientists scramble to save dying amphibians
(04/28/2011) In forests, ponds, swamps, and other ecosystems around the world, amphibians are dying at rates never before observed. The reasons are many: habitat destruction, pollution from pesticides, climate change, invasive species, and the emergence of a deadly and infectious fungal disease. More than 200 species have gone silent, while scientists estimate one third of the more than 6,500 known species are at risk of extinction. Conservationists have set up an an emergency conservation measure to capture wild frogs from infected areas and safeguard them in captivity until the disease is controlled or at least better understood. The frogs will be bred in captivity as an insurance policy against extinction.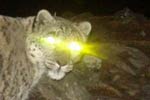 Treasure chest of wildlife camera trap photos made public
(02/27/2011) Photos taken by camera traps have not only allowed scientists to study little-seen, sometimes gravely endangered, species, they are also strangely mesmerizing, providing a momentary window—a snapshot in time—into the private lives of animals. These are candid shots of the wild with no human in sight. While many of the photos come back hazy or poor, some are truly beautiful: competing with the best of the world's wildlife photographers. Now the Smithsonian is releasing 202,000 camera trap photos to the public, covering seven projects in four continents. Taken in some of the world's most remote and untouched regions the automated cameras have captured such favorites as jaguars, pandas, and snow leopards, while also documenting little-known and rare species like South America's short-eared dog, China's golden snub-nosed monkey, and Southeast Asia's marbled cat.


Italy and Panama continue illegal fishing, says new report
(01/15/2011) On Wednesday, the National Oceanic and Atmospheric Administration (NOAA) issued its biennial report identifying six countries whose fisheries have been engaged in illegal, unreported, or unregulated (IUU) fishing during the past two years. The report comes at a time when one-fifth of reported fish catches worldwide are caught illegally and commercial fishing has led to a global fish stock overexploitation of an estimated 80 percent.


30 frog species, including 5 unknown to science, killed off by amphibian plague in Panama
(07/19/2010) With advanced genetic techniques, researchers have drawn a picture of just how devastating the currently extinction crisis for the world's amphibians has become in a new study published in the Proceedings of the Nation Academy of Sciences (PNAS). Studying frog populations using DNA barcoding in Panama's Omar Torrijos National Park located in El Copé researchers found that 25 known species and 5 unknown species have vanished since 1998. None have returned.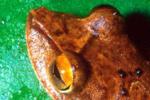 Two new frogs discovered in Panama amidst amphibian plague
(06/06/2010) Researchers working to save Panama's frogs from a fatal disease have stumbled on two species unknown to science. In Omar Torrijos National Park they found a bigger version of a common species, which is now known to be a unique species, and near the Colombian border they discovered a new frog that has been named after Spanish for DNA. Both frogs were discovered while researchers searched for frog populations in chytridiomycosis-infected areas. The highly contagious disease chytridiomycosis has devastated frog species worldwide and is believe to be at least in part responsible for some 100 extinctions of amphibians.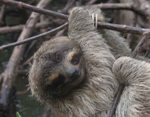 Forgotten Species: the marooned pygmy three-toed sloth
(03/16/2010) Many people consider tropical islands mini-paradises: sanctuaries cut-off from the rest of the world. Some species flourish on islands for the same reason. With few predators and a largely consistent environment, once a species has comfortably adapted to its habitat there's little to do but thrive. That is until something changes: like humans showing up. Changes in confined island ecosystems often have large and rapid impacts, too fast and too big for marooned species to survive.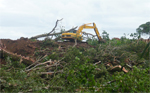 Developer uses cover of national holiday to clear rainforest near Colon, Panama
(11/06/2009) On Tuesday, November 3rd, while Panamanians celebrated Independence Day Holidays, heavy machinery unexpectedly entered and began cutting down tropical forest and mangroves near Galeta outside of Colon, Panama, report local sources. mongabay.com confirmed that the latest clearing has been carried out "almost in secret during national holidays so there would be no reaction from the public or the media." The clearing, conducted by a transportation cooperative called Serafin Niño, from Colon, is occurring in the buffer zone of the Galeta Protected Landscape and near Galeta Point Marine Laboratory, a facility of the Smithsonian Tropical Research Institute. The land will likely be used to store transportation equipment that moves cargo to and from the ports of Colon and the Free Zone.




The faster, fiercer, and always surprising sloth, an interview with Bryson Voirin
(10/25/2009) Sloths sleep all day; they are always slow; and they are gentle animals. These are just some of the popular misconceptions that sloth-scientist and expert tree-climber, Bryson Voirin, is overturning. After growing up among the wild creatures of Florida, spending his high school years in Germany, and earning a Bachelors degree in biology and environment at the New College of Florida, Voirin found his calling. At the New College of Florida, Voirin "met Meg Lowman, the famous canopy pioneer who invented many of the tree climbing techniques everyone uses today."



Concerns over deforestation may drive new approach to cattle ranching in the Amazon
(09/08/2009) While you're browsing the mall for running shoes, the Amazon rainforest is probably the farthest thing from your mind. Perhaps it shouldn't be. The globalization of commodity supply chains has created links between consumer products and distant ecosystems like the Amazon. Shoes sold in downtown Manhattan may have been assembled in Vietnam using leather supplied from a Brazilian processor that subcontracted to a rancher in the Amazon. But while demand for these products is currently driving environmental degradation, this connection may also hold the key to slowing the destruction of Earth's largest rainforest.


Tropical plant expert Stephen P. Hubbell wins this year's Eminent Ecologist Award
(08/13/2009) Stephen P. Hubbell has won the 2009 Eminent Ecologist Award. Hubbell is a staff scientist at the Smithsonian Tropical Research Institute (STRI) and professor of ecology and evolutionary biology at UCLA.


Extinction debt can last millions of years
(07/29/2009) Extinction can be set in motion millions of years before a species' actual demise, suggesting that present-day drivers of habitat destruction and degradation may have already doomed many species to eventual extinction, report researchers writing in Proceedings of the Royal Society B online.


REDD readiness plans for Panama, Guyana approved but rejected for Indonesia
(07/02/2009) The World Bank's Forest Carbon Partnership Facility (FCPF) has approved REDD readiness plans (R-Plans) for Panama and Guyana, and rejected a plan for Indonesia, reports the U.N. and the Bank Information Center, an advocacy group.



Saving one of the last tropical dry forests, an interview with Edwina von Gal
(06/29/2009) Often we hear about endangered species—animals or plants on the edge of extinction—however we rarely hear about endangered environments—entire ecosystems that may disappear from Earth due to humankind's growing footprint. Tropical dry forests are just such an ecosystem: with only 2 percent of the world's tropical dry forest remaining it is one of the world's most endangered ecosystems. A newly established organization, the Azuero Earth Project, is working not only to preserve some of the world's last tropical dry forest on the Azuero peninsula in Panama, but also to begin restoration projects hoping to aid both the forest's viability and the local people. Edwina von Gal, a landscape designer, is one of the founders of the Azuero Earth Project, as well as president of the organization.




Suggested reading - Books


Unless otherwise specified, this article was written by Rhett A. Butler [Bibliographic citation for this page]

Other resources

Contact me if you have suggestions on other rainforest-related environmental sites and resources for this country.



Image copyright Google Earth, MDA EarthSet, DigitalGlobe 2005

CIA-World Factbook Profile
FAO-Forestry Profile



Last updated: 5 Feb 2006