PARAGUAY
Paraguay Forest Figures

Forest Cover

---

Total forest area: 18,475,000 ha
% of land area: 46.5%

Primary forest cover: 1,850,000 ha
% of land area: 4.7%
% total forest area: 10.0%

Deforestation Rates, 2000-2005

---

Annual change in forest cover: -178,600 ha
Annual deforestation rate: -0.9%
Change in defor. rate since '90s: 9.1%
Total forest loss since 1990: -2,682,000 ha
Total forest loss since 1990:-12.7%

Primary or "Old-growth" forests
Annual loss of primary forests: n/a
Annual deforestation rate: n/a
Change in deforestation rate since '90s: n/a
Primary forest loss since 1990: n/a
Primary forest loss since 1990:0.0%

Forest Classification

---

Public: n/a
Private: n/a
Other: n/a
Use
Production: 0.2%
Protection: n.s.%
Conservation: 10%
Social services: n.s.%
Multiple purpose: 0%
None or unknown: 89.8

Forest Area Breakdown

---

Total area: 18,475,000 ha
Primary: 1,850,000 ha
Modified natural: 16,582,000 ha
Semi-natural: n/a
Production plantation: 43,000 ha
Production plantation: n/a

Plantations

---

Plantations, 2005: 43,000 ha
% of total forest cover: 0.2%
Annual change rate (00-05): 1,400,000 ha

Carbon storage

---

Above-ground biomass: n/a M t
Below-ground biomass: n/a M t

Area annually affected by

---

Fire: n/a
Insects: n/a
Diseases: n/a

Number of tree species in IUCN red list

---

Number of native tree species: n/a
Critically endangered: 0
Endangered: 5
Vulnerable: 7

Wood removal 2005

---

Industrial roundwood: 4,976,000 m3 o.b.
Wood fuel: 6,847,000 m3 o.b.

Value of forest products, 2005

---

Industrial roundwood: $252,680,000
Wood fuel: $225,746,000
Non-wood forest products (NWFPs): n/a
Total Value: $478,426,000


More forest statistics for Paraguay


Paraguay has more than 18 million hectares of tropical forest, very little of which can be classified as true rainforest. As of 1990, about 10 percent of this forest cover was considered primary forest.

In the 1990s, the Paraguayan government initiated a media campaign to make its citizens more aware of the country's environmental issues, but the efforts have not affected the county's overall deforestation rate, which has actually increased 9 percent since the close of the 1990s. Currently, Paraguay loses an average of 178,600 hectares of forest per year, largely due to subsistence farming and land clearing for cattle pasture. Poor infrastructure has hampered efforts to develop the country's potential timber resources—the value of industrial round wood harvested in 2005 was only about $253 million.

Part of the world's largest wetland, the Pantanal is found in Paraguay. There are concerns that proposed infrastructure projects could damage this important ecosystem.

According to IUCN, less than 4 percent of Paraguay is protected on paper. The country has some 1,084 known species of amphibians, birds, mammals, and reptiles, of which, 1.5 percent are endemic and 3.7 percent are threatened. Paraguay is home to at least 7,851 species of vascular plants

Recent articles | Paraguay news updates | XML

First strike: nearly 200 illegal loggers arrested in massive sting across 12 countries
(02/20/2013) One-hundred-and-ninety-seven illegal loggers across a dozen Central and South American countries have been arrested during INTERPOL's first strike against widespread forestry crime. INTERPOL, or The International Criminal Police Organization, worked with local police forces to take a first crack at illegal logging. In all the effort, known as Operation Lead, resulted in the seizure of 50,000 cubic meters of wood worth around $8 million.


Dry forests disappearing faster than rainforests in Latin America
(08/21/2012) Countries across Latin America lost 78,000 square kilometers of subtropical and tropical dry broadleaf forests between 2001 and 2010, according to a new satellite-based assessment published in the journal Biotropica.


Animal picture of the day: the prehistoric peccary
(05/02/2012) The Chacoan peccary (Catagonus wagneri) was only known from fossils and thought extinct, perhaps a victim of the megafaunal extinction that ended the Pleistocene, until researchers in the 1970s stumbled on a living population in Argentina. While peccaries look like and are distantly related to the pig species that originated in the Old World, they belong to their own family, the Tayassuidae.


Satellite evidence of deforestation in uncontacted tribe's territory sparks legal action
(04/12/2011) The destruction of 3,600 hectares (8,900 acres) of the Gran Chaco forest in Paraguay by large Brazilian cattle ranching companies has led to a legal complaint filed by a local indigenous-rights organization, since the land in question was one of the last refuges of a group of uncontacted indigenous people in the Ayoreo-Totobiegosode tribe. The loss of the forest was revealed in part by satellite images of the remote area.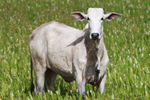 How to save the Pantanal and increase profits for the cattle industry
(03/28/2011) The Pantanal spanning Brazil, Bolivia, and Paraguay is the world's largest wetland—the size of Florida—and home to a wide-variety of charismatic species, such as jaguars, capybaras, and giant anteaters. However, the great wetland is threatened by expansion in big agriculture and an increasingly intensive cattle industry. Yet there is hope: a new study by Wildlife Conservation Society of Brazil (WCS-Brazil) researchers has found that cattle and the ecosystem can exist harmoniously. By replacing current practices with rotational grazing, cattle ranchers gain a healthier herd and more profits while safeguarding the ecological integrity and wildlife of the world's largest wetland system. The study published in mongabay.com's open access journal Tropical Conservation Science is a rare instance of a win-win situation.


New plan underway to save South America's migratory grassland birds
(12/28/2010) A meeting between government representatives, scientists, and conservationists in Asuncion, Paraguay this month resulted in the adoption of an action plan to provide urgently needed conservation framework for the migratory birds of South America's disappearing grasslands.


Chaco biodiversity expedition suspended
(11/15/2010) A joint expedition by the Natural History Museum (NHM), London and the Natural History Museum, Asuncion to the dwindling dry forest of the Gran Chaco in Paraguay to record biodiversity, and hopefully uncover 'hundreds' of new species, has been suspended by the Paraguayan government. The suspension comes after a local organization voiced concern that the expedition would threaten uncontacted member of the Ayoreo tribe in the forest.


Chaco expedition working to "minimize the risk" of running into uncontacted natives
(11/11/2010) A joint expedition by the Natural History Museum (NHM), London and the Natural History Museum, Asuncion to study the biodiversity of the dwindling dry forests of Chaco in Paraguay have responded to recent concerns that they risk encountering uncontacted natives, which could potentially threaten the natives' lives as well as their own.


Spotted uncontacted native flees, leaving dinner and dish behind
(07/07/2010) The man had set up camp and was preparing to cook live turtles for a meal when he was seen by people he did not know. He hid behind a tree and then fled from the camp into the forest, abandoning his uncooked turtles and a clay pot behind.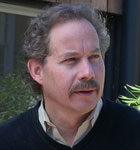 Can markets protect nature?
(05/03/2010) Over the past 30 years billions of dollars has been committed to global conservation efforts, yet forests continue to fall, largely a consequence of economic drivers, including surging global demand for food and fuel. With consumption expected to far outstrip population growth due to rising affluence in developing countries, there would seem to be little hope of slowing tropical forest loss. But some observers see new reason for optimism—chiefly a new push to make forests more valuable as living entities than chopped down for the production of timber, animal feed, biofuels, and meat. While are innumerable reasons for protecting forests—including aesthetic, cultural, spiritual, and moral—most land use decisions boil down to economics. Therefore creating economic incentives to maintaining forests is key to saving them. Leading the effort to develop markets ecosystem services is Forest Trends, a Washington D.C.-based NGO that also organizes the Katoomba group, a forum that brings together a wide variety of forest stakeholders, including the private sector, local communities, indigenous people, policymakers, international development institutions, funders, conservationists, and activists.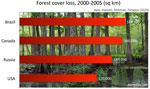 United States has higher percentage of forest loss than Brazil
(04/26/2010) Forests continue to decline worldwide, according to a new study in the Proceedings of the National Academy of Science (PNAS). Employing satellite imagery researchers found that over a million square kilometers of forest were lost around the world between 2000 and 2005. This represents a 3.1 percent loss of total forest as estimated from 2000. Yet the study reveals some surprises: including the fact that from 2000 to 2005 both the United States and Canada had higher percentages of forest loss than even Brazil.


Forest-bulldozing ranchers win 'Greenwashing Award' for claiming they are creating a 'nature reserve'
(01/20/2010) Indigenous rights organization, Survival International, has awarded Brazilian cattle company, Yaguarete Porá S.A., its 'Greenwashing Award 2010' for destroying indigenous peoples' forest—including uncontacted natives—and calling it conservation.




Cattle company bulldozing UNESCO site, threatening uncontacted natives
(12/09/2009) A Brazilian ranching company is bulldozing land within UNESCO Chaco Biosphere Reserve in Paraguay, home to the only uncontacted natives outside of the Amazon in South America. While the UNESCO status provides no legal protections to the area, it is meant as an international marker to protect the tribe of the Ayoreo-Totobiegosode and the forest they inhabit.


Last uncontacted tribe in Paraguay rapidly losing homeland
(11/19/2008) An indigenous rights' group has sounded the alarm over a new threat to an uncontacted tribe in Paraguay.


Paraguay extends zero deforestation law
(10/10/2008) Paraguay announced it will implement a policy to cut net carbon emissions from land use change to zero by 2020, reports WWF.


Land-clearing fires send smoke across Argentina, Paraguay
(09/11/2007) Thousands of fires likely set for land-clearing are sending thick smoke over southern South America, reports NASA.


Paraguay extends deforestation law that has cut forest loss by 85%
(12/20/2006) The government of Paraguay has extended a law has helped deforestation rates in the Upper Parana Atlantic Forest by more than 85 percent according to environmental group WWF.


Pantanal, the world's largest wetland, disappearing finds new report
(01/10/2006) Deforestation has destroyed 17 percent of the Pantanal, the world's largest wetland, according to a new report from conservation International. The Pantanal, an area of flooded grassland and savanna covering 200,000 square kilometers during the rainy season, includes parts of Brazil, Paraguay, and Bolivia and is fed by the Rio Paraguay. The wetland is home to some 3500 species of plant and 650 species of birds. About 125 types of mammals, 180 kinds of reptiles, 41 types of amphibians, and 325 species of fish have been found in the region. The Pantanal in an important source of freshwater to neighboring farming areas and downstream urban areas.


Suggested reading - Books


Unless otherwise specified, this article was written by Rhett A. Butler [Bibliographic citation for this page]

Other resources

Contact me if you have suggestions on other rainforest-related environmental sites and resources for this country.



Image copyright Google Earth, MDA EarthSet, DigitalGlobe 2005

CIA-World Factbook Profile
FAO-Forestry Profile



Last updated: 6 Feb 2006