RWANDA
Rwanda Forest Figures

Forest Cover

---

Total forest area: 480,000 ha
% of land area: 19.5%

Primary forest cover: n/a
% of land area: 0.0%
% total forest area: n/a

Deforestation Rates, 2000-2005

---

Annual change in forest cover: 27,200 ha
Annual deforestation rate: 6.9%
Change in defor. rate since '90s: 867.1%
Total forest loss since 1990: 162,000 ha
Total forest loss since 1990:50.9%

Primary or "Old-growth" forests
Annual loss of primary forests: n/a
Annual deforestation rate: n/a
Change in deforestation rate since '90s: n/a
Primary forest loss since 1990: n/a
Primary forest loss since 1990:n/a

Forest Classification

---

Public: 77%
Private: 23%
Other: 0%
Use
Production: 76.2%
Protection: 10.8%
Conservation: 0%
Social services: 0%
Multiple purpose: 12.9%
None or unknown: 0

Forest Area Breakdown

---

Total area: 480,000 ha
Primary: n/a
Modified natural: 62,000 ha
Semi-natural: n/a
Production plantation: 367,000 ha
Production plantation: 52,000 ha

Plantations

---

Plantations, 2005: 419,000 ha
% of total forest cover: 87.2%
Annual change rate (00-05): 27,220,000 ha

Carbon storage

---

Above-ground biomass: 75 M t
Below-ground biomass: 13 M t

Area annually affected by

---

Fire: 4,000 ha
Insects: n/a
Diseases: n/a

Number of tree species in IUCN red list

---

Number of native tree species: 300
Critically endangered: 0
Endangered: 0
Vulnerable: 3

Wood removal 2005

---

Industrial roundwood: 226,000 m3 o.b.
Wood fuel: 10,203,000 m3 o.b.

Value of forest products, 2005

---

Industrial roundwood: $1,318,000
Wood fuel: $33,977,000
Non-wood forest products (NWFPs): n/a
Total Value: $35,295,000


More forest statistics for Rwanda


Tourism is largely the reason mountain gorillas still survive today in Rwanda. The gorilla had long been threatened by poachers and habitat destruction by farmers until the government created Volcanoes National Park and implemented strict anti-poaching patrols with local farmers as park rangers and guards. These improvements were directly funded by a substantial fee charged to visitors to the park who have been willing to pay the high fee in order to see the last of these giant apes.

Up until the early 1990s, this conservation system seemed to be working reasonably well, although non-park areas were still threatened by subsistence agriculture and fuelwood collection. However, the situation deteriorated drastically with the massive Tutsi-Hutu civil war that erupted in 1993. Although the chaos initially did not do much damage to the forest or the gorilla habitat, the mass exodus of hundreds of thousands of refugees took its toll on the environment. Many conservation workers fled their posts or were killed during the ethnic violence, while soldiers and refugees moved into national parks, hunting wildlife and razing forests for fuelwood and building materials. Akagera National Park, an area of savanna and wetland which covered about 2,500 square kilometers, was hit particularly hard by over-grazing by livestock brought by returning Tutsi exiles.

All was not lost though. In the Nyungwe Forest Conservation Project, participation by locals sustained conservation projects even as the genocide occurred. According to Fimbel and Fimbel (1997), local people became stewards of the national park after the expatriate staff fled the country and protected the park from forest exploiters.

Today forest covers nearly 20 percent of Rwanda. While virtually none of this is classified as primary forest, a large reforestation effort increased overall forest cover by an average of 8 percent per year between 2000 and 2005. Currently about 7.7 percent of the country is under some form of protection. Rwanda's best known parks are Nyungwe National Park (savanna and wetland), Volcanoes National Park (montane forest harboring mountain gorillas and golden monkeys), and Akagera National Park (largest remaining lower montane forest on the continent of Africa).

Besides its world-renowned mountain gorilla population, Rwanda is home to 96 other species of mammals along with 665 birds, 31 amphibians, 206 reptiles, and 2,288 species of plants.

According to the U.S. Department of State, the Rwanda Defense Forces (RDF) currently provides security for tourists in the Volcanoes National Park against attacks by rebel groups operating from the neighboring Democratic Republic of the Congo. The RDF also provides military escorts for visitors viewing the mountain gorillas.

Recent articles | Rwanda news updates | XML


Why responsible tourism is the key to saving the mountain gorilla
(05/13/2013) The sunlight poured through the canopy, casting dappled shade over Makara, a large silverback mountain gorilla, as he cast his eyes around the forest clearing, checking on the members of his harem. A female gorilla reclined on a bank of dense vegetation of the most brilliant green, clutching her three day old infant close to her chest, and elsewhere, two juvenile gorillas played around a small tree, running rings around it until one crashed into the other and they rolled themselves into a roly-poly ball of jet black fluff that came to a halt a few meters in front of our delighted group.


Mountain gorilla population up by over 20 percent in five years
(11/13/2012) A mountain gorilla census in Uganda's Bwindi Impenetrable National Park has a population that continues to rise, hitting 400 animals. The new census in Bwindi means the total population of mountain gorillas (Gorilla beringei beringei) has reached 880—up from 720 in 2007—and marking a growth of about 4 percent per year.



Forest cover falls 9% in East Africa in 9 years
(07/31/2012) Forest cover in East Africa has dropped by 9.3 percent from 2001-2009, according to a new paper published in the open-access journal PLoS ONE. Looking at 12 countries in the region, the scientists found that, worryingly, forests were particularly hard hit near protected areas. Usually thought of as a region of vast savannas, such as the Serengeti, East Africa is also home to incredibly biodiverse tropical forests, including coastal forests, rich montane forests, and the eastern portion of the Congo Rainforest.


10 African countries to develop satellite-based deforestation tracking systems with help of Brazil
(07/30/2012) Ten tropical African countries will receive training and support to develop national forest monitoring systems, reports the United Nations. Brazil, which has an advanced deforestation tracking system, will guide the initiative in partnership with the Central Africa Forests Commission (COMIFAC) and the UN Food and Agriculture Organization (FAO).


U.S., others commit to restoring 45 million acres of native forests
(06/19/2012) The U.S. Forest Service joined Rwanda, a Brazilian coalition, and a Central American alliance of indigenous groups in a pledge to restore 18 million hectares (45 million acres) of native forests, reports the IUCN, a conservation group.


Ten African nations pledge to transform their economies to take nature into account
(06/11/2012) Last month ten African nations, led by Botswana, pledged to incorporate "natural capital" into their economies. Natural capital, which seeks to measure the economic worth of the services provided by ecosystems and biodiversity—for example pollination, clean water, and carbon—is a nascent, but growing, method to curtail environmental damage and ensure more sustainable development. Dubbed the Gaborone Declaration, the pledge was signed by Botswana, Liberia, Namibia, Mozambique, Rwanda, Gabon, Ghana, Kenya, South Africa, and Tanzania following a two day summit.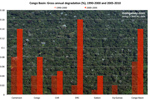 Deforestation increases in the Congo rainforest
(03/20/2012) Deforestation in the Congo Basin has increased sharply since the 1990s, reports an extensive new assessment of forests in the six-nation region. Released by the Central African Forests Commission (COMIFAC) and members of the Congo Basin Forest Partnership, The State of the Forest finds that the region's annual gross deforestation rate doubled from 0.13 percent to 0.26 percent between the 1990s and the 2000-2005 period. Gross degradation caused by logging, fire, and other impacts increased from 0.07 percent to 0.14 percent on an annual basis. Despite the jump, rates in the Congo Basin remain well below those in Latin America and Southeast Asia, but the region is seen as a prime target for future agroindustrial expansion.


Price of gorilla permit increases to $750/day
(02/05/2012) Rwanda has raised the price of a permit to see mountain gorillas to $750 per day starting June 1, 2012, up from $500.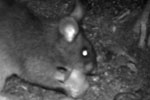 Giant rat plays big ecological role in dispersing seeds
(11/16/2011) Rats are rarely thought of as heroes. In fact, in many parts of the world they are despised, while in others they serve largely as food. But, scientists are now discovering that many tropical forest rodents, including rats, serve as heroic seed dispersers, i.e. eating fruits and nuts, and carrying seeds far from the parent tree, giving a chance to a new sapling. While this has been documented with tropical rodents in South America like agoutis and acouchis, a new study in Biotropica documents the first successful seed dispersal by an African rodent: the Kivu giant pouched rat (Cricetomys kivuensis), one of four species of giant African rats.


U.S. Lacey Act, programs in Rwanda and Gambia, awarded for forest protection
(09/23/2011) Forest policies in the United States, Rwanda, and Gambia won U.N. backed awards for contributing to efforts to protect and sustainably manage forests.


Restoring forests: an opportunity for Africa
(05/26/2011) Tropical forest news last week was dominated by Indonesia and Brazil. Forest clearing has surged over the past year in parts of the Amazon, the Brazilian Government reported. Meanwhile, Indonesia's President signed a moratorium on cutting some intact forest areas, as part of a landmark billion-dollar deal with international donors. But new research shows that Africa offers some of the greatest opportunities globally for restoring forests.


Top forest policies recognized
(03/23/2011) 19 forest policies have been nominated for an award by the World Future Council, a global think tank.


Mountain gorilla population up by 100 individuals
(12/07/2010) Conservation appears to be working for the Critically Endangered mountain gorilla (Gorilla beringei beringei) in the Virunga massif region, as a new census shows an additional 100 individuals from the last census in 2003, an increase of over a quarter. The Virunga massif is a region in three nations—Rwanda, the Democratic Republic of Congo, and Uganda—and covering three protected area.


Rwanda government: one third forest cover coming seven years ahead of schedule
(12/01/2010) Rwanda expects to reach its goal of 30% forest cover in three years, according to the Minister for Forestry and Mines, Christophe Bazivamo. If achieved this would be seven years ahead of the government's pledge for 2020.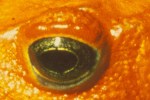 Photos: world's top ten 'lost frogs'
(08/09/2010) The International Union for the Conservation of Nature (IUCN) and Conservation International (CI) have sent teams of researchers to 14 countries on five continents to search for the world's lost frogs. These are amphibian species that have not been seen for years—in some cases even up to a century—but may still survive in the wild. Amphibians worldwide are currently undergoing an extinction crisis. While amphibians struggle to survive against habitat loss, climate change, pollution, and overexploitation, they are also being wiped out by a fungal disease known as chytridiomycosis.


NASA photos reveal destruction of 99% of rainforest park in Rwanda
(06/09/2009) Satellite images released by NASA show nearly complete destruction of Rwanda's Gishwati Forest between 1986 and 2001. Deforestation of the forest reserve is largely the result of subsistence harvesting and cultivation by refugees in the aftermath of the country's 1994 genocide. Overall only 600 hectares of Gishwati's original 100,000 hectares of forest remain, a loss of 99.4 percent.


80% of wars between 1950-2000 took place in biodiversity hotspots
(02/22/2009) 80 percent of the world's major armed conflicts between 1950 and 2000 occurred in biodiversity hotspots, reports a study published in the journal Conservation Biology.


Rwanda and Burundi agree to protect rare forest area
(09/15/2008) Rwanda and Burundi have agreed to protect a large tract of tropical mountain forest that is home to chimpanzees, rare owl-faced monkeys, and other wildlife.


Rwanda launches reforestation project to protect chimps, drive ecotourism
(03/17/2008) conservationists in Rwanda have launched an ambitious reforestation project that aims to create a forest corridor to link an isolated group of chimpanzees to larger areas of habitat in Nyungwe National Park. The initiative, called the Rwandan National conservation Park, is backed by the Rwandan government, the Great Ape Trust of Iowa, and Earthpark, a group seeking to build an indoor rainforest in the U.S. Midwest.


Rare gorillas slaughtered in mass killing
(07/24/2007) At least four critically endangered gorillas have been killed in Democratic Republic of Congo's Virunga National Park. National Geographic News reports they were shot "execution-style". Illegal charcoal harvesters are leading suspects in the slaying. Two other gorillas are missing and feared dead.



New monkey species in Uganda
(02/18/2007) Uganda may soon have a new species of monkey according to a report published in Kampala's New Vision newspaper. Dr. Colin Groves of the Australian National University told New Vision that the local population of the gray-cheeked mangabey (Lophocebus albigena) will soon be designated as a unique species, the Ugandan gray-cheeked mangabey (Lophocebus ugandae).


Mammals in war-torn Virunga National Park recovering finds WCS survey
(06/20/2006) A recent wildlife census conducted in Virunga National Park in the Democratic Republic of Congo (DRC) revealed that several species of large mammal are now recovering from a decade of civil war and rampant poaching.


Deforestation rates jump in Uganda and Burundi, fall in Rwanda
(01/25/2006) Tropical deforestation rates have skyrocketed in Uganda and Burundi, while declining significantly in Rwanda according to mongabay.com's analysis of data from the Food and Agriculture Organization (FAO) of the United Nations.


Suggested reading - Books


Unless otherwise specified, this article was written by Rhett A. Butler [Bibliographic citation for this page]

Other resources

Contact me if you have suggestions on other rainforest-related environmental sites and resources for this country.



Image copyright Google Earth, MDA EarthSet, DigitalGlobe 2005

CIA-World Factbook Profile
FAO-Forestry Profile
World Resources Institute


Last updated: 4 Feb 2006