SENEGAL
Senegal Forest Figures

Forest Cover

---

Total forest area: 8,673,000 ha
% of land area: 45%

Primary forest cover: 1,598,000 ha
% of land area: 8.3%
% total forest area: 18.4%

Deforestation Rates, 2000-2005

---

Annual change in forest cover: -45,000 ha
Annual deforestation rate: -0.5%
Change in defor. rate since '90s: 5.1%
Total forest loss since 1990: -675,000 ha
Total forest loss since 1990:-7.2%

Primary or "Old-growth" forests
Annual loss of primary forests: -11000 ha
Annual deforestation rate: -0.7%
Change in deforestation rate since '90s: 10.4%
Primary forest loss since 1990: -55,000 ha
Primary forest loss since 1990:-9.2%

Forest Classification

---

Public: 100%
Private: n.s.%
Other: 0%
Use
Production: 59.6%
Protection: 0.4%
Conservation: 18.1%
Social services: n.s.%
Multiple purpose: 21.9%
None or unknown: n/a

Forest Area Breakdown

---

Total area: 8,673,000 ha
Primary: 1,598,000 ha
Modified natural: 6,710,000 ha
Semi-natural: n/a
Production plantation: 332,000 ha
Production plantation: 33,000 ha

Plantations

---

Plantations, 2005: 365,000 ha
% of total forest cover: 4.2%
Annual change rate (00-05): 11,800,000 ha

Carbon storage

---

Above-ground biomass: 566 M t
Below-ground biomass: 175 M t

Area annually affected by

---

Fire: 97,000 ha
Insects: n/a
Diseases: n/a

Number of tree species in IUCN red list

---

Number of native tree species: 315
Critically endangered: 0
Endangered: 0
Vulnerable: 4

Wood removal 2005

---

Industrial roundwood: 10,000 m3 o.b.
Wood fuel: 5,100,000 m3 o.b.

Value of forest products, 2005

---

Industrial roundwood: $601,000
Wood fuel: $16,320,000
Non-wood forest products (NWFPs): $3,199,000
Total Value: $20,120,000


More forest statistics for Senegal


About 45 percent of Senegal is forested. Of this, a little more than 18 percent is considered pristine primary forest—one of the higher rates in West Africa. While Senegal lost some 675,000 hectares of forest between 1990 and 2005, the country's deforestation rate has only increased by 5 percent since the 1990s. Deforestation is mostly the result of clearing for fuelwood, charcoal, and logging, though poaching, wildlife trafficking, and hydroelectric projects have further degraded forest areas. Government officials have blamed deforestation for increased soil erosion, flooding, and periodic drought which has had an adverse impact on regional agriculture.

To slow the encroaching Sahara desert, Senegal announced in 2005 that it planned to promote a "Great Green Wall" of trees stretching for nearly 7,000 km (4,375 miles), from Dakar to Djibouti along the Sahel. Other African countries said they will participate in the massive reforestation project as well.

As of 2003, 11 percent of land in Senegal was under some form of protection. The country is exceptionally biodiverse for its size—Senegal is home to more than 2,100 plant species and over 1,000 animal species (192 mammals, 612 birds, 91 reptiles, 22 amphibians, and 150 species of freshwater fish).

Recent articles | Senegal news updates | XML

New endangered list for ecosystems modeled after 'Red list' for species
(05/09/2013) The IUCN has unveiled the first iteration of its new Red List of Ecosystems, a ranking of habitats worldwide.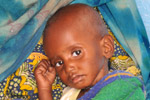 Alarm rising over food crisis in Sahel region
(06/13/2012) Warnings over a possible famine in Africa's Sahel region are becoming louder and more intense. Abnormal drought, locally high food prices, and regional conflict have ramped up concerns that 18 million people could suffer from malnutrition and starvation as the lean season sets in. UNICEF says it needs $238 million to save over a million children from severe malnourishment in the region, but has to date only raised $93 million.


15 million facing food shortages in Africa's Sahel region
(03/29/2012) The UN announced yesterday that food security in the Sahel region is deteriorating, putting over 15 million people at risk. Ongoing drought combined with conflict, has pushed the region into a crisis. The situation appears eerily similar to last year when Somalia was hit by a devastating famine due to drought and political instability; the famine left an estimated 30,000 children dead.


Great Green Wall gets go ahead
(02/28/2011) Spanning the entire continent of Africa, including 11 nations, the Great Green Wall (GGW) is an ambitious plan to halt desertification at the Sahara's southern fringe by employing the low-tech solution of tree planting. While the Great Green Wall was first proposed in the 1980s, the grand eco-scheme is closer to becoming a reality after being approved at an international summit last week in Germany as reported by the Guardian.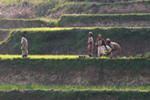 'Land grab' fears in Africa legitimate
(01/31/2011) A new report by the International Institute for Environment and Development (IIED) has found that recent large-scale land deals in Africa are likely to provide scant benefit to some of the world's poorest and most famine-prone nations and will probably create new social and environmental problems. Analyzing 12 recent land leasing contracts investigators found a number of concerns, including contracts that are only a few pages long, exclusion of local people, and in one case actually giving land away for free. Many of the contracts last for 100 years, threatening to separate local communities from the land they live on indefinitely. "Most contracts for large-scale land deals in Africa are negotiated in secret," explains report author Lorenzo Cotula in a press release. "Only rarely do local landholders have a say in those negotiations and few contracts are publicly available after they have been signed."


Goodbye to West Africa's Rainforests
(01/22/2006) West Africa's once verdant and extensive rainforests are now a historical footnote. Gone to build ships and furniture, feed hungry mouths, and supply minerals and gems to the West, the band of tropical forests that once extended from Guinea to Cameroon are virtually gone. The loss of West Africa's rainforests have triggered a number of environmental problems that have contributed to social unrest and exacerbated poverty across the region.


Suggested reading - Books


Unless otherwise specified, this article was written by Rhett A. Butler [Bibliographic citation for this page]

Other resources

Contact me if you have suggestions on other rainforest-related environmental sites and resources for this country.



Image copyright Google Earth, MDA EarthSet, DigitalGlobe 2005

CIA-World Factbook Profile
FAO-Forestry Profile
World Resources Institute


Last updated: 4 Feb 2006