THAILAND
Thailand Forest Figures

Forest Cover

---

Total forest area: 14,520,000 ha
% of land area: 28.4%

Primary forest cover: 6,451,000 ha
% of land area: 12.6%
% total forest area: 44.4%

Deforestation Rates, 2000-2005

---

Annual change in forest cover: -58,800 ha
Annual deforestation rate: -0.4%
Change in defor. rate since '90s: -44.9%
Total forest loss since 1990: -1,445,000 ha
Total forest loss since 1990:-9.1%

Primary or "Old-growth" forests
Annual loss of primary forests: n/a
Annual deforestation rate: n/a
Change in deforestation rate since '90s: n/a
Primary forest loss since 1990: n/a
Primary forest loss since 1990:0.0%

Forest Classification

---

Public: 86.8%
Private: 13.2%
Other: n/a
Use
Production: 13.8%
Protection: 7.6%
Conservation: 58.3%
Social services: n/a
Multiple purpose: 1.1%
None or unknown: 19.3

Forest Area Breakdown

---

Total area: 14,520,000 ha
Primary: 6,451,000 ha
Modified natural: 4,970,000 ha
Semi-natural: n/a
Production plantation: 1,997,000 ha
Production plantation: 1,102,000 ha

Plantations

---

Plantations, 2005: 3,099,000 ha
% of total forest cover: 21.3%
Annual change rate (00-05): 4,400,000 ha

Carbon storage

---

Above-ground biomass: 1,129 M t
Below-ground biomass: 305 M t

Area annually affected by

---

Fire: 150,000 ha
Insects: n/a
Diseases: n/a

Number of tree species in IUCN red list

---

Number of native tree species: n/a
Critically endangered: 30
Endangered: 21
Vulnerable: 37

Wood removal 2005

---

Industrial roundwood: 41,000 m3 o.b.
Wood fuel: 8,000 m3 o.b.

Value of forest products, 2005

---

Industrial roundwood: $46,000
Wood fuel: $13,000
Non-wood forest products (NWFPs): n/a
Total Value: $59,000


More forest statistics for Thailand



Thailand's recent economic development has been achieved at the expense of the environment and the country's natural resources. Most of the primary forest is gone (FAO figures for primary forest cover haven't been updated since 1990), but secondary forest still covers roughly 20 percent of the land area. The growing middle class is more environmentally aware and has shown interest in conserving Thailand's remaining forests; hence there has been a nationwide ban on logging since 1988—following devastating mudslides—and, in theory, there is protection of existing forest reserves from development and exploitation. In 1991, the government revised the National Forest Policy to set a 40 percent forest cover target—25 percent conservation forest and 15 percent production forest. This action angered Thailand's mining industry, which sought to exploit mineral reserves located within the country's parks.

One of the greatest threats facing Thailand's forests is illegal logging, which is rapidly degrading Thailand's remaining forests, despite the nationwide ban on rainforest cutting. Investigations by NGOs reveal that trees are felled in Thailand and smuggled into Burma to be exported as Burmese logs or processed logs. The industry is controlled by timber barons who, at times, have strong ties to politicians and the military. In remote areas, forestry officials have difficulty enforcing the logging ban due to armed gangs hired by illegal timber operators. Further, villagers in some parts of Thailand have come to rely on logging as their primary source of income. Parks appear to serve as prime harvesting grounds. For example, 30 percent of Salween National Park was logged between 1997 and 1998.

Other forces responsible for forest loss in Thailand are land development for tourism and real estate, agricultural clearing, hydroelectric projects, and forest fires.

In total, between 1990 and 2005, Thailand lost about 9 percent of its forest cover or about 1.4 million hectares. Natural forest loss was offset by the expansion of plantations by about 460,000 hectares. The government did not report figures reflecting the change in primary forest cover. On a positive note, overall deforestation rates have fallen significantly since the close of the 1990s.

On paper, about 13 percent of Thailand is protected. The country is home to 1,715 known species of amphibians, birds, mammals and reptiles, of which 5.1 percent are endemic and 5.8 percent are threatened. Thailand has 11,625 species of vascular plants.

Recent articles | Thailand news updates | XML

Mekong region has lost a third of its forests in 30 years, may lose another third by 2030
(05/03/2013) The Greater Mekong region of Cambodia, Laos, Myanmar (Burma), Thailand and Vietnam will lose a third of its remaining forest cover by 2030 unless regional governments improve management of natural resources and transition toward a greener growth model, warns a new report issued by WWF.



The river of plenty: uncovering the secrets of the amazing Mekong
(04/23/2013) Home to giant catfish and stingrays, feeding over 60 million people, and with the largest abundance of freshwater fish in the world, the Mekong River, and its numerous tributaries, brings food, culture, and life to much of Southeast Asia. Despite this, little is known about the biodiversity and ecosystems of the Mekong, which is second only to the Amazon in terms of freshwater biodiversity. Meanwhile, the river is facing an existential crisis in the form of 77 proposed dams, while population growth, pollution, and development further imperil this understudied, but vast, ecosystem.


Market figures out that geckos don't cure AIDS, but killing continues
(04/12/2013) Millions of tokay geckos continue to be traded for traditional medicine, despite waning belief that the colorful lizards are a cure for AIDS, reports a new study from TRAFFIC.



Elephant woes: conservationists mixed on elephant actions at CITES
(03/14/2013) Conservationists couldn't agree if the glass was half-full or half-empty on action to protect elephants at the Convention on International Trade in Endangered Species (CITES) in Bangkok, Thailand. Elephants, especially in Africa, have faced a massive rise in poaching over the last decade with tens-of-thousands shot dead every year. Forests elephants in central Africa have been especially targeted: new research estimates that an astounding 60 percent of the world's forest elephants have been slaughtered for their tusks in the last ten years alone. While conservationists had hopes that CITES would move aggressively against elephant poaching, the results were a decidedly mixed-bag.


Dozens of tropical trees awarded new protections at CITES
(03/12/2013) Numerous species of rosewood and ebony from Madagascar, Latin America, and Southeast Asia were granted protection today at the Convention on International Trade in Endangered Species (CITES) in Bangkok, Thailand. The ruling comes one day after CITES granted the first protections ever to sharks and manta rays.



Prayers for dying elephants: Buddhists hold prayer ceremony for elephants decimated by poachers
(03/11/2013) Buddhist leaders prayed for slaughtered African elephants in Bangkok, Thailand last week, reports WWF. During a special merit-making ceremony, often reserved for the recently deceased, Buddhist monks, abbots, and leaders prayed for the tens-of-thousands of elephants that have been killed for their ivory tusks. Bangkok is currently hosting an international meeting of the Convention on International Trade in Endangered Species (CITES), where the elephant crisis is being discussed.



What happened to the elephants of Bouba Ndjida? [warning: graphic photos]
(03/07/2013) A new report released by the Wildlife Conservation Society says that poachers have killed a staggering 62 percent of Africa's forest elephants in the last decade. The insatiable demand for elephant ivory hails mainly from China and Thailand, which is ironically hosting this year's CITES (CoP16) meeting. The meeting will continue until March 13 2013. The study is based on a survey of five elephant range states including Cameroon. Cameroon is the home of Bouba Ndjida National Park, where the dizzying massacre of 650 elephants occurred last year.



Thailand's Prime Minister commits to ending ivory trade
(03/04/2013) Yesterday, Thailand's Prime Minister, Yingluck Shinawatra, committed to ending the ivory trade in her country. Her announcement came during the opening of the Convention on the International Trade in Endangered Species of Fauna and Flora (CITES) in Bangkok, which seeks to regulate trade in biodiversity across borders. Wildlife groups say that Thailand's legal trade in domestic ivory—international ivory is illegal of course—has created an easy opening for smugglers from abroad. Currently the ivory trade in Thailand is estimated to be second only to that of China.



Landmines, chains, and hope: the elephants of Thailand
(01/15/2013) Few animals draw more compassion and awe from people than elephants. Highly intelligent, deeply social, and touchingly sensitive, elephants have much in common with human beings, despite their size and shape. Yet elephants around the world are still often abused and mis-treated, whether to entertain tourists or as victims of human strife. A new film, The Last Elephants in Thailand, sets out to document both the good and bad that elephants encounter in a world dominated by homo sapiens.


Pictures: 126 new species discovered in Greater Mekong region last year
(12/18/2012) Some 126 new species were described in Asia'a Mekong region last year, notes a new report published by the World Wildlife Fund (WWF).


Controversial dam gets approval in Laos
(11/07/2012) Laos has given approval to the hugely-controversial $3.5 billion Xayaburi Dam on the Mekong River, reports the BBC. The massive dam, which would provide 95 percent of its energy production to Thailand, has been criticized for anticipated impacts on the river's fish populations, on which many locals depend.


Tiger and cubs filmed near proposed dam in Thailand
(09/04/2012) A tigress and two cubs have been filmed by remote camera trap in a forest under threat by a $400 million dam in Thailand. To be built on the Mae Wong River, the dam imperils two Thai protected areas, Mae Wong National Park and Huay Kha Khaeng Wildlife Sanctuary, according to the World Wide Fund for Nature (WWF)



Mekong dam spree could create regional food crisis
(08/27/2012) Fish are a hugely important protein source for many people around the world. This is no more evident than along the lower Mekong River delta where an estimated 48 million people depend directly on the river for food and livelihoods. But now a new study in Global Environmental Change cautions that 11 planned hydroelectric dams in the region could cut vital fish populations by 16 percent while putting more strain on water and land resources.


Pictures of the day: pangolins saved in Thailand from poachers
(08/06/2012) Earlier this summer, 110 Sunda pangolins (Manis javanica) were rescued by Thai customs officials from poachers in a pickup truck. While the driver of the vehicle escaped, a passenger was arrested, but released after paying a fine of $75,000, reports the NGO FREELAND Foundation.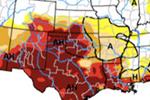 Climate change increased the probability of Texas drought, African famine, and other extreme weather
(07/11/2012) Climate change is here and its increasing the chances for crazy weather, according to scientists. A prestigious group of climatologists have released a landmark report that makes the dramatic point that climate change is impacting our weather systems—and in turn our food crops, our economies, and even our lives—here-and-now. The new report in the American Meteorological Society is first of what is intended to be an annual offering that will attempt to tease out the connections between climate change and individual extreme weather events, such as heatwaves, droughts and floods.


Blood rosewood: Thailand and Cambodia team up to tackle illegal logging crisis and save lives
(04/11/2012) Cambodian and Thai officials have agreed to work together to combat illegal logging of rosewood and resulting violence between Cambodian loggers and Thai rangers, reports MCOT online news. Officials with both nations met on Tuesday and spent three hours discussing the issue.


UN: wild teak forests declining
(03/28/2012) Wild teak forests continue to decline, threatening genetic diversity, while commercial planted teak forests are on the rise, according to a new assessment by the Food and Agriculture Organization (FAO). Overall, teak forests have declined by 1.3 percent, or 385,000 hectares, worldwide from 1992 to 2010. Teak (Tectona grandis) is used for a variety of commercial purposes, including outdoor furniture and flooring.


"Strong evidence" linking extreme heatwaves, floods, and droughts to climate change
(03/28/2012) As North America recovers from what noted meteorologist Jeff Masters has called "the most incredible spring heatwave in U.S. and Canadian recorded history," a new paper argues that climate change is playing an important role in a world that appears increasingly pummeled by extreme weather. Published in Nature Climate Change, the paper surveys recent studies of climate change and extreme weather and finds "strong evidence" of a link between a warming world and the frequency and intensity of droughts, floods, and heatwaves—such as the one that turned winter into summer in the U.S.


Thai king: punish corrupt officials who allowed logging
(02/27/2012) Thailand's King Bhumibol Adulyadej urged the Thai government to punish officials who allowed illegal logging which he blamed for worsening floods last year that left more than 1,000 people dead.


NGO: Thailand must list rosewood under CITES
(02/16/2012) In order to save its remaining forests, Thailand must list rosewood under CITES (the Convention on International Trade in Endangered Species) this year, according to a new report from the Environmental Investigation Agency (EIA). Illegal logging and smuggling of rosewood is being driven by increasing demand in China for rosewood, which is used to produce high-end luxury furniture known as "Hongmu."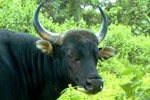 Forgotten species: the wild jungle cattle called banteng
(01/31/2012) The word "cattle," for most of us, is the antithesis of exotic; it's familiar like a family member one's happy enough to ignore, but doesn't really mind having around. Think for a moment of the names: cattle, cow, bovine...likely they make many of us think more of the animals' byproducts than the creatures themselves—i.e. milk, butter, ice cream or steak—as if they were an automated food factory and not living beings. But if we expand our minds a bit further, "cattle" may bring up thoughts of cowboys, Texas, herds pounding the dust, or merely grazing dully in the pasture. But none of these titles, no matter how far we pursue them, conjure up images of steamy tropical rainforest or gravely imperiled species. A cow may be beautiful in its own domesticated sort-of-way, but there is nothing wild in it, nothing enchanting. However like most generalizations, this idea of cattle falls to pieces when one encounters, whether in literature or life, the banteng.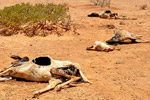 Earth systems disruption: Does 2011 indicate the "new normal" of climate chaos and conflict?
(12/21/2011) The year 2011 has presented the world with a shocking increase in irregular weather and disasters linked to climate change. Just as the 2007 "big melt" of summer arctic sea ice sent scientists and environmentalists scrambling to re-evaluate the severity of climate change, so have recent events forced major revisions and updates in climate science.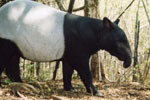 Camera trap videos capture stunning wildlife in Thailand
(12/20/2011) A year's worth of camera trap videos (see photos and video below) are proving that scaled-up anti-poaching efforts in Thailand's Western Forest Complex are working. Capturing rare glimpses of endangered, elusive animals—from clouded leopards (Neofelis nebulosa) to banteng (Bos javanicus), a rarely seen wild cattle—the videos highlight the conservation importance of the Western Forest Complex, which includes 17 protected areas in Thailand and Myanmar.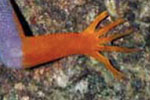 Photos: 208 species discovered in endangered Mekong region in 2010
(12/14/2011) Last year researchers scoured forests, rivers, wetlands, and islands in the vanishing ecosystems of the Mekong Delta to uncover an astounding 208 new species over a twelve month period. A new report by the World Wide Fund for Nature (WWF) highlights a number of the new species—from a new snub-nosed monkey to five new meat-eating pitcher plants to a an all-female, cloning lizard—while warning that many of them may soon be gone as the Mekong Delta suffers widespread deforestation, over-hunting and poaching, massive development projects, the destruction of mangroves, pollution, climate change, and a growing population.


Climate change already worsening weird, deadly, and expensive weather
(11/02/2011) Unprecedented flooding in Thailand, torrential rains pummeling El Salvador, long-term and beyond-extreme drought in Texas, killer snowstorm in the eastern US—and that's just the last month or so. Extreme weather worldwide appears to be both increasing in frequency and intensity, and a new report from the Intergovernmental Panel on Climate Change (IPCC) connects the dots between wilder weather patterns and global climate change.


Thais Feather Real-Estate Nests



Suggested reading - Books


Unless otherwise specified, this article was written by Rhett A. Butler [Bibliographic citation for this page]

Other resources

Contact me if you have suggestions on other rainforest-related environmental sites and resources for this country.



CIA World Factbook

CIA-World Factbook Profile
FAO-Forestry Profile



Last updated: 4 Feb 2006