DEMOCRATIC REPUBLIC OF CONGO (formerly ZAIRE)
Congo DR Forest Figures

Forest Cover

---

Total forest area: 133,610,000 ha
% of land area: 58.9%
Primary forest cover: n/a
% of land area: n/a
% total forest area: n/a
Deforestation Rates

---

Annual change in forest cover: -319,400 ha
Annual deforestation rate: -0.2%
Change in rate 90-00 vs 00-05: -37.6%
Annual loss of primary forests: n/a
Annual deforestation rate: n/a
Change in rate 90-00 vs 00-05: n/a
Forest Classification

---

Public: 100%
Private: n/a
Other: n/a

Production: n/a
Protection: n/a
Conservation: n/a
Social services: n/a
Multiple purpose: n/a
None or unknown: n/a
Forest Area Breakdown

---

Total area: 133,610,000 ha
Primary: n/a
Modified natural: n/a
Semi-natural: n/a
Production plantation: n/a
Production plantation: n/a
Plantations

---

Plantations, 2005: n/a
% of total forest cover: n/a
Annual change rate (00-05): n/a
37,376 M t
Below-ground biomass: 8,970 M t
Area annually affected by

---


Fire: n/a
Insects: n/a
Diseases: n/a
Number of tree species in IUCN red list

---

Number of native tree species: 870
Critically endangered: 0
Endangered: 8
Vulnerable: 43
Wood removal 2005
Industrial roundwood: 4,1991000 m3 o.b.
Wood fuel: 78,7951000 m3 o.b.
Value of forest products, 2005

---

Industrial roundwood: n/a
Wood fuel: n/a
Non-wood forest products (NWFPs): n/a
Total Value: n/a

More forest statistics for Congo DR


The Democratic Republic of Congo (DR Congo) has the greatest extent of tropical rainforests in Africa, covering more than 100 million hectares. The forests in the eastern sector are amazingly diverse as one of the few forest areas in Africa to have survived the ice age. About 45 percent of DR Congo is covered by primary forest which provides a refuge for several large mammal species driven to extinction in other African countries. Overall, the country is known to have more than 11,000 species of plants, 450 mammals, 1,150 birds, 300 reptiles, and 200 amphibians.

Despite this richness, over the past ten years DR Congo's forests have been the site of terrible violence and immense human suffering, which spilled over from Rwanda and neighboring African countries.

The Second Congo War was a conflict that began in 1998 and still flares up on occasion today, although it officially ended in 2002. The war involved nine African nations and resulted in the deaths of about 3.8 million people, mostly from starvation and disease. The war is considered the deadliest conflict since World War II and has displaced millions from their homes as well as having a major impact on the environment and native wildlife of Congo DR

During the war, fighting and the movement of millions of refugees through forest regions decimated wildlife and took a heavy toll on protected areas. Virunga National Park suffered extensive damage by armed bands of soldiers and refugees from neighboring camps, who harvested some 36 million trees from the park and hunted gorillas and other animals. Garamba National Park, near Sudan, experienced raids from Sudanese soldiers who hunted endangered wildlife using automatic weapons, while Okapi Faunal Reserve, home to the Ituri Forest and more species of monkeys (13) than anywhere else in the world, was ravaged by refugee migrations and marauding bands of militias, who looted and stole conservation equipment and killed park staff. One staff member of Okapi Faunal Reserve—Corneille Ewango of the Wildlife Conservation Society—was awarded the prestigious Goldman Environmental Prize in 2005 for his efforts to protect the reserve. Now that most of the fighting has died down, groups are assessing the damage. A 2005 survey by the Dian Fossey Gorilla Fund found higher-than-expected numbers of eastern lowland gorillas.

While DR Congo's protected areas have faced a number of challenges in recent years, the country has a long history of national parks including being the first country in Africa to create a national park (Virunga National Park for mountain gorillas in 1925). Already more than 8 percent of DR Congo is protected in reserves, and the government has announced it aims to expand these conservation areas to 10-15 percent of the country. Traditionally, parks in DR Congo have been well-managed compared to protected areas in surrounding countries. Before the war, parks were largely funded by fees collected from tourists, so there is hope that returning tourists—encouraged by wildlife and the reconstruction of park facilities—will boost conservation in the country. Still, tourists will not return unless they can be assured that the country is once again safe for foreigners. In the immediate future, Congo's parks will need to overcome a number of challenges including corruption, continued incursions by armed militias, weak law enforcement, and lack of funds.

DR Congo's government has lately taken a strong interest in protecting the country's forests. In 2002, the government imposed a ban on the allocation of new logging concessions. While the moratorium was widely ignored, in 2005 the government received a $90-million grant from the World Bank to help it police existing forestry concessions, control new concessions, and develop sustainable management plans for its forests. The government also joined the Coalition for Rainforest Nations, a group of tropical developing nations that sought—and won—money from industrial countries for rainforest protection at the November 2005 climate conference in Montreal.

In coming years the government of DR Congo will be in the unenviable position of having to balance the need to conserve its forests with the needs of its increasingly destitute population—all the while trying to promote stability and economic growth, while servicing its debt. There will be considerable pressure to turn towards forests—at least 60 percent of which are suitable for logging—as a source of income. The economy of DR Congo has long been highly dependent on natural resource extraction—especially timber harvesting and mining—and this is unlikely to change in the near future.

On the horizon, the greatest threats to DR Congo's forests look to be subsistence and plantation agriculture; fuelwood collection; poaching, already widespread; increased logging; mining, and hydroelectric projects. DR Congo has 13 percent of the world's hydroelectric potential. Infrastructure investments could rapidly drive new development, which has been stymied over the past 30 years by impassable roads, failing electricity grids, and crumbling transportation systems.

With vast forests, exceedingly high biodiversity, extraordinary hydroelectric potential, and substantial endowments of cobalt (28 percent of the world's supply), copper (6 percent), and industrial diamonds (18 percent), DR Congo should be a relatively rich country. Instead, years of widespread crippling corruption and mismanagement have left it one of the world's poorest countries. But there's still hope that smarter, more accountable use of resources, combined with sustainable development initiatives and conservation efforts, can bring a brighter future to the people of DR Congo.

Recent articles | Congo news updates | XML


Why responsible tourism is the key to saving the mountain gorilla
(05/13/2013) The sunlight poured through the canopy, casting dappled shade over Makara, a large silverback mountain gorilla, as he cast his eyes around the forest clearing, checking on the members of his harem. A female gorilla reclined on a bank of dense vegetation of the most brilliant green, clutching her three day old infant close to her chest, and elsewhere, two juvenile gorillas played around a small tree, running rings around it until one crashed into the other and they rolled themselves into a roly-poly ball of jet black fluff that came to a halt a few meters in front of our delighted group.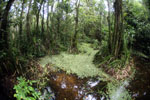 Endangered primates and cats may be hiding out in swamps and mangrove forests
(05/02/2013) What happens to animals when their forest is cut down? If they can, they migrate to different forests. But in an age when forests are falling far and fast, many species may have to shift to entirely different environments. A new paper in Folia Primatologica theorizes that some 60 primate species and 20 wild cat species in Asia and Africa may be relying more on less-impacted environments such as swamp forests, mangroves, and peat forests.


Amazon: the world's greatest rainforest or internet giant?
(04/25/2013) When you see the word "Amazon", what's the first thing that springs to mind—the world's biggest forest, the longest river or the largest internet retailer—and which do you consider most important? These questions have risen to the fore in an arcane, but hugely important, debate about how to redraw the boundaries of the internet. Brazil and Peru have lodged objections to a bid made by the US e-commerce giant for a prime new piece of cyberspace: ".amazon".



Beautiful striped bat is the "find of a lifetime" (photos)
(04/10/2013) Scientists have uncovered a rare, brilliantly-striped bat in South Sudan that has yielded new secrets after close study. Working in Bangangai Game Reserve during July of last year, biologist DeeAnn Redeer and conservationist Adrian Garsdie with Fauna & Flora International (FFI) came across an unmissable bat, which has been dubbed by various media outlets as the "badger bat" and the "panda bat."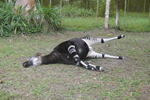 Infamous elephant poacher turns cannibal in the Congo
(04/03/2013) Early on a Sunday morning last summer, the villagers of Epulu awoke to the sounds of shots and screaming. In the eastern reaches of the Democratic Republic of the Congo, that can often mean another round of violence and ethnic murder is under way. In this case, however, something even more horrific was afoot.



Seeing the forest through the elephants: slaughtered elephants taking rainforest trees with them
(03/11/2013) Elephants are vanishing. The booming illegal ivory trade is decimating the world's largest land animal, but no place has been harder hit than the Congo basin and its forest elephants (Loxodonta cyclotis). The numbers are staggering: a single park in Gabon, Minkebe National Park, has seen 11,100 forest elephants killed in the last eight years; Okapi Faunal Reserve in the Democratic Republic of the Congo has lost 75 percent of its elephants in fifteen years; and a new study in PLoS ONE estimates that in total 60 percent of the world's forest elephants have been killed in the last decade alone. But what does that mean for the Congo forest?



New illegal logging ban in EU could sever all ties with companies working in DRC
(03/04/2013) Yesterday, the EU joined the U.S. and Australia in banning all timber that was illegally harvested abroad. The new regulation could have a major impact on where the EU sources its timber, and no where more so than the Democratic Republic of Congo (DRC). According to a new report by Greenpeace, the DRC's current moratorium on industrial logging is being systematically circumvented making all timber from the country suspect.



Warlords, sorcery, and wildlife: an environmental artist ventures into the Congo
(02/25/2013) Last year, Roger Peet, an American artist, traveled to the Democratic Republic of Congo (DRC) to visit one of the world's most remote and wild forests. Peet spent three months in a region that is largely unknown to the outside world, but where a group of conservationists, headed by Terese and John Hart, are working diligently to create a new national park, known as Lomami. Here, the printmaker met a local warlord, discovered a downed plane, and designed a tomb for a wildlife ranger killed by disease, in addition to seeing some of the region's astounding wildlife. Notably, the burgeoning Lomami National Park is home to the world's newest monkey species, only announced by scientists last September.


In search of conflict-free tin from the Congo
(02/12/2013) I am excited to be returning to the Democratic Republic of Congo (DRC) this weekend. My previous visit in January and February of last year was with a delegation aiming to analyze and audit the first conflict-free supply of tantalum from the DRC via the Solutions for Hope 'closed pipe' project. The success of Solutions for Hope, which Motorola Solutions helped to found with AVX, proved that it is possible to source minerals from the DRC through a secure, traceable chain of custody from mine to smelter. This trip extends from that work with the Conflict-Free Tin Initiative (CFTI).



Okapi Conservation Project wins mongabay's 2012 conservation award
(12/06/2012) A group that works to protect the rare okapi, a type of forest giraffe found only in the Congo Basin, has has won mongabay.com's 2012 conservation award. The Okapi Conservation Project has been working to protect the okapi and its habitat in the Democratic Republic of Congo (DRC) for 25 years. The group was instrumental in establishing the Okapi Wildlife Reserve, a 13,700-square-kilometer tract of wilderness in the Ituri Forest of northeastern DRC. While the Okapi Conservation Project has had a long track record of success, earlier this year it was devastated by a brutal attack on the reserve's headquarters. Two wildlife rangers were among the six people killed during June 24 assault.


Mountain gorilla population up by over 20 percent in five years
(11/13/2012) A mountain gorilla census in Uganda's Bwindi Impenetrable National Park has a population that continues to rise, hitting 400 animals. The new census in Bwindi means the total population of mountain gorillas (Gorilla beringei beringei) has reached 880—up from 720 in 2007—and marking a growth of about 4 percent per year.



Foreign loggers and corrupt officials flouting logging moratorium in the Democratic Republic of Congo
(11/08/2012) In 2002 the Democratic Republic of Congo (DRC) announced a moratorium on commercial logging in a bid to save rapidly falling forests, however a new report by Global Witness alleges that industrial loggers are finding a way around the logging freeze. Through unscrupulous officials, foreign companies are abusing artisanal permits—meant for local community logging—to clear-cut wide swathes of tropical forest in the country. These logging companies are often targeting an endangered tree—wenge (Millettia laurentii)—largely for buyers in China and Europe.



'The ivory trade is like drug trafficking' (warning graphic images)
(11/05/2012) For the past five years, Spanish biologist Luis Arranz has been the director of Garamba National Park, in the Democratic Republic of Congo (DRC). Arranz and a team of nearly 240 people, 140 guards among them, work to protect a vast area of about 5,000 square kilometers (1,930 square miles) of virgin forest, home to a population of more than 2.300 elephants that are facing a new and more powerful enemy. The guards are encountering not only bigger groups of poachers, but with ever more sophisticated weapons. According to Arranz, armed groups such as the Lord's Resistance Army from Uganda are now killing elephants for their ivory.


NASA satellites catch vast deforestation inside Virunga National Park
(10/03/2012) Two satellite images by NASA, one from February 13, 1999 and the other from September 1, 2008 (see below), show that Virunga National Park is under assault from deforestation. Located in the eastern edge of the Democratic Republic of Congo (DRC) the park has been assailed by entrenched conflict between rebels and government forces, as well as slash-and-burn farming, the charcoal trade, and a booming human population.


British government comes out against drilling in Virunga National Park by UK company
(10/01/2012) The British government has come out in opposition against oil drilling plans by UK-based, SOCO International, in Virunga National Park, reports Reuters. The first national park established on the continent, Virunga is home to one of only two populations of mountain gorillas (Gorilla beringei beringei) in the world. In March of this year, two oil exploratory permits came to light granting SOCO seismic testing inside the park by the government of the Democratic Republic of Congo (DRC).



Conflict and perseverance: rehabilitating a forgotten park in the Congo
(09/19/2012) Zebra racing across the yellow-green savannah is an iconic image for Africa, but imagine you're seeing this not in Kenya or South Africa, but in the Democratic Republic of Congo (DRC). Welcome to Upemba National Park: once a jewel in the African wildlife crown, this protected area has been decimated by civil war. Now, a new bold initiative by the Frankfurt Zoological Society (FZS), dubbed Forgotten Parks, is working to rehabilitate Upemba after not only decades of conflict but also poaching, neglect, and severe poverty.


Rodents have lowest diversity in primary forests in the Congo
(09/17/2012) For many animal families, diversity and abundance rises as one moves away from human-impacted landscapes, like agricultural areas, into untouched places, such as primary rainforests. However, a new study in mongabay.com's open access journal Tropical Conservation Science, shows that the inverse can also be true. In this case, scientists working in the Democratic Republic of Congo's (DRC) Maskao Forest found that both rodent diversity and abundance was lowest in primary forest.



Remarkable new monkey discovered in remote Congo rainforest
(09/12/2012) In a massive, wildlife-rich, and largely unexplored rainforest of the Democratic Republic of the Congo (DRC), researchers have made an astounding discovery: a new monkey species, known to locals as the 'lesula'. The new primate, which is described in a paper in the open access PLoS ONE journal, was first noticed by scientist and explorer, John Hart, in 2007. John, along with his wife Terese, run the TL2 project, so named for its aim to create a park within three river systems: the Tshuapa, Lomami and the Lualaba (i.e. TL2), a region home to bonobos, okapi, forest elephants, Congo peacock, as well as the newly-described lesula.


Gang raids remote national park in the Democratic Republic of the Congo
(07/26/2012) Mai mai rebels, likely linked to poachers, raided the headquarters of the remote Upemba National Park last weekend, reports the Frankfurt Zoological Society (FZS) which is working to rehabilitate the park in the Democratic Republic of the Congo (DRC). Fortunately, no one was injured in the raid, but equipment was stolen. The raid comes only a few weeks after a different group of rebels murdered seven people and shot dead 13 captive okapis at the Okapi Wildlife Reserve.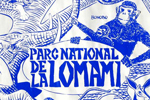 Innovative conservation: bandanas to promote new park in the Congo
(07/16/2012) American artist, Roger Peet—a member of the art cooperative, Justseeds, and known for his print images of vanishing species—is headed off to the Democratic Republic of the Congo (DRC) to help survey a new protected area, Lomami National Park. With him, he'll be bringing 400 bandanas sporting beautifully-crafted images of the park's endangered fauna. Peet hopes the bandanas, which he'll be handing out freely to locals, will not only create support and awareness for the fledgling park, but also help local people recognize threatened species.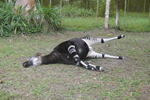 Poacher known as 'Morgan' behind devastating massacre at Okapi Wildlife Reserve
(07/05/2012) Officials have pointed to an infamous elephant poacher known as 'Morgan' as the head of the murderous attack at the Okapi Wildlife Reserve station in the Democratic Republic of the Congo (DRC) late last month. The attack by Morgan and his crew left seven people dead, including two wildlife rangers. The poachers also shot dead 13 captive okapis at the headquarters, which were considered ambassadors for the imperiled forest. One okapi remains alive, but injured and conservationists are not optimistic about its survival. UNESCO and the the NGO Fauna and Flora international have issued an emergency appeal to raise $120,000 dollars within two weeks for the victim's families as well as for rapidly rebuilding the station.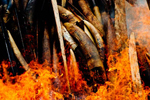 Gabon torches their ivory stock as poachers attack okapi reserve
(07/02/2012) Last week, the west African nation of Gabon committed over 1,200 ivory tusks and carvings to the fire. The act, which was meant to send a strong signal to illegal wildlife poachers across Africa, came only a few days after militia poachers stormed the Okapi Wildlife Reserve in the Democratic Republic of the Congo (DRC). The assailants killed 13 okapis and six people, including two wildlife rangers, in retaliation for a crackdown against poaching and mining in the protected area. Poaching has reached epidemic levels in Africa due to increasing bushmeat consumption and a rise in East Asian demand for black-market ivory and rhino horns.


Militia massacres rangers, 13 endangered okapi at Congo wildlife reserve
(06/29/2012) Two wildlife rangers were among the six people killed during brazen attack on a wildlife facility by a militia in the Democratic Republic of Congo last Sunday. 13 endangered okapi were slaughtered during the early morning raid, which was reportedly a response to a crackdown on illegal elephant poaching and gold mining inside the Okapi Wildlife Reserve.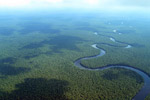 Congolese experts needed to protect Congo Basin rainforests
(06/20/2012) This summer, the Democratic Republic of Congo (DRC) is expected to approve a new higher education strategy which the country has developed with the World Bank and other international donors. The shape of this educational reform initiative will be critical to Congo's future in many ways. It could finally offer Congo's long-suffering people a route into the 21st century. It will also help determine the future of the DRC's forests. Nearly half of the Congo Basin's remaining rainforest is in the DRC—yet the critical role of Congolese experts in forestry, agricultural science, wildlife management and other rural sciences in protecting this forest is not widely recognized.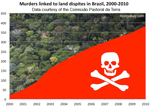 Over 700 people killed defending forest and land rights in past ten years
(06/19/2012) On May 24th, 2011, forest activist José Cláudio Ribeiro da Silva and his wife, Maria do Espírito Santo da Silva, were gunned down in an ambush in the Brazilian state of Pará. A longtime activist, José Cláudio Ribeiro da Silva had made a name for himself for openly criticizing illegal logging in the state which is rife with deforestation. The killers even cut off the ears of the da Silvas, a common practice of assassins in Brazil to prove to their employers that they had committed the deed. Less than a year before he was murdered, da Silva warned in a TEDx Talk, "I could get a bullet in my head at any moment...because I denounce the loggers and charcoal producers."




Suggested reading - Books


Unless otherwise specified, this article was written by Rhett A. Butler [Bibliographic citation for this page]

Other resources

Contact me if you have suggestions on other rainforest-related environmental sites and resources for this country.



Image copyright Google Earth, MDA EarthSet, DigitalGlobe 2005

CIA-World Factbook Profile
FAO-Forestry Profile
World Resources Institute


Last updated: 4 Feb 2006