ZIMBABWE
Zimbabwe Forest Figures

Forest Cover

---

Total forest area: 17,540,000 ha
% of land area: 45.3%

Primary forest cover: n/a
% of land area: n/a
% total forest area: n/a

Deforestation Rates, 2000-2005

---

Annual change in forest cover: -313,000 ha
Annual deforestation rate: -1.7%
Change in defor. rate since '90s: 16.4%
Total forest loss since 1990: -4,694,000 ha
Total forest loss since 1990:-21.1%

Primary or "Old-growth" forests
Annual loss of primary forests: n/a
Annual deforestation rate: n/a
Change in deforestation rate since '90s: n/a
Primary forest loss since 1990: n/a
Primary forest loss since 1990:n/a

Forest Classification

---

Public: n/a
Private: n/a
Other: n/a
Use
Production: 10.1%
Protection: 2.8%
Conservation: n/a
Social services: n/a
Multiple purpose: 87.1%
None or unknown: n/a

Forest Area Breakdown

---

Total area: 17,540,000 ha
Primary: n/a
Modified natural: 17,385,000 ha
Semi-natural: n/a
Production plantation: 154,000 ha
Production plantation: n/a

Plantations

---

Plantations, 2005: 154,000 ha
% of total forest cover: 0.9%
Annual change rate (00-05): n/a

Carbon storage

---

Above-ground biomass: 843 M t
Below-ground biomass: 226 M t

Area annually affected by

---

Fire: n/a
Insects: n/a
Diseases: n/a

Number of tree species in IUCN red list

---

Number of native tree species: 1,747
Critically endangered: 0
Endangered: 2
Vulnerable: 12

Wood removal 2005

---

Industrial roundwood: 1,185,000 m3 o.b.
Wood fuel: 10,381,000 m3 o.b.

Value of forest products, 2005

---

Industrial roundwood: $59,047,000
Wood fuel: n/a
Non-wood forest products (NWFPs): n/a
Total Value: $59,047,000


More forest statistics for Zimbabwe


Zimbabwe—a country with serious social and political problems—has environmental concerns to match. Misguided resettlement programs by the government have resulted in environmental degradation and soil erosion, while reducing agricultural yields. Over-grazing and agriculture, combined with the erosion, are causing desertification in some areas.

Between 1990 and 2005, Zimbabwe lost 21 percent of its forest cover. The country has no primary forests left, and deforestation rates have increased by 16 percent since the end of the 1990s.

Despite this degradation, Zimbabwe has some 1,747 species of trees among its 4,500 species of higher plants. The country is also home to a number of safari animals like elephants, lions, and hippos. In total 270 species of mammals are found in Zimbabwe along with 180 reptiles and 661 birds.

From a tourism standpoint, Zimbabwe is best-known internationally for Victoria Falls and the Zambezi river. On paper, 14.7 percent of the country is under some form of protection.

Zimbabwe has one of the highest rates of AIDS infection on the planet, and population growth rates have fallen significantly in the past decade to 1.1 percent (without AIDS the population growth rate would be 2.5 percent). Today, because of AIDS, life expectancy in Zimbabwe has fallen from 64.9 to 39.2, almost a 40 percent decrease.

Zimbabwe is a major exporter of crocodile skins.

Innovative idea: wildlife income may help people withstand drought in Africa
(03/18/2013) Getting local people to become invested in wildlife conservation is not always easy, especially in parts of the world where protected areas are seen as taking away natural resources from local communities. This tension lies around Gonarezhou National Park in Zimbabwe, where a growing population of livestock herders competes with wildlife.



Scientists: stop treating population growth as a 'given' and empower women
(02/27/2013) Climate change, biodiversity loss, resource depletion, water scarcity, and land issues: almost all of the world's environmental problems are underpinned by too many people inhabiting a finite planet. A new study in the Proceedings of the Royal Society B warns that overpopulation—combined with over-consumption—is threatening to push the entire globe into "a collapse of global civilization." But cultural changes, especially more empowerment of women and access to contraceptives, may hold the key to reducing population growth and eventual sustainability.


Local knowledge matches scientific data on wildlife abundances
(09/17/2012) How far can scientists trust local knowledge when it comes to ecosystems? This is a question that is undergoing heavy debate in scientific circles. A new study in mongabay.com's open access journal Tropical Conservation Science contributes to the debate by finding that basic local knowledge of animal abundance in Gonarezhou National Park, Zimbabwe aligned closely with scientific surveys.


Bushmeat trade driving illegal hunting in Zimbabwe park
(12/12/2011) Bushmeat hunting is one of the major threats to mammals in sub-Saharan Africa. Although widely discussed and recognized as an issues in Central and West Africa, a new study in mongabay.com's open access journal Tropical Conservation Science describes a pattern of bushmeat hunting that is also occurring in southern Africa. Interviewing 114 locals living adjacent to Gonarezhou National Park in Zimbabwe, Edson Gandiwa with Wageningen University found that the primary drivers of illegal hunting in the park were bushmeat and personal consumption (68 percent).


Fertilizer trees boost yields in Africa
(10/16/2011) Fertilizer trees—which fix nitrogen in the soil—have improved crops yields in five African countries, according to a new study in the International Journal of Agricultural Sustainability. In some cases yields have doubled with the simple addition of nitrogen-soaking trees. The research found that fertilizer trees could play a role in alleviating hunger on the continent while improving environmental conditions.


Animal picture of the day: African wild dog travels 250 miles
(07/22/2011) Scientists have found a male African wild dog that has undergone an epic trip. In April 2010 the male dog was photographed in Save the Valley in eastern Zimbabwe then recently the same animal was photographed in Northern Tuli Game Reserve in Botswana some 250 miles (400 kilometers) apart. This is one of the longest distances ever recorded for an African wild dog.


How do Lebombo ironwood trees fare against elephants and fire?
(06/27/2011) A new study in mongabay.com's open access journal Tropical Conservation Science found that Lebombo ironwood (Androstachys johnsonii) forests are showing signs of decline due to elephant damage and fires in Zimbabwe's Gonarezhou National Park. The Lebombo ironwood is the only tree in the genus Androstachys.


Slaughtered elephant served up at Zimbabwean rally with president
(10/12/2010) On the menu at the most recent rally for the Zimbabwe African National Union Political Front (ZANU-PF): 3 African buffalo, 3 elephants, and a lot of smaller game according to SW Radio Africa. Attended by Zimbabwe's President and founder of ZANU-PF, Robert Mugabe, the rally also celebrated the opening of the Women's Celebration Bank.


UN official: Zimbabwe security forces poached 200 rhinos
(02/14/2010) Last week the secretary of the UN Convention on International Trade in Endangered Species (CITES), Willem Wijnstekers, announced that security forces in Zimbabwe had poached approximately 200 rhinos in a two year period. He did say how many elephants were poached by security forces.


In midst of poaching crisis, illegal rhino horn tops gold
(11/25/2009) Rhino poaching has hit a fifteen-year high, and the rising price for black-market rhino horn is likely the reason why. For the first time in a decade rhino horn is worth more than gold: a kilo of rhino horn is worth approximately 60,000 US dollars while gold is a little over 40,600 US dollars.



Language and conservation: why words matter
(10/28/2009) The words we choose matter. Benjamin Lee Whorf, an influential American linguist theorized that the language one speaks directly impacts our thoughts; he is quoted as saying, "language shapes the way we think, and determines what we can think about". If this is the case then those who believe in conservation must select their words wisely. My wife and I recently traveled to Africa where we visited wildlife parks in both Zimbabwe and Botswana. The animals we encountered and the scenes we were fortunate enough to witness proved so beautiful and wondrous that I have a difficult time describing them—at least in any way that accurately depicts the experience.


Uganda to open its doors to big game hunters
(10/15/2009) Uganda, which suffered a 90 percent decline in large mammals during the 70s and 80s, has now lifted a decades-long ban on big game hunting, reports the AFP.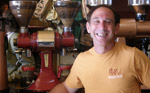 Solar powered conservation
(08/25/2009) Electricity can be a difficult commodity to procure in the remote areas where conservationists often work. Typically field researchers and wildlife rangers rely on gas-powered generators, which require imported fuel, often produce noxious fumes and disruptive noise, and can be costly to maintain. A better option, especially in sun-drenched parts of the world, is solar. Clean and silent, with no need for supplemental fuel, solar seems like an ideal fit for conservation work except for one major drawback: cost. But Stephen Gold – Solar and Technology Manager for Wildlife Conservation Network has been working to overcome that obstacle.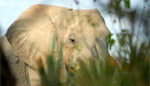 Camping in the Okavango Delta in Botswana
(08/19/2009) The first animal we saw in the Okavango was unmistakable. Although far away, we could easily make it out with its telltale trunk: an African elephant—the world's largest land animal—was striding peaceably through the delta's calm waters. We watched, entranced, from the mokoro, a small boat powered and steered by a local wielding a long pole to push the craft along.


Rhino poaching rises sharply due to Asian demand for horns
(07/09/2009) Rhino poaching rates have hit a 15-year-high as a consequence of demand for horns for use in traditional medicine, according to new report published by the wildlife trade monitoring network TRAFFIC. Asia-based criminal gangs run the illegal trade.


South Africa auctions last of 'legal' elephant ivory to China, Japan
(11/07/2008) South Africa sold 47 metric tons of elephant ivory to Chinese and Japanese buyers for $6.7 million in what was the final of four auctions sanctioned by CITES, an international agreement on the wildlife trade.


Elephant ivory auction produces low prices, controversy
(10/30/2008) The first internally-sanctioned auction of elephant ivory since 1999 produced lower-than-expected prices, but plenty of controversy, reports Reuters.


Ebay bans the sale of elephant ivory
(10/21/2008) Ebay banned the sale of ivory products to help protect elephants from poaching, the company announced Monday.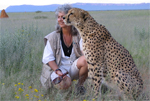 Cheetah population stabilizes in Namibia with support from farmers
(10/02/2008) Viewing the world's fastest land animal as a threat to their livestock, in the 1980s farmers killed half of Namibia's cheetah population. The trend continued into the early 1990s, when the population was diminished again by nearly half, leaving less than 2,500 cheetah in the southern African country. Today cheetah populations have stabilized due, in large part, to the efforts of the Cheetah Conservation Fund, an organization founded by Dr. Laurie Marker.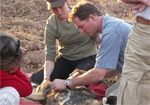 Painted Dog population falls 99%, but community efforts could save species
(09/28/2008) The painted dog, or African wild dog, was once found widely across Africa but relentless persecution by humans, coupled with habitat loss and spread of disease from domestic dogs, has driven the population down from 500,000 to less than 5,000 over the past century. The species is now listed as endangered by the IUCN. While the outlook is not good in many countries, there are emerging signs of hope, particularly in Zimbabwe where the efforts of a community-based conservation project has nearly doubled the population of the dog to 700 individuals.


NASA study shows global warming will diminish rainfall in East Africa, worsening hunger
(08/06/2008) A new NASA-backed study has found a link between a warming Indian Ocean and reduced rainfall in eastern and southern Africa. The results suggest that rising sea temperatures could exacerbate food problems in some of the continent's most famine-prone regions.


Suggested reading - Books


Unless otherwise specified, this article was written by Rhett A. Butler [Bibliographic citation for this page]

Other resources

Contact me if you have suggestions on other rainforest-related environmental sites and resources for this country.



Image copyright Google Earth, MDA EarthSet, DigitalGlobe 2005

CIA-World Factbook Profile
FAO-Forestry Profile World Resources PFD


Last updated: 4 Feb 2006