Interviews with rainforest experts

---
Please note: these interviews appear on the mongabay.com news site which is written for a general audience, not children specifically. As such the reading level may be too high for younger students.

Please note: this is a selection of rainforest-related interviews appearing on mongabay. More interviews are available at Mongabay Interviews


Seeking out the world's rarest and most endangered birds
(02/02/2009) For an evolutionary biologist there is no conservation group whose work is more exciting than EDGE, a program developed by the Zoological Society of London (ZSL). Unique in the conservation world, EDGE chooses the species to focus on based on a combination of their threat of extinction and evolutionary distinctness. Katrina Fellerman, an evolutionary biologist herself and the EDGE birds' coordinator, describes the organization as one that focuses on species, which "to put it bluntly, if lost, there would be nothing like them left in the world today". Explaining further Fellerman says "We use evolutionary distinctiveness (ED) as a species-specific measure of the relative evolutionary value of species - it is a way of apportioning conservation value according to a species' phylogenetic position. Species with few or no close relatives on the 'tree of life' have the highest ED scores."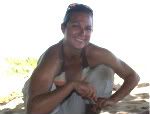 Saving leatherback turtles in South America's smallest country, Suriname: An interview with Liz McHuron
(01/27/2009) After a year studying marine biology at Moss Landing Marine Labs, Liz McHuron headed off to the little-known nation of Suriname to monitor leatherback sea turtles. Her responsibilities included implementing a conservation strategy for a particular beach, moving leatherback nests in danger of flooding, and educating volunteer workers on the biology, behavior, and conservation efforts of the world's largest, and most unique, marine turtle. I visited McHuron during her time at the beach of Galibi in Suriname; she proved to be the sort of scientist who refused to be deterred: breathtaking humidity or downpours, fer-de-lances on the beach or jaguars, Liz was always on the move, always working to aid the critically-endangered leatherbacks while studying them with the thoroughness inherit in a born scientist.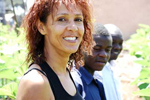 How youth in Kenya's largest slum created an organic farm
(12/09/2008) Kibera is one of the world's largest slums, containing over a million people and 60 percent of Nairobi's population. With extremely crowded conditions, little sanitation, and an unemployment rate at 50 percent, residents of Kibera face not only abject poverty but also a large number of social ills, including drugs, alcoholism, rape, AIDS, water-borne diseases, and tensions between various Kenyan tribes.


Linking rural health care to forest conservation proving a success in Borneo
(12/08/2008) Health in Harmony was today awarded mongabay.com's annual "Innovation in Conservation" award for its unique approach to conservation which combats illegal logging by providing healthcare and sustainable livelihoods to communities living around Gunung Palung National Park in Kalimantan, on the island of Borneo. The award includes a cash grant and prominent placement on the mongabay.com web site and newsletter for the month of December. Health in Harmony is working to break an impoverishing cycle of illegal logging and deforestation by offering healthcare rewards to encourage the villagers to protect the national park, rather than log it. The effort seems to be paying off: since launching a 'forests-for-healthcare' incentive program in September, 18 of 21 communities have signed a moratorium of understanding agreeing to participate.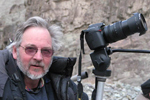 How to Save Snow Leopards
(10/28/2008) The snow leopard (Panthera uncia) is one of the rarest and most elusive big cat species with a population of 4,500 to 7,500 spread across a range of 1.2 to 1.6 million kilometers in some of the world's harshest and most desolate landscapes. Found in arid environments and at elevations sometimes reaching 18,000 feet (5,500 meters), the species faces great threats despite its extreme habitat. These threats vary across its range, but in all countries where it is found — Afghanistan, Bhutan, China, India, Kyrgyzstan, Kazakhstan, Nepal, Mongolia, Pakistan, Russia, Tajikistan, Uzbekistan and possibly Myanmar — the species is at risk. In some countries snow leopard are directly hunted for their pelt, in others they are imperiled by depletion of prey, loss of habitat, and killing as a predator of livestock. These threats, combined with the cat's large habitat requirements, means conservation through the establishment of protected areas alone may not be enough save it from extinction in the wild in many of the countries in which it lives. Working to stave off this fate in half a dozen of its range countries is the Snow Leopard Conservancy. Founded by Dr. Rodney Jackson, a biologist who has been studying snow leopard in the wild for 30 years, the Conservancy seeks to conserve the species by "promoting innovative grassroots measures that lead local people to become better stewards of endangered snow leopards, their prey, and habitat."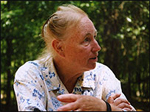 An interview with ringtailed lemur expert Alison Jolly
(10/06/2008) Madagascar has more than 100 types of lemurs, but the most famous species is the ringtailed lemur, a primate found widely in the southern part of the Indian Ocean island. The world's leading expert on ringtailed lemurs is Alison Jolly, presently a Visiting Scientist at the University of Sussex in the UK. Since arriving on the Indian Ocean island in 1963, Jolly has documented the behavior and population dynamics of ringtailed lemurs in Berenty, a small private reserve of gallery forest amid a sea of desert-like spiny forest in southern Madagascar.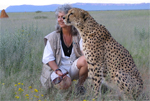 Cheetah population stabilizes in Namibia with support from farmers
(10/02/2008) Viewing the world's fastest land animal as a threat to their livestock, in the 1980s farmers killed half of Namibia's cheetah population. The trend continued into the early 1990s, when the population was diminished again by nearly half, leaving less than 2,500 cheetah in the southern African country. Today cheetah populations have stabilized due, in large part, to the efforts of the Cheetah Conservation Fund, an organization founded by Dr. Laurie Marker.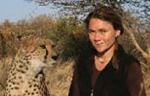 Cheetah population declines 90% in 100 years
(09/30/2008) The planet's fastest land animal is falling behind in its race for survival against habitat encroachment, loss of prey, the illegal wildlife trade, and disease. Once found widely across the African continent to Kazakhstan in the north to Burma in the East, the cheetah has seen a dramatic reduction of its range and numbers in recent centuries as livestock holders have relentlessly killed off the cat as a threat to their livelihoods. Today the cheetah clings to strongholds in only a few African nations. Among these is the southern African country of Botswana, which harbors large expanses of prime cheetah habitat. Still even in Bostwana, the cheetah faces challenges.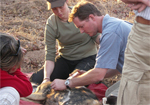 Painted Dog population falls 99%, but community efforts could save species
(09/28/2008) The painted dog, or African wild dog, was once found widely across Africa but relentless persecution by humans, coupled with habitat loss and spread of disease from domestic dogs, has driven the population down from 500,000 to less than 5,000 over the past century. The species is now listed as endangered by the IUCN. While the outlook is not good in many countries, there are emerging signs of hope, particularly in Zimbabwe where the efforts of a community-based conservation project has nearly doubled the population of the dog to 700 individuals.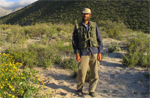 'Snow leopard' of the Andes is one of the world's most endangered cats
(09/28/2008) One of the world's rarest cats is also one of its least known. The Andean mountain cat, sometimes called the "snow leopard" of the Andes, is an elusive species found only at high elevations of the Andean region in Argentina, Bolivia, Chile and Peru. Little is known about its ecology and behavior. While the species is known to be rare, no one knows how many individuals survive in the wild. Mauro Lucherini and his colleagues at the Andean Cat Alliance(AGA) are working to change this.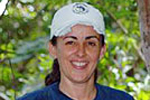 "Punk-rock" monkey and handbags made from recycled trash inspire conservation in Colombia
(09/25/2008) A small, but charismatic primate has become the symbol for conservation efforts in an area of threatened forest in northwestern Colombia, says a conservationist who helped pioneer a successful community development program that turns trash into attractive handbags. Rosamira Guillen, Executive Director of the Fundación Proyecto Tití, is working with local communities to protect the endangered Cotton-top tamarin and its tropical dry forest habitat in northwestern Colombia. The effort relies heavily on creating alternative livelihoods for local people who would otherwise collect the squirrel-sized primate for the pet trade or raze its habitat for agriculture. In the process, Fundación Proyecto Tití has created a thriving business that converts plastic bags — a source or mortality among cotton-top tamarins — into fashionable "eco-mochilas" that are now sent all over the world.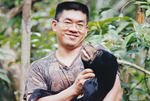 Logging, wildlife trade drive sun bears toward extinction
(09/25/2008) Industrial logging, large-scale forest conversion for oil palm plantations, and the illegal wildlife trade have left sun bears the rarest species of bear on the planet. Recognizing their dire status, Siew Te Wong, a Ph.D. candidate at the University of Montana, is working in Malaysia to save the species from extinction. Known as "Sun Bear Man" in some circles, Siew Te Wong is setting up the Bornean Sun Bear Conservation Centre (BSBCC) in Sabah, a Malaysian state on the island of Borneo. The project aims to save sun bears, which have largely overlooked by conservationists, through research, education, rehabilitation, and habitat conservation.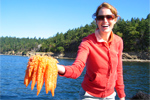 Small-scale fisheries are "best hope" for sustainability in developing world
(09/08/2008) Fish stocks are declining globally. While the consumer in the industrial world has yet to feel the full impact of this decline, those in the developing world know it well. Local small-scale fishermen are catching less fish to feed growing populations. Jennifer Jacquet of the Sea Around Us Project believes the hope for sustainable seafood lies in these very fisheries.


The extinction of the baiji a 'wake-up call' to conserve vaquita and other cetaceans
(08/25/2008) In December of 2006 an expedition spent six weeks surveying the Yangtze River in China for one of the world's rarest cetaceans, the baiji. Also known as 'The Goddess of the Yangtze' the shy river-dolphin had roamed the river for millions of years locating fish with echolocation. The survey came back empty-handed without a spotting a single dolphin. Dr. Jay Barlow, a member of the surveying team, described his emotions on the expedition's findings in an interview with Mongabay.com: "I was stunned. I knew the species was in trouble, but I did not think they were already gone. We really had not seen the extinction of a large mammal species in 50 years, so we grew complacent."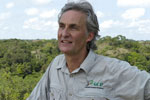 Markets could save rainforests: an interview with Andrew Mitchell
(08/17/2008) Markets may soon value rainforests as living entities rather than for just the commodities produced when they are cut down, said a tropical forest researcher speaking in June at a conservation biology conference in the South American country of Suriname. Andrew Mitchell, founder and director of the London-based Global Canopy Program (GCP), said he is encouraged by signs that investors are beginning to look at the value of services afforded by healthy forests.


Often overlooked, small wild cats are important and in trouble
(8/5/2008) While often over-shadowed by their larger and better-known relatives like lions, tigers, leopards, and jaguars, small cats are important indicators of the health of an ecosystem, says a leading small cat expert who uses camera traps extensively to document and monitor mammals in the wild. Dr Jim Sanderson, a scientist with the Small Cat Conservation Alliance and Conservation International, is working to save some of the world's rarest cats, including the Andean cat and Guigna of South America and the bay, flat-headed, and marbled cats of Southeast Asia. In the process Sanderson has captured on film some of the planet's least seen animals, including some species that have never before been photographed. He has also found that despite widespread criticism, some corporate entities are effectively protecting remote wilderness areas.


Rock star or marine biologist? Hans Walters chose both
(7/31/2008) There aren't many who swim with sharks by day and rock out on a stage at night, but Hans Walters does just that! A man with two distinctly different passions, music and marine biology, Walters is a supervisor for the animals at the New York Aquarium, and then after hours, grabs a microphone as lead singer (playing just enough guitar to be dangerous) for the New York-based hard rock band, 61/49.


An interview a shaman in the Amazon rainforest
(7/28/2008) Deep in the Suriname rainforest, an innovative conservation group is working with indigenous tribes to protect their forest home and culture using traditional knowledge combined with cutting-edge technology. The Amazon Conservation Team (ACT) is partnering with the Trio, an Amerindian group that lives in the remote Suriname-Brazil border area of South America, to develop programs to protect their forest home from illegal gold miners and encroachment, improve village health, and strengthen cultural ties between indigenous youths and elders at a time when such cultures are disappearing even faster than rainforests. In June 2008 mongabay.com visited the community of Kwamalasamutu in Suriname to see ACT's programs in action. During the visit, Amasina, a Trio shaman who works with ACT, answered some questions about his role as a traditional healer in the village.


Defaunation, like deforestation, threatens global biodiversity
(5/20/2008) Loss of wildlife is a subtle but growing threat to tropical forests, says a leading plant ecologist from Stanford University. Speaking in an interview with mongabay.com, Dr. Rodolfo Dirzo says that the disappearance of wildlife due to overexploitation, fragmentation, and habitat degradation is causing ecological changes in some of the world's most biodiverse tropical forests. He ranks defaunation — as he terms the ongoing biological impoverishment of forests — as one of the world's most significant global changes, on par with environmental changes like global warming, deforestation, and shifts in the nitrogen cycle.


U.S. climate policy could help save rainforests
(5/14/2008) U.S. policy measures to fight global warming could help protect disappearing rainforests, says the founding partner of an "avoided deforestation" policy group. In an interview with mongabay.com, Jeff Horowitz of the Berkeley-based Avoided Deforestation Partners argues that U.S. policy initiatives could serve as a catalyst for the emergence and growth of a carbon credits market for forest conservation. REDD or Reducing Emissions from Deforestation and Degradation is a proposed policy mechanism that would compensate tropical countries for safeguarding their forests. Because deforestation accounts for around a fifth of global greenhouse gas emissions, efforts to reduce deforestation can help fight climate change. Forest protection also offers ancillary benefits like the preservation of ecosystem services, biodiversity, and a homeland for indigenous people.


No sacrifices to ending deforestation in the Amazon, only gains
(4/29/2008) Regular columnist and co-creator of Brazil's environmental news website, O Eco, Sergio Abranches has great credibility in Brazil's eco-awakening. A professor of political science, Abranches uses his unique talents to reach a widening audience in Brazil for environmental, energy, and climate change news and discussion. He speaks expertly on any number of topics: from Amazonian deforestation to the current food crises to economic and political transformations for a warming world.


Saving the world's most recently discovered cat species in Borneo
(4/10/2008) Last year two teams of scientists announced the discovery of a new species of clouded leopard in Borneo. The news came as conservationists launched a major initiative to conserve a large area of forest on an island where logging and oil palm plantations have consumed vast expanses of highly biodiverse tropical rainforest over the past thirty years. Now a pair of researchers are racing against the clock to better understand the behvaior of these rare cats to see how well they adapt to these changes in and around Danum Valley in Malaysia's Sabah state. Andrew Hearn and Joanna Ross run the Bornean Wild Cat and Clouded Leopard Project, an effort that aims to understand and protect Borneo's threatened wild cats, which include the flat-headed cat (Prionailurus planiceps), marbled cat (Pardofelis marmorata) leopard cat (Prionailurus bengalensis) the endemic bay cat (Catopuma badia) and the Bornean clouded leopard (Neofelis nebulosa).


Investing to save rainforests
(4/2/2008) Last week London-based Canopy Capital, a private equity firm, announced a historic deal to preserve the rainforest of Iwokrama, a 371,000-hectare reserve in the South American country of Guyana. In exchange for funding a "significant" part of Iwokrama's $1.2 million research and conservation program on an ongoing basis, Canopy Capital secured the right to develop value for environmental services provided by the reserve. Essentially the financial firm has bet that the services generated by a living rainforest — including rainfall generation, climate regulation, biodiversity maintenance and carbon storage — will eventually be valuable in international markets. Hylton Murray-Philipson, director of Canopy Capital, says the agreement — which returns 80 percent of the proceeds to the people of Guyana — could set the stage for an era where forest conservation is driven by the pursuit of profit rather than overt altruistic concerns.


Advice for your first visit to the rainforest
(3/3/2008) Harry S. Pariser has been writing travel guides and articles for many years now. His most recent guide is Explore Costa Rica which has extensive information about the nation and its rainforests.


Saving forgotten species: An interview with Carly Waterman, Program Coordinator of EDGE
(2/28/2008) In January 2007 a new conservation initiative arrived with an unusual level of media attention. The attention was due to the fact that the organization was doing things differently—very differently. Instead of focusing their efforts on the usual conservation-mascots like the panda or tiger, they introduced the public to long-ignored animals: photos of the impossibly unique aye-aye and a baby slender loris wrapped around a finger appeared in newsprint worldwide. The new initiative EDGE (Evolutionary Distinct and Globally Endangered), launched by the Zoological Society of London, was not concerned with an animal's perceived popularity, rather the chose their focal species on a combined measurement of a species' biological uniqueness and its vulnerability to extinction. Consequently, they hoped to make celebrities out of animals (big and small) most people had never heard of: the hairy-eared dwarf lemur, anyone?


55% of the Amazon may be lost by 2030
(1/23/2008) Cattle ranching, industrial soy farming, and logging are three of the leading drivers of deforestation in the Brazilian Amazon. As commodity prices continue to rise, driven by surging demand for biofuels and grain for meat production, the economic incentives for developing the Amazon increase. Already the largest exporter of beef and the second largest producer of soy - with the largest expanse of "undeveloped" but arable land of any country - Brazil is well on its way to rivaling the U.S. as the world's agricultural superpower. The trend towards turning the Amazon into a giant breadbasket seems unstoppable. Nevertheless the decision at the U.N. climate talks in Bali to include "Reducing Emissions From Deforestation and Degradation" (REDD) in future climate treaty negotiations may preempt this fate, says Dr. Daniel Nepstad, a scientist at the Woods Hole Research Institute.


An interview with primate researcher Dr. Karen Strier: America's largest monkey recovering after brush with extinction
(1/10/2008) The Atlantic forest of Brazil boasts South America's largest primates, the Southern and Northern Muriqui. The muriqui are unique among all primates, because they are not territorial and do not display aggressive behvaior. The IUCN has classified the Southern Muriqui as endangered, while the Nothern Muriqui is critically endangered. Dr. Karen Strier has studied the Northern Muriqui in the field for twenty-five years. A professor of zoology and anthropology at the University of Madison Wisconsin, she is the author of Faces in the Forest: the Endangered Muriqui Monkeys of Brazil and a new textbook entitled Primate behvaioral Ecology.


Rainforest destruction increasingly driven by corporate interests, not poverty
(12/18/2007) Tropical deforestation is increasingly enterprise-driven rather than the result of subsistence agriculture, a trend that has critical implications for the future of the world's forests, says Dr. Thomas Rudel, a researcher from Rutgers University. As urbanization and government-sponsored development programs dwindle in the tropics, industrial logging and conversion for large-scale agriculture -- including oil palm plantations, soy farms, and cattle ranches -- are ever more important causes of forest destruction.


Carbon credits for forest conservation concept faces challenges
(11/27/2007) While environmentalists, scientists, development exports, and policymakers across the political spectrum are ethusiastic about the idea of offsetting carbon emissions by preventing deforestation (a concept known as "avoided deforestation" or Reduced Emissions from Deforestation and Degradation (REDD)), the concept still faces many challenges, especially in implementation.


7-year old nature guide becomes Belize environmental hero as adult
(11/16/2007) Each year hundreds of thousands of nature-oriented tourists visit Belize to see the Central American country's spectacular coral reefs, biodiverse rainforests, and ancient Mayan ruins. However few visitors realize that Belize's natural resources are at risk. Timber and oil extraction, agricultural encroachment, coastal development, pollution and unrestrained tourism are all increasing threats to Belizean ecosystems. Unless something is done to address these concerns, within a generation these pressures could present considerable problems for Belize. Dr. Colin Young, head of the environmental science program at Galen University in Belize, says that while he is greatly concerned about these issues, there is still time to ensure healthy forests and reefs in Belize.


Subtle threats could ruin the Amazon rainforest
(11/7/2007) While the mention of Amazon destruction usually conjures up images of vast stretches of felled and burned rainforest trees, cattle ranches, and vast soybean farms, some of the biggest threats to the Amazon rainforest are barely perceptible from above. Selective logging -- which opens up the forest canopy and allows winds and sunlight to dry leaf litter on the forest floor -- and 6-inch high "surface" fires are turning parts of the Amazon into a tinderbox, putting the world's largest rainforest at risk of ever-more severe forest fires. At the same time, market-driven hunting is impoverishing some areas of seed dispersers and predators, making it more difficult for forests to recover. Climate change -- an its forecast impacts on the Amazon basin -- further looms large over the horizon.


An interview with author and eco-lodge pioneer Jack Ewing
(6/12/2007) In 1970 a young man went to Costa Rica, a place he initially confused with Puerto Rico, on an assignment to accompany 150 head of cattle. 37 years and several lifetimes' worth of adventures later, Jack Ewing runs a eco-lodge that serves as a model for a country now considered the world leader in nature travel.


Can cattle ranchers and soy farmers save the Amazon?
(6/6/2007) John Cain Carter, a Texas rancher who moved to the heart of the Amazon 11 years ago and founded what is perhaps the most innovative organization working in the Amazon, Alianca da Terra, believes the only way to save the Amazon is through the market. Carter says that by giving producers incentives to reduce their impact on the forest, the market can succeed where conservation efforts have failed. What is most remarkable about Alianca's system is that it has the potential to be applied to any commodity anywhere in the world. That means palm oil in Borneo could be certified just as easily as sugar cane in Brazil or sheep in New Zealand. By addressing the supply chain, tracing agricultural products back to the specific fields where they were produced, the system offers perhaps the best market-based solution to combating deforestation. Combining these approaches with large-scale land conservation and scientific research offers what may be the best hope for saving the Amazon.


Globalization could save the Amazon rainforest
(6/3/2007) The Amazon basin is home to the world's largest rainforest, an ecosystem that supports perhaps 30 percent of the world's terrestrial species, stores vast amounts of carbon, and exerts considerable influence on global weather patterns and climate. Few would dispute that it is one of the planet's most important landscapes. Despite its scale, the Amazon is also one of the fastest changing ecosystems, largely as a result of human activities, including deforestation, forest fires, and, increasingly, climate change. Few people understand these impacts better than Dr. Daniel Nepstad, one of the world's foremost experts on the Amazon rainforest. Now head of the Woods Hole Research Center's Amazon program in Belem, Brazil, Nepstad has spent more than 23 years in the Amazon, studying subjects ranging from forest fires and forest management policy to sustainable development. Nepstad says the Amazon is presently at a point unlike any he's ever seen, one where there are unparalleled risks and opportunities. While he's hopeful about some of the trends, he knows the Amazon faces difficult and immediate challenges.


Biodiversity extinction crisis looms says renowned biologist
(3/12/2007) While there is considerable debate over the scale at which biodiversity extinction is occurring, there is little doubt we are presently in an age where species loss is well above the established biological norm. Extinction has certainly occurred in the past, and in fact, it is the fate of all species, but today the rate appears to be at least 100 times the background rate of one species per million per year and may be headed towards a magnitude thousands of times greater. Few people know more about extinction than Dr. Peter Raven, director of the Missouri Botanical Garden. He is the author of hundreds of scientific papers and books, and has an encyclopedic list of achievements and accolades from a lifetime of biological research. These make him one of the world's preeminent biodiversity experts. He is also extremely worried about the present biodiversity crisis, one that has been termed the sixth great extinction.


Savvy environmentalists challenge corporations to go green
(1/29/2007) Increasing rates of tropical deforestation in the 1970s and 1980s helped trigger the rise of several forest activist groups specifically interested in rainforests. Among the earliest of these organizations was the Rainforest Action Network (RAN). Founded in 1985 by Randall Hayes, RAN lead its first direct campaign in 1987 against Burger King, which at the time was using beef raised on deforested lands in Central America. In response to the nationwide boycott, which caused sales to drop 12%, Burger King canceled $35 million worth of beef contracts from the region and announced they would no longer import beef from the rainforest. Hailed as a major victory for rainforest protection, RAN initiated consumer boycotts of other firms engaged in destructive practices, eventually developing an effective strategy for promoting change at the corporate level. Today San Francisco-based RAN has expanded well beyond its original mission of protecting rainforests. Recently dubbed "the most savvy environmental agitators in the business" by the Wall Street Journal, the small but efficient organization (36 staff members and a $3 million budget) pressures some of the world's largest and most respected firms -- including Citigroup, Bank of America, JP Morgan Chase, Goldman Sachs, Home Depot, and Boise Cascade -- to adopt wide-ranging green policies that impact everything from where they source their energy to how they finance development projects.


Canopy research is key to understanding rainforests
(11/28/2006) Home to perhaps half the world's terrestrial species, rainforests are the most biodiverse ecosystems on the planet. However, when one strolls through the forest, this biodiversity is rarely apparent for the simple reason that most activity in the rainforest occurs in the canopy, a layer of overlapping branches and leaves some 60-120 feet off the ground. Here, a wealth of ecological niches creates opportunities for plants and animals, including species generally considered to be ground-dwellers: crabs, kangaroos, and even earthworms. Beyond housing biodiversity, the canopy is the power source of the rainforest, with billions of tree leaves acting as miniature solar panels to convert sunlight into energy through photosynthesis. Since the rate of photosynthesis of canopy trees is so high, these plants generate higher yields of fruits, seeds, flowers, and leaves which attract and support a wide diversity of animal life. Further, as the principal site of the interchange of heat, water vapor, and atmospheric gases, the canopy also plays an important role in regulating regional and global climate.


Responsible tourism: How to travel ethically
(11/27/2006) Ecotourism is hot. Travel companies everywhere are slapping eco-friendly labels on their tours and hotels to attract green-minded visitors. Alas some "ecotourism" is not really good for the environment or local people. That three-week round-the-world eco-tour via private jet for just $42,950 will generate a lot of greenhouse gases as you're flying between plush lodges that import food and staff from other places. Likewise those wood carvings purchased in tourist centers may come not from indigenous artisans but a factory turning endangered rainforest hardwoods into throwaway tourist items. Heavy anchors dropped on reefs are good neither for the coral reef ecosystem nor the sustainability of the local tourism industry. So what's a true "ecotourist" to do? Is it really possible to travel without trampling culture and tradition and further soiling the environment?


Conserving wildlife in Tanzania, Africa's most biodiverse country
(11/8/2006) With ecosystems ranging from Lake Tanganyika to Mt. Kilimanjaro, Tanzania is the most biodiverse country in Africa. Though Tanzania is world famous for its safari animals, the country is also home to two major biodiversity hotspots: coastal forests of Eastern Africa and the montane forests of the Eastern Arc Mountains. Tanzania has set aside nearly a quarter of its land mass in a network of protected areas and more than one-sixth of the country's income is derived from tourism, much of which comes from nature-oriented travel. Despite these conservation achievements, Tanzania's wildlands and biodiversity are not safe. Fueled by surging population growth and poverty, subsistence agriculture, fuelwood collection, and timber extraction have fragmented and degraded extensive areas that are nominally protected as parks. Hunting and unsustainable use of forest products have further imperiled ecosystems and species. In the near future, climate change looms as a major threat not only to Mt. Kilimanjaro's glaciers, which are expected to disappear within ten years, but also to Tanzania's many endemic plants and animals found in its montane forests. Working to better understand these threats and safeguard Tanzania's biodiversity for future generations is Tim Davenport, Country Director for the Wildlife conservation Society (WCS) in Tanzania.


Indians are key to rainforest conservation efforts says renowned ethnobotanist
(10/31/2006) Tropical rainforests house hundreds of thousands of species of plants, many of which hold promise for their compounds which can be used to ward off pests and fight human disease. No one understands the secrets of these plants better than indigenous shamans -medicine men and women - who have developed boundless knowledge of this library of flora for curing everything from foot rot to diabetes. But like the forests themselves, the knowledge of these botanical wizards is fast-disappearing due to deforestation and profound cultural transformation among younger generations. The combined loss of this knowledge and these forests irreplaceably impoverishes the world of cultural and biological diversity. Dr. Mark Plotkin, President of the non-profit Amazon conservation Team, is working to stop this fate by partnering with indigenous people to conserve biodiversity, health, and culture in South American rainforests. Plotkin, a renowned ethnobotanist and accomplished author (Tales of a Shaman's Apprentice, Medicine Quest) who was named one of Time Magazine's environmental "Hero for the Planet," has spent parts of the past 25 years living and working with shamans in Latin America. Through his experiences, Plotkin has concluded that conservation and the well-being of indigenous people are intrinsically linked -- in forests inhabited by indigenous populations, you can't have one without the other. Plotkin believes that existing conservation initiatives would be better-served by having more integration between indigenous populations and other forest preservation efforts.


Global warming could cause catastrophic die-off of Amazon rainforest by 2080
(10/22/2006) For the Amazon, there is an immense threat looming on the horizon: climate change could well cause most of the Amazon rainforest to disappear by the end of the century. Dr. Philip Fearnside, a Research Professor at the National Institute for Research in the Amazon in Manaus, Brazil and one of the most cited scientists on the subject of climate change, understands the threat well. Having spent more than 30 years in Brazil and now recognized as one of the world's foremost experts on the Amazon rainforest, Fearnside is working to do nothing less than to save this remarkable ecosystem. Fearnside believes saving the Amazon will require a fundamental shift in perception where the Amazon is recognized as an asset beyond the current price of mahogany, soybeans, or cattle, where its value is only unlocked by its destruction. The Amazon is far worth more than this he says. It can play a key role in fighting climate change while providing economic sustenance for millions through sustainable agriculture and rational utilization of its renewable products. It can serve as a storehouse for biodiversity while at the same time ensuring reliable water supplies and moderating regional temperature and precipitation. In short, maintaining the Amazon as a viable ecosystem makes sense economically and ecologically -- it is in our best interest to preserve this resource while we still can.


Rainforests face myriad of threats says leading Amazon scholar
(10/16/2006) The world's tropical rainforests are in trouble. Spurred by a global commodity boom and continuing poverty in some of the world's poorest regions, deforestation rates have increased since the close of the 1990s. The usual threats to forests -- agricultural conversion, wildlife poaching, uncontrolled logging, and road construction -- could soon be rivaled, and even exceeded, by climate change and rising levels of carbon dioxide in the atmosphere. Understanding these threats is key to preserving forests and their ecological services for current and future generations. William F. Laurance, a distinguished scholar and president of the Association for Tropical Biology and conservation (ATBC) -- the world's largest scientific organization dedicated to the study and conservation of tropical ecosystems, is at the forefront of this effort.


A look at the biodiversity extinction crisis
(10/6/2006) As tropical forests -- the world's biological treasure troves -- continue to dwindle, biologists are racing to devise ways to save them and their resident biodiversity. While many conservation biologists talk about population viability analysis and intricacies of reserve layouts, David L. Pearson, a research professor at the School of Life Sciences at Arizona State University (ASU) in Tempe, Arizona, focuses on a different approach: education.


Conservation is saving lemurs and helping people in Madagascar
(5/7/2007) Madagascar, an island nation that lies off the coast of southeastern Africa, has long been famous for its unique and diverse species of wildlife, especially lemurs--primates found nowhere else on the planet. In recent years, the island country has also become world-renowned for conservation efforts that are succeeding in spite of extraordinary pressures from a poor population that relies heavily on forest burning for basic subsistence. A large part of this success is due to the early efforts of Patricia Wright, a primatologist who has been working in the country for more than 20 years. Wright led the effort to launch the country's leading protected area and helped Madagascar become a leading global example of conservation despite its economic adversity.



By

Rhett Butler

Date published: June 24, 2004 | Last updated: Dec 5, 2015
All about Rainforests
Sponsor(s)
FAQs
May I use graphics from mongabay.com for my projects? Yes, you may provided that you don't remove the mongabay label from the images. You may use information from the site for class projects and can cite rainforests.mongabay.com/kids as the source.
Is this web site credible? Mongabay is the world's most popular source for information on tropical forests. The site is highly acclaimed by a number of the world's leading tropical scientists and is run independently, meaning it is has no affiliation with advocacy groups or outside corporations. Rhett Butler, who founded Mongabay in 1999 and runs the site today, has published several scientific papers.
Can I interview the founder of mongabay.com for my school project? Unfortunately due to the large number of requests and the need to work on the main Mongabay site, Rhett is not available for interviews. However he has answered some common questions on the Rainforest Interview page.
Do you have any games or activities? Currently there are a few on the resources page. There may be more in the future.
Who are some scientists who study rainforests? Take a look at the Interviews with rainforest experts page.
How can I help save rainforests? Some ideas are listed on the Rainforest Solutions page.
Where can I learn more about rainforests? There is a wealth of information at the main rainforest site