Drivers of deforestation
The following are estimates for drivers of deforestation. Please note that this page will be updated as new data and analyses are published and become available.

The causes of deforestation vary from region to region. In Latin America and Southeast Asia a majority of deforestation is today the result of industrial activities, notably cattle ranching in the Amazon and large-scale agriculture and intensive logging in Southeast Asia. Subsistence agriculture, often using slash-and-burn / fallow techniques, is the most important driver of forest loss in Africa.

While net forest loss has remained relatively constant over the past twenty years, there have been two significant shifts since the late 1980s: (1) old-growth forests are being replaced by plantations and degraded, logged-over forests; and (2) forest clearing is increasingly driven by industry rather than subsistence activities.

Controlling deforestation is imperative to addressing climate change. The annual destruction of 13 million hectares of forest accounts for nearly one-fifth of global greenhouse gas emissions, a greater share than all the world's trucks, cars, ships, and airplanes combined.

Estimates based on HK Gibbs (2008):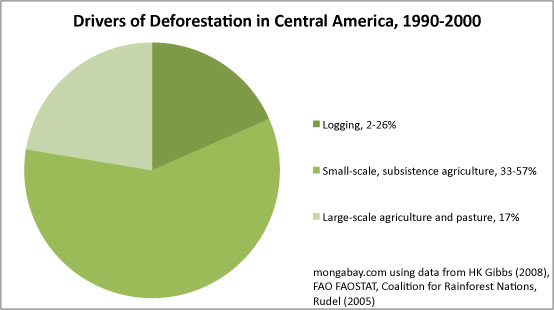 Drivers of deforestation in Central America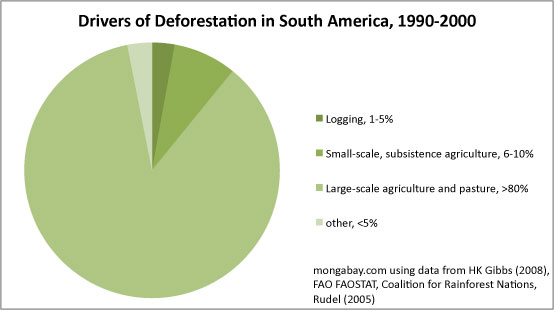 Drivers of deforestation in South America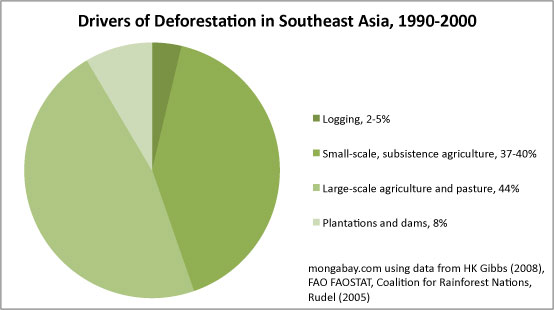 Drivers of deforestation in Southeast Asia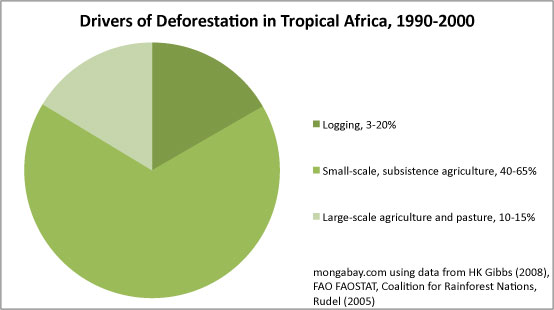 Drivers of deforestation in Tropical Africa

Estimates from Project Catalyst (2008):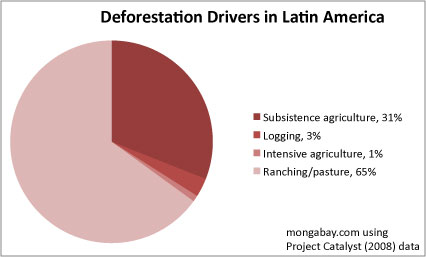 Drivers of deforestation in South America (Neotropics)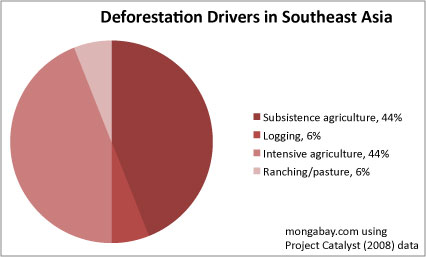 Drivers of deforestation in Southeast Asia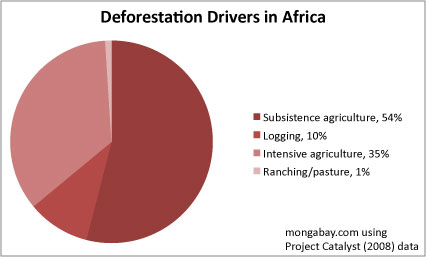 Drivers of deforestation in Africa


Continental-level estimations of the importance of deforestation drivers as reported by 46 countries: (a) in terms of overall continental proportions as sum of country data weighted by net forest area change by country (km2/y, FAO, 2010a) for the period 2000–2010 (b) the same data shown in terms of absolute national net forest area change by (km2/y, FAO, 2010a), and (c) for continental estimations of relative importance of degradation drivers (Source: Hosonuma et al., 2012). Caption and image courtesy of Kissinger et al. Click image to enlarge. More information
By

Rhett Butler
Recent articles about deforestation
The Philippines: where 'megadiversity' meets mega deforestation
(07/31/2014) Ongoing loss of forest cover in the Philippines places it among the top ten most threatened forest hotspots in the world, with the archipelago ranking fourth, behind Indo-Burma, New Caledonia and Sundaland (a region encompassing Australia and parts of Southeast Asia). According to a report issued by Conservation International, only five percent of Philippine forests remain intact.



Cargill to cut off suppliers who don't provide deforestation-free palm oil
(07/30/2014) Agricultural giant Cargill, America's largest palm oil importer, will no longer buy palm oil from sources associated with deforestation, conversion of peatlands, and social conflict. The policy follows similar commitments made by other major palm oil buyers, including Unilever and Nestle, and comes after years of campaigning led by the Rainforest Action Network.



Conservation controversy: are bonobos protected in the right ways and in the right places?
(07/30/2014) Bonobos, endangered great apes, continue to survive in forests south of the Congo River in the DRC, albeit under constant threat of hunting, loss of habitat and the growing demands of an increasing human population. Conservationists have, over the years, tried and tested different conservation strategies to protect the last of the bonobos. And some of these strategies have invited considerable debate.



Deforestation ramping up in Yasuni as Ecuador sets to open up national park to drilling
(07/29/2014) Yasuni National park has been in the conservation spotlight in recent years, with oil drilling threatening the forests and wildlife of this biodiversity hotspot. Recently, disturbance in the park may have ramped up, with satellite data showing a significant increase in deforestation alerts within Yasuni National Park since 2011.



Palm oil company clears rainforest in New Guinea
(07/29/2014) An Indonesian Stock Exchange-listed company whose commissioner is a member of The Nature Conservancy-Indonesia's board has been clearing dense rainforest in New Guinea, finds a new report from Greenomics-Indonesia. The report is based on analysis of data from Global Forest Watch, NASA satellites, Indonesia's Ministry of Forestry, and company documents.



Invasion of the oil palm: western Africa's native son returns, threatening great apes
(07/28/2014) As palm oil producers increasingly look to Africa's tropical forests as suitable candidates for their next plantations, primate scientists are sounding the alarm about the destruction of ape habitat that can go hand in hand with oil palm expansion. A recent study sought to take those warnings a step further by quantifying the overlap in suitable oil palm land with current ape habitat.



True stewards: new report says local communities key to saving forests, curbing global warming
(07/24/2014) Deforestation is compromising forests around the world, destroying vital habitat and causing greenhouse gases emissions that are contributing to global warming. A new report released today finds a possible solution: protecting forests by empowering the local communities that live within them.



Desperate measures: researchers say radical approaches needed to beat extinctions
(07/24/2014) Today, in the midst of what has been termed the "Sixth Great Extinction" by many in the scientific community, humans are contributing to dizzying rates of species loss and ecosystem changes. A new analysis suggests the time may have come to start widely applying intensive, controversial methods currently used only as "last resort" strategies to save the word's most imperiled species.



Rebuilding Kissama: war-torn Angola's only national park affected by deforestation, but refaunation gives hope
(07/24/2014) The story of Kissama National Park is one of perseverance, vision and disaster in waiting. The only functional national park in Angola, a country wracked by war for decades, Kissama (also called Quiçama) lost much of its wildlife, with that which is left still impacted by poaching and deforestation. However, a project is attempting to bring the park back to life.



Peru slashes environmental protections to attract more mining and fossil fuel investment
(07/23/2014) In an effort to kickstart investment in mining and fossil fuels, Peru has passed a controversial law that overturns many of its environmental protections and essentially defangs its Ministry of Environment. The new law has environmentalists not only concerned about its impact on the country but also that the measures will undermine progress at the up-coming UN Climate Summit in December.



'A high price to pay': new Indonesian peatland regulation may do more harm than good
(07/22/2014) The Government Regulation on Peatland Ecosystem Protection and Management, initially drafted by the Ministry of Forestry in 2013, is getting mixed acceptance from civil society. On one hand, the regulation would offer more protection to the country's vast peatland areas. However, on the other, some NGOs have slammed the draft as a potential source of new conflicts for local people.



Roads through the rainforest: an overview of South America's 'arc of deforestation'
(07/21/2014) When a new road centipedes its way across a landscape, the best of intentions may be laid with the pavement. But roads, by their very nature, are indiscriminate pathways, granting access for travel and trade along with deforestation and other forms of environmental degradation. And as the impacts of roads on forest ecosystems become clear, governments and planning agencies reach a moral crossroads.



Surprising habitat: camera traps reveal high mammal diversity in forest patches within oil palm plantations
(07/21/2014) After more than four and a half years of camera trap footage, the results are encouraging: 36 mammal species, of which more than half are legally protected, are prospering in this most surprising of spots: an oil palm plantation in the province of East Kalimantan in Indonesian Borneo.



What is peat swamp, and why should I care?
(07/20/2014) Long considered an unproductive hindrance to growth and development, peat swamp forests in Southeast Asia have been systematically cleared, drained and burned away to make room plantations and construction. Now, as alternating cycles of fires and flood create larger development problems, while greenhouse gas emissions skyrocket, it is time to take a closer look at peat, and understand why clearing it is a very bad idea.



Is there hope for bonobos? Researchers, NGOs, gov't officials, local communities band together to save iconic ape (Part III)
(07/18/2014) Sankuru Nature Reserve was established in 2007 primarily for bonobo protection. The largest continuous protected great ape habitat in the world, Sankuru is still losing large swaths of forests to burning and other activities, primarily along roads that transect the center of the reserve. However, hope exists, both from human efforts – and from the apes themselves.



Poaching, fires, farming pervade: protecting bonobos 'an enormous challenge' (Part II)
(07/17/2014) Sankuru Nature Reserve in the DRC was established in 2007 to safeguard the 29,000 to 50,000 bonobos that remain in existence. However, while touted as the largest swath of protected continuous great ape habitat in the world, the reserve is still losing thousands of hectares of forest every year. Burning, bushmeat hunting, and agricultural expansion are taking a large toll on the endangered great ape.



Surrounded by deforestation, critically endangered gorillas hang on by a thread
(07/17/2014) The mountain forests at the Nigeria-Cameroon border are home to one of the rarest and most threatened subspecies of African apes – the Cross River gorilla (Gorilla gorilla diehli). Today, fewer than 300 individuals survive in the wild. These occur in 14 small, fragmented populations spread over a 12,000-square kilometer (4,633-square mile) landscape, characterized by rugged, hilly terrain and a matrix of farmlands, villages, and forests.



30% of Borneo's rainforests destroyed since 1973
(07/16/2014) More than 30 percent of Borneo's rainforests have been destroyed over the past forty years due to fires, industrial logging, and the spread of plantations, finds a new study that provides the most comprehensive analysis of the island's forest cover to date. The research, published in the open-access journal PLOS ONE, shows that just over a quarter of Borneo's lowland forests remain intact.



Will the last ape found be the first to go? Bonobos' biggest refuge under threat (Part I)
(07/16/2014) Bonobos have been declining sharply over the past few decades. In response, several non-profit organizations teamed up with governmental agencies in the DRC to create Sankuru Nature Reserve, a massive protected area in the midst of bonobo habitat. However, the reserve is not safe from deforestation, and has lost more than one percent of its forest cover in less than a decade.



On track to 'go beyond the critical point': Sri Lanka still losing forests at rapid clip
(07/15/2014) During the latter half of Sri Lanka's civl war, between 1990 and 2005, Sri Lanka suffered one of the highest rates of deforestation in the world, losing about 35 percent of its old growth forest and almost 18 percent of its total forest cover. The conflict ended in 2009, and while deforestation has slowed somewhat, Sri Lanka is still losing forest cover at a fast pace.





---
Other pages in this section:
Selection of information sources