Drivers of deforestation
The following are estimates for drivers of deforestation. Please note that this page will be updated as new data and analyses are published and become available.

The causes of deforestation vary from region to region. In Latin America and Southeast Asia a majority of deforestation is today the result of industrial activities, notably cattle ranching in the Amazon and large-scale agriculture and intensive logging in Southeast Asia. Subsistence agriculture, often using slash-and-burn / fallow techniques, is the most important driver of forest loss in Africa.

While net forest loss has remained relatively constant over the past twenty years, there have been two significant shifts since the late 1980s: (1) old-growth forests are being replaced by plantations and degraded, logged-over forests; and (2) forest clearing is increasingly driven by industry rather than subsistence activities.

Controlling deforestation is imperative to addressing climate change. The annual destruction of 13 million hectares of forest accounts for nearly one-fifth of global greenhouse gas emissions, a greater share than all the world's trucks, cars, ships, and airplanes combined.

Estimates based on HK Gibbs (2008):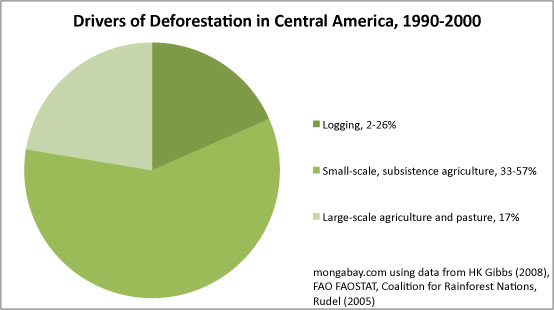 Drivers of deforestation in Central America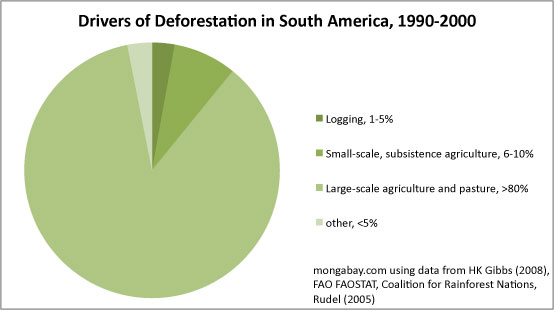 Drivers of deforestation in South America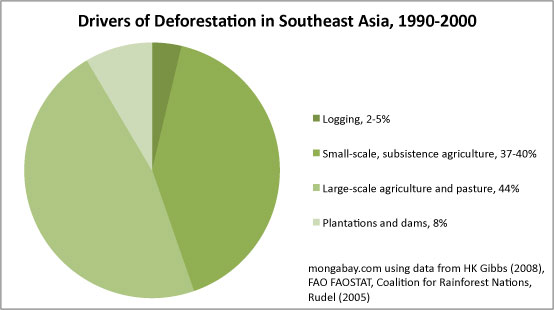 Drivers of deforestation in Southeast Asia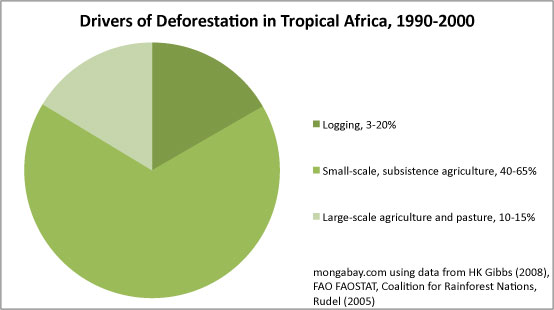 Drivers of deforestation in Tropical Africa

Estimates from Project Catalyst (2008):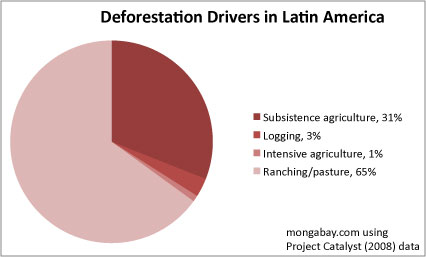 Drivers of deforestation in South America (Neotropics)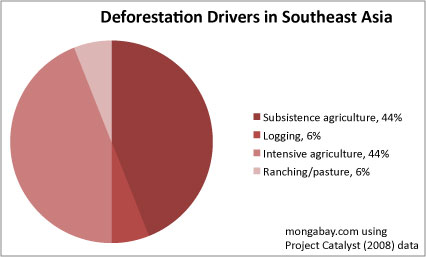 Drivers of deforestation in Southeast Asia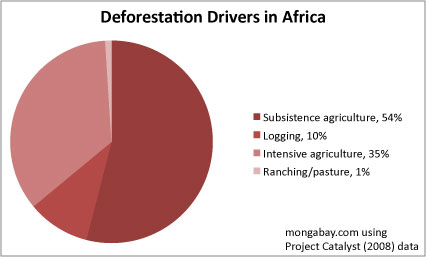 Drivers of deforestation in Africa


Continental-level estimations of the importance of deforestation drivers as reported by 46 countries: (a) in terms of overall continental proportions as sum of country data weighted by net forest area change by country (km2/y, FAO, 2010a) for the period 2000–2010 (b) the same data shown in terms of absolute national net forest area change by (km2/y, FAO, 2010a), and (c) for continental estimations of relative importance of degradation drivers (Source: Hosonuma et al., 2012). Caption and image courtesy of Kissinger et al. Click image to enlarge. More information
By

Rhett Butler
Recent articles about deforestation
125M ha of degraded lands identified for forest-friendly agricultural expansion
(12/19/2014) A team of researchers has identified 125 million hectares (309 million acres) of land suitable for agricultural expansion that won't come at the expense of tropical forests. The study argues that shifting agricultural expansion away from forests to these 'degraded lands' would avoid 13 billion tons of carbon dioxide emissions that would be released were they converted for plantations, pasture, and croplands.



Impacts of deforestation on Amazonian river ecosystems could be far-reaching
(12/18/2014) A study by researchers in Brazil published this week has found that deforestation in the Southern Amazon may impair significantly the structure and function of rivers, and make them less able to support life.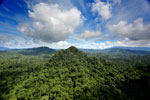 Tropical deforestation could disrupt rainfall globally
(12/18/2014) Large-scale deforestation in the tropics could drive significant and widespread shifts in rainfall distribution and temperatures, potentially affecting agriculture both locally and far from where forest loss is occurring, concludes a study published today in Nature Climate Change.



Success of 'land sparing' will depend on global economics, regulations
(12/16/2014) Agriculture is the primary driver of tropical deforestation. Indeed, most global food production occurs in the tropics, including important commodity crops such as sugarcane, soybeans, palm oil, and beef. Recent estimates indicate that forest clearing for agriculture contributes significantly to greenhouse gas emissions. This fuels concern over how to balance food production for a growing population with climate change mitigation through conserving tropical forests.



Palm oil facilitates large-scale illegal logging in Indonesia
(12/16/2014) Development of oil palm plantations is providing cover for large-scale illegal logging in Indonesian Borneo, driving destruction of some of the island's most biodiverse forests and undermining efforts to reform the country's forestry sector, alleges a new report published by the Environmental Investigation Agency (EIA).



Boosting the conservation value of 4M sq km of rainforest logging concessions
(12/12/2014) Short of buying back logging concessions, switching from conventional logging approaches to reduced impact logging techniques across existing forestry concessions may be the best way boost biodiversity in areas earmarked for timber extraction, argues paper.



10 years following tsunami, Aceh aims to create its own, new, and totally preventable disaster
(12/11/2014) In the run-up to the tenth anniversary of the devastating 2004 tsunami, that claimed the lives of around 200,000 of Aceh's people, there is much concern that Aceh seems now to be deliberately steering itself towards yet another, entirely avoidable disaster. One that will harm yet more people and cause even more long-term economic damage to the province.



Striking new gecko discovered in Thailand
(12/09/2014) A research team based in western Thailand has discovered a new gecko species in the Kanchanaburi Province, a region renowned for its number of species found nowhere else in the world. A recent publication describes the Sai Yok bent-toed gecko (Cyrtodactylus saiyok), the sixth reptile species endemic to the region known to science.



Relief for Kenya's rare coastal forest
(12/09/2014) In October this year, CAMAC Energy, an oil and gas exploration and production company, announced that they would conduct seismic surveys for oil and gas within Arabuko-Sokoke Forest, one of the last remaining fragments of coastal forests in East Africa. But following immense pressure from the environmental front, CAMAC Energy cancelled their plans to conduct surveys inside the forest.


Indonesia sets reference level for cutting deforestation
(12/05/2014) The Indonesian government has established reference levels for measuring reductions in emissions from deforestation and forest and peatland degradation, reports Antara.



How an indigenous community in Ecuador stood up to big oil - and won
(12/05/2014) The Sarayaku, a Kichwa indigenous people numbering 1,200 from the Ecuadorian Amazon, won a historic court case in 2012. The Inter-American Court of Human Rights ruled that the government of Ecuador must publicly apologize, consult with, and recompense the Sarayaku for allowing oil exploration by Argentine Compañia General de Combustibles on their territory without prior consultation



Biodiversity protection is key to REDD+ success, study shows
(12/05/2014) Protecting biodiversity may be crucial for successfully storing carbon in forests, scientists say. A recent publication on Oryx - The International Journal of Conservation suggests that biodiversity loss –especially through hunting – will hinder the success of Reducing Emissions from Deforestation and Forest Degradation (REDD) projects.



Tradeoff: Sabah banks on palm oil to boost forest protection
(12/05/2014) Last month Sabah set aside an additional 203,000 hectares of protected forest reserves, boosting the Malaysian state's extent of protected areas to 21 percent of its land mass. But instead of accolades, Sabah forestry leaders were criticized for how they went about securing those reserves: allowing thousands of hectares of deforested land within an officially designated forestry area to be converted for oil palm plantations



Giant stone face unveiled in the Amazon rainforest (video)
(12/04/2014) A new short film documents the journey of an indigenous tribe hiking deep into their territory in the Peruvian Amazon to encounter a mysterious stone countenance that was allegedly carved by ancient peoples. According to Handcrafted Films, which produced the documentary entitled The Reunion, this was the first time the Rostro Harakbut has been filmed.



New endangered bird species discovered in Brazil
(12/04/2014) The Bahian mouse-colored tapaculo (Scytalopus gonzagai) has only just been discovered by scientists in the heavily logged Atlantic Forest of southeast Brazil -- and it's already believed to be endangered.



Is the Gran Canal really a 'big Christmas present' for Nicaraguans?
(12/04/2014) "A big Christmas present"—that is how Paul Oquist, an advisor to Nicaraguan president, Daniel Ortega, described the country's plan to build a mega-canal across the nation. Preliminary construction on the canal is set to begin December 24th, despite major concerns over environmental destruction, forced removal of thousands of people, and a lack of transparency.


Deforestation jumps in Peru
(12/03/2014) Deforestation in the Peruvian Amazon increased significantly last year, says a top official.



One-two punch: farming, global warming destroying unique East African forests
(12/03/2014) Lush mountains speckle East Africa's grasslands and desert, from Mozambique to Ethiopia. These isolated habitats are home to a plethora of species, and are considered by scientists to be some of the most biodiverse regions in the world. However, their forests are being cut down for farmland and are threatened by global warming, putting at risk multitudes of species that have nowhere else to go.



New survey finds surprisingly large population of endangered owl
(12/03/2014) The Anjouan scops owl—an elusive owl found only on its tiny eponymous island—was once considered among the world's most endangered owls, and even the most threatened birds. However, the first in-depth survey of the owls on the island finds that, in fact, the population is far larger than initially estimated.



Threatened indigenous forests store more than half the Amazon's carbon
(12/02/2014) A new study released today finds the total carbon load locked up in parts of the Amazon rainforest held by indigenous groups to be much higher than previously estimated – an amount that, if released, would be capable of destabilizing the earth's atmosphere. But because of flimsy land rights, these areas stand at risk of deforestation.





---
Other pages in this section:
Selection of information sources