Drivers of deforestation
The following are estimates for drivers of deforestation. Please note that this page will be updated as new data and analyses are published and become available.

The causes of deforestation vary from region to region. In Latin America and Southeast Asia a majority of deforestation is today the result of industrial activities, notably cattle ranching in the Amazon and large-scale agriculture and intensive logging in Southeast Asia. Subsistence agriculture, often using slash-and-burn / fallow techniques, is the most important driver of forest loss in Africa.

While net forest loss has remained relatively constant over the past twenty years, there have been two significant shifts since the late 1980s: (1) old-growth forests are being replaced by plantations and degraded, logged-over forests; and (2) forest clearing is increasingly driven by industry rather than subsistence activities.

Controlling deforestation is imperative to addressing climate change. The annual destruction of 13 million hectares of forest accounts for nearly one-fifth of global greenhouse gas emissions, a greater share than all the world's trucks, cars, ships, and airplanes combined.

Estimates based on HK Gibbs (2008):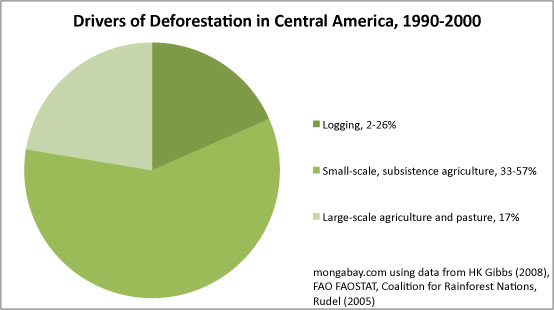 Drivers of deforestation in Central America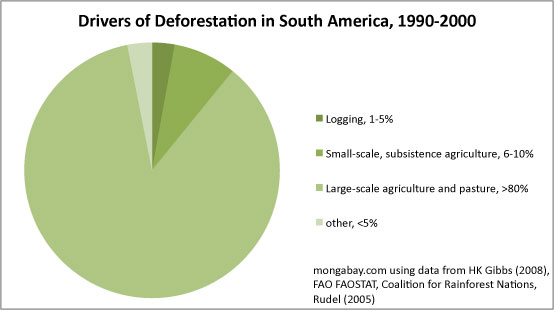 Drivers of deforestation in South America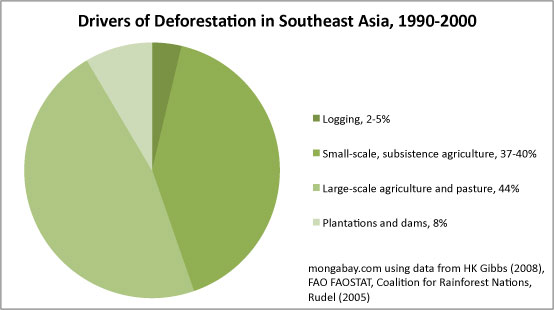 Drivers of deforestation in Southeast Asia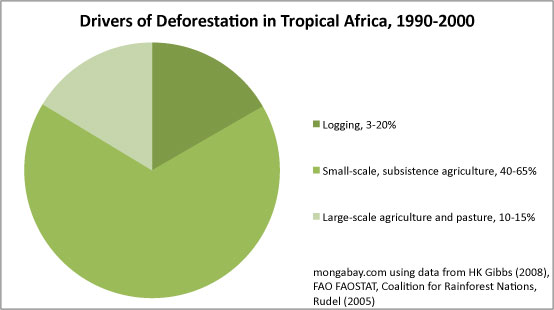 Drivers of deforestation in Tropical Africa

Estimates from Project Catalyst (2008):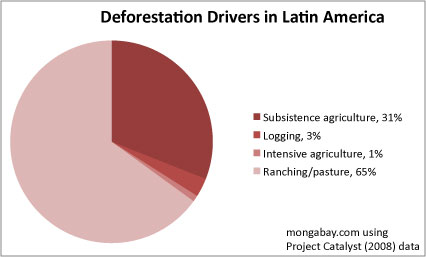 Drivers of deforestation in South America (Neotropics)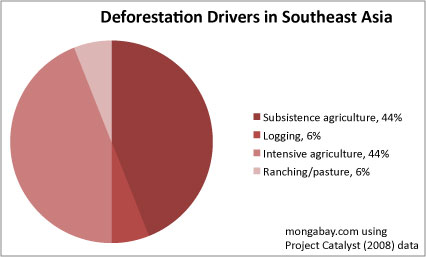 Drivers of deforestation in Southeast Asia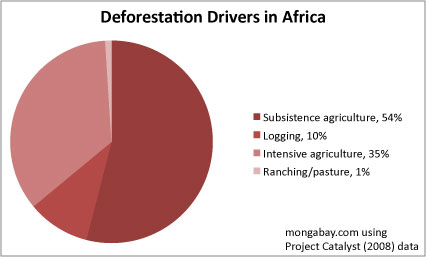 Drivers of deforestation in Africa


Continental-level estimations of the importance of deforestation drivers as reported by 46 countries: (a) in terms of overall continental proportions as sum of country data weighted by net forest area change by country (km2/y, FAO, 2010a) for the period 2000–2010 (b) the same data shown in terms of absolute national net forest area change by (km2/y, FAO, 2010a), and (c) for continental estimations of relative importance of degradation drivers (Source: Hosonuma et al., 2012). Caption and image courtesy of Kissinger et al. Click image to enlarge. More information
By

Rhett Butler
Recent articles about deforestation
The last of her kind: centennial of the death of the world's last passenger pigeon
(09/01/2014) They once numbered in the billions, flying 60 miles per hour in flocks that darkened the sky. But on September 1, 1914, one hundred years ago today, the last member of what may have been the most numerous bird species on the planet died in a cage in the Cincinnati zoo.



'A global tragedy' in the making? Thailand plans highway expansion through World Heritage Site
(08/29/2014) Dong Phayayen Khao Yai Forest Complex (DPKY-FC) is the largest tract of surviving forest in central Thailand, renowned for its biodiversity. Now, the Thai government is planning major expansions to a road that bisects the complex – which scientists say will bar animal movement throughout their natural ranges, result in higher rates of road kill, and give hunters and loggers increased access to the forest.



More trouble with tar sands: oil extraction leading to big forest loss in Alberta
(08/29/2014) Tar sands operations have been the subject of much controversy over the past few years as expected economic gains for Canada the may come at the cost of environmental damage from the proposed Keystone XL pipeline and increased greenhouse gas emissions. Now another negative impact has come to light - deforestation of the boreal forest overlying the oil deposits.



Authorities stop 'greatest destroyers of the Brazilian Amazon rainforest'
(08/28/2014) A criminal organization involved in the illicit deforestation of large portions of Brazil's forests has been stopped, with at least six members of the organization arrested as of Aug. 28 and warrants issued for others. The gang has been accused of committing crimes worth over $220 million.



Meeting an Illegal Logger
(08/27/2014) 'I make six times the amount of money logging as I would working my small plot of land or even working legally in a pulp and paper or palm oil plantation.' An illegal logger explains the economic conditions in South Sumatra. Mongabay Special Reporting Fellow Robert S. Eshelman interviews an illegal logger in Indonesia on the topic of cleaning up commodity supply chains.



Where should the roads go? New map offers a solution to the 'Pandora's Box of environmental problems'
(08/27/2014) Roads make it possible to bring goods to market, to get to the office, to log a forest, to hunt its wildlife. Without roads, human society as we know it could not exist. However, to build roads, trees must be cleared and swamps drained, shrinking valuable wildlife habitat and fragmenting populations in the process. A new study unveils an innovative map that defines which areas of the world would be best used to build roads – and which should be left alone.



The Gran Canal: will Nicaragua's big bet create prosperity or environmental ruin?
(08/27/2014) A hundred years ago, the Panama Canal reshaped global geography. Now a new project, spearheaded by a media-shy Chinese millionaire, wants to build a 278-kilometer canal through Nicaragua. While the government argues the mega-project will change the country's dire economic outlook overnight, critics contend it will cause undue environmental damage, upend numerous communities, and do little to help local people.



How do we save the world's vanishing old-growth forests?
(08/26/2014) There's nothing in the world like a primary forest, which has never been industrially logged or cleared by humans. They are often described as cathedral-like, due to pillar-like trees and carpet-like undergrowth. Yet, the world's primary forests—also known as old-growth forests—are falling every year, and policy-makers are not doing enough to stop it.



What lies within, we may never know: deforestation threatening Sulawesi's unique wildlife
(08/26/2014) For 10 million years the Indonesian island of Sulawesi has been disconnected from other landforms, almost inviting evolution to color outside the lines. Despite a growing population and limited space, Sulawesi has managed to provide a safe haven to hundreds of unique species as they evolved over millennia. But that haven may soon be lost to uncontrolled extraction of forest products from Sulawesi's many pristine ecosystems.



Can it be stopped? Ghana's forests 'could completely disappear in less than 25 years'
(08/25/2014) Ghana contains forests that are biologically unique and important both for the wildlife they contain and the human communities that depend on them. However, the country is experiencing one of the greatest rates of deforestation in West Africa. At its current rate of forest loss, a study estimates that Ghana could be devoid of major forest cover in less than a quarter-century.


Greenpeace alleges SLAPP suit tactic by logging company
(08/22/2014) Greenpeace Canada has filed a Statement of Defense in response to a $7 million lawsuit by Resolute Forest Products (NYSE:RFP) over allegations that the logging company destroyed forests in Quebec and Ontario.



Have scientists discovered a new primate in the Philippines?
(08/21/2014) Despite some media reports, scientists have not yet discovered a new species of big-eyed, nocturnal primate—known as tarsiers—in the Philippines. Instead what they have discovered is an intriguing population that is genetically-distinct even from nearby relatives, according to a new open-access paper in PLOS ONE.



Running to reforest: communities, NGOs work to save Ugandan reserve in the midst of massive deforestation
(08/21/2014) Stung by massive loss of forest cover in Bugoma central forest reserve, part of a vast chimpanzee habitat in the western part of Uganda, seven private local and international organizations in the east African country have joined hands to raise awareness of forest issues and money for reforestation efforts -- by launching a conservation-themed quarter-marathon.



Indonesia's forests so damaged they burn whether or not there's drought
(08/21/2014) Air pollution caused by fires set for land-clearing on Sumatra has become a regularly occurrence in Southeast Asia. While these fires are often termed forest fires, the reality is much of the area that burns each year has already been deforested and today mostly consists of grass, scrub, and remnants of what was once forest. But the impacts are nonetheless very substantial, finds a new study published in the journal Scientific Reports.



Looming mining 'tsunami' set to take Africa by storm
(08/20/2014) Africa remains something of an untapped mineral resource, as the vast majority of extraction occurs elsewhere. However, a new report documents a surging tide of foreign interest in mining in Africa and cautions that the sector's unchecked development and expansion could devastate the environment.



Challenging the 'tragedy of the commons': new documentary explores how humans and nature can coexist (VIDEO)
(08/20/2014) In Guatemala, a vast community forest has prospered for centuries despite an ever-growing population, challenging the idea that human inhabitation of an area will inevitably lead to its ecological degradation.



When forests aren't really forests: the high cost of Chile's tree plantations
(08/18/2014) At first glance, the statistics tell a hopeful story: Chile's forests are expanding. On the ground, however, a different scene plays out: monocultures have replaced diverse natural forests while Mapuche native protesters burn pine plantations, blockade roads and destroy logging equipment. At the crux of these two starkly contrasting narratives is the definition of a single word: "forest."


Indonesian govt reiterates plan to clear 14M ha of forest by 2020
(08/16/2014) The Indonesian government is pressing forward with plans to clear 14 million hectares of forest between 2010 and 2020 despite a commitment to curb greenhouse gas emissions.



Nothing else left to log: are eco-certified timber companies stripping Russia of its last old growth forests?
(08/15/2014) Among Russia's forested lands lie intact forest landscapes (or IFLs). These IFLs are large swaths of unbroken, old growth forests that encompass at least 50,000 hectares, harbor high biodiversity, and have remained mostly undisturbed by development. However, less than 10 percent of the world's IFLs are currently protected. Now, a new report reveals Russia's IFLs may be threatened by certified sustainable logging companies.



Elephant poaching soars as Sumatran forests turn into plantations
(08/14/2014) There has been a spike in elephant deaths in Sumatra this year, and conversion of rainforest to plantations is one of the main causes. The number of Sumatran elephants poached in the province of Riau so far this year is staggering, with 22 reported kills in the first six months of 2014 compared to 14 for the entirety of 2013.





---
Other pages in this section:
Selection of information sources