Drivers of deforestation
The following are estimates for drivers of deforestation. Please note that this page will be updated as new data and analyses are published and become available.

The causes of deforestation vary from region to region. In Latin America and Southeast Asia a majority of deforestation is today the result of industrial activities, notably cattle ranching in the Amazon and large-scale agriculture and intensive logging in Southeast Asia. Subsistence agriculture, often using slash-and-burn / fallow techniques, is the most important driver of forest loss in Africa.

While net forest loss has remained relatively constant over the past twenty years, there have been two significant shifts since the late 1980s: (1) old-growth forests are being replaced by plantations and degraded, logged-over forests; and (2) forest clearing is increasingly driven by industry rather than subsistence activities.

Controlling deforestation is imperative to addressing climate change. The annual destruction of 13 million hectares of forest accounts for nearly one-fifth of global greenhouse gas emissions, a greater share than all the world's trucks, cars, ships, and airplanes combined.

Estimates based on HK Gibbs (2008):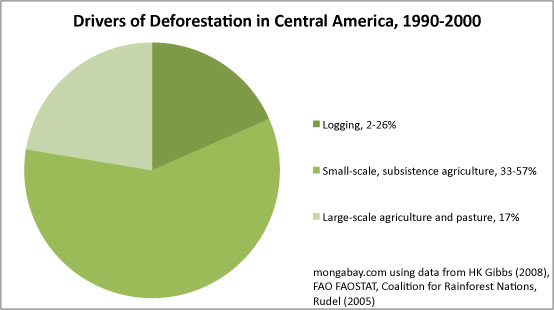 Drivers of deforestation in Central America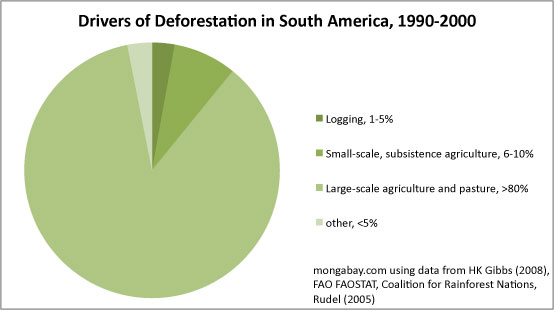 Drivers of deforestation in South America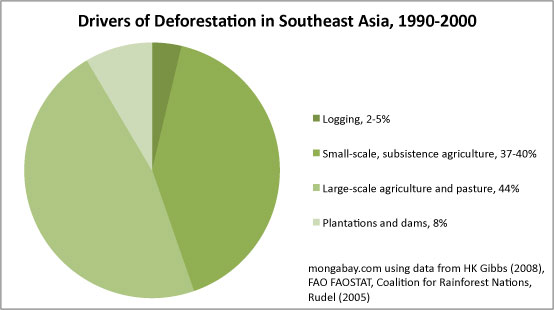 Drivers of deforestation in Southeast Asia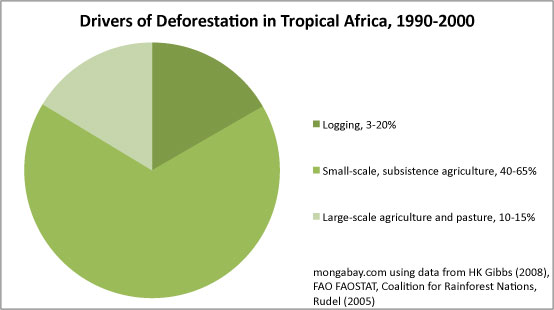 Drivers of deforestation in Tropical Africa

Estimates from Project Catalyst (2008):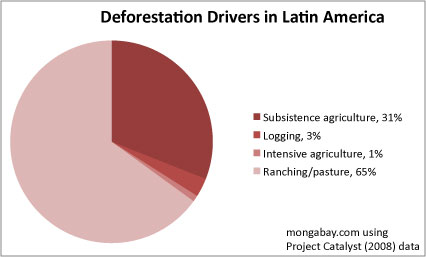 Drivers of deforestation in South America (Neotropics)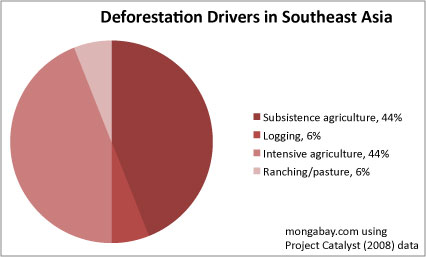 Drivers of deforestation in Southeast Asia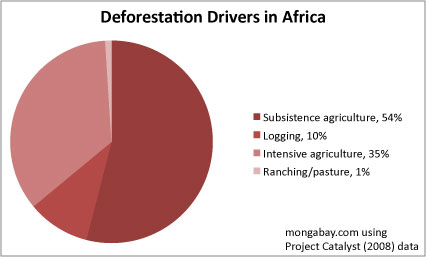 Drivers of deforestation in Africa


Continental-level estimations of the importance of deforestation drivers as reported by 46 countries: (a) in terms of overall continental proportions as sum of country data weighted by net forest area change by country (km2/y, FAO, 2010a) for the period 2000–2010 (b) the same data shown in terms of absolute national net forest area change by (km2/y, FAO, 2010a), and (c) for continental estimations of relative importance of degradation drivers (Source: Hosonuma et al., 2012). Caption and image courtesy of Kissinger et al. Click image to enlarge. More information
By

Rhett Butler
Recent articles about deforestation
High Court denies appeal by palm oil company that cleared protected peat forest
(09/30/2014) Furthering Indonesia's renewed commitment to environmental justice, the High Court of Banda Aceh denied an appeal by PT. Kallista Alam, the oil palm company found guilty of destroying over 1,000 hectares of protected peat forest in Gunung Leuser ecosystem. The Court upheld the previous ruling, which fined the company 366 billion rupiah ($30 million) in penalties and restoration fees.


Malaysian palm oil company destroys Borneo forests, despite buyer's zero deforestation commitment
(09/30/2014) Malaysian palm oil company Genting Plantations is continuing to destroy forests despite a high-profile pledge by one of its customers to eliminate deforestation from its supply chain, alleges a report published by Greenomics, an Indonesian environmental group.



Climate change to boost farmland, diminish harvests, says new study
(09/29/2014) Climate change is likely to alter how we humans grow adequate amounts of food for a swelling global population. Assessing just how much and where those changes will occur has been difficult. But a new study takes aim at those very questions and could provide a guide for the debate over feeding the planet while also preserving biodiversity and the forests that filter out the carbon we produce.



Diverse, deceptive, declining: orchids threatened by deforestation in South America
(09/26/2014) Pushing past a thick fern leaf, Crain stopped short, overcome by joy. As he broke into dance, his assistant peered curiously at the tiny lentil-shaped fruit dangling from a stem, and resolutely decided Crain was mad. After more than two years studying a rare Puerto Rican endemic orchid species, Crain had finally found his first specimen bearing fruit.



Coal mine has heavy impact in Indonesian Borneo
(09/26/2014) Baharuddin should be happy. The rambutan and durian trees flanking his home are heavy with fruit. Two hectares of chilies stretch before his house. The price of chili — a staple commodity in Indonesia — has been stable for six months. From his 2,000 plants he hopes to earn 40 million rupiah ($3,400), much of which he wants to invest in expanding his crop. That is, if his farm can survive the threats that have destroyed so many of his neighbor's.



Reintroduction program ups Mexico's scarlet macaw population by 34 percent in one year
(09/25/2014) While listed as Least Concern by the IUCN, the scarlet macaw has disappeared from almost all of its native range in Mexico, is very rare in most Central America countries, and is locally extinct in El Salvador. A new paper published this week finds a reintroduction program was hugely successful in its first year of operation, with a 92 percent survival rate for released birds.


Four countries pledge to restore 30 million hectares of degraded lands at UN Summit
(09/25/2014) In 2011, Germany and the International Union for the Conservation of Nature launched the Bonn Challenge, which pledged to restore 150 million hectares of degraded and deforested lands by 2020. Several countries have already made commitments—including the U.S.—but this week at the UN Climate Summit four more jumped on board.



Termites suffer in logged forests and palm oil plantations
(09/25/2014) Ants appear more resilient to forest degradation than termites. Scientists have long studied how birds, mammals, and amphibians respond to forest degradation, but what about the most abundant animals in the forest? Insects. A new study in Biodiversity and Conservation looks at how ants and termites reacted to forest changes in Malaysian Borneo.



Turning point for Peru's forests? Norway and Germany put muscle and money behind ambitious agreement
(09/24/2014) From the Andes to the Amazon, Peru houses some of the world's most spectacular forests. Proud and culturally-diverse indigenous tribes inhabit the interiors of the Peruvian Amazon, including some that have chosen little contact with the outside world. And even as scientists have identified tens-of-thousands of species that make their homes from the leaf litter to the canopy.



Cargill commits to zero deforestation across entire global supply chain: all commodities
(09/24/2014) Cargill, one of the world's largest agricultural companies, has extended its zero deforestation commitment for palm oil to all commodities it produces. The commitment, announced Tuesday at the United Nations Climate Summit in New York, is the most far-reaching zero deforestation policy ever established, covering Cargill's sprawling global empire of businesses, including palm oil, sugar, soy, cattle, and cocoa.



Norway to pay Liberia to stop deforestation
(09/23/2014) In one of the many major announcements that have come out of the UN Climate Summit in New York this week, Norway says it will pay Liberia to stop cutting down its forests. Norway's payment will come on the form of development aid for the war-torn, impoverished, and now Ebola-ridden West African nation.



Fragmented forests hurt some bat species, may benefit others
(09/23/2014) Development of roads and other structures disturb large, continuous patches of habitat for wildlife. This habitat fragmentation is one of the biggest contributors to species extinction, as the local ecology and species interactions are altered. A new study finds that leaf-nosed bat abundances in Mexico are closely linked to how sensitive each species is to habitat fragmentation.



Dissolving pulp: the threat to Indonesia's forests you've probably never heard of
(09/23/2014) If the term "dissolving pulp" evokes nothing for you, you're not alone. Not many people have heard of it, and the very term "dissolving pulp" is so generic it's hard to imagine it could be a threat to anything.



Feeding the planet while saving forests
(09/22/2014) Cattle ranching, palm oil production, soy cultivation, and other forms of commercial agriculture drive more than 70 percent of tropical deforestation worldwide, but a global transition could enable the world to produce more food, fuel and fiber without destroying more forests, argues a new report published by the Climate and Land Use Alliance (CLUA), a group of philanthropic organizations working to slow climate change.



Extinction island? Plans to log half an island could endanger over 40 species
(09/22/2014) Woodlark Island is a rare place on the planet today. This small island off the coast Papua New Guinea is still covered in rich tropical forest, an ecosystem shared for thousands of years between tribal peoples and a plethora of species, including at least 42 found no-where else. Yet, like many such wildernesses, Woodlark Island is now facing major changes: not the least of them is a plan to log half of the island.



Legislation protecting Indonesia's indigenous communities is not good enough, says advocacy group
(09/18/2014) Approaching final legalization, an advocacy group for Indonesia's indigenous communities has asked to postpone passing a bill granting protections to indigenous people, stating some demands still need to be addressed.



The cheap option on climate change: recognize indigenous rights to forests
(09/18/2014) Since 2008, governments have invested $1.64 billion in funds to kick-start REDD+, or Reducing Emissions from Deforestation and Degradation, the global effort to conserve the world's forests in order to better mitigate climate change. However, a new report by the Rights and Resources Initiative (RRI) finds that same amount of money could have secured the legal rights of indigenous and local people to 450 million hectares of forest, an area 40 percent larger than India.


'The green Amazon is red with indigenous blood': authorities pull bodies from river that may have belonged to slain leaders
(09/17/2014) Peruvian authorities have pulled more human remains from a remote river in the Amazon, which may belong to one of the four murdered Ashaninka natives killed on September 1st. It is believed the four Ashaninka men, including renowned leader Edwin Chota Valera, were assassinated for speaking up against illegal logging on their traditional lands.


Activists urge outgoing Indonesian president to protect key forest area before he steps down
(09/17/2014) Activists have launched an urgent appeal calling upon outgoing Indonesian President Susilo Bambang Yudhoyono to step up protection of the only ecosystem that houses Sumatran orangutans, rhinos, elephants and tigers.



From 'production' forests to protected forests, groups work to save Sumatran orangutan habitat. But will it be enough?
(09/16/2014) The orangutan is native exclusively to the islands of Borneo and Sumatra — two regions that have seen the brunt of Indonesia's recent forest destruction due primarily to logging and plantation development. Although there are anywhere from 45,000 to 69,000 Bornean orangutans remaining in the wild, the Sumatran species numbers only about 7,300 according to a 2004 survey, and is dwindling further every year.





---
Other pages in this section:
Selection of information sources