Drivers of deforestation
The following are estimates for drivers of deforestation. Please note that this page will be updated as new data and analyses are published and become available.

The causes of deforestation vary from region to region. In Latin America and Southeast Asia a majority of deforestation is today the result of industrial activities, notably cattle ranching in the Amazon and large-scale agriculture and intensive logging in Southeast Asia. Subsistence agriculture, often using slash-and-burn / fallow techniques, is the most important driver of forest loss in Africa.

While net forest loss has remained relatively constant over the past twenty years, there have been two significant shifts since the late 1980s: (1) old-growth forests are being replaced by plantations and degraded, logged-over forests; and (2) forest clearing is increasingly driven by industry rather than subsistence activities.

Controlling deforestation is imperative to addressing climate change. The annual destruction of 13 million hectares of forest accounts for nearly one-fifth of global greenhouse gas emissions, a greater share than all the world's trucks, cars, ships, and airplanes combined.

Estimates based on HK Gibbs (2008):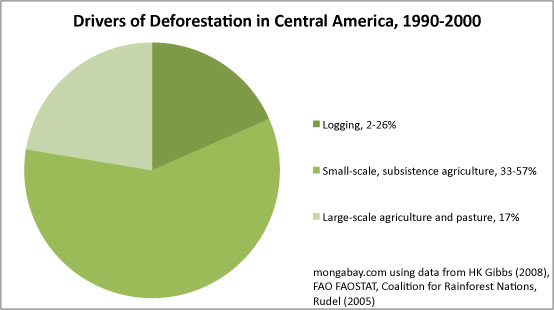 Drivers of deforestation in Central America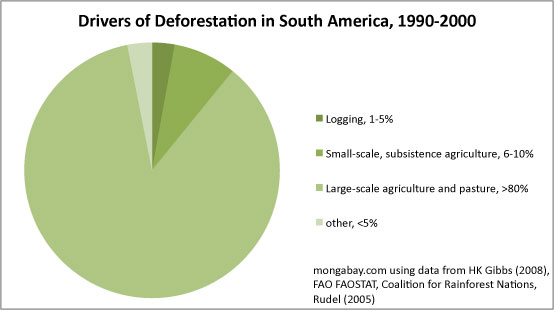 Drivers of deforestation in South America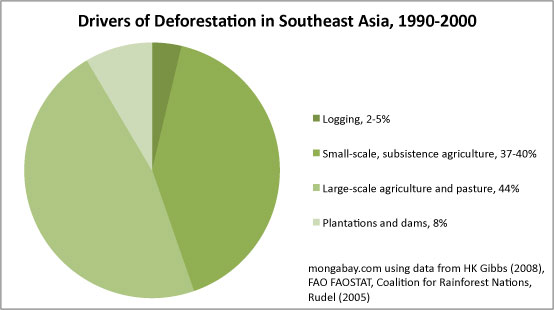 Drivers of deforestation in Southeast Asia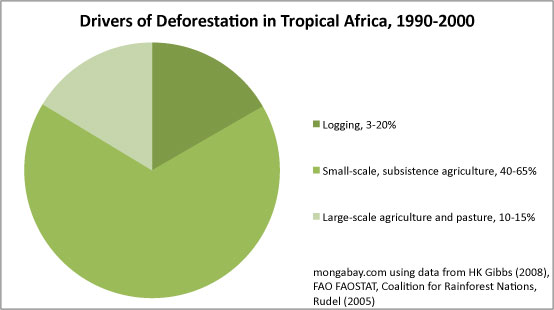 Drivers of deforestation in Tropical Africa

Estimates from Project Catalyst (2008):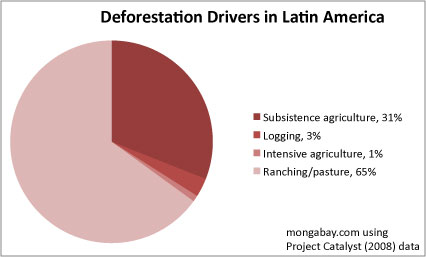 Drivers of deforestation in South America (Neotropics)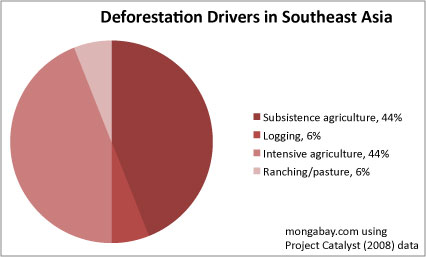 Drivers of deforestation in Southeast Asia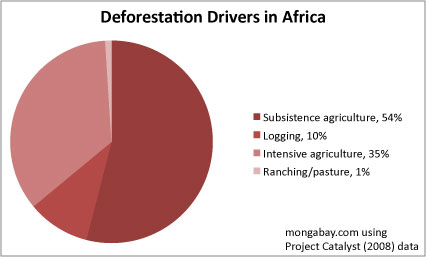 Drivers of deforestation in Africa


Continental-level estimations of the importance of deforestation drivers as reported by 46 countries: (a) in terms of overall continental proportions as sum of country data weighted by net forest area change by country (km2/y, FAO, 2010a) for the period 2000–2010 (b) the same data shown in terms of absolute national net forest area change by (km2/y, FAO, 2010a), and (c) for continental estimations of relative importance of degradation drivers (Source: Hosonuma et al., 2012). Caption and image courtesy of Kissinger et al. Click image to enlarge. More information
By

Rhett Butler
Recent articles about deforestation
Conservationists propose Dracula Reserve in Ecuador
(10/24/2014) Deep in the dark, cool forests of Ecuador and Colombia live strange and mysterious organisms. Some inhabit the trees and others stay to the ground, and many are threatened by human encroachment. Because of this threat, Rainforest Trust has launched a Halloween fundraising drive to help pay for the creation of the Dracula Reserve--named for its dramatic inhabitant, the Dracula orchid.



Google's new Gombe Street View lets users 'walk' along chimp trails and into Jane Goodall's house
(10/24/2014) Google Maps is now available for Tanzanian forest paths. Users can walk virtually along the same trails Jane Goodall has used for her decades of chimpanzee monitoring -- and even into her house.


Beef, palm oil, soy, and wood products from 8 countries responsible for 1/3 of forest destruction
(10/23/2014) Four commodities produced in just eight countries are responsible for a third of the world's forest loss, according to a new report. Those familiar with the long-standing effort to stop deforestation won't be surprised by the commodities named: beef, palm oil, soy, and wood products (including timber and paper). Nor will they be very surprised by most of the countries: Brazil, Indonesia, and Malaysia.



Brazil declares new protected area larger than Delaware
(10/23/2014) Earlier this week, the Brazilian government announced the declaration of a new federal reserve deep in the Amazon rainforest. The protections conferred by the move will illegalize deforestation, reduce carbon emissions, and help safeguard the future of the area's renowned wildlife.



Gold mining expanding rapidly along Guiana Shield, threatening forests, water, wildlife
(10/22/2014) Gold mining is on the rise in the Guiana Shield, a geographic region of South America that holds one of the world's largest undisturbed tract of rainforest. A new mapping technology using a radar and optical imaging combination has detected a significant increase in mining since 2000, threatening the region's forests and water quality.



Colombia reports drop in deforestation
(10/21/2014) Colombia has for the first time released an annual report on deforestation, revealing that forest loss during 2013 was lower than the recent average. The government says some 120,933 hectares of natural forest were cleared between January and December 2013.



'No forests, no cash': palm oil giants commit to sustainability, but will they follow through?
(10/21/2014) Four of Indonesia's largest palm oil producers signed a landmark commitment in New York in September to further implement sustainable practices across one of the country's largest commercial sectors. Then-President Susilo Bambang Yudhoyono and the Indonesia Chamber of Commerce (KADIN) witnessed the undertaking, which is hoped to expand the country's palm oil industry while making it more environmentally friendly.



Coal, climate and orangutans – Indonesia's quandary
(10/21/2014) What do the climate and orangutans have in common? They are both threatened by coal - the first by burning it, and the second by mining it. At the recent United Nations Climate Summit in New York, world leaders and multinational corporations pledged a variety of actions to reduce greenhouse gas emissions and deforestation to avert a looming disaster caused by global warming.



Top scientists raise concerns over commercial logging on Woodlark Island
(10/21/2014) A number of the world's top conservation scientists have raised concerns about plans for commercial logging on Woodlark Island, a hugely biodiverse rainforest island off the coast of Papua New Guinea. The scientists, with the Alliance of Leading Environmental Scientists and Thinkers (ALERT), warn that commercial logging on the island could imperil the island's stunning local species and its indigenous people.



Saving Asia's other endangered cats (photos)
(10/21/2014) It's no secret that when it comes to the wild cats of Asia—and, really, cats in general—tigers get all the press. In fact, tigers—down to an estimated 3,200 individuals—arguably dominate conservation across Asia. But as magnificent, grand, and endangered as the tigers are, there are a number of other felines in the region that are much less studied—and may be just as imperiled.



Indonesian law bars palm oil companies from protecting forests
(10/21/2014) A law passed by the Indonesian government last month makes it even more difficult for palm oil companies to conserve tracts of wildlife-rich and carbon-dense forests within their concessions, potentially undermining these producers' commitments to phase deforestation out of their supply chains, warns a new report published by Greenomics, an Indonesian environmental group.



Indonesia developing mega coal mine five times larger than Singapore
(10/20/2014) Global miner BHP Billiton and Indonesian partner PT Adaro are developing what could become the single largest mine in Indonesia in terms of land area, with BHP owning 75 percent. The IndoMet mine complex in Central and East Kalimantan provinces on Borneo comprises seven coal concessions, which cover 350,000 hectares, or about five times the size of Singapore.



Indonesia's tough choice: capping coal as Asian demand grows
(10/17/2014) Indonesia cannot build power stations fast enough. And neither can most of its Asian neighbors. Rapid economic and population growth are driving equally rapid demands for electricity as the region builds out power grids to connect up millions of people to fuel prosperity.



Push to undermine Indonesia's new president could stymie environmental progress, say NGOs
(10/17/2014) concerted push by political elites to undermine Indonesia's president before he even takes office could stymie progress on social and environmental issues in the country, say Indonesian civil society groups. On July 9, former Surakarta (Solo) and Jakarta mayor Joko 'Jokowi' Widodo beat ex-general Prabowo Subianto in Indonesia's presidential election by 8.4 million votes. Yet despite the wide margin, Jokowi has been stung by a series of political setbacks that will hinder his ability to govern once he assumes office Monday.



To become less damaging, target non-forest lands for palm oil, says book
(10/16/2014) Palm oil production has been spectacularly profitable but ecologically disastrous across Southeast Asia, consuming millions of hectares of indigenous lands, rainforests, and peatlands in recent decades. That paradox has made the crop highly controversial despite its importance in providing a high-yielding source of vegetable oil. A new book, published freely online by the Center for International Forestry Research (CIFOR), weighs in on the debate and concludes — like many before it — that the problem is not the crop itself, but how it is produced.



Indonesia tries to clamp down on coal sector's worst excesses
(10/16/2014) Out of the jungles of East Borneo in Indonesia comes the fire that fuels Asia's burgeoning economies: coal. Miners dig deep open pits, clearing forests and farmlands to extract coal from thick black seams, which is then crushed and loaded onto trucks and barges for shipment to China, India, Japan and other destinations in Asia.



Researchers create global map of world's forests circa 1990
(10/14/2014) Researchers have created a global map of the world's forests in the year 1990, enabling accurate comparisons between past and current deforestation rates. The GIS data underpinning the map is available at LandCover.org.



As Amazon deforestation falls, small farmers play bigger role in forest clearing
(10/14/2014) Smallholder properties account for a rising proportion of overall deforestation in Brazilian Amazon, suggesting that Brazil's progress in cutting forest loss through stricter law enforcement may be nearing the limits of its effectiveness, finds a new study published in the Proceedings of the National Academy of Sciences.


Rogue palm oil company appeals deforestation case to Indonesia's supreme court
(10/14/2014) Oil palm company PT. Kallista Alam has filed an appeal with the Supreme Court continuing the closely-watched legal battle set to redefine Indonesia's commitment to environmental justice. Lawyers for the company filed the new appeal on October 6, claiming the initial case is invalid because it failed to include all relevant parties as defendants—including the governor of Aceh, who issued the concession permit in 2011.



Forest restoration commitments: driven by science or politics?
(10/10/2014) During September's UN Climate Summit, three African nations were recognized for their commitments to restore collectively millions of hectares of forest. But several organizations declined invitations to sign the pact because they say it fails to lay out "concrete action" to fight climate change, and some experts in the field worry that the announcements are little more than political posturing.





---
Other pages in this section:
Selection of information sources